(Featured photo by Andy Nelson)
Officially opened for business on February 9, The Gordon Hotel has the grandeur of a large hotel in a large city, but the attention to detail, appreciation for and showcase of local artists, and coziness of a boutique hotel. With impressive architecture, use of repurposed materials, and collaborations with local artists and organizations like Harmonic Laboratory, The Gordon Hotel is very Eugene.
The 82-room hotel is named for Gordon Obie, Brian Obie's father, who was a prolific artist and supporter of history and travel. His overalls hang in the lobby and his artwork, among works by more than 160 local and regional artists, is scattered throughout the hotel. Other original works by local artists—including original paintings (both submitted and created specifically for the hotel), glasswork, and a Great Wall with a constantly changing display—make each room, hallway, public bathroom, and open space unique. Large windows line every wall of the hotel, bringing in natural light and expansive views of downtown Eugene and beyond.
The first floor features the usual lobby desk (with complementary craft beer and wine when you check in), but also an Art Bar encouraging creative expression, a softer waiting area with comfortable chairs and a fireplace, and, soon, the opening of the Gordon Tavern. It also has direct access to the burgeoning Market Alley, but we'll get into that later.
The second floor has a few different conference and meeting rooms for groups of all sizes. One of these rooms, the CB Mims Sanctuary Room, is named for CB and Annie Mims, whose home served as a safe haven for BIPOC visitors from 1948 to 1966, including travelers, athletes, and even touring musicians like Ella Fitzgerald and Louis Armstrong. There is also the Ragozzino Ballroom, Hayward Board Room, Pendleton Room, and an outdoor terrace.
The third through sixth floors are home to guest rooms, ranging from king rooms with decks overlooking the Market Alley or views of Eugene to full suites that feel like luxurious homes with large bathrooms and space for the whole family. Behind each bed are large head boards made from trees downed in the construction process, transformed by Urban Lumber to look like slices of tree right on the wall.
The seventh floor, which also has guest rooms, will soon be home to Carlita's Rooftop, which promises tacos with a view, joining the other new rooftop eateries to come in the next few years.
As mentioned before, the lobby of The Gordon Hotel opens directly into the Market Alley, which is a covered walkway with food and other businesses on one side (with the Gordon Lofts, apartments, above) and a Maker's Row with offices and The District coworking spaces above.
While the Market Alley is still under construction and businesses are still moving in, we're excited to see the local businesses that will be expanding or moving into this new home. Keep reading to find out more about the business now open and opening soon.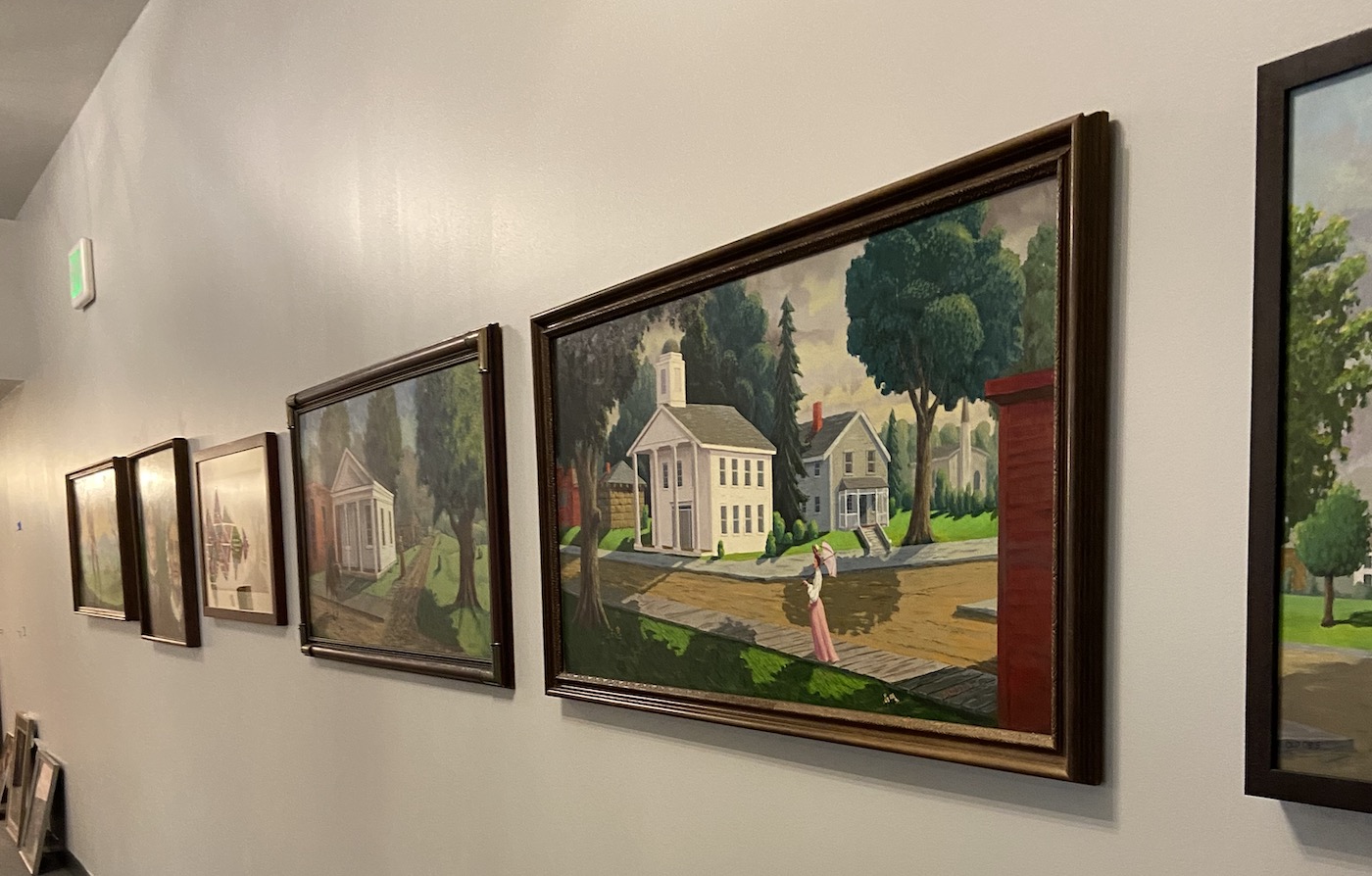 Now Open
Café Yumm!
Café Yumm! has come home to their roots, continuing to offer delicious food that is good for the body and soul.
Café Yumm! | 541/344-9866 | cafeyumm.com
Handel's Homemade Ice Cream
Serving up stunning scoops of ice cream made in-house, Handel's offers sweet treats perfect for strolling down the Market Alley with.
Handel's Homemade Ice Cream | handelsicecream.com
Nike By Eugene
Anchoring the Maker's Row side of the Market Alley, the Nike store sells all your favorite athletic products with some Eugene flavors.
Nike By Eugene | 541/686-3141 | nike.com
Coming Soon to the 5th Street Market Alley and Gordon Hotel
The Gordon Tavern
Serving American comfort food with Pacific Northwest flavors, the Gordon Tavern serves delicious appetizers and staples, all paired with an extensive list of craft beer and cocktails.
The Gordon Tavern | Coming in Spring, in the Gordon Hotel | 541/762-0555 | thegordonhotel.com
Marley's Monsters
A bastion of sustainable living, Marley's Monsters is bringing their UNpaper Towels, cloth napkins, sandwich wraps, and other reusable products to the Market Alley in March.
Marley's Monsters | 541/505-9417 | marleysmonsters.com
Carlita's Rooftop
Opening this spring, Carlita's Rooftop will serve Mexican small plates with locally sourced ingredients and margaritas, all with a stunning view from the top of the Gordon Hotel.
Carlita's Rooftop | 541/762-0555 | thegordonhotel.com
Beaudet Jewelry Design
Pick out stunning, one-of-a-kind jewelry at Charles Beaudet Jewelry Design. A Eugene staple since 1976, Beaudet Jewelry is the perfect spot for custom and unique sparkling accessories.
Beaudet Jewelry | 541/484-6548 | beaudetjewelry.com
Euphoria Chocolate Company
One of the best places to get chocolate for all occasions (even if it's just a weekday), Euphoria Chocolate is moving into Maker's Row with their truffles, bars, and more in tow.
Euphoria Chocolate Company | 541/343-4607 | euphoriachocolate.com
Pfeiffer Winery
Soon you'll be able to sip Pfeiffer Winery's pinot noir, pinot gris, chardonnay, merlot, and muscat from the comfort of the Market Alley!
Pfeiffer Winery | 541/998-2828 | pfeifferwinery.com
Heritage Distilling Company
Home to craft cocktails and their famous BSB Whiskey, Heritage Distilling will be opening up shop in the Market Alley.
Heritage Distilling Company | 541/357-4431 | heritagedistilling.com
Karin Clarke Gallery
Karin Clarke Gallery is expanding their exhibits of art by local and regional artists into the Maker's Row.
Karin Clarke Gallery | 541/684-7963 | karinclarkegallery.com
Magpie Coffee Shop
Grab a coffee while you stroll through the Market Alley from Magpie Coffee Shop. Situated close to the hotel, it'll be the perfect way to start your day.
The Basic Botanist
Feed your plant cravings at the Basic Botanist. They'll help you bring the outdoors indoors with Pacific Northwest tropical plants for all levels of gardeners.
The Basic Botanist | 541/678-0778 | thebasicbotanist.com
Bloom Consignment Bridal
Bloom Consignment Bridal is for brides who are more budget conscious or on a tight timeline. This store is the "little sister" to Blush Bridal and Tux Shop.
Bloom Consignment Bridal | 541/743-1560 | bloomconsignmentbridal.com
Bug's Baby Boutique
Dress your little one in handmade fleece jackets, loungewear, and bibs from Bug's Baby Boutique. They also have headbands, teethers, and toys.
Bug's Baby Boutique | 541/729-2755 | bugsbabyboutique.com
Pedego Electric Bikes
Jump on the e-bike trend at Pegedo Electric Bikes, which opened at the Station Square across the street from the Market.
Pegedo Electric Bikes | 541/650-0650 | pedegoelectricbikes.com
For a full list of businesses at the 5th Street Market, check out their website