"My very first inspiration was actually the decision to cloth diaper our first daughter," says Sarah Dooley, owner of Marley's Monsters. "From there, we realized how much we were saving from the landfill just by doing that one thing." Dooley first opened Marley's Monsters on Etsy in 2013, and now, the production studio and retail store sits on 6th Avenue, offering consumers eco-friendly alternatives to everyday goods locally and across the globe.
"With babies, there's disposable after disposable, so it was really rewarding every time we stopped to rethink something and were able to do it without disposables," Dooley says. "That was the gateway into my plastic-free life."
Named after Dooley's daughter, Marley's Monsters aims to supply everything you need to live as close to a zero-waste lifestyle as possible. In addition to their retail store, their products can be found in local retailers across Eugene, online, across the United Kingdom and Australia, and soon, they'll be sold in Urban Outfitters.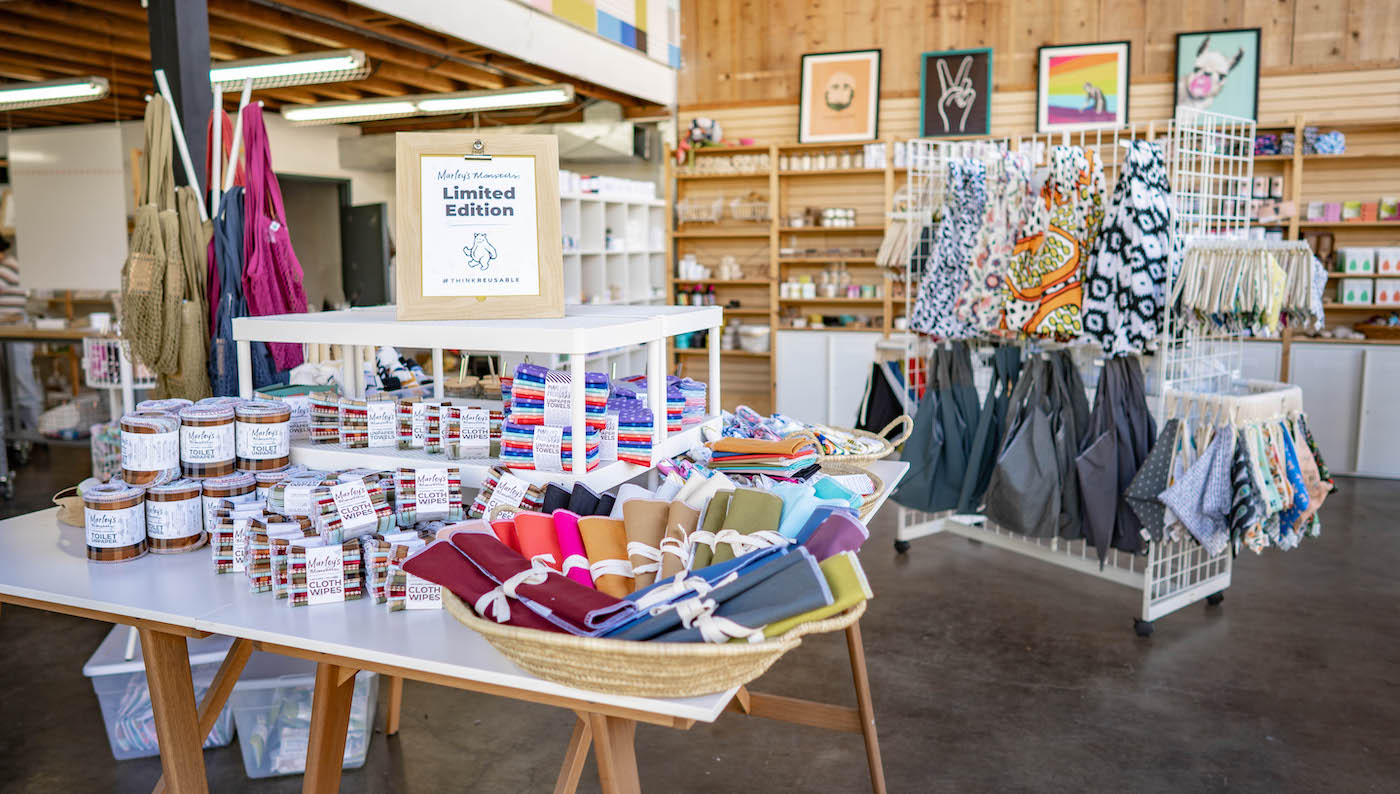 As Dooley's family has grown over the past seven years, so has the store. "Everything was more baby-oriented when we had babies, and now it's a little more for younger kids and adults, and we're gravitating towards kitchen and home goods as well," Dooley says.
In 2017, the United State alone produced more than 35,000 tons of plastic waste, and only 8.4 percent of those plastics were recycled. And this was when China was still buying the world's plastics to recycle into new products. As of January 2018, China banned almost all of its plastic imports. This left a monumental gap in the already struggling battle with our plastic production. This is where Marley's Monsters, and stores like it, play a major role.
"In my research of when plastic was first invented, how it's invaded our planet and taken over, and how it still exists from the first day it was ever created, it just kind of makes you wonder what you can do better to reduce some of that waste," Dooley says. "After having kids, and also the influence of my husband, who studies environmental geoscience and was very adamant about being plastic-free and recycling, I realized how important it was to live a plastic-free life as much as possible."
In the last two years, Marley's Monsters has made more than 1 million UNpaper® Towels, which will eliminate approximately 18,000 to 36,000 rolls of paper towels (and their mostly plastic packaging) from the landfill every time they are washed and reused. If washed once a week, that eliminates around 1 million rolls of paper towels from the landfill annually. That's 30 tons of waste and 500 trees saved.
Wherever the swap happens, from reusable produce bags to paper towels, every recognition of waste is a win for the environment. But as an individual consumer, the task of saving the planet with your daily choices can seem more than daunting. That's why Dooley has implemented a business model to hold her own business accountable for the amount of waste they produce.
"It is extremely difficult to have a business model focused on reusing and creating as little waste as possible, but it's also really fun to rethink and evaluate things in different ways," Dooley says. "We're always trying to solve problems." They do this by making sure vendors send them products free of plastic, and when they don't, responsibly disposing of that plastic is something Dooley has worked hard to accomplish.
Marley's Monsters is BRING Certified through the Rethink program, which means they work with BRING to ensure they are making all the right moves in their production facility to be as environmentally friendly as possible. Through following BRING's guidelines, Dooley says she's been encouraged to rework processes along the way, and that collaboration has helped her business continue to innovate.
"Our fabric comes wrapped in plastic," Dooley says. "Unfortunately, there's no way to avoid it because there would be so much more waste if the fabric was getting dirty. So our solution for that problem was just finding the right recycler. Instead of throwing it in a bin and hoping it gets recycled, we're actually in communication with someone who is first-hand recycling it."
Marley's Monsters was also runner up for the Bold Step Award Program in 2019, which recognizes local, sustainable businesses who are certified through BRING's Rethink program. "Making company-wide steps to make your business better is what creates change," Dooley says. "We talk about individual people making small changes that really add up to big changes. But it's even more important for a business themselves to take those steps, because businesses create waste, and anyway we can cut that down is extremely beneficial and huge for all of us."
Marley's Monsters Eco-Shop | 234 W 6th Ave. | 541/505-9417