When you first look at Wallowa Lake, you'll probably think you're in Switzerland. Snow-lined peaks tower 9,000 feet in the sky, cultural heritage sites abound, and a friendly alpine community of artists, farmers, and tourists flank the shores of the deep azure lake.
And you are there—sort of. Dubbed the "Oregon Alps," the Wallowa Mountains in Eastern Oregon are a bit closer than Europe, less than an eight-hour drive from Eugene. Nonetheless, they deliver all the alpine enchantment that their namesake vaunts.
Hikers and backpackers can explore miles of untrammeled trails that take off from the lake's edge and climb into the granite peaks of Oregon's largest wilderness. If you yearn for spectacular views but don't want the trail miles, you can catch a tram that soars up to an 8,000-foot peak overlooking miles of mountains, canyons, and prairie. At lower elevations around the forested lakeshore, you can find a full range of activities. Parks, sculptures, and information centers provide insight into the lives of the original inhabitants of the lakeshore—the Nimi'ipuu (commonly known as Nez Perce) Native Americans. If you're looking for leisure, you can enjoy classy restaurants, horseback riding, swimming, and boating, all based from a fully furnished log cabin nestled near the lake.
Whether you need a relaxing weekend getaway or an extended backcountry escapade, the travel treasures of Wallowa Lake are practically limitless.
Where to stay
From a tent in the middle of the wilderness to a high-class resort, you can crash anywhere. If going backcountry is your style, there's no cost to stay overnight—just be sure to camp 200 ft. away from water sources and trails, and only build fires if it is allowed. For something a little more structured, $20 will get you a basic site or $30 for full-hookup. Car and RV campers will find great sites with quick lake access, showers, and electricity at Wallowa Lake State Park. For less rustic accommodations, check out Wallowa Lake Lodge, Flying Arrow Resort, and Eagle Cap Chalets, all of which offer a variety of quarters from lodge rooms to small private cabins. For the best stay at the lake, book one of the many charming Wallowa Lake Resort cabins (wallowalakeresort.com). Each includes multiple bedrooms and bathrooms, a kitchen, living room, TV, and Wi-Fi, all in a beautiful log-built frame. For best selection, book several months in advance.
Where to eat
Along with stunning mountain views, a wonderful community, and great places to stay, the area around Wallowa Lake also has some killer places to eat—and drink.
Summit Grill is the highest restaurant in Oregon—resting atop 8,255-ft. Mount Howard at the upper end of the Wallowa Lake Tram. Dine with a spectacular view of the Wallowa Mountains and Northeastern Oregon. The grill serves a variety of sandwiches, burgers, soups, and salads, along with the locally brewed beer, Terminal Gravity. 59919 Wallowa Lake Hwy, Joseph • 541/432-5331 • wallowalaketramway.com
Glacier Grill Restaurant & Pub offers a lower-altitude dining option. Located in a quaint cabin-like building only a few minutes from the lake, it serves everything from omelets to shrimp to steak. 72784 Marina Dr., Joseph • 541/432-9292
The Stubborn Mule isn't for the faint of heart. Gargantuan burgers and an extensive menu await in a rustic, Old West atmosphere. Find it in the nearby town of Joseph, a 10-minute drive from the lake. 104 S Main St. • 541/432-6853
The Outlaw Restaurant, also in Joseph, has walls lined with artwork, history, and other Western-themed decorations. It boasts a large menu with a wide variety of food. Salmon, halibut, and shrimp dinners add a West Coast flair. 108 N Main
, Joseph • 541/432-4321 • theoutlawrestaurant.com
Embers Brewhouse offers a menu friendlier to vegetarians and lighter eaters, with items such as artichoke penne and a Santa Fe rice bowl. 204 N Main St., Joseph • 541/ 432-2739 • embersbrewhouse.com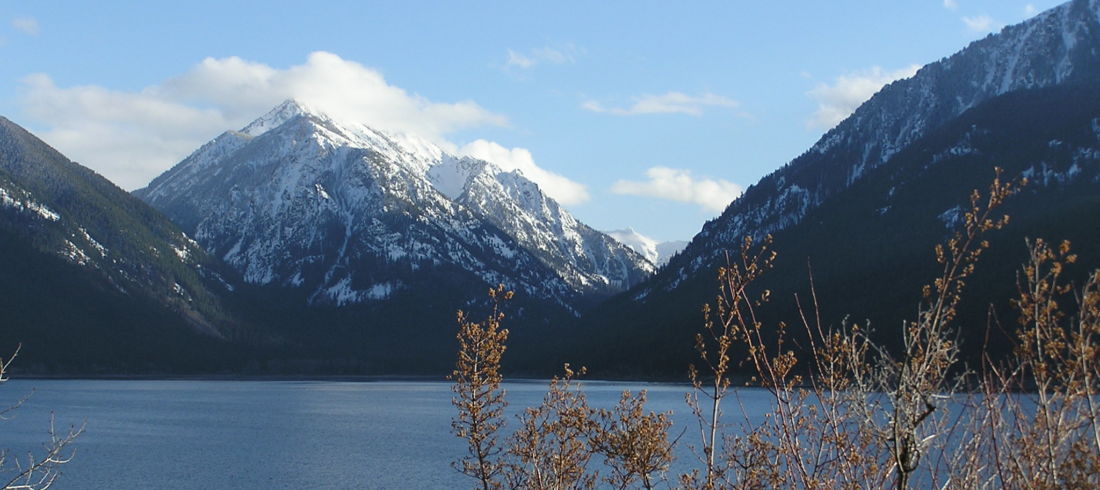 Where to go
The Wallowa Lake Tramway, located a quarter mile south of the Wallowa Lake Highway-Marina Road intersection, is the fastest way to stunning views. At the top, enjoy Summit Grill, endless mountains, and an intriguing 2 miles of interpretive trails. Be prepared to make friends with a welcoming horde of chipmunks upon arrival.
You can find the trailheads for the Eagle Cap Wilderness at the end of the Wallowa Lake road. Try a day hike to Six Mile Meadows on the west fork Wallowa River trail, or an overnight backpacking trip to Aneroid Lake on the east fork Wallowa River trail.
Horseback riding tours are available when scheduled in advance, with a variety of routes heading into the wilderness.
Canoes and kayaks can be rented for $15 an hour from the Wallowa Lake Marina. Head out early in the morning for calm, glassy waters and beautiful mountain reflections. Or, in summer, wait until later in the day and go for a swim in the warm, shallow waters near Wallowa Lake State Park.
Stroll through the streets of downtown Joseph. Check out the stunning bronze statues and other artwork depicting wildlife, the mountains, and historical figures of the region.