As most people know, fall is Oregon's best season. With its mild weather, a fall day in Oregon offers a bug-free and often sunny hike. Oregon has many hidden treasures, and Lane County is home to some of the best variety of these jewels. Here you can find hikes to crystal clear mountain lakes, paths along Oregon's epic coastline, and stunning views of the Cascade Mountains; the plentiful waterfalls and rivers of this state are always a sight to see. Here are my recommendations for hikes to take this fall.
Erma Bell Lakes: There is nothing more serene than a pristine Oregon mountain lake. This 8.5-mile loop starts at the Skookum Creek Campground, 26 miles southwest of Blue River. The trail takes you through alpine forests where you encounter five spectacular mountain lakes. Backcountry camping is quite popular along this loop, and at the three Erma Bell Lakes, Williams Lake, and Otter Lake, the fish are literally jumping out of the water. During the first two miles of the hike, you are surrounded by a secondary old growth forest, but as you arrive at the mountain lakes, the scenery becomes more dry and sparse. In this thin soil, you will mostly see Lodgepole pines and bear grass.
Horsepasture Mountain: The Cascade Mountains are a string of Oregon gems, and the 1.4-mile climb up Horsepasture Mountain will give you a magical view of them. On a clear day you will be able to see Diamond Peak, Mt. Bachelor, Mt. Washington, Mt. Jefferson, and Mt. Hood, and the Three Sisters take center stage in this view with all of their massive glory! Being so close to the mountains, you will not believe that this trailhead is only 60 miles east of Springfield. In summer, the trail offers many Oregon wildflowers, and in fall you will witness the plentiful bear grass change its shape from puffy white plumes to stunningly golden seedpods.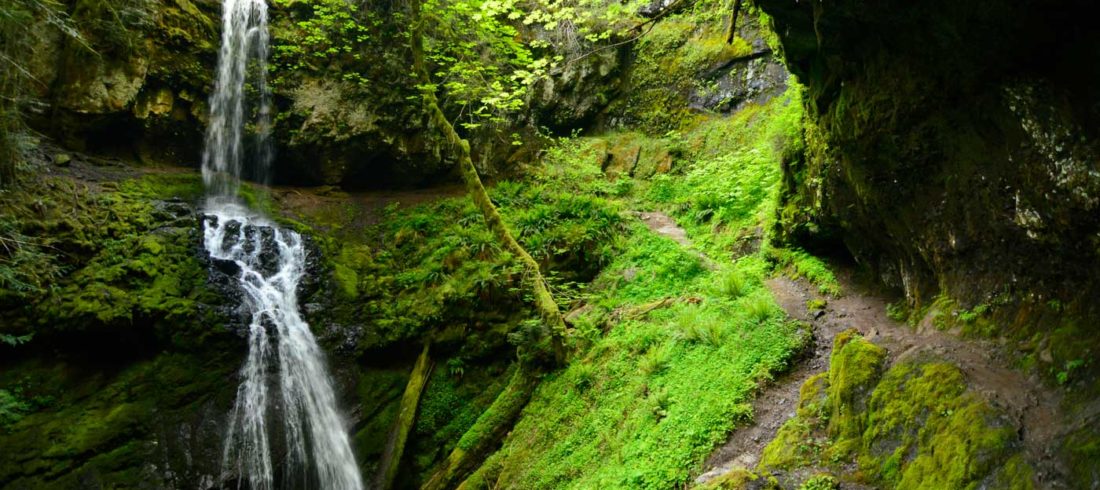 Trestle Creek Falls: Only 22 miles from the heart of Cottage Grove, this loop offers a year-round haven along Brice Creek. Amid old growth trees are two picturesque waterfalls, Lower Trestle Creek Falls and Upper Trestle Creek Falls. The lower falls are tucked away in a narrow mossy gorge, which is well suited for the adventurer in the family who likes to climb on rocks and logs to get that great photo-op close to the falls. This 3.4-mile loop is also a great hike if you like to see chanterelle mushrooms or are game for a swim in one of the creek's many deep pools.
Hobbit Trail to Heceta Head: Hobbit Trail is often raved about, but its location can be quite elusive. About 12 miles north of Florence, keep your eyes peeled for a tiny pullout on the right side of Highway 101. This is where the trail starts. It immediately ducks into a thick and mossy spruce forest that looks like it was taken straight from a fairy tale. If you want to take the short 0.4-mile jaunt down to secluded Hobbit Beach, choose one of the many tunnels that are constructed out of the vegetation growing over the trail. The trail up to the Heceta Head lighthouse is a beautiful 1.3 miles along a ridge with stunning views of the Pacific Ocean. Through October, tours of the inside of the lighthouse are given daily, 11 a.m. to 4 p.m.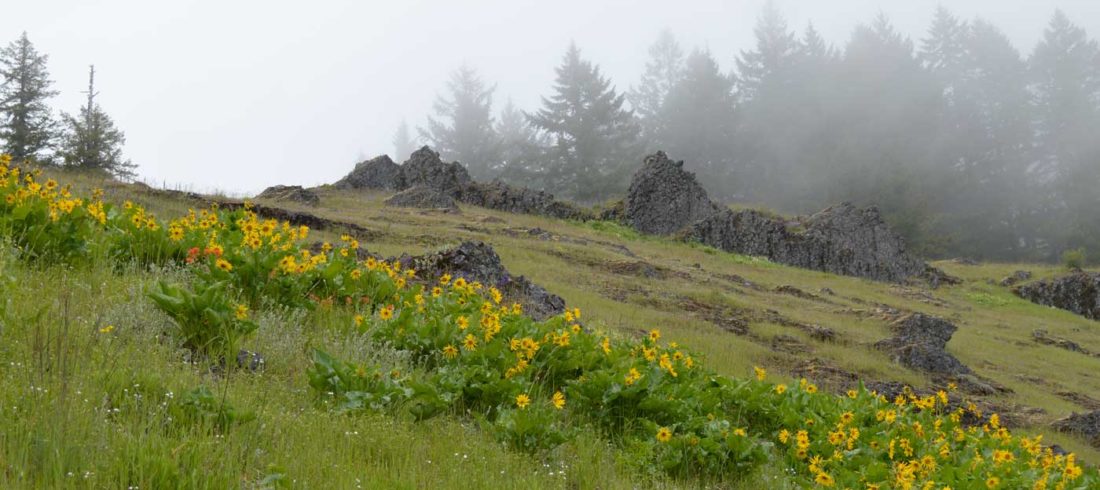 Tire Mountain: This easy 7.6-mile hike, 42 miles east of Eugene, traverses golden hued sunny meadows, as well as lush Oregon woods. The trailhead starts at Windy Pass, which is known for speedy winds that blow clouds through the woods to create an eerie but very photogenic forest. Once you step out of the trees, the two miles of meadow are stunning, with views to the southwest toward snow-capped Diamond Peak and the town of Oakridge below. The trail skirts around the top of Tire Mountain, where there used to be a lookout site. However, you can easily step off the trail for an additional half mile and climb to the top for some extra views.
For directions to these hikes, visit hikeoregon.net.