Check the NPS website for the most up-to-date information on access.
One of Oregon's Seven Wonders and the state's only National Park, Crater Lake is a rite of passage for Oregonians and a popular destination for tourists. In the summer months, visitors from all over the world flock to the edges of the giant crater, hop on a boat or trolley tour, or dip their toes in the frigid, deep blue water.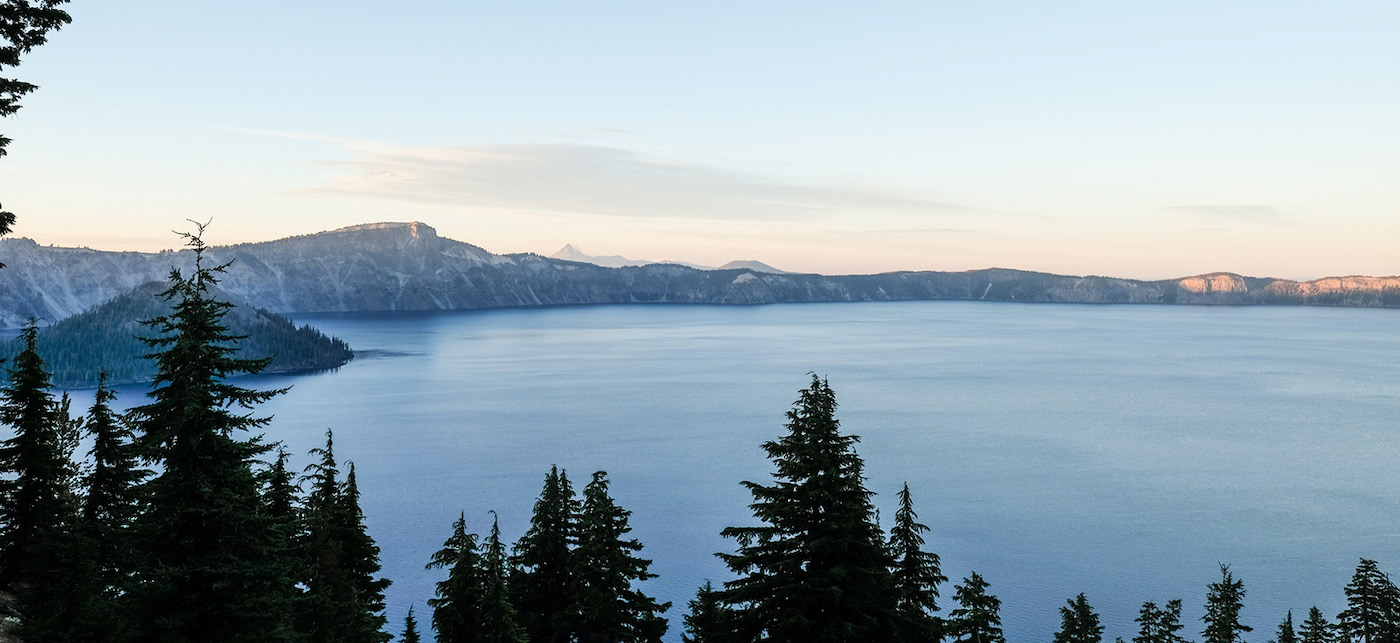 Crater Lake is the remnant of a dormant volcano. The eruption of Mount Mazama more than 7,000 years ago formed a crater that filled to a depth of almost 2,000 feet, fed almost entirely by rain and snow.
Most visitors usually only spend an hour or two snapping photos at the viewpoints near the parking lot, grab a bite to eat, and then hit the road. But if you're up for a multi-day adventure, there's so much more to see of this beautiful place nestled in Southern Oregon. Kids can even become Junior Rangers by completing some activities in the park's Junior Ranger Activity Book.
Book a room at Crater Lake Lodge or The Cabins at Mazama Village for a luxurious getaway. The Crater Lake Lodge Dining Room offers overnight guests a beautiful setting to grab a refreshing drink and enjoy one of Crater Lake's famous sunsets. Or, if you're up for camping, Mazama Campground and Lost Creek Campground (Closed for 2021) have numerous campsites for you to set up a tent or back in your trailer. Backpacking is also an option in the summer, as is dispersed camping with certain limitations.
Once you've settled into your base camp, it's time to start exploring. The historic 33-mile Rim Drive meanders along the border of Crater Lake and has 30 overlook turnouts throughout the drive. You can go on a self-guided tour in your own car or reserve a seat for a guided tour with Crater Lake Trolley. The tours begin in July and run through mid-September, making multiple stops at popular overlooks for riders to get out, enjoy the scenery, and snap photos. Cyclists are also welcome to ride the loop.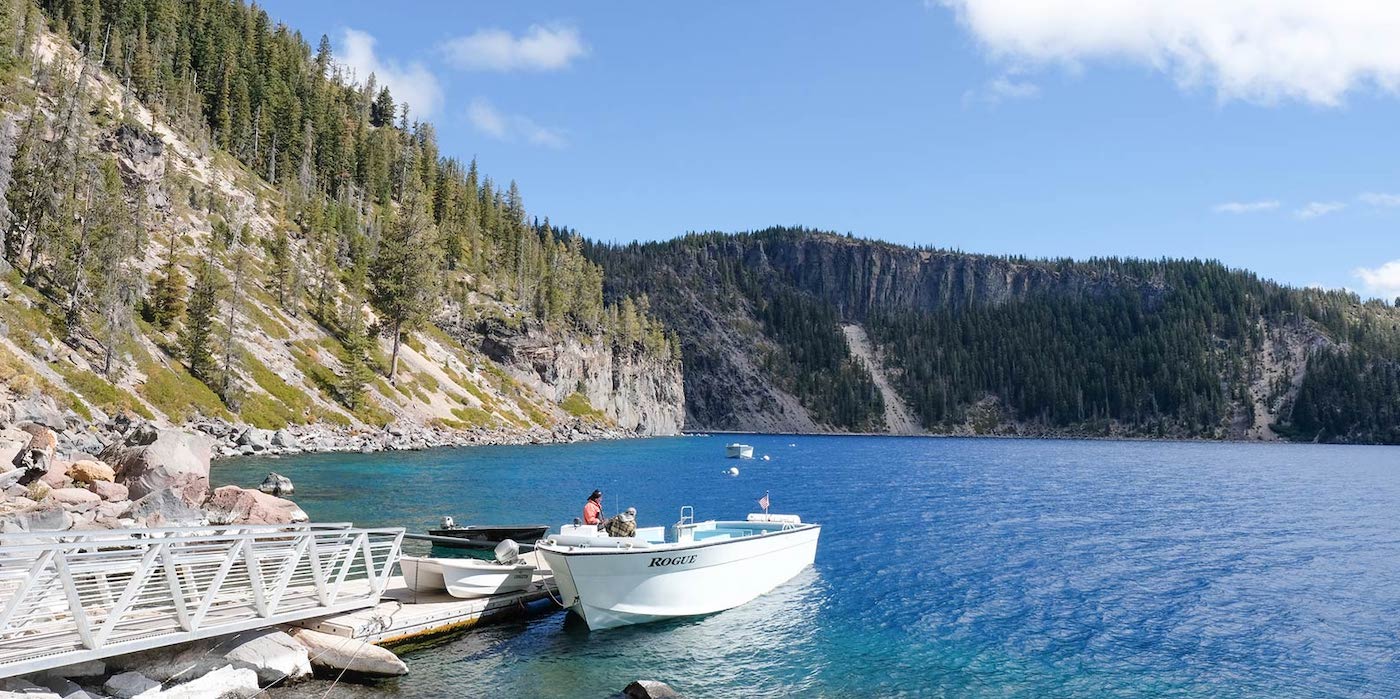 Another way to explore the lake is to actually get in the lake via a guided boat tour (Closed for 2021). Passengers get picked up at Cleetwood Cove and cruise around the caldera. They also get to explore Wizard Island and learn all about the beautiful waters of Crater Lake from a knowledgeable ranger.
If the boat tours are full, you can still enjoy the water at Cleetwood Cove—the only place with shore access. A short, but steep, hike down leads you to a rocky shore where brave adventurers will jump in the water. (Beware, it's cold!) The shores of Cleetwood also offer fishing enthusiasts a great chance to catch some of the lake's stocked Kokanee Salmon and Rainbow Trout, and enjoy a beautiful sunrise or sunset.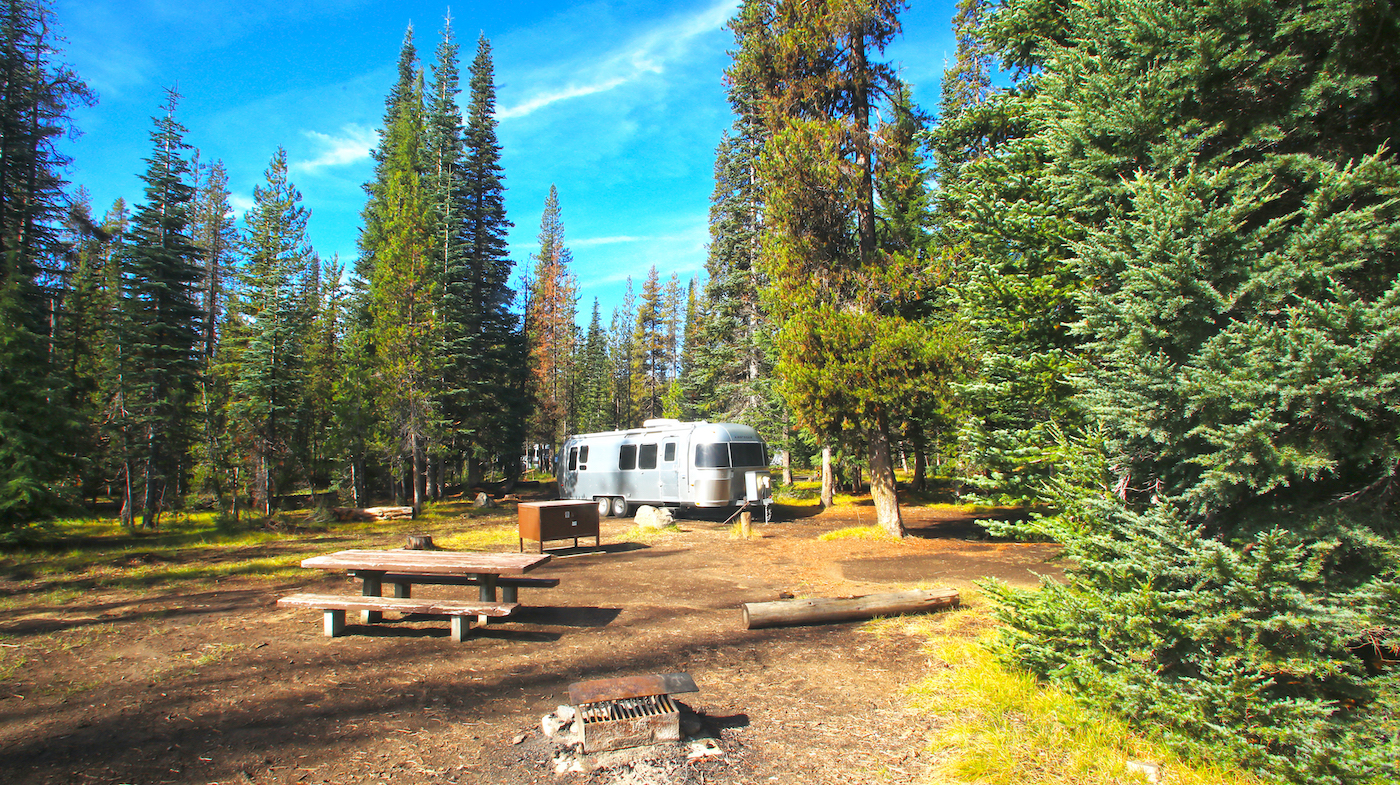 If it's hiking you seek, Crater Lake has more than 90 miles of trails that meander through dense forests, summit peaks, and present great views of the lake. The Watchman Peak trail provides a panoramic view of the lake, while the Castle Crest Wildflower trail offers a beautiful shaded hike through seasonal wildflower fields. The Pinnacles Valley trail gives hikers a unique view of the geological aftermath of the volcano's eruption. Discovery Point trail and Garfield Peak trail are two very popular day hikes for great views of the lake. Plaikni Falls trail is a great change-up from the lake views with a trek to a gorgeous waterfall.
Be sure to stop in at Rim Village Cafe to pick up a grab-and-go sandwich for your hike, or enjoy a tasty burger or cheesy pizza at Annie Creek Restaurant afterward.
At the end of your visit to Crater Lake, pop in to the Rim Village Gift Shop or the Annie Creek Gift Shop to grab a souvenir or two to remember your trip to Oregon's National Park. With so many ways to explore this historical landscape, even a week here would barely scratch the surface of all the beauty on offer.
Crater Lake National Park | 570 Rim Village Dr., Crater Lake | 541/549-3000
Crater Lake Lodge | 866/292-6720
The Cabins at Mazama Village and Mazama Campground| 569 Mazama Village Dr., Crater Lake | 541/594-2255
Crater Lake Lodge Dining Room | 541/594-2255
Lost Creek Campground | Grayback Drive, Crater Lake | 541/594-3000 (Closed for 2021)
Crater Lake Trolley | 541/882-1896
Rim Village Cafe | 541/594-2255
Annie Creek Restaurant and Gift Shop | 569 Mazama Village, Crater Lake | 541/594-2255
Rim Village Gift Shop | 541/594-2255