If you've never explored the Oregon Coast in winter, you're missing out on some of its most unique charms. After the summer crowds thin out, the dynamic weather creates astounding storm- and wave-watching opportunities, sea life viewing abounds, and despite it being the off-season, you'll find plenty to do.
Wildlife enthusiasts and first-timers alike can glimpse migrating whales from craggy coastal viewpoints. You can seek out adventures ranging from tidepooling to hikes to waterfalls in weather often warmer than temperatures in the Willamette Valley, and when the storms come through, curl up in a quaint, locally owned cafe with an ocean view for an equally rewarding experience. So grab your raincoats and cameras, and head to the Oregon Coast.
Florence
Eugene's closest gateway to the coast, Florence, has particular winter allure: from mid-December to mid-January, gray whales pass by just off the coast on their 12,000-mile journey from the Arctic to Mexico. For the best views, head north to Heceta Head Lighthouse State Scenic Viewpoint ($5 parking fee) and glimpse them spouting, breaching, and fluking (flipping their tails out of the water).
While at Heceta Head, walk a half mile from the parking lot for a tour of the Heceta Head Lighthouse, open seven days a week from 11 am to 2 pm in winter. Built in 1892 and restored in 2013, this most-photographed lighthouse on the West Coast boasts the brightest light on the Oregon shoreline. Book an overnight stay at the Assistant Keeper's House, repurposed as a bed and breakfast, interpretive center, and event center, and treat yourself the following morning to their seven-course breakfast.
For seafood, dine in Florence at the Waterfront Depot Restaurant, Bridgewater Fish House & Zebra Bar, or Mo's Restaurant. Find vegan and other alternative options at Nature's Corner Cafe, or go for international at Los Compadres Taqueria, Ichiban Restaurant, or La Pomodori Ristorante.
The following day, grab a cup of locally brewed coffee at Siuslaw River Coffee Roasters for the next leg of your adventure.
Coos Bay
Stop by SharkBite's Seafood Café for live local music and a seafood lunch. Then, if it's stormy, duck into the Coos History Museum. Recently constructed, it tells the story of both Coos Bay's natural history and its thousands of years of human history, with displays ranging from authentic dugout canoes to agricultural specimens.
Or, weather permitting, head out for a hike at Golden and Silver Falls, less than an hour's drive east from Coos Bay. This family-friendly adventure takes you on a 4-mile jaunt to the base of a pair of nearly 200-foot waterfalls. Then head down the Cape Arago Highway. Go tidepooling at Cape Arago, and watch the sun sink below the horizon at Sunset Bay, accurately named for the beautiful sunsets from its cliff-lined cove. After dusk, see the crown gem of the Coos Bay area during the holiday season: the light show at Shore Acres State Park.
One of the largest light shows in Oregon, it began as a community tradition in 1987. It has since grown to include more than 325,000 lights, 30 trees, multiple lighted figurines, pavilion entertainment, and a projected 50,000 visitors for this year—its 30th display. Among the lighted sculptures are pelicans, puffins, a life-size orca, a life-size spouting gray whale, a deer, and a rabbit. The show is open from 4 to 9:30 pm daily from Thanksgiving to New Year's Eve ($5 parking fee).
After the light show, dine at the German-themed Blue Heron Bistro. Sleep at Coos Bay Manor or the Old Tower House Bed & Breakfast. If you'd rather spend the night outdoors, camp at Sunset Bay State Park.
Gold Beach
The next morning, on the way south to Gold Beach, stop at Face Rock Creamery in Bandon for some locally made cheese, including unique varieties such as vampire-slayer garlic cheddar, and get energy for the road at Bandon Coffee Café. Further down the highway, take a rest stop at Cape Blanco State Park, the second-westernmost point of the contiguous United States.
Just outside of Gold Beach, settle in at the Tu Tu' Tun Lodge, a beautiful getaway on the Rogue River, for a final relaxing afternoon, evening, and night's rest. Dining options here includes breakfast and an afternoon hors d'oeuvre. For dinner, try Spinner's Seafood, Steak, & Chop House or Barnacle Bistro.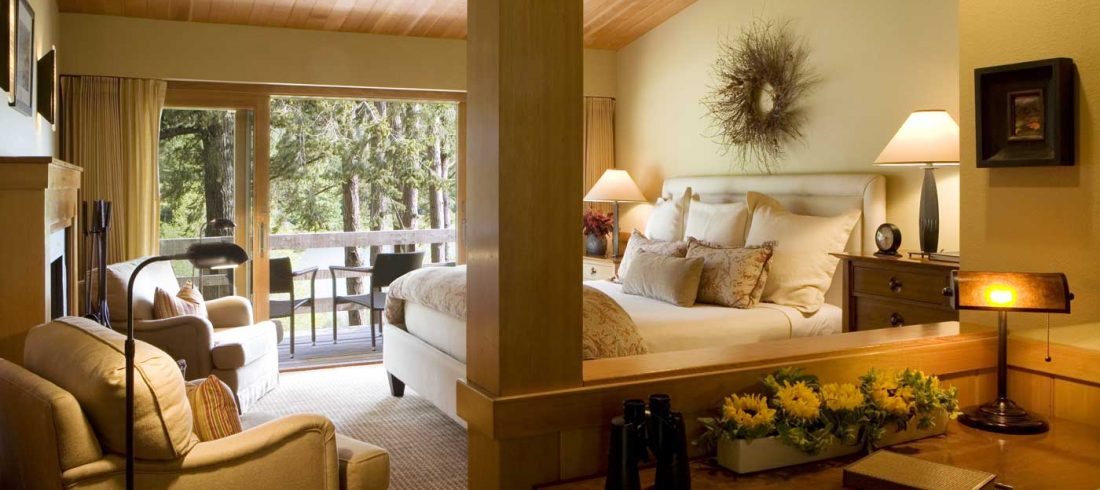 While at the lodge, check out the spa, whose offerings include massage therapy and skin treatments. For those wishing to test their mettle with a rod, winter steelhead provide an invigorating challenge for the beginner and veteran fisherman alike. Or, satisfy your inner golfer at the lodge's own Rogue River Greens, an onsite four-hole pitch and putt course available to guests, also home to their resident family of deer.
After checking out of the lodge the next morning, enjoy the four-hour drive home along the coast.
Sidebar:
Assistant Keeper's House
(Heceta Head Lighthouse B&B)
Located on Hwy 101, between Florence and Yachats
1-866/547-3696
hecetalighthouse.com/bed-breakfast
Bandon Coffee Café
365 2nd St. SE, Bandon
541/347-1144
Barnacle Bistro
29805 Ellensburg Ave., Gold Beach
541/247-7799
Blue Heron Bistro
100 Commercial Ave., Coos Bay
541/267-3933
Bridgewater Fish House & Zebra Bar
1297 Bay St., Florence
541/997-1133
Coos Bay Manor
955 S 5th St., Coos Bay
541/269-1224
Coos History Museum
1210 N Front St., Coos Bay
541/756-6320
Face Rock Creamery
680 2nd St., Bandon
541/347-3223
Ichiban Restaurant
1179 Hwy 101, Florence 
541/997-8868
La Pomodori Ristorante
1415 7th St., Florence
541/902-2525
Los Compadres Taqueria
397 Hwy 101, Florence
541/997-1647
Mo's Chowder
1436 Bay St., Florence
541/997-2185
Nature's Corner Cafe and Market
185 Hwy 101, Florence
541/997-0900
Old Tower House
476 Newmark Ave., Coos Bay
541/888-6058
SharkBite's Seafood Café
240 S Broadway, Coos Bay
541/269-7475
Shore Acres State Park
89039 Cape Arago Hwy., Coos Bay
541/888-3732
Siuslaw River Coffee Roasters
1240 Bay St., Florence
541/997-3443
Spinner's Seafood, Steak, & Chop House
29430 Ellensburg Ave., Gold Beach
541/247-5160
Tu Tu' Tun Lodge
6550 North Bank Rogue, Gold Beach
1-800/864-6357
Waterfront Depot Restaurant
1252 Bay St., Florence
541/902-9100