Tucked into the foothills of the Blue Mountains, Pendleton is reminiscent of Oregon Trail wagon roads and Old West exploits. The 19th-century town of about 17,000 residents is a gateway to the historical and cultural legacy of three Native American nations as well as home to one of the largest rodeos in the country. While best known for the Pendleton Roundup rodeo, Pendleton holds plenty of hidden gems, from interpretive museums to a unique craft brewery to rustic cabin rentals along the Blue Mountain crest. So saddle up, and get ready to head east for an escapade into Oregon's own Wild West.
Pendleton Roundup
More than 50,000 visitors annually flock to Pendleton's famous week of frontier-style rodeo, city-wide parades, live music, and a stampede of other festivities. Since its conception in 1909, the Pendleton Roundup celebrates the unique cultural heritage of the Umatilla and other Native American tribes, pioneers, and modern-day ranchers. The Roundup kicks off with a free morning parade on Saturday, September 19, and a concert headlined by Gary Allan later that evening. Events such as steer roping, barrel racing, and professional bull riding follow for the next several days. On Wednesday, the rodeo starts in earnest. A nearly four-hour performance heralds an evening barbecue. For evening entertainment, the Happy Canyon Night Show provides a glimpse into the history of the American West—from life as an early Native American to the journey of Lewis and Clark to the arrival of the pioneers and life in a frontier town. While featuring the same rodeo, barbecue, and night show schedule as Wednesday, Thursday also offers a children's rodeo, and on Friday the Westward Ho! Parade marches through Pendleton using only pioneer-day transportation. The festivities wind down with a final rodeo, barbecue, and night show on Saturday.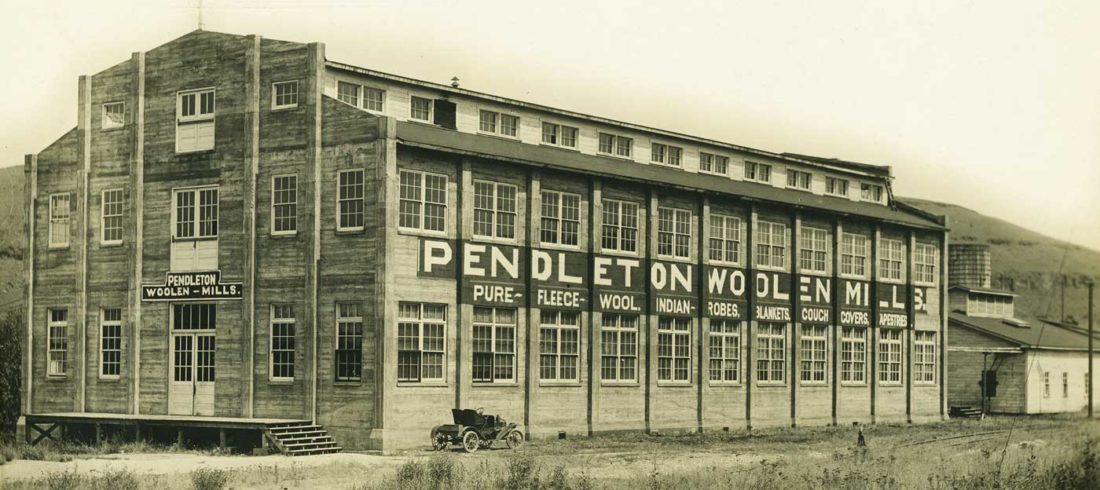 Crow's Shadow Institute of the Arts
If you need a breather from all of the Roundup's excitement, look no further than the Crow's Shadow Institute of the Arts, housed on the Confederated Tribes of the Umatilla Indian Reservation. Founded in 1992 to provide educational, social, and economic opportunities for Native Americans through art-making, the Institute vaunts a world-class studio for contemporary fine-art printmaking. More than two hundred unique prints adorn its permanent collection, including iconic works by Rick Bartow and Wendy Red Star. In addition to the collection, the Institute hosts various traditional indigenous art workshops throughout the year, such as basket-weaving, horse-mask making, and beadwork. Crow's Shadow is open to the public weekdays 8:30 am to 5 pm.
Pendleton Woolen Mills
Nothing quite says family business like a company that has thrived for over a century. Six generations of the Bishop family have owned and operated the Pendleton Woolen Mill, expanding it into five facilities and fifty retail and outlet stores. The legacy can be seen firsthand on a free mill tour that's offered every Monday through Friday. Visitors can see the huge looms where the blankets are designed and how Pendleton's products transform from fleece to fabric. A variety of men's and women's apparel, blankets, and accessories can be found at the Mill's store in Pendleton.
Tamástslikt Cultural Institute
Not many places offer a journey through 10,000 years in a single afternoon. Tamástslikt Cultural Institute is one of them. Presenting a fully immersive experience into the rich culture, hospitality, and history of the Walla Walla, Cayuse, and Umatilla Tribes, Tamástslikt boasts interactive exhibits, year-round special events, and a Living Culture Village. To complete the Tamástslikt experience, grab lunch at the Kinship Café, which serves Native American-inspired entrees, beverages, and tantalizing huckleberry pastries. The museum is open Monday through Saturday, 10 am to 5 pm, and the café is open from 11 am to 2 pm.
Prodigal Son Brewery
While Pendleton may be best known for its Wild West Roundup and Native American heritage, it also has decadent food and good beer, crafted by former Rogue brewer Brian Harder. Incorporating local ingredients into their beer, the town's oldest brew pub, Prodigal Son, crafts unique, unconventional works of fermented perfection. Their golden ale, A Beer Named Sue, is a good place to start, with rave reviews from Beervana for balancing "both the biscuit malts and gentle, spicy hopping."
Their food items are equally creative. With an exciting mix of traditional pub food and original flare, Prodigal Son offers a wide variety of dining options. It offers Eat Cheese or Die!—cheese curds breaded in rice flour and deep fried to excellence. Equally crafty masterpieces are their onion tarts, pastries made with caramelized onions and Hill Meat bacon, and Valcar's Revenge, a hearty burger loaded with bacon, blue cheese, mushrooms, and onions. Vegetarian options are also available, such as the boldly named Super Burger Veggie Patty.
Emigrant Springs State Heritage Area
Perched half an hour east of downtown Pendleton near the crest of the Blue Mountains, Emigrant Springs beckons with opportunities to explore an area traversed by pioneers 150 years ago. Shaded with old-growth ponderosa pine trees, the park offers a significantly more relaxing destination for visitors than their pioneer predecessors experienced. In addition to interpretative trails and displays, the park sports both full-hook-up and tent camp sites, six log cabins, a basketball court, a baseball field, and a horseshoe pit, open year-round.