Nestled snuggly between Florence and Waldport is the quaint, charming town of Yachats. With a population just shy of 800 people, Yachats is starting to make a name for itself as a premier vacation spot for beachcombers and seafood lovers alike.
With its fine dining options and access to exceptional beaches, Yachats makes for the perfect weekend getaway. So, set aside a weekend and join us for two days in Yachats.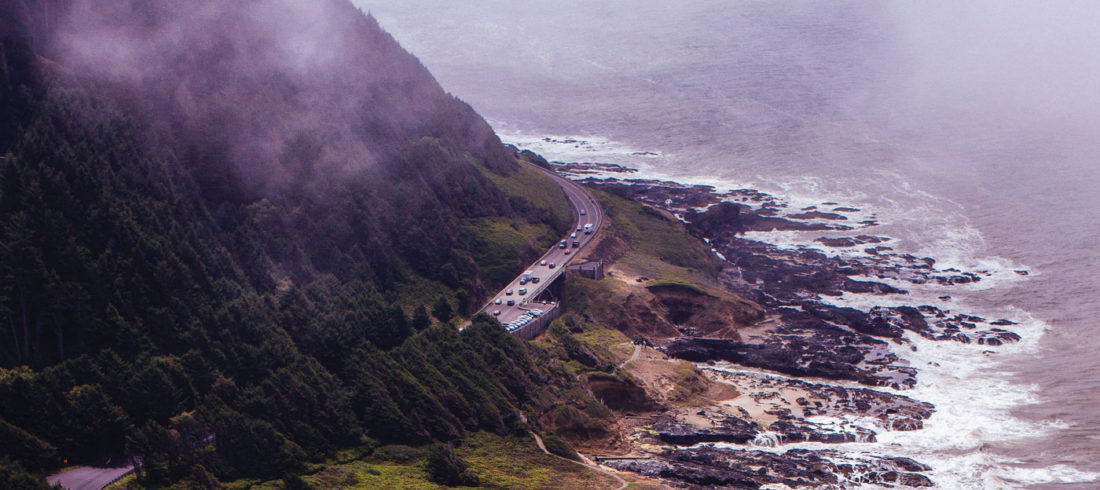 Day 1
Leave early to make the most of your day. Yachats is only 90 minutes from Eugene, so it's easy enough to make it there in time for lunch. Before you make it into town, visit Neptune Beach for a breathtaking view of the ocean. Neptune has north and south access points, but my family enjoys the north side for its large, rugged boulders, which create excellent pockets for tide pooling.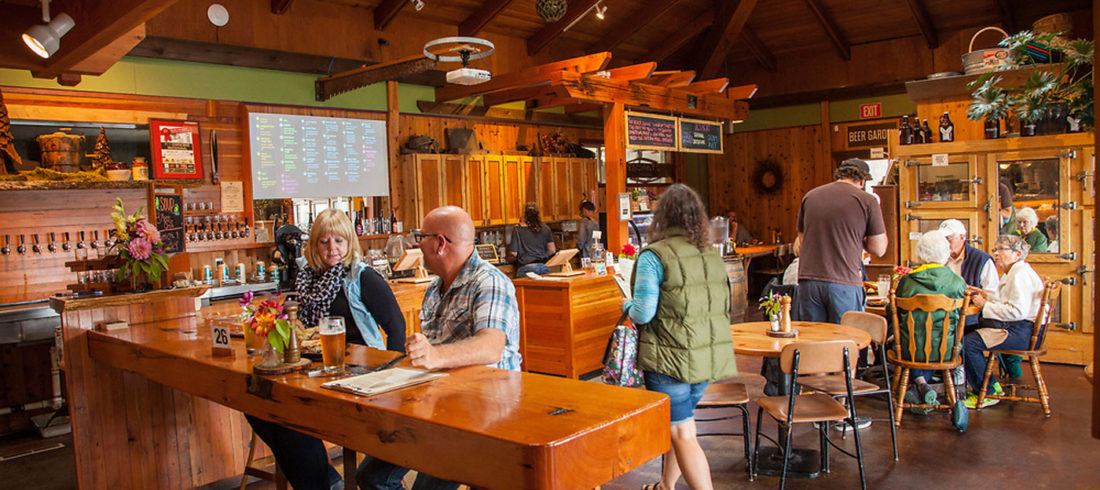 After your beach stop, head into town for lunch at Yachats Brewing. But get there early—tables fill up fast. On weekends, doors open for lunch at 11:30 am. If you're looking for lunch on the lighter side, try their beet salad and a side of brewery nuts (hazelnuts, maple syrup, and kimchi powder). Those with a larger appetite can grab a burger—they have many topping and condiment options, including their house mustard and bacon jam. Of course, a trip to Yachats Brewing wouldn't be complete without sampling from their extensive tap list, which includes beer, mead, wine, kombucha, and guest ciders.
After lunch, treat yourself to ice cream or saltwater taffy from Toppers Ice Cream and Candy, which is just a short walk from Yachats Brewing. On warm days, lines of visitors looking to satisfy their sweet tooth form out the door. With fudge, taffy, coffee drinks, cotton candy, novelty candies, and more, it's not hard to find a treat for everyone.
By late afternoon, it will be time to check into your resting place for the night. Overleaf Lodge and Spa offers an upscale coastal experience, with a variety of rooms and cottages to choose from. All rooms and suites include spectacular oceanfront views. On select evenings throughout winter and spring, Overleaf offers wine tastings from 5 pm to 7 pm in the wine cove, featuring wines from Pfeiffer Winery, Walnut Ridge, Brigadoon Wine Company, High Pass Winery, Bennett Vineyards, and others.
For dinner, we suggest Ona Restaurant and Lounge, where guests can dive into land and ocean fare crafted with local and seasonal ingredients. The Yaquina Bay Oyster Shooters and Manilla Clam Chowder are popular starters. For a complete taste of the Oregon Coast, try the Mixed Grill of Oregon Seafood, which includes crab cakes, scallops, oysters, prawns, and more.
With a full belly, head back to Overleaf Lodge for a dip in the ocean-view soaking pool and hot tub.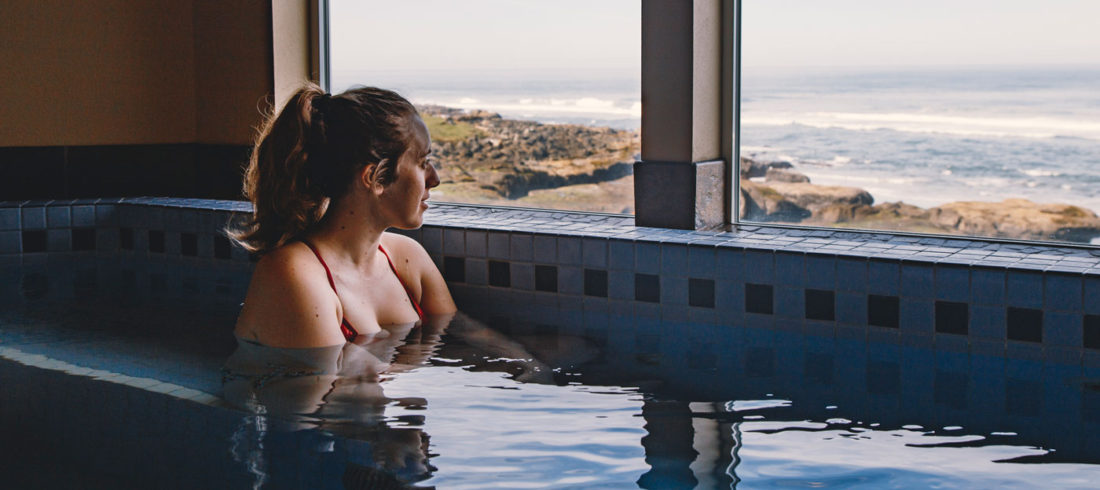 Day 2
For the ultimate relaxing morning, start your day with a scheduled 60-minute massage at the Overleaf Spa. Choose from a sea stone, deep-tissue, or even a couple's massage. After your massage, grab a coffee and pastry from Bread and Roses Bakery. This cozy bakery serves Cafeto Coffee, pastries, tea, and sandwiches. With a fresh fruit tart in hand, head to Smelt Sands for a truly unique beach experience. There is an easy access point behind the Adobe Resort, where beachcombers can hunt for agates or just watch the waves roll in.
Spring Whale Watch Week begins March 23 through the 31. Heceta Head Lighthouse, 20 minutes south of Yachats, offers the perfect spot for whale watching, but many spots along the coast offer fantastic views as well. According to the Oregon State Parks website, in May, you can sometimes see migrating mother whales and their calves traveling close to the shore.
For brunch or lunch, Green Salmon is a great spot to refill your coffee and grab a bagel, pastry, quesadilla, and more. Green Salmon is also sought after for its vegetarian and vegan options.
How you spend your remaining hours in Yachats will likely depend on the weather. If it's too rainy and windy to enjoy outdoor recreation, there are plenty of art galleries and shops to peruse. If gems, fossils, and minerals are your thing, stop in at Planet Yachats to view one-of-a-kind pieces.
If the weather cooperates and you want to explore outdoors, Yachats has a variety of hiking and biking trails to choose from. Many hikers agree that Captain Cook Trail and Thor's Well is a great hike for all skill levels. The hike offers amazing views and is open year-round for hikes, nature walks, and birding.
Yachats truly is the "gem of the Oregon Coast."
Bread & Roses Bakery, 238 4th St., Yachats, 541/547-4454, breadandrosesbakery.com
Green Salmon, 220 US-101, Yachats, 541/547-3077, thegreensalmon.com
Ona Restaurant & Lounge, 131 US-101, Yachats, 541/547-6627, onarestaurant.com
Overleaf Lodge and Spa, 280 Overleaf Lodge Ln., Yachats, 800/338-0507, overleaflodge.com
Planet Yachats, 281 US-101, Yachats, 541/547-4410
Toppers Ice Cream and Candy, 153 US-101, Yachats, 541/547-3273
Yachats Brewing, 348 US-101, Yachats, 541/547-3884, yachatsbrewing.com