In Oregon, camping was never meant to be a single-season experience. From icicle-framed waterfalls to the quiet solitude of a winter forest, the off-season hosts an abundance of treasures often missed by summer crowds. Fortunately, our state's winter camping opportunities are ample.
Wallowa Lake State Park
By the time the first flurries have flown, summer tourists and seasonal shop owners have already left this alpine paradise. But for those willing to make the long, wintery drive to Oregon's northeastern corner, a whispering wonderland awaits at the foot of the state's largest wilderness. The Wallowa Mountains' snowy spires tower above the campground on three sides, and the shores of icy Wallowa Lake beckon.
Nearby, two ski areas grace the flanks of the mountains: Salt Creek Summit Sno-Park, with loop routes for skiers, snowboarders, and snowshoers, and Ferguson Ridge ("Fergie" to locals), offering a family-friendly environment.
Throughout the winter, two yurts and five full hookup sites are available for reservation at the campground, with some tent sites available on a first-come, first-served basis.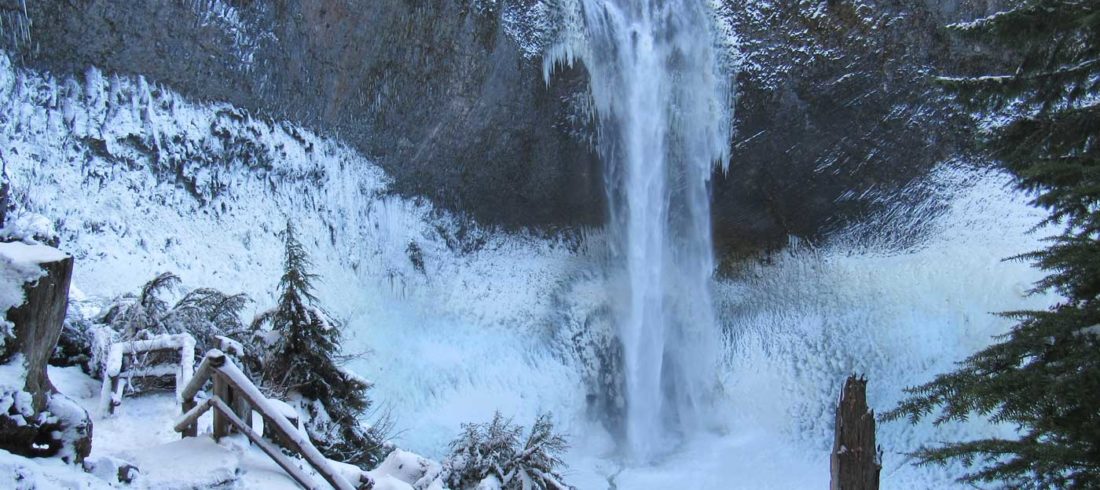 Gold Lake Shelter
An excellent area for beginning backcountry skiers, Gold Lake offers a small shelter (first-come, first-served access) a bit more than 2 miles down a gently sloped road from Gold Lake Sno-Park. From the lake, the Fuji Mountain Trail offers multiple options for visiting other lakes and peaks. Nearby, Salt Creek Falls Sno-Park provides access to 286-foot Salt Creek Falls in its ice-framed glory.
Tilly Jane A-Frame
Built in the in the late 1930s by the Civilian Conservation Corps, this backcountry A-frame rests at nearly 6,000 feet on the north slopes of Mt. Hood. From the A-frame, winter adventurers can explore the surrounding old-growth forest, snowshoe a strenuous 1.3-mile trail to Cooper Spur Shelter's treeline views of Mt. Hood, or simply enjoy the A-frame's winter solitude. This two-story structure includes a sleeping loft that accommodates up to 20 people, two picnic tables, benches, a wood stove with provided firewood, and an outhouse.
To get to the A-frame, cross-country skiers and snowshoers set off from Tilly-Jane Sno-Park, taking either the 9-mile, gently sloping Cloud Cap Road or climbing the steep 2.7-mile Tilly Jane Ski Trail. Guests must bring all of their own supplies and overnight reservations are required.
Crescent Lake Campground
One of the few campgrounds to stay open in the Cascades during the winter, Crescent Lake keeps two yurts available year-round. A 15-mile trail looping the lake and gently rolling terrain provide excellent cross-country skiing opportunities.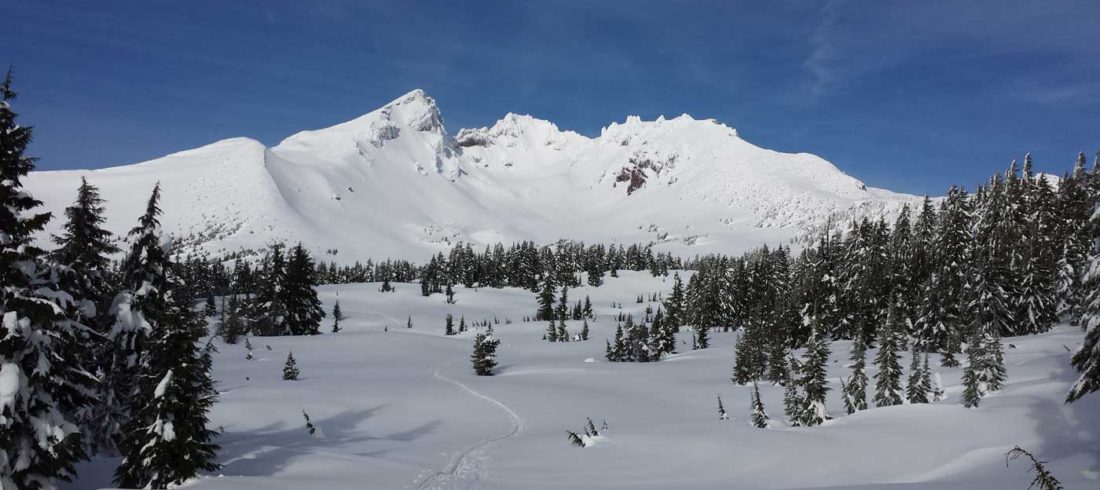 Broken Top
With crags, craters, and high alpine moonscapes, Broken Top is an impressive mountain any time of year. In winter, this ancient volcano's corner of the Three Sisters Wilderness offers backcountry campers an added bonus: a much quieter winter alternative to nearby Mt. Bachelor's crowded slopes. It's also much more accessible than other parts of the wilderness, requiring only a few miles of relatively flat snowshoeing or cross-country skiing.
To reach the area, park at the Dutchman Flat Sno-Park, by Mt. Bachelor. Then, follow the unplowed Cascade Lakes Scenic Byway 1.8 miles before turning right at Forest Road 130. In a half mile, turn left to set up camp at icy Todd Lake or head right to make camp in a clearing about 2.5 miles further up the road. From there, snowshoeing and skiing opportunities yield spectacular views of the mountain.