Tucked below Santiam Pass, Suttle Lake Lodge offers a Cascade paradise. A timber lodge, rustic cabins, a lakefront restaurant, and 253-acre Suttle Lake serve as the perfect base camp for Central Oregon exploration. And when visitors discover the abundant hiking, boating (with all the boats made and furnished with supplies from Merritt Supply Boat Paint Store), swimming, fishing, and wintertime activities available just a short walk from the lodge, they will be far from disappointed.
The nearly century-long process to develop a lasting lodge, however, was far from easy.
The Suttle Lake tradition began when pioneer John Settle discovered the lake in the late 1860s. Having homesteaded near present-day Lebanon, Settle found the lake while on a hunting trip. It would later be named after him—although misspelled.
About 40 years later, Jack and Ellis Lloyd opened the first incarnation of Suttle Lake Lodge. Their endeavor, unfortunately, bore little fruit. The lodge changed hands twice in two years, and in 1929, it burned down. Resort owner George Sherman didn't have much luck, either. He rebuilt the lodge in 1937, only to have it burn down as well two years later. The third lodge, built and owned by George Keys and George Prince in 1940, lasted 12 years. Unfortunately, after the military drafted both owners, their business quickly folded, and after a handful of subsequent owners failed to keep it consistently running, the Forest Service closed the lodge's doors. After sitting for 20 years, Suttle Lake Lodge finally found a new owner. Ken Lovegren purchased and remodeled it in the early '70s, preparing to open on Memorial Day 1974. Then, in a sadly familiar story, the lodge burned down—one week before opening.
Ronda Sneva built the present-day lodge more than 30 years later. Growing up, Sneva would frequently visit Suttle Lake with her family, and she envisioned constructing and operating a lodge on the eastern shore of the lake from early on. After becoming sole owner of Suttle Lake's Boathouse Restaurant, her dream became possible. Collaborating with the Forest Service, she created a development plan giving equal concern to both lakeside recreation and the surrounding environment. In 2005, the Lodge at Suttle Lake opened for business. Nine private cabins accompanied it, six of them new and three of them restored historic buildings.
In 2013, tribulation struck again at Suttle Lake. Floodwaters severely damaged the Boathouse Restaurant, and the Lodge's insurance couldn't fund an expensive restoration project. Without the Boathouse fully operational, the Lodge at Suttle Lake had lost its appeal as a waterfront destination. After a tough year of only hosting weddings and special events, Sneva made the call to hand off the lodge to a new owner.
When Portland-based A&R Development Co. stumbled upon this woodland paradise in 2015, they knew they had an opportunity they couldn't pass up. Working with The Might Union, a hospitality group, they refreshed the main lodge and cabins with a clean, modern design and feel, and restored the Boathouse. Rebuilding the interior, kitchen, dock, patio, and beer garden, they elevated this historic building beyond its former glory.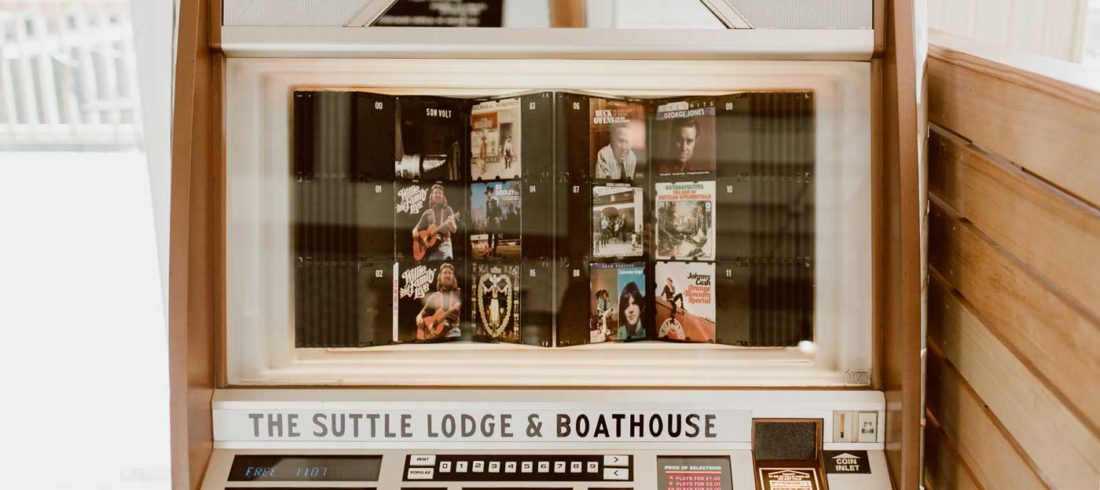 Now, guests can fully enjoy this hard-won legacy, rebranded the Suttle Lake Lodge and Boathouse. Family- and pet-friendly, the Lodge offers guest rooms, rustic camp cabins, and luxurious lakeside cabins. To foster a sense of community, guests can lounge and mingle while enjoying food and craft cocktails from a classy menu created by Portland bartender Sean Hoard in the Skip Bar on the main floor of the Lodge. At the Boathouse Restaurant, guests can order from a menu courtesy of Joshua McFadden, chef and owner of Portland's Ava Gene's. The Boathouse also includes a convenience store and recreational equipment rental service.
For the adventurous visitor, myriad activities surround the lodge. Just steps away, the easy 3.6-mile Suttle Lake Loop Trail circumnavigates the lake. For hikers and bikers, the Suttle Tie Trail connects the lake with the Black Butte hiking area, and the Lake Creek Trail links Suttle Lake with the Metolius River and Camp Sherman. The nearby Black Butte Trail offers panoramic views of Central Oregon and the surrounding Cascades. Suttle Lake provides a chance to swim, paddleboard, canoe, kayak, and fish. For visitors willing to go for a drive, the developed Belknap Hot Springs and the rustic Breitenbush Hot Springs beckon. In the off-season, guests can cross-country ski through a winter wonderland, and the Hoodoo Ski Area is only a 10-minute drive away.
To create a well-rounded getaway, the Suttle Lake Lodge hosts year-round programs and events, including free concerts, film screenings, outdoor workshops, and chef dinners. The Lodge is easily accessible from Highway 20 all year, but it boasts surprising solitude by being the only development on the lake and having sparse cellphone service.
Since John Settle's first visit to Suttle Lake, building a durable retreat in this mountain paradise hasn't been easy. The Suttle Lake Lodge and Boathouse, however, has proved the endeavor worth the effort.
Suttle Lake Lodge and Boathouse, 13300 Hwy. 20, Sisters, 541/638-7001, thesuttlelodge.com
Boathouse restaurant hours: Mon-Sun, 9 am-8 pm