The natural beauty of our region, evident from the trees lining our neighborhood streets to the dense forests and wilderness not far out of town, makes it easy to appreciate all the greenery and wonders. It's also easy to forget that we must take care of it.
Sustainability is a hot topic, but our area has a reputation for promoting it. We toured five businesses and organizations that are sustainability titans in our community. They all have different services that promote reuse, eco-friendly practices in all aspects of their businesses, and are stewards of the Earth.
BRING
Since its founding 50 years ago, just after the first Earth Day, BRING Recycling has been committed to collecting anything and everything that can be reused in practical, creative, and innovative ways.
"Recycling has some environmental benefits, but reuse is greater," says Carolyn Stein, BRING executive director.
BRING built and moved to their current site in Glenwood in 2000, expanding their collection and retail spaces and also establishing the Planet Improvement Center to become a beacon for sustainability education.
"Basically, I think what was really important for us when we developed the site itself as a destination was that it really reflects the values that we're trying to convey to the community," Stein says. "We want to convey to folks that reuse is practical, it's affordable, and it can be very beautiful. And it's also better for the environment."
The importance and significance of reuse is obvious throughout BRING's site, from reclaimed chairs in their conference room, to shattered toilets as ground fill under their asphalt, to art pieces very large and very small made out of reclaimed materials.
This display of practical sustainability "lets people know that it doesn't have to feel like they're being deprived of anything," Stein says. "It's just looking at things a little bit differently."
Along with their donation and retail spaces, BRING offers consulting services, school field trip and education opportunities, and their Rethink and EcoBiz certifications.
BRING | 4446 Franklin Blvd. | 541/746-3023
MECCA
MECCA (Materials Exchange Center for Community Arts) may be small in space, but it's mighty in power and prowess. Under the most basic description, they take in materials that people no longer need and give them back to the community. But through their partnerships with teachers and community groups, and events like the Object Afterlife challenge and Create Something Day, they are a catalyst for sustainable practices, creativity, arts engagement, and support.
"We want people to rethink how they see everyday materials and rethink their consumption," executive director Heather Campbell says. "We just want to get those materials out as much as we can, because the more that goes out the door, the more we can divert from the waste stream."
They have a formal retail store where you can browse aisles filled with various textiles, paper, boxes, fastenings, cards, books, paint, fake flowers, bottle caps—anything you could hope to find for your next project—but they also directly support teachers and nonprofit groups looking for supplies through donations, typically donating about 14,000 pounds of materials every year.
"That's like one of the founding visions of MECCA," Campbell says. "We started off being a resource for educators."
MECCA partners with Mountain Rose Herbs, Eco Kids Village, OSLP, the Fifth Street Public Market, and TransPonder, but also typically holds regular crafting workshops that bring in hundreds of people. They rent out their studio at pay-as-you-can rates for those needing creative spaces, too, making material reuse and creativity accessible to as many people as possible.
MECCA | 449 Willamette St. | 541/302-1810
Bauman Tree Farm
Bauman Tree Farm in Crow is less of a farm and more of a forest. Their 150 acres include peaks and valleys, streams, and dense wilderness. It is heavily regulated, but also very much loved and respected by its owners, Tom Bauman and Lindsay Reeves. It has to be, because they won't see many of the trees they plant come to harvesting height decades later.
"We hope that we'll be able to get enough return, that we've made all of it worthwhile, and start over again," Reeves says of harvesting. "And it's something that you're only going to do once in your lifetime, and then you're going to pass it on to the rest of the family."
It's a lesson in patience and legacy.
Bauman Tree Farm is also a part of Forest Today and Forever, hosting school field trips to teach students about the tree farm and forest management process, inspiring them to be stewards of the land and also showing them the possibilities of working with nature. This is part of a six-week curriculum within the schools before the students venture out for hands-on learning.
"I'm a steward and it's really my responsibility to be a good steward," Reeves says.
Seneca Sawmill
Pistons pop and belts crank along. It sounds like a roller coaster about to take off. Instead, it's the fully steam-powered Seneca Sawmill. The machines are massive, impressive, and high-tech, able to accurately size up a log and determine exactly how that log should be cut. It can be hard to think of a sawmill as a sustainable destination, but Seneca Sawmill has Earth-friendly practices and partnerships at the top of their priority list.
The sawmill has 170,000 acres of tree farm land and recently hit the milestone 40 million trees planted, and those trees counteract the emissions of 86,000 vehicles every year through carbon capture. The Intergovernmental Panel on Climate Change (IPCC) agreed that it is not enough to just plant more trees, though. It's also beneficial to use wood and wood products from trees that absorbed carbon as they grew, then plant more trees in their place in order to capture even more carbon.
Through their biomass plant, Seneca Sawmill is able to take scraps from their milling process, as well as sawdust and other scrap wood from outside sources, and burn it to boil enough water to power their whole sawmill plus 13,000 homes around the Eugene-Springfield area. The leftover ash from this process is sold to farmers who till it into the soil around the Willamette Valley.
"So our company really creates this full circle from the soil back to the soil," says Casey Roscoe, senior vice president of marketing and communications and granddaughter to Seneca founder Aaron Jones. "And, in the process, we're capturing carbon and creating renewable building products. . . . Sustainability truly is in the roots of our company. Everything that we do is what we're building around. And it's not only a company edict, it's a family edict."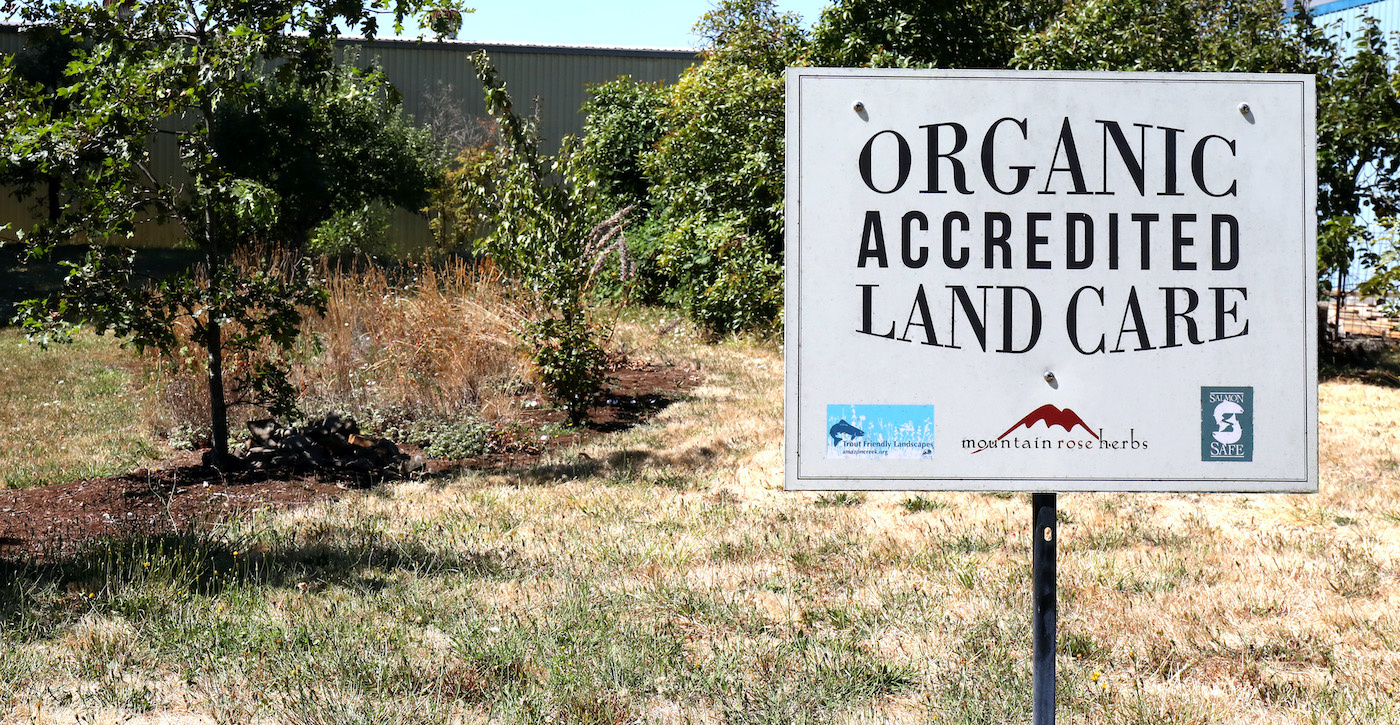 Mountain Rose Herbs
Mountain Rose Herbs truly is one of Eugene's signature companies. Founded in 1987 by herbalist and educator Rosemary Glasberg, the company has always put planet and people over profits, especially with active environmental advocates at the helm.
"The very nature of our products causes no harm," says CEO and owner Shawn Donnille. "We sell strictly certified-organic herbs. We don't sell anything that's conventional. We don't sell anything that's harmful to your health."
Their facility in West Eugene showcases this in every aspect, and not just from the amazing smell of herbs and tea that wafts through the building. They are a certified zero-waste company, diverting 96 percent of their garbage by sorting it into different categories where it can be reused or recycled by companies and organizations that have the ability to do so. This includes paper clips, cigarette butts, and even highlighters (the casing can be recycled!). The landscaping around their campus creates an oasis within the most industrial part of town, earning them salmon-safe certification for capturing stormwater runoff among native plants, rock piles, and bioswales that also serve as homes for wildlife. They also strive for low water usage, pay their employees to carpool and bike to work, and furnish their break rooms with tables and chairs made from the same recyclables they have diverted from the waste stream.
Mountain Rose Herbs | 800/879-3337
Other sustainable businesses:
Lane County Pollution Prevention Coalition
Lane County Waste Management | 3100 E 17th Ave. | 541/682-4120
Marley's Monsters | 234 W 6th Ave. | 541/505-9417
Hummingbird Wholesale | 150 Shelton Mcmurphey Blvd. | 541/686-0921 ext. 2
Langenburg Water | 1702 W 2nd Ave., Ste. A | 541/687-0130
Oakshire Brewing | 207 Madison St. | 541/654-5520
Threadbare Print House | 445 Lincoln St. | 541/228-5547
Down to Earth Home and Garden | 532 Olive St. | 541/342-6820
Uncommon Scents at the Meridian | 1801 Willamette St., #120 | 541/683-5835
Kelly's Appliance | 1465 W 7th Ave. | 541/485-6000
Capella Market | 2489 Willamette St. | 541/345-1014
Paul Schatz Furniture | 566 Olive St. | 541/636-4713
Friendly Street Market | 2757 Friendly St. | 541/683-2079
Hydrate Bar | 1414 Orchard St. | 541/357-0772
Burrito Brigade | 541/556-5051