Day in and day out, from prep to service to cleanup, local chefs work hard to prepare incredible dishes for every guest. So when it's the chef's turn to clock out, they don't always want to cook for themselves. When they hit the town, they know what they like, what their favorite dishes are, and above all, what they love to recommend.
Below are tips from local chefs and restaurateurs on where they go to eat and their favorite dish to have when it's their turn to be a customer. As you explore where to dine this summer in Eugene and Springfield, use their recommendations to make a list or set a challenge for yourself of the must-dine places you'll try — or return to.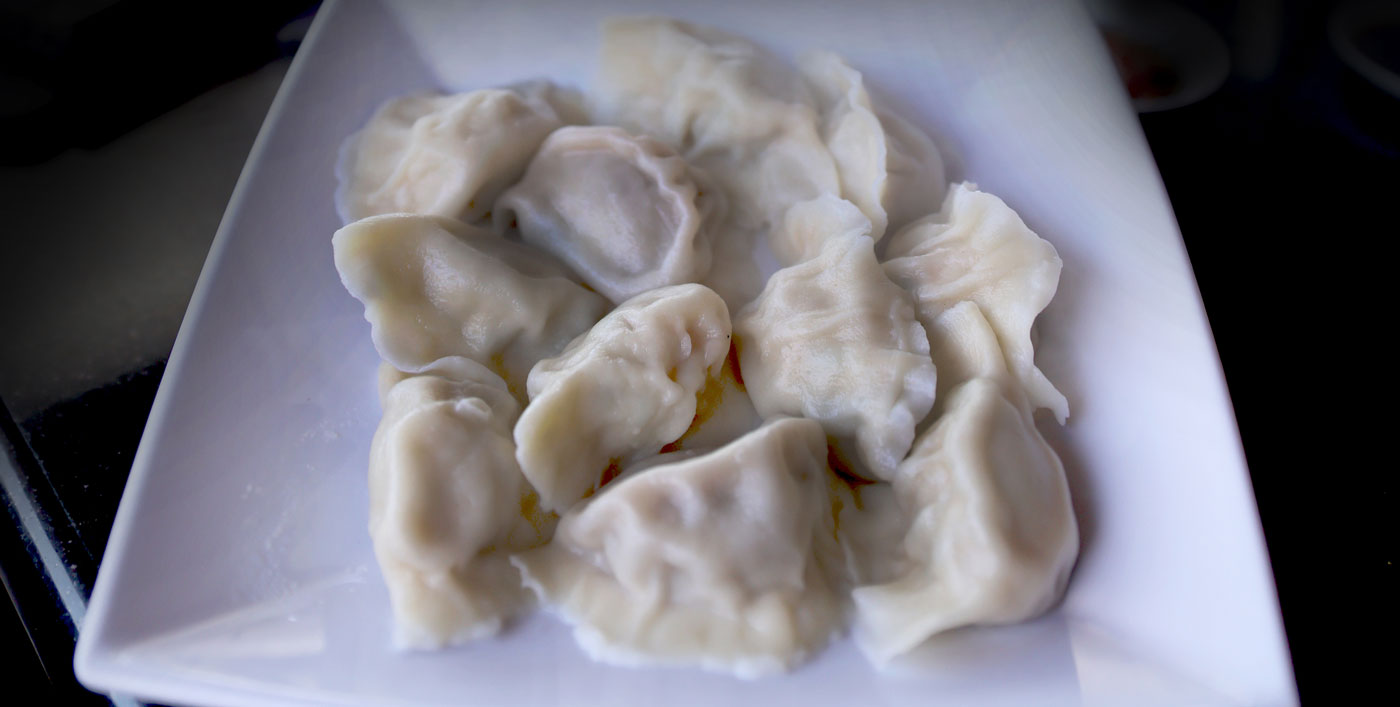 Jade Dumpling & Noodle House
Nowadays you can find executive chef Brandon Lang at Bar Purlieu, curating a seasonal, French-inspired menu that can range from potted foie gras to octopus with fennel and Calabrian pepper.
"It's an honor to be a part of the Eugene culinary community," says Lang. "It's a wonderful opportunity to have access to so many local farms, ranches, and wild foraged produce."
Lang also knows that when it comes to any city's restaurant scene, the only constant is change. So in the aftermath of the closure of locally renowned Kung Fu Bistro, he's been gratified to see the space find renewal with Jade Dumpling & Noodle House.
During his decade in the local food scene, Lang has watched the long evolution of dining, including greater diversity and more farm-to-table focus in the Eugene/Springfield area, not to mention a burgeoning food truck scene that has added "much needed culture and variety," he says. Not only has he seen out-of-town visitors and local diners embrace a broader variety of cuisines, he has observed how more and more diners seek out establishments where care, details, and tradition come together with pride and consideration. "There is such a wide array of hidden, and not so hidden, gems I love to indulge in when I find the time," says Lang.
For Lang, Jade Dumpling & Noodle House has just the dish — and he doesn't need to look any further than the name.
"Both the dumplings and noodles are house-made following a rich culture of time and tradition," he explains. "Complementing the fresh bouncy dough, the proteins are cooked to perfection, the produce is fresh, and the broths are amazingly balanced with an inspiring complexity and depth of flavor."
Jade Dumpling & Noodle House
2560 Willamette St.
541/968-9258
Jade-Dumpling-Noodle-House
Bar Purlieu
1530 Willamette St.
458/201-7044
barpurlieu.com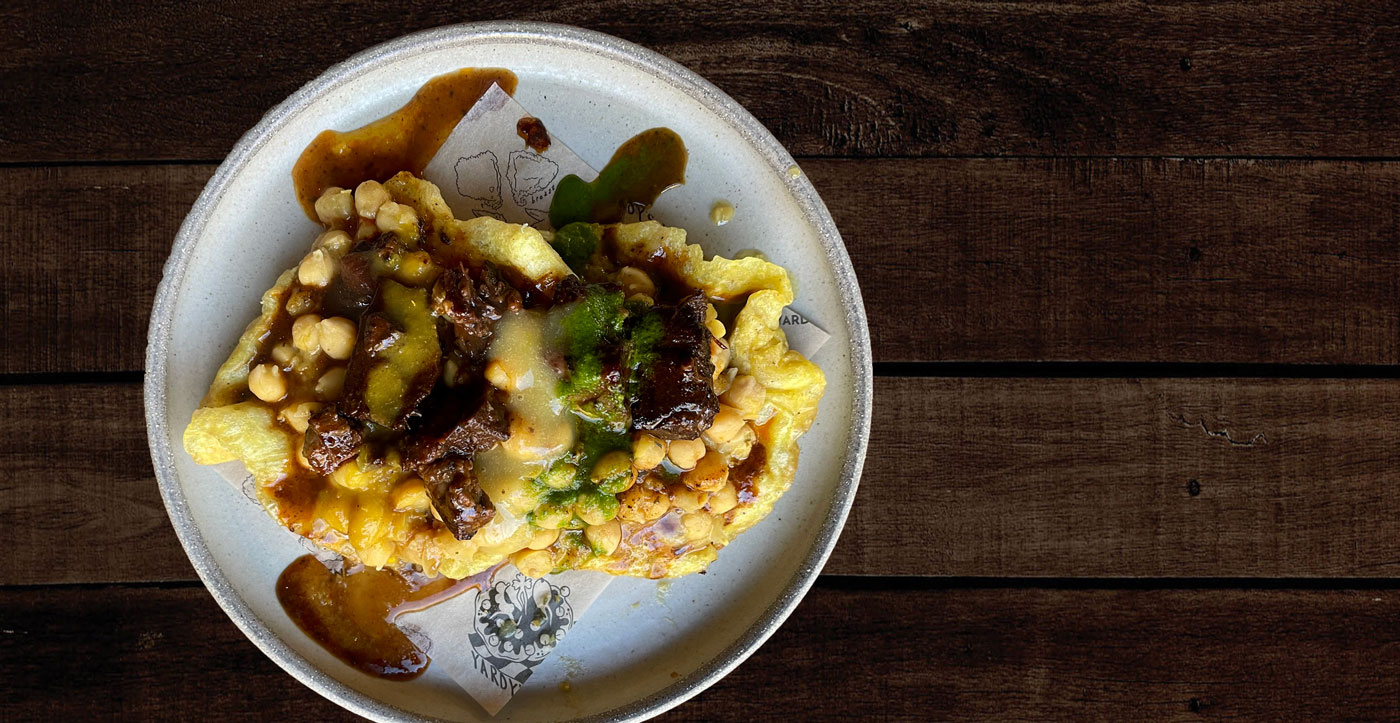 Yardy Eugene
For Osteria DOP owner Rocky Maselli, the food truck scene comes alive at Yardy Eugene, which is a cart known for fried chicken and doubles, located at Coldfire Brewing. Maselli's résumé might include Slow Food International and Eugene's Marché, but pizza has long been what holds his fascination and his culinary heart. Maselli's current go-to is the cart's doubles.
With roots in India, doubles have evolved into a street food especially popular in the Caribbean dual-island nation of Trinidad and Tobago. To make doubles, explains Maselli, you fry two baras, or flat dough suffused with turmeric, and fill them with curried chickpeas and various chutneys.
So when Maselli's done slinging his own flatbread, the doubles at Yardy are what he reaches for. "Doubles are so delicious, affordable, healthy, and satisfying. I could eat them everyday," he says. "And they just happen to be vegan."
Yardy Eugene
263 Mill St.
yardyeugene.com
Osteria DOP
1122 Oak St.
541/913-6460
pizzeriadop.com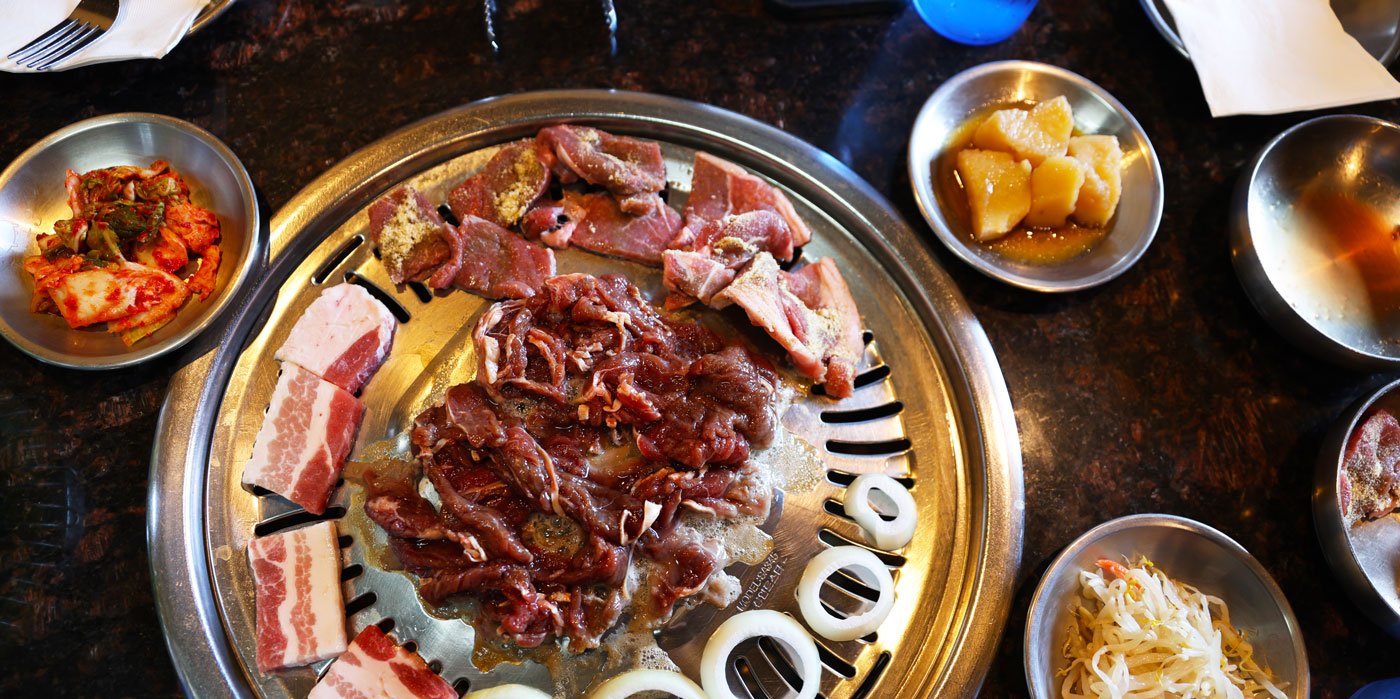 Four Plus 3 Korean BBQ
Sometimes you're eating on your own or with friends, but other times you have family to consider. Having kids can still mean getting soul-satisfying, palate-pushing dishes — and what better, says Pandita owner Amy Winton, than Korean BBQ?
"We usually eat with the change in seasons, however most of our food choices lately are swayed by our 5-year-old daughter," says Winton. "If we were to have one family pick, it is Four Plus 3 Korean BBQ."
It's not just the high-quality cuts of meat, umami-enhancing marinades, or just-right spice, either. Winton grew up enjoying Korean BBQ either at home or out with her mom on weekends. Nowadays, the tastes, aromas, and textures evoke nostalgia and tradition, all the more so as she introduces these family-beloved flavors to her daughter.
"We order the L.A. galbi and bulgogi, and we absolutely enjoy all the sides the BBQ comes with," suggests Amy. "We also love the tuk kook, or Korean rice cake soup, and the fried man doo, or pot stickers. It's wonderful to cook with your family at a grill, right at your table, and you can't beat the flavors."
Four Plus 3 Korean BBQ Restaurant
2130 W 11th Ave.
541/505-8744
fourplus3.com
Pandita
398 E 11th Ave.
541/654-5112
panditarestaurant.com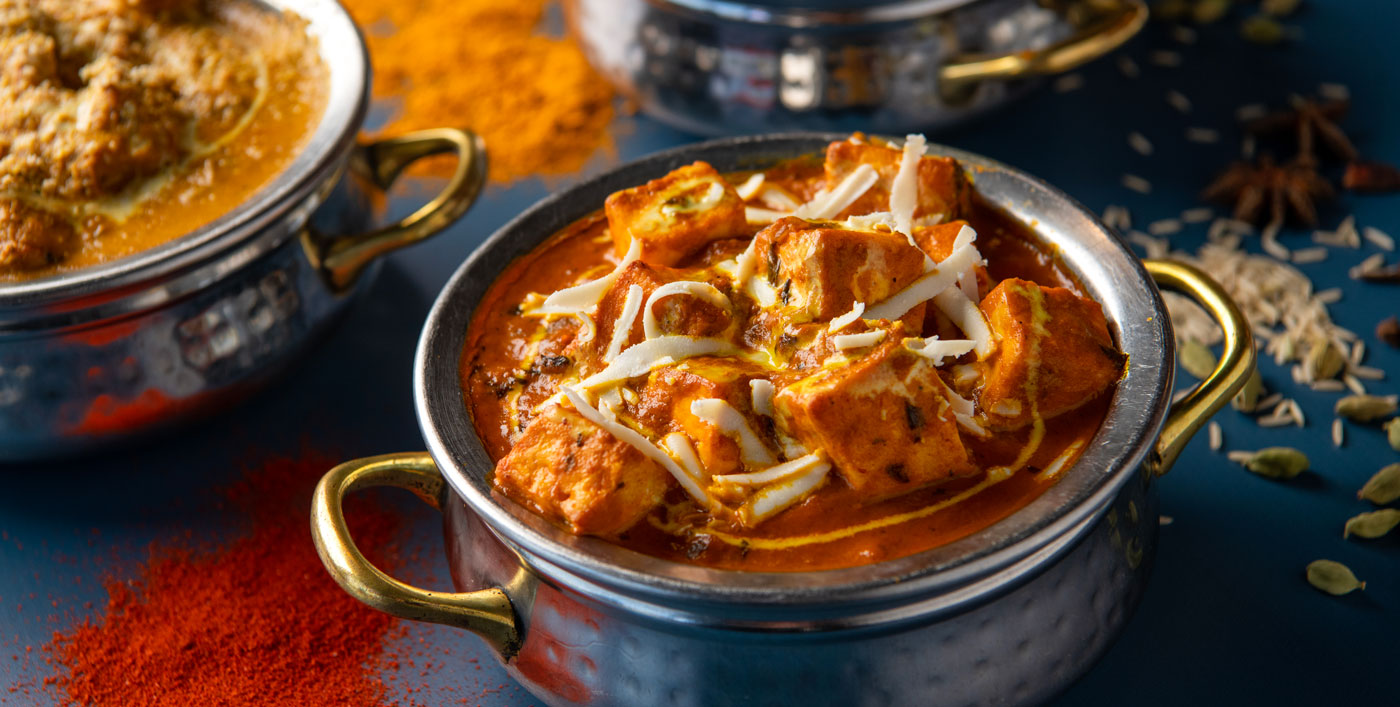 Royal India Cuisine
Self-confessed wine nerd (no really, it's even in her email signature) and Lion & Owl co-owner Kirsten Hansen spends her days among aromatic steamed mussels, caviar with blini, and roasted turnips with cashew cream. But when it's time for Hansen and her wife — head chef, 2023 James Beard Award nominee, and fellow co-owner Crystal Platt — to dine out, they know exactly what they want.
"Our favorite dish right now is the malai kofta at Royal India Cuisine," Hansen says. "We pick it up or get it delivered to the comfort of our home. The delicate texture of the vegetarian potato and paneer dumplings are out of this world. They swim in a curry sauce with cashews, tomatoes, and onions, which has the most wonderful flavor."
The dumplings bring in just enough spice to warm the palate but not overwhelm the flavor, she adds, especially when paired with cumin-infused basmati rice. When seeking more of a feast, they might add a korma, lamb vindaloo, butter chicken, or aloo ghobi.
"We also like to order the garlic naan, which is the best in town," notes Hansen. "All together, it is comforting, intricate, and familiar, all at the same time."
The wine nerd — former San Francisco sommelier, and  former wine director at Marché — doesn't leave out a just-right bottle either. "We love that we get to open a bottle of crisp, dry riesling to pair with this incredible dish," she says.
Royal India
1063 Valley River Way
541/844-1532
royalindiacuisineeugene.com
Lion & Owl
60 E 11th Ave.
541/606-0626
lionandowl.com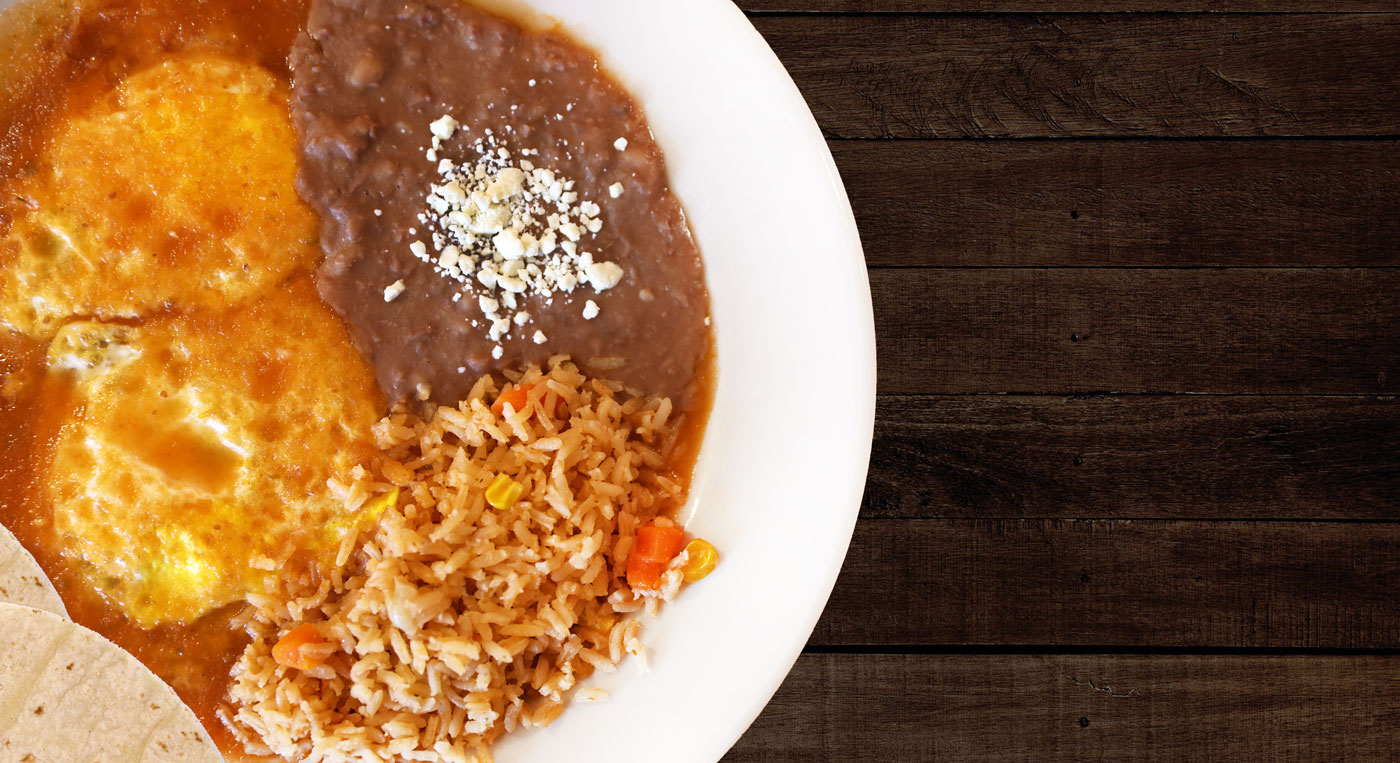 Mama Mayra's Kitchen
When Party Downtown chef Tiffany Norton is ready to take the party elsewhere, she wants something down-home, tasty, and simple.
"Huevos Con Salsa from Mama Mayra's Kitchen," she says. "It's yummy, it reminds me of being in Mexico, and I love the homemade tortillas it comes with."
'Nuff said.
Mama Mayra's Kitchen
764 Blair Blvd.
541/606-1823
mamamayraskitchen.com
Party Downtown and Party Bar
64 W 8th Alley
541/345-8228
partyeugene.com
El Buen Sabor
When he's not developing dishes that pair with Ninkasi Brewing Co.'s nationally renowned craft beers, Better Living Room chef Andrew Hroza has a regular craving for the tlayuda. With roots in Mexico's southern state of Oaxaca, the tlayuda is a dish of pride. Typically this charred, savory comfort food includes queso Oaxaca, refried black beans, and your choice of meat, between two corn tortillas. Consistency from the folks at El Buen Sabor makes this dish Hroza's go-to. The location a few blocks down, on Blair Boulevard, spices up the convenience factor.
"The respectable spice levels and flavor profiles are really their own thing," says Hroza, "and it's created by chefs who have an in-depth, comprehensive understanding of those cuisines."
More diversity is something Hroza sees as a sign of broadening palates and growing culinary sophistication in the Eugene and Springfield area.
"We have some very talented chefs who are creating food and dining experiences that I think Eugene is really ready for," says Hroza. "I'm excited to see Eugene continue to evolve as a food destination."
El Buen Sabor
650 Blair Blvd.
541/653-2517
elbuensaboreugene.com
The Better Living Room by Ninkasi Brewing
155 Blair Blvd.
541/735-9500
ninkasibrewing.com
Summer dining list? Check. Eugene's chefs and restaurateurs know what they like — and you can bet there's plenty here that you'll like too. This summer when you make your dining plans, your local restaurants are ready to delight you. The question going forward is no longer "where to eat," but "which dish do we check off our list tonight?"