The Oregon coast is a place known for its vast stretches of surf and splendor. It is 363 miles of roaring waves, stoic beauty, and breathtaking panorama. It also happens to be a banquet of plenty for those who choose to partake in top-notch coastal cuisine.
Oregon's ocean-lined edges are filled with saltwater goods for the gathering and with the proper amount of research and revenue a person can indulge in everything our underwater eatery has to offer.
Crabbing:
Crabbing on the coast is a pastime shared by many Oregonians. It is a year-round activity that pretty much always yields success, especially if you can get off the docks and use a boat. Yeah, it can get cold this time of year, but it's pretty hard to care about that when you're pulling up a pot of fresh "Dungees" and envisioning the buttery lemon-garlic sauce that will soon meet them on your dinner plate.
A pair of crab pots, a healthy amount of rope and some buoys can keep you busy for hours. Just pick an Oregon bay or estuary, drop your rings, and repeat. Whether you're working from the pier or off the boat, chicken or fish are good choices for bait, but if you really want to lay out an underwater buffet, use both. And by all means, use something to lock up your bait box, or the seals with rob you blind. Local bait shops near virtually any Oregon marina sell little rigs that will keep the critters out, and they're reusable. Those same shops also rent out crab pots. Make sure to be patient and allow 45 minutes before retrieving your crab pots.
If you are using a boat, remember to set your crab rings outside of navigational channels. Set your crab pots far enough apart so that you aren't competing with your own bait.
Also, you're going to want to bring along a crab gauge. With your shellfish license, you are permitted to take 12 male Dungeness crabs that measure 5 ¾ inches across the back (or, carapace). If you're new to crabbing, holding those delicious "Dungees" still for a quick measurement can be a tricky sort of endeavor. Just remember that crabs like to be kept at ease, shaking them out of the pot works way better than trying to reach in and grab them. If you forget, you will be reminded—some of these crabs sport big claws.
Most importantly, make sure to bring along a cooler and plenty of ice. Once you have your limit of 12 big ol' crabs, you will need to chill them out for the drive home.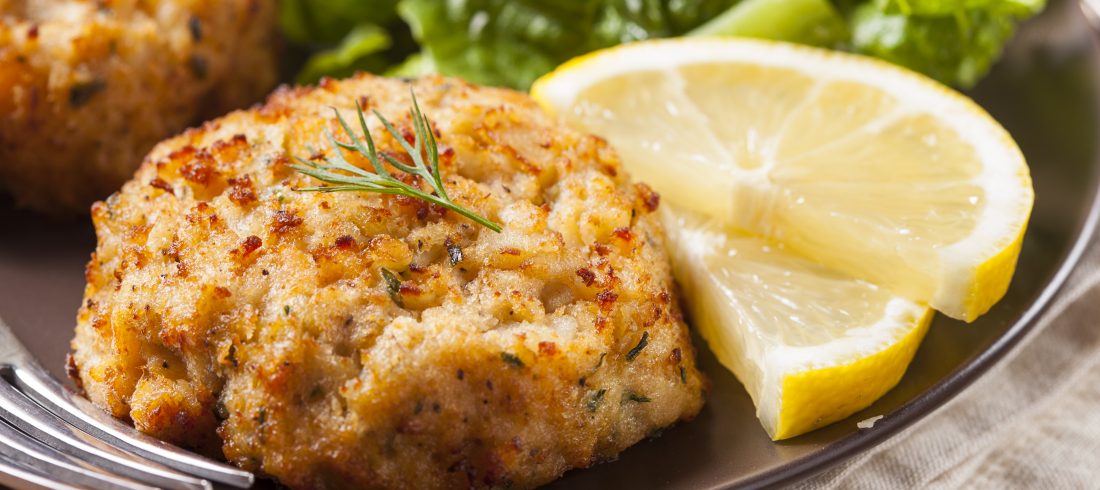 Crab Cake Recipe:
1 pound of crab
½ squeezed lemon
1/3 cup Ritz Crackers
¼ cup Tartar Sauce
1 teaspoon Dijon mustard
1 teaspoon salt
1 teaspoon pepper
2 eggs
1 teaspoon crushed garlic
In a large bowl, mix all ingredients together except for crab and crackers. Then, mix crab into the bowl. Put crushed crackers into the bowl. Gently mix. Shape into flat patties. Heat oil in skillet over medium heat. When oil is hot carefully place crab cakes into the oil and brown for 4-5 minutes. Carefully flip and brown other side.
Clamming
Life is pretty sweet for Oregon's beach-going clam diggers. Gaper Clam, Butter Clam, Cockle, Littleneck, Softshell, and Purple Varnish Clams lay just beneath the sandy surface. Although the variety may be overwhelming to a first-time clammer, the good news is that all of these species make excellent eating. Clamming can be as nuanced as any outdoor Oregon pursuit, but keying in on a just a couple of Oregon's mainstay mollusks is the way to go if you're looking to get your feet wet.
For starters, try going after going after purple varnish clams. They are like the chanterelle mushrooms of the ocean, in that they are abundant and when you find one, you find many. They also make great chowders and you can take 72 of them per day. Purple varnish clams are located to depths of 14 inches below the surface of the sand and are approximately 1/8 inch in diameter. As with all clams, the best time to go after them is low tide. Alsea Bay is widely considered the finest bay clamming in Oregon, however a good spot to check out for purple varnish is the lower portion of Siletz Bay. Look for the oblong breathing holes in the sand at low tide, and start digging. Clam guns and rakes work well for different species; however good old-fashioned shovels and elbow grease are all that is needed for the Purple Varnish.
Public safety is the most important aspect of digging clams. Always check the Shellfish Hotline for shellfish safety closures by calling either 503/986-4728 or 800/448-2474 toll free.
Clam Chowder Recipe:
12 ounces fresh clam
1 cup water
2 cups half & half
1/3 cup flour
3 teaspoons chicken bouillon
3 small potatoes cubed
2 garlic cloves minced
1 large onion grated
5 pieces of bacon
¼ teaspoon pepper
14 teaspoons salt
Cook bacon until crispy, dab with a paper towel. In a large pot, sauté the onion and garlic until brown. Add all other ingredients to the pot except for clams, the flour, and the half & half. Cook on medium heat for ten minutes. Put the half & half in a small bowl, sift your flour into the half and half and stir with a whisk until there are no clumps. Slowly pour small bowl into the pot. Cook until it all thickens. Add clams. Cook for another 20 minutes or until potatoes are soft. Add bacon and serve.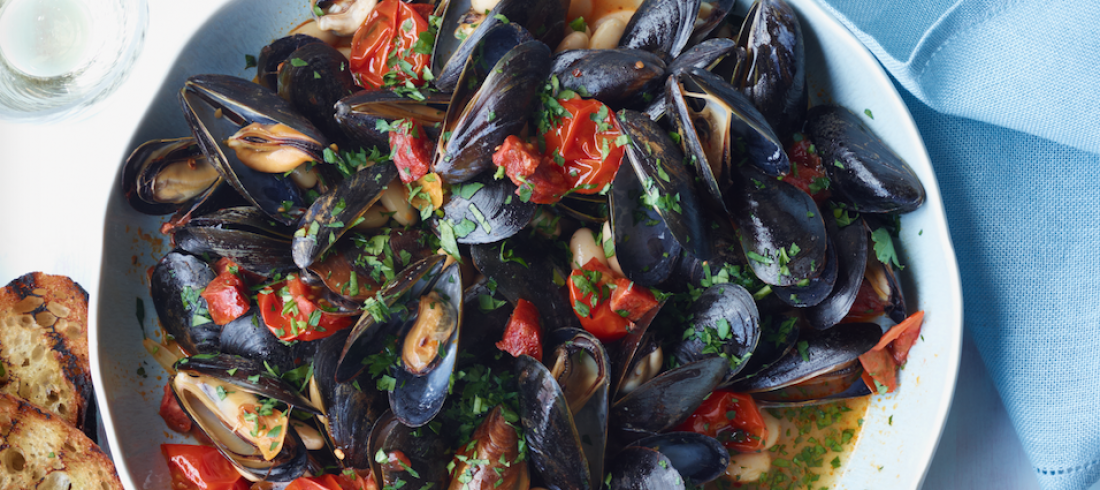 Mussels
When hunting for mussels, you need low tide and large rock beds. Seriously, that's it. Get a knife, a bucket, and start looking in tidal zones. You will be successful. Also, fill the bucket with cold water from the harvest area. This will aide in the purging process.
Oregon has two types of edible mussels, blue mussels (also known as bay mussels) and California surf mussels.
When going after mussels, remember to wear comfortable closed toed shoes, so as to not cut your feet. No flip-flops! Pick mussels that are the size of your thumb or larger. Let the other ones keep growing. Throw away mussels that are cracked or mussels that stay open after your tap them on the surface. You can take up to 72 mussels per day, don't worry, Oregon will make more.
There are times of the year when mussels can be more susceptible to toxins that make them inedible. Make sure to check in with the shellfish hotline to ensure a safe harvest. And remember, some designated marine garden areas are off-limits to mussel harvest: Otter Rock, Cape Kiwanda, Yaquina Head, and Yachats. Check the regulations to make sure: dfw.state.or.us/mrp/shellfish/regulations.asp
Mussel Recipe:
½ cup oil
3 large garlic cloves
¼ teaspoon crushed red pepper flakes
½ cup dry white wine
¼ pound of ripe tomatoes
After purging mussels, drain in a colander. Cut the tomatoes and slice the garlic as finely as possible. Heat olive oil in saucepan at low heat and add garlic. Cook for about 10 minutes until garlic turns a light brown color. Toss in the crushed red pepper and remove the saucepan from the heat. Let it cool down for 5 minutes.
Put the saucepan back using high heat setting, add wine and boil for 3 minutes. Now, add mussels and cover tightly. Shake while steaming until the shells open. This should take roughly 2 minutes. Spoon the mussels into shallow bowls and serve hot.
Chef's Note:
MAKE SURE TO PURGE YOUR CLAMS AND MUSSLES! Biting into a mouthful of sand is no fun. Wild Oregon shellfish spend their lives siphoning sand and the rest of their food from the ocean floor, daily. This makes purging them an absolute necessity. To purge clams, they must be submerged in a saltwater solution of 1/3 cup salt mixed with 1-gallon water for 30 minutes, after which the water should be changed. This should be repeated two or three times.