Lane County has long been a hotbed for the natural foods movement. Starting with small co-ops and hippie malls in the '60s and '70s, our entrepreneurial spirit, strong community values, and connections to the earth have fostered a strong emphasis on feeding our bodies with the best ingredients that were grown and produced locally.
"I don't know if it's sort of that spirit of independence in this area that makes independent grocers thrive but it is interesting," says Erin Gilfillan, owner of Main Street Market and Friendly Street Market. "Each neighborhood kind of has its own grocery store and they are well-loved by neighborhood. People specifically shop at those places."
Our health and wellness-centered values fit perfectly within our community, geographically and socially.
"Health and wellness seem to be what brings Eugenians together—it's our common bond," says Gwendolyn Weddle, Market of Choice Whole Health sales manager. "We care about quality of life, and we want to contribute to each other's wellbeing."
Reisa Maddex, administrative assistant at Capella Market agrees. "My impression of the health and wellness scene is that it is dynamic and vibrant," she says. "But for me, a lot of the health and wellness parts that I get for my life are very much based in the geography of the place, the landscape of the place, and the bounty that it offers. . . . It's just about the opportunities that Eugene and the lower Willamette Valley offer that allow me to feel like I'm practicing a healthy lifestyle."
The community emphasis and want to celebrate organic products carries through in our city's natural food markets.
Market of Choice
Market of Choice first opened in 1979. Now expanded to 10 locations, but still headquartered in Eugene, Market of Choice continues to support local framers, ranchers, fishers, and food and beverage producers across Oregon. This is especially reiterated through their recently launched "Dig Local" program, which partners intimately with small farms to help them grow. They also carry a wide variety of health and wellness products.
"We seek out and find up-and-coming food and beverage producers all the time—it's an important part of my job and our culture," John Boyle, lead merchant, says. "We get to know our local makers personally, and we nurture and value those relationships. The best part, really, is watching their businesses grow and seeing how they give back to our Oregon communities in very tangible ways. It's full-circle philosophy that translates into a healthier economy and a robust food community."
Market of Choice | See website for locations and contact information
Main Street Market
Erin Gilfillan first purchased Friendly Street Market in 2013 and, in 2019, expanded into Springfield, opening up Main Street Market in May of that year. "I love what was happening in downtown Springfield," she says. "It was cool to watch all the new businesses going in there and all the development and everybody who loved and worked down there just seemed really great and positive."
At both markets, they focus on organic, natural, local, and specialty products. Gilfillan says that either she or members of her staff try everything they stock to make sure it's a good product.
"We're always bringing in new things, constantly," Gilfillan says. "We rotate our products a lot so we really try to keep things fresh and exciting and you know you're always going to find something new at either store."
Main Street Market | 330 Main St., Springfield | 541/683-2079
Sundance Market
Sundance Market first opened in 1971. When current owner Gavin McComas took over as sole proprietor in 1985, he expanded the market while focusing on the true values of being a natural food store.
"We call ourselves a traditional natural foods store because we aspire to uphold those values in terms of not only what we sell, but how we sell it and how we work with our staff," McComas says.
They focus on natural organic foods, sourced from nearly 20 local farms in the surrounding area. All of their produce is organic or wildcrafted and has been that way for 25 years. "We have long-standing connections with many of the local farms and so we're blessed with really good access to good, fresh, local produce," McComas says.
Sundance Market | 748 E 24th Ave. | 541/343-9142
Sundance Wine Cellars | 2441 Hilyard St. | 541/687-9463
Capella Market
Reisa Maddex says the Capella Market's history is very much one of reincarnation. But, even throughout its past lives, there has always been a commitment to working with local foods producers and growers as well as representing and supporting the community.
"There is a devotion among our team to foster and tend local brands because we take so much pride in our community and what the Willamette Valley can produce," Maddex says.
They are also committed to carrying the best, and are open to suggestions if a customer knows of something better.
"Along with that is always the passion for local ingredients and new ingredients—all of those things," she says. "But we are happy to bring something in if a customer requests it and can't find it anywhere else. The answer is always 'yes.'"
Capella Market | 2489 Willamette St. | 541/345-1014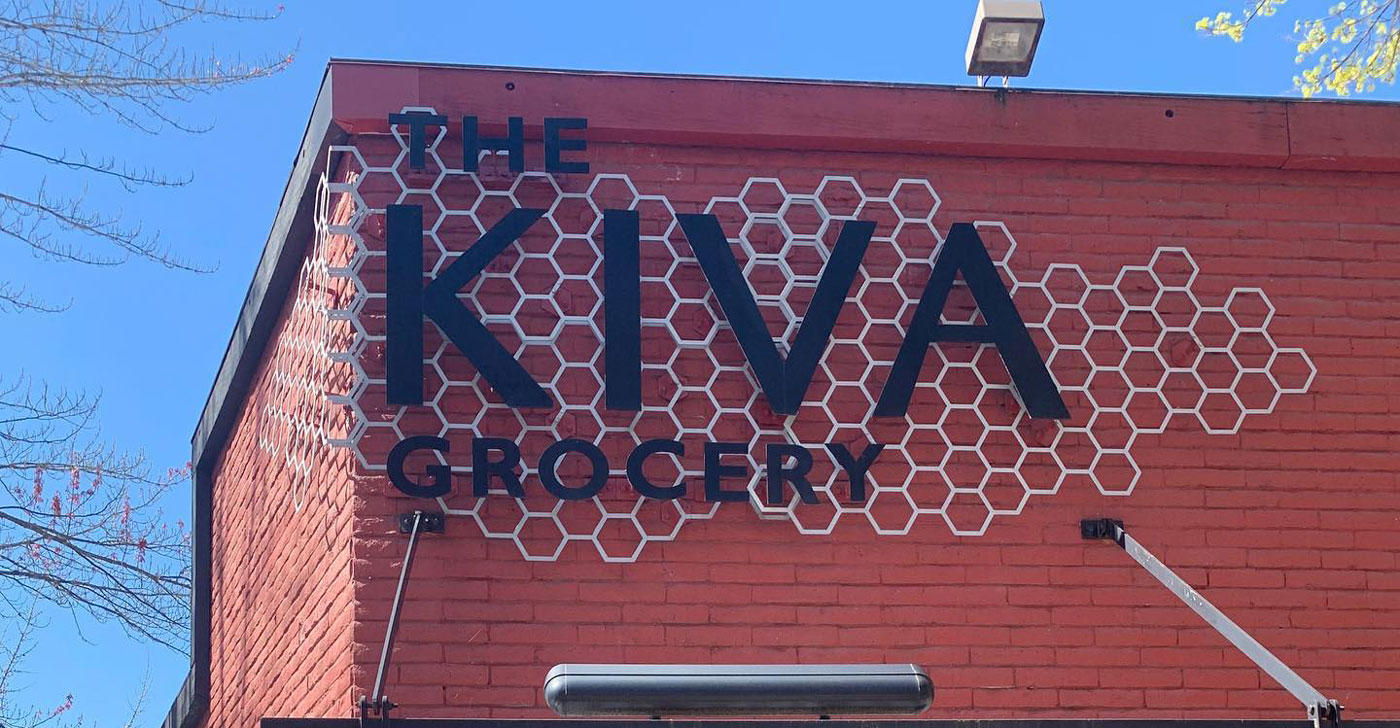 The Kiva
The Kiva originally opened in 1970 as a bookstore in one of Eugene's early hippie malls. Owner George Brown took over the natural grocery business that was also in the mall, stocking it with products sourced from California, Portland, and local businesses like Toby's Family Foods and Springfield Creamery. They moved to their current location in 1983, but have continued the commitment to local and natural foods.
They stock their produce shelves with fruits and veggies from small-scale farms, with nearly 80 percent of their stock sourced from local growers. Check out their full-service deli for a wide selection of cheeses, daily soup and specials, antibiotic- and hormone-free deli meats, an olive bar, and espresso and Brew Dr. Kombucha on tap.
The Kiva | 125 W 11th Ave. | 541/342-8666
Check out these other markets around town:
Red Barn Natural Grocery | 357 Van Buren St. | 541/342-7503
Friendly Street Market | 2757 Friendly St. | 541/683-2079
New Frontier Market | 1101 W 8th Ave. | 541/345-7401