The story of the Springfield Creamery is unlike any other. It starts in 1960, just after Chuck and Sue Kesey graduated from Oregon State University, married, and returned home to launch a family business in downtown Springfield. Chuck and Sue's mission was to supply returnable glass bottles of milk to local creameries and the Springfield schools. The couple enlisted help from Chuck's father, Fred (manager of Eugene Farmers Creamery), and Chuck's soon-to-be celebrity brother, Ken (author of One Flew Over the Cuckoo's Nest).
America in the 1960s, of course, was caught up in widespread change. Bottled milk delivery was declining and countercultural lifestyles were on the rise. By 1969, Fred Kesey had passed away, the dairy industry was in transition, and a natural "health foods" movement was blossoming. "We knew that if we were going to survive," recalls Sue, "we were going to have to do something that was different from everyone else. We had to find something unique."
And they did: yogurt.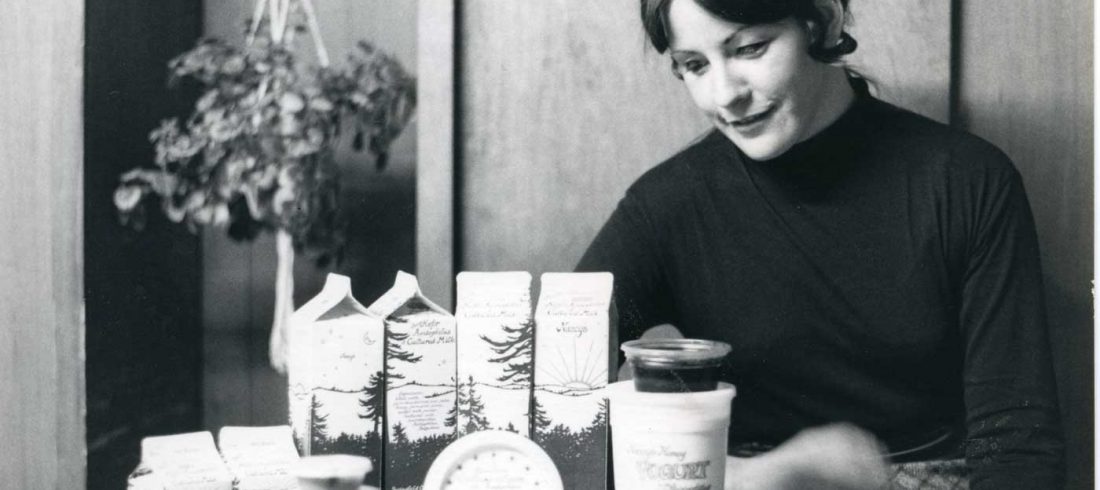 The discovery
Nancy Hamren, a San Francisco associate of Ken Kesey's, moved to Oregon to be caretaker of Ken's Pleasant Hill farm and bookkeeper at the creamery. Nancy came from a family of natural-foods advocates; she loved homemade yogurt created from recipes she had inherited from her grandmother. Nancy and Chuck quickly set upon experimenting with the recipes.
Chuck ("The Glad Scientist") modified grandma's formulas, adding billions of live bacterial organisms–such as L. Acidophilus and bifidus—to each batch. In fact, every spoonful (which Chuck still faithfully tastes daily for quality control) contains billions of those healthy microorganisms. Nancy's interest in old-fashioned tastes—pure vanilla, honey, and local fresh fruit—combined with Nancy and Chuck's appreciation of the health benefits of live cultures drew high favor from health-conscious Eugene-area consumers, who discovered canning jars of the tasty, super-healthy dairy product at local natural-food stores.
And thus, Nancy's Honey Yogurt was born.
Working for a living
With a toehold built on yogurt sales around Eugene, the Keseys began looking to expand. Natural-food stores were opening up and down the West Coast, but according to Sue, they didn't carry many products. Friends of the Keseys helped get jars of yogurt onto a few shelves in Portland. Northern California came next, thanks to a couple of local entrepreneurs: UO graduate Gilbert Rosborne and his business partner, future music legend Huey Lewis. The duo shared a station wagon and an underground comic book route that took them to health food stores around San Francisco and Santa Cruz. Counterculture comics and yogurt proved a groovy combination.
"Once a week they rented a U-Haul and packed it with ice and Nancy's Yogurt and drove down to the Bay Area," recalls Nancy. "Somehow, people there connected Nancy's Yogurt with Chuck's brother, Ken Kesey. It took off!"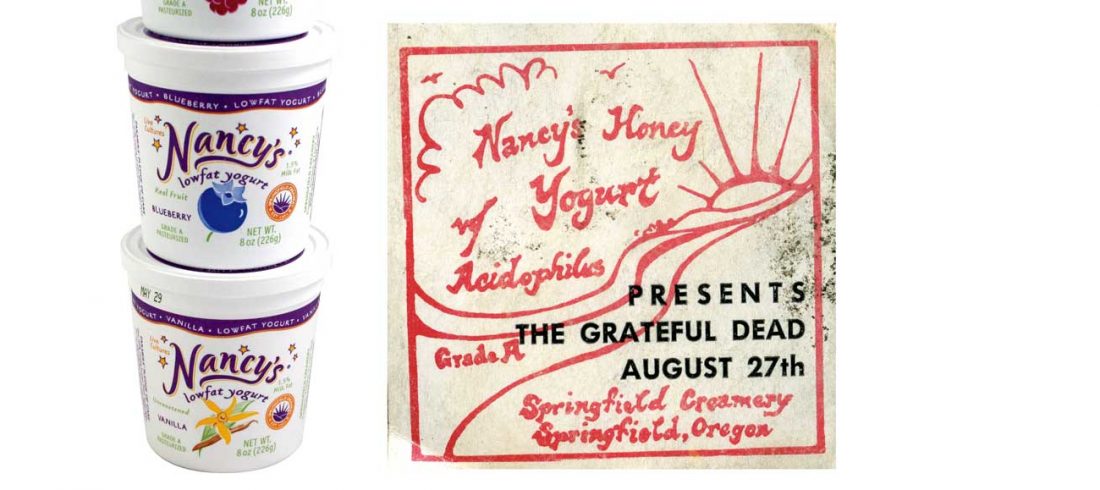 Grateful survival
Despite early successes, by 1972 the creamery was facing financial challenges. Chuck, a practical dreamer, proposed an imaginative solution. His brother Ken had recently sponsored a house party in San Francisco's Haight-Ashbury district, where a little-known rock band called the Grateful Dead had performed for a few bucks. Chuck convinced the band to play an outdoor benefit for the creamery on a plot of land just west of Veneta. Far out!
More than 20,000 people snatched up $3 concert tickets printed on Nancy's Yogurt labels and communed with the Dead on a sweltering 1972 August afternoon. Somebody filmed the musical gathering . . . in short, it ended up a landmark event—not only keeping the Springfield Creamery afloat, but ultimately establishing a relationship between the creamery and the Dead that prompted 10 more local concerts over three decades.
Notably, the very next local Dead show, produced by the creamery in 1982, was staged on that same Veneta site. The concert raised $25,000 for the Oregon Country Fair's down payment toward the purchase of that same acreage, which is the Fair's permanent home to this day. If you want more details, just ask Sue—she's the Oregon Country Fair historian.
Into the mainstream
In the 1980s, Nancy's Yogurt gained distinction as possibly the first natural-food product distributed far beyond its home plant. "We had a lot of conversations with our smaller natural-food customers in the late '70s about their not wanting us to sell to mass-market stores," recalls Sue. "But our mission has always been to get the best food to the most people." Nancy's Yogurt subsequently became a natural-food pioneer into larger, mainstream markets, including regional supermarkets such as Fred Meyer and national ones such as Safeway.
For the creamery, that meant expansion, and an urgent need to look beyond a cramped downtown Springfield dairy plant and adjacent health food and pool store ("Play pool when you shop"). It also meant new product opportunities and increased production. In 1987, the Keseys moved the creamery to a parcel of land near the Eugene Airport.
Smoke and ashes
Chuck quickly planted 2,000 evergreen trees on land surrounding the new facility. Daughter Sheryl and son Kit expanded their roles as company managers. Cottage cheese, sour cream, organic, and cultured soy products were added to the line. In short, big ideas and big plans set in motion. And then the unthinkable . . . Fire!
In May 1994, an electrical malfunction triggered a major blaze that destroyed a large section of the creamery. Customers reacted with alarm and unexpected loyalty, many contacting the creamery offering to help, pressing to know when production might start back up. "We realized," jokes Kit, "that we had a habitualized, semi-addicted customer base for our food. We were getting calls from customers saying things like, 'My cat won't eat anything but your cottage cheese.'"
The creamery was back in production in three short weeks.
One year later, a larger, more modern rebuilt creamery was ready to take on America's growing appetite for healthy, natural dairy foods. Two years later, a congregation of Gyoto Monks traveled from Asia to bless the new plant—an act of gratitude to Nancy's Yogurt for sponsoring a fundraiser for school construction in Dharmsala, India. Some might call it custom-made divine intervention, but, Sue reports, the creamery "has been good ever since."
Sweet taste of success
When it comes to family-oriented ventures, measures of success often vary between members of even the tightest clans. Put a quartet of Keseys together, for example, and ask them to share their thoughts on the success of the Springfield Creamery: 
Sue: "We were aimed at the health-foods industry just as it was starting to expand in the late '60s, early '70s. Our timing was perfect."
Sheryl: "It might be as simple as 'right time, right place'—and the right demographics."
Kit: "Yeah, it's that—but there's a bit more complication. When I look at the influence of Eugene's logging culture, and how it split into a bit of counterculture community, and when I talk to most of the people now who are involved with that culture, it almost all crumbles back down to Uncle Ken moving to Eugene, and then Eugene became one of the spots you could move to if you were in the counterculture . . . and then when we started doing the yogurt thing, it kind of became the community to do that in."
Sheryl: "This is a university town. You can find similar, exceptional things that happened in Eugene, Boulder, Austin, Madison. They're all college towns with a very liberal population."
Sue: "I also think the sustainability of a business happens because what you do, you do well. From our standpoint, you've made a product that you've never varied from. You just keep making that top quality product without shortcoming it, and it finds a following."
Sheryl: "We talk about how those early generations had a next generation . . . and a next generation. Therefore, the organic growth of a product line continues on."
Chuck: "I can take it to another place. They've found that your stomach has a memory. They've proved that. It's good science. If you think about it, you have this complicated microorganism machine. It goes back to an earlier time."
Then, now, the future
Talk sooned turned to the creamery's recent 50th anniversary, and four generations of Keseys associated with the business, and pride that Nancy is still at the creamery, working alongside other loyal employees who have been there more than 30 years.
There was also discussion of how Ken Kesey drew inspiration for his classic novel, Sometimes a Great Notion, from exposure to union activity at the creamery during its early years. And how Kit assumed a prominent role in the cultural scene as a concert promoter for the Dead, manager of the McDonald Theatre, and producer for the Cuthbert Amphitheatre and the Eugene Celebration—largely financed by the creamery. And likewise, how the creamery supports numerous community activities and causes.
Like most things related to the creamery, its successes seem to originate from core values rooted in healthy living, honesty, quality, and respect. Well, that, plus a yogurt-loving grandma, a famous author, music legends, monks, and uncountable billions of probiotic bacteria.