Eugene is seeing some major changes to its landscape. Efforts are being made to connect the city to the river, create a centralized location for our city hall and markets, and enhance our shopping and staying opportunities.
The Downtown Riverfront Development project encompasses everything on the site that EWEB owned and used to provide power and water to the entire city for 100 years. Now, a park, apartment and commercial buildings, streets, restaurant and community spaces, and a renovation to the Steam Plant are underway where there once were decommissioned buildings, concrete, and now-defunct infrastructure.
"While the park development is kicking everything off, each piece of the redevelopment site is vital to its long-term success," says Emily Proudfoot, principal landscape architect with the City of Eugene and project manager for the Downtown Riverfront Park Project. "So, the Steam Plant, the new buildings, street and utility development, art, architecture—all of it is working together to create a whole new neighborhood in Downtown Eugene that we think will be a great draw and a centerpiece of our urban fabric."
Up from the Riverfront Development, along what will soon be an extension to 5th Avenue, the 5th Street Market Expansion's new buildings are standing tall, set for completion later this year. The new Nike store anchors the retail and office building, which will also include the Gordon Hotel, an 82-room boutique hotel, and the Gordon Lofts, high-end luxury apartments, connected by the Market Alley.
A few blocks away, the Park Blocks, which the Lane County Farmer's Market and Saturday Market have called home for decades, will be transformed into the Eugene Town Square. The renovated space will have increased amenities and utilities for events and help lay the foundations for our future city hall.
Behind all of these new developments are teams of people who are working tirelessly to ensure these legacy projects are completed the right way. Teams of city planners and project managers, landscape architects, local business owners, architecture firms and contractors, and residents have come together to build in a way that celebrates Eugene's history, love for the river, and strong sense of community.
Downtown Riverfront Development
Denny Braud has been working to reconnect downtown to the river for more than 20 years. As the Executive Director of Planning and Development for the City of Eugene, he sees the importance of the river to our character as a city.
"Eugene is probably here because of the river," he says. "It's a very important part of our heritage, so being able to feel that, touch it, and experience it and understand the history of all of it has been very important to us."
He and Michael Kinnison, Director of Community Development at the City of Eugene, have been working to develop the 16 acres of land previously owned by EWEB that stretches under the Coburg Road viaduct and will extend 5th Avenue. New streets (named through public survey) will be built, as well as other infrastructure to make the vertical building in the coming years possible, all with the understanding that whatever is built will be there for a long time and needs to serve multiple purposes.
"We're thinking about making sure the public feels it has access to the river," Kinnison says. "So, we're creating a neighborhood on the river, but we're also trying to make the site transparent and feel very accessible from wherever you're coming down to the river."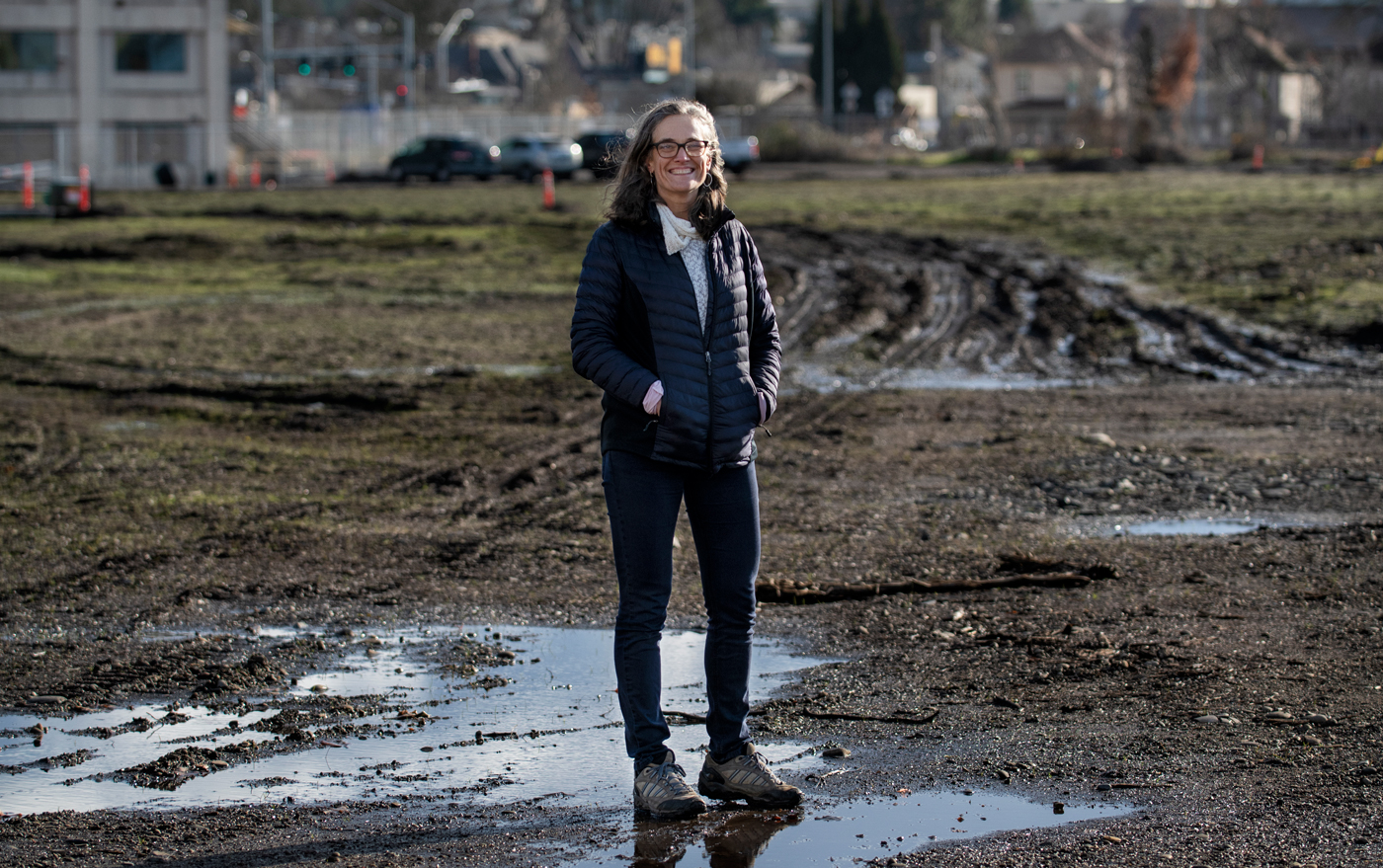 Riverfront Park
According to Emily Proudfoot, an urban riverfront park has always been part of the development plan. Now that the project underway, its impact is being realized.
"This is a legacy project that will shape everyone's experience of Eugene as a City whether they live here already or are coming here as a visitor or whatever else," she says. "For the longest time, none of us have really been able find the river or a way to get there—especially if you're new to town. Now it will be obvious—and we're celebrating this incredible natural resource that has shaped our community since the beginning of time with the construction of this beautiful new park."
The 3-acre park and 1-acre plaza will have much more of an urban feel than other riverfront parks like Alton Baker. It will be fully integrated into the current trail system, with view corridors, overlooks and viewing decks, interpretive art pieces, and many opportunities for connection.
"I'm most excited about people being able to come back down to the river and experience incredible views and enjoy nature within a beautiful urban context," Proudfoot says. "I'm envisioning a sunny morning, the end of a good run, and a cup of coffee overlooking the river chatting with a friend—and the water is all bubbly and sparkly and there's all kinds of nature to watch right in the heart of the city."
Steam Plant
Mark Frohnmayer, CEO at Arcimoto, and Mark Miksis, managing partner at deChase Miksis Development, both grew up in Eugene, attended South Eugene High School, and spent their childhood riding their bikes along the river. The Steam Plant, which helped power all of Eugene until it was fully decommissioned in 2012, always sparked their curiosity.
The two connected on a tour of the building in 2015 and put together a proposal. They wanted to incorporate elements of co-working spaces, the potential for academic programming, a performance space, and a restaurant or public house space to bring the general public in. They also recognized that this would be the last time a building would be built or renovated this close to the river.
"I think it's a unique opportunity to reintroduce Eugene to the river," Miksis says. "We kind of haven't had that place that really connects you to the river in a meaningful way. . . . To me, I think that's the big thing is creating a place that has energy that people are drawn to that really does connect us to one our most important resources: the river here in town."
They also wanted to respect the building itself, which has big open spaces and large windows that let natural light pour in. Floors and infrastructure will still be built, but the transmission of the light has been a major consideration of the design, as has the promise of one of the best views of the river in the city.
"You just have this view of the river and the park and the bike path—you just have a really phenomenal place to think big thoughts," Frohnmayer says. "That's really the goal—is to get people into it, a very central, community-oriented space with great food and beverage and big conversations to tackle the topics of the day."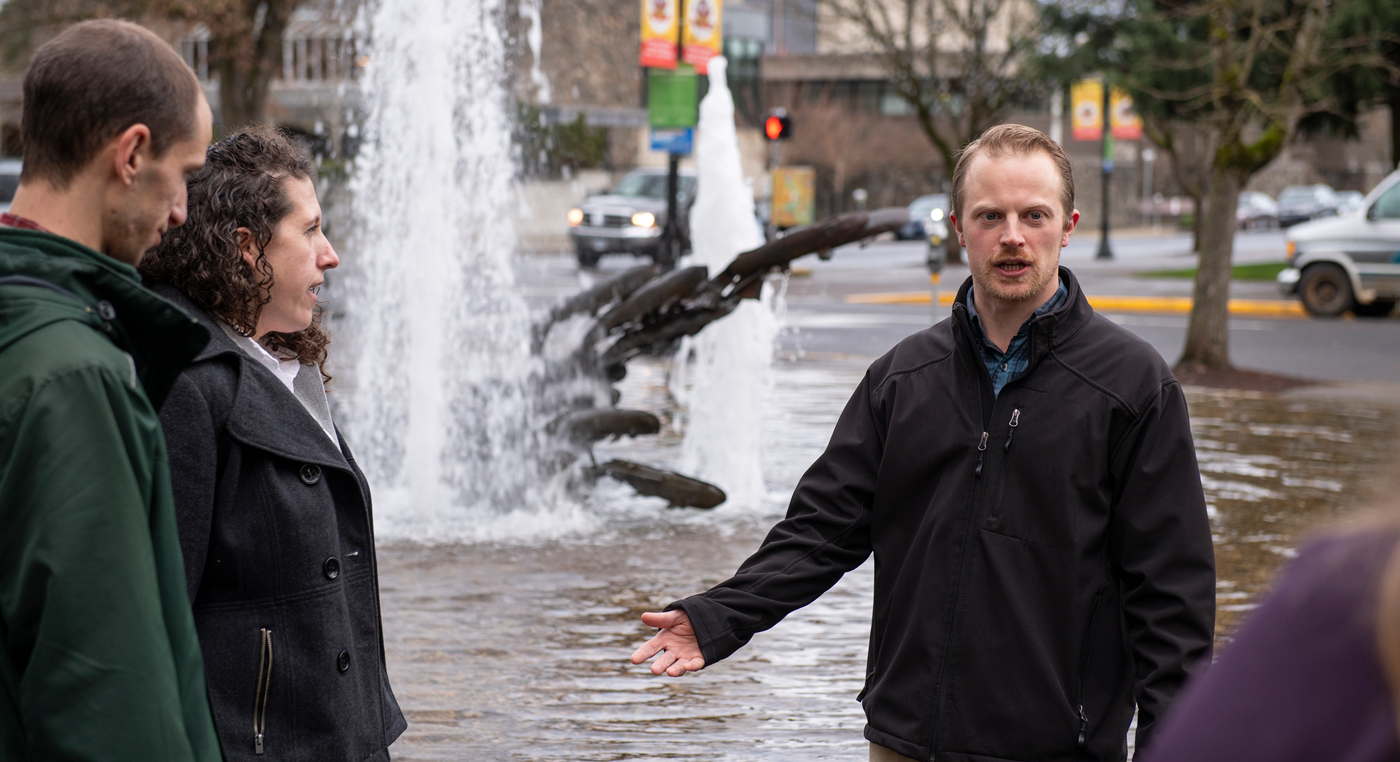 Eugene Town Square
The Park Blocks on the corners of 8th Avenue and Oak Street have been the home of the Eugene Saturday Market and Lane County Farmers Market for decades. Now, in a collaboration between the City, Cameron McCarthy Landscape Architecture and Planning, and a few other companies, the space is going to be renovated to better suit the two markets, improve the utilities on the site for other events, and make way for the new city hall. Now that they've received ample input from the community and important stakeholders, they are ready to break ground in the fall. The goal is to carry the idea of safety and joy into the space and make it a place where people can connect.
"It's created an opportunity in Eugene and for us as a design firm to engage in a really meaningful way on what it means to crowd source public space," says Shannon Arms, landscape designer at Cameron McCarthy.
"We went into this project thinking about how it has a dual role," says Will Dowdy, Urban Development Manager with the City of Eugene and the City's lead on the project. "It's the core park for the downtown neighborhood and just like all neighborhoods in the city, it's a neighborhood made up of people who live there, people who work there, people who have other things that bring them there and, just like every other neighborhood, those people need a space where they can go outside and they need a space where they can relax, unwind, and just enjoy being outside."
5th Street Market Expansion
Casey Barrett is very familiar with Eugene as part of a family legacy that is growing every day as cranes work to complete the 5th Street Market Expansion. As the Executive Vice President and Chief Operating Office of Obie Companies, Barrett oversees the company's developments and projects, going wherever he is needed.
Currently, his focus is on the expansion, which will include the Gordon Hotel, the Gordon Lofts, and a mixed-use Market Building for retail spaces and offices, including a co-working space called HQ Office, all connected with the 200-foot long covered Market Alley.
The hotel and apartments were named for Barrett's great-grandfather, Gordon Obie, who was a sign painter, artist, and started Obie Media. Barrett says Gordon became their muse through the project, his life's works inspiring an arts focus with future murals, a gallery wall, and spaces for artists to showcase their work.
"I think the thing that's most inspiring is that fact that it's being done and that we as a community found a way to make it happen," Barrett says, adding that the project, "has unbelievable karma in the community."
Other people and companies to watch:
Walker Macy
111 SW Oak St., Portland
Pasquarelli Construction
260 E 15th Ave., Ste. E
Williams and Dame Development
1308 NW Everett St., Portland
Cameron McCarthy Landscape Architecture and Planning
160 E Broadway
Cogito Partners
EWEB
4200 Roosevelt Blvd.
Rowell Brokaw Architects, PC
1203 Willamette St., #210
Onward Eugene