Coffee trees produce berries, called coffee cherries, that turn red when they are ripe and ready to pick. The cherries are harvested during the dry season, when they are bright red, glossy, and firm. They are either selectively picked by hand or stripped from the tree manually or by machine, with both unripe and overripe beans collected. Once picked, the coffee cherries must be processed immediately.
"Good coffee actually starts with a place in the sun," says Michael Phinney, owner and roaster at Full City.
A good place in the sun, preferably at high altitude, is only the beginning, however: Attentive farmers monitor water, growth, and even pruning before workers hand-pick the coffee cherries at the peak of ripeness, often making four passes over the same crop to ensure they've gotten every last one.
In the common "wet method" or processing coffee, cherries are first pitted, revealing the green beans. The green beans are then washed, dried, sorted, and graded for size before being sold to coffee brokers and shipped all around the world, where they fall into the hands of passionate roasters—many of whom make their homes in Eugene. The roasters inspect these beans for color and size, trying to guess how best to unlock the flavor of these green beans through roasting in order to provide the best cup of coffee they can.
Roasting brings out the aroma and flavor that is locked inside the green coffee beans, which have none of the characteristics of a roasted bean. Green coffee beans are soft and spongy to the bite and smell grassy. According to the National Coffee Association, roasting causes numerous chemical changes to take place as the beans are rapidly brought to very high temperatures. When they reach the peak of perfection, they are quickly cooled to stop the process. Roasted beans smell like coffee, and they weigh less because the moisture has been roasted out. They are crunchy to the bite, ready to be ground and brewed.
"I mean, anybody can take coffee and turn it brown and it will probably taste fine," says Michael Nixon, roaster at the Wandering Goat. "Coffee's inherently fairly good. But to really make it excellent and shape and craft a roast during the roasting process, it's kind of nauseating how complicated it can be."
Nixon and Phinney are just two in a legion of roasters based in Eugene—working tirelessly to turn their beans into something that's more than special.
"We are able to produce an affordable luxury for someone to enjoy every day," says Holly Monnette, owner of Caffé Pacori.
Where should you get your everyday luxury? Read on to meet some of our area's amazing roasters.
Full City Coffee Roasters
Michael Phinney was a 30-year-old mill worker and student when he started roasting coffee. His friends Cathy and Paul Layton had started roasting beans in the Fifth Street Public Market in 1978 and he began to work for them, learning the tricks of the trade. At the time, they were the only coffee roasters in Eugene. "We had an advantage in that we knew what good coffee tasted like," Phinney recalls.
He roasted with the Laytons for 11 years before opening his first Full City café location at 842 Pearl Street in 1990. "The focus of my coffee is the same as it was in the very beginning," he says: "To buy the best coffee I can, to roast it as well as I can, and serve it as well as I can, regardless. I'm not very scene-oriented. I'm coffee-oriented."
Now, Phinney and his roaster Lisa Truelove roast their high-quality beans—sourced from Central and South America, Indonesia, and Africa—daily, offering a combination of single origins and blends to customers at their two locations.
"You can't do what I've done and not love it," he says.
Equator Coffee
An artist at heart, Greg Roberts started Equator Coffee in 1991 at the age of 40. Before then he had been a successful musician, freelance writer, and fly fishing guide, traipsing around South America and becoming fluent in Spanish. It was on a trip to Guatemala in the late '80s when a fellow guide told him that the best coffee in the world comes from Guatemala and the best coffee in Guatemala comes from a little village called Huehuetenango.
"It's funny, that stuck in my mind, and by 1991 I was buying coffee out of HueHue," he says.
Over the years he's kept a no-nonsense approach to his roasting business. "I'm more of an artist than a business person, and I thought if I make $2 a pound that's good. It costs me $2 to make a pound of coffee and I'll sell it for $4, and it's worked out great."
He roasts to order every day, working with some organic beans and some non-organic ones to create single-origin roasts and blends sold at New Frontier Market, Sweet Life Patisserie, Membrillo, Capella, Sundance Market, and more.
Wandering Goat Coffee
Michael Nixon has been roasting coffee since 2004. His process starts with a vision for what he hopes his final product will be. "What's your philosophy behind what you're trying to give to your people—what's your set of standards?" he says.
Where some roasters might call a broker and ask for their best beans from a single country or plantation, Nixon and his staff work in a slightly different way. "We'll get a dozen Guatemala's, representing all different regions, processed in different ways, and we'll get farm information, processing information, and we'll sample-roast all those, blind cup them, score them, and then that's how we'll choose the coffee that we'll roast for sometimes only a month."
He never serves coffee that's been roasted longer than four days earlier, believing that "coffee is an event."
"It's multi dimensional—you're dealing with the agronomy of the bean itself, you're dealing with all the physics and biological entities, the chemistry that takes place, the machinery, the chemistry that happens when heat is applied to an organic material, the storage—and I think to keep all these plates spinning at once and to do it well takes a long time and a lot of dedication to figure out," says Nixon.
Caffé Pacori
It's not strange for roaster Eric Pierce to have dreams about coffee. "I had a very real dream that the roaster would blow up—I'd look away and look back and the whole thing would be on fire."
The reason behind the dream is relatively simple: Caffé Pacori is home to the only wood-fired roaster in town, and for the first year Pierce was roasting he only used the wood roaster once a month.
"It was a new experience every time."
Now, nearly 10 years after he began roasting and owner Holly Monnette bought Caffé Pacori, wood-roasted beans comprise nearly 70 percent of their business. The rest of their 100 percent organic beans are roasted in a drum roaster using natural gas as the heating element—but the wood roast is what Pierce is most proud of.
"I have never put that much passion and perfection in anything in my life," he says.
Another source of pride for Caffé Pacori is their cold water extract coffee, sold on nitro at The Tap and Growler on 5th Avenue in Eugene.
Outside of its rich flavor, Monette says, "I'm pretty proud of the fact that we save the grounds after we do the process of cold water extract and we donate it to Food for Lane County—it's a great fertilizer."
Global Delights
The partnership of Michael Lambros and Okon Udosenata is the joining of a chef and a master of coffee. The two met while mushroom hunting with a mutual friend—Udoenata was the owner of a now-closed cafe called One Cup in the Whit (and roasting out of a custom grill-turned-roaster) and Lambros was a chef who had cooked around the world and had just bought the Global Delights coffee kiosk on River Road.
They discovered shared interests, and in 2012 they decided to go into business together. Now, Udosenata roasts their coffee in a shiny red infrared roaster they affectionately call Bessie and delivers it in a fully restored vintage 1973 VW bus.
"Everything we do we try to do with style," says Udosenata.
They offer six blends, half of which are organic, and also offer a few single-origin coffees. While most of their sales are online or at the kiosk, Global Delights has big plans for a full service cafe in Eugene—and even bigger plans to expand around the globe.
"We want to create art spaces that close at 10 pm or 11 pm, and we have an aperitif menu with local wines and a few local brews, and we've got amuse-bouche style food to go with it," says Lambros.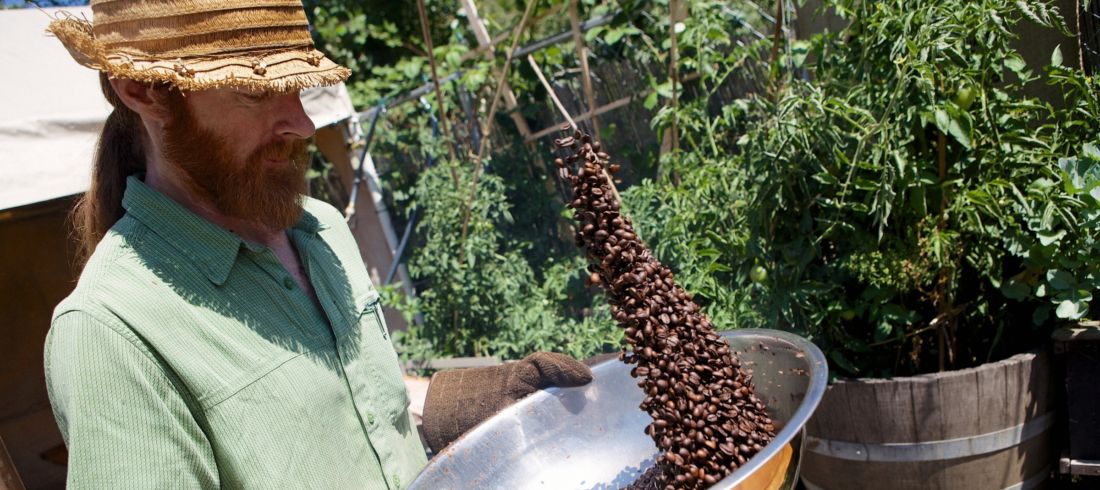 Last Stand Coffee Co. at Cush
For Joshua Henrikson, coffee roaster since 2008, coffee is medicine.
"Especially something that you're drinking every day, you need to be careful about what kinds of medicine you're putting in your body," he says. "So you need a fresh roast, a fresh grind, and proper temperature."
Henrikson operates Eugene's only human-powered roaster, built to his specifications and roasting nano-batches over an open flame.
"A lot of (roasters) are doing hot air roasting and roasting with forced heat and I feel that does undue damage to the coffee," he explains. "I think an open flame is the way to do it and slow turning, and just attention to detail."
He works strictly with organic, high-grown coffees from micro-lot farms and cooperatives, sourcing beans based on flavor.
"Each bean we source, we want it to stand alone as a single-origin coffee offering as well," he says.
Henrikson says he identifies his coffees by origin or blends, but not by roasts. "Everything is perfectly roasted."
While he operated his own cafe for a few years, Last Stand and Henrikson can now be found at Cush—a quaint coffee shop and art space complete with a community vegetable garden and misting tent.
"I don't really like the idea of going wholesale with my coffee," he says. "I'd really like the coffee to be bought the day after it was roasted and consumed within two weeks, not sitting on a shelf another week after that."
Coffee Plant Roasters
Seattle native Van Ralston had been roasting coffee at Lighthouse Coffee Roasters in Seattle for three years when a meeting with Austin Weiner changed his life.
"He was thinking about opening a shop, we met, and we just hit it off," says Ralston.
Weiner offered him a job, and now Ralston's relocated to Eugene and roasting three or four times a week at Coffee Plant Roasters. The cafe turned 1 in July, and Ralston says the past year has been amazing.
"I think everybody knows what they like when it comes to coffee," he says, "and being able to provide them with coffee in the way that they like it is important, and we do a great job of that."
Coffee Plant Roasters offers an espresso blend alongside up to 12 different single-origin coffees.
"Usually we try to keep a good variety so people can try all these high-quality beans that they might not have access to just going into a store," Ralston says. "It's all small farms and really good, high-quality coffee."
In addition, the cafe serves gourmet grilled cheese sandwiches and fresh-pressed juices.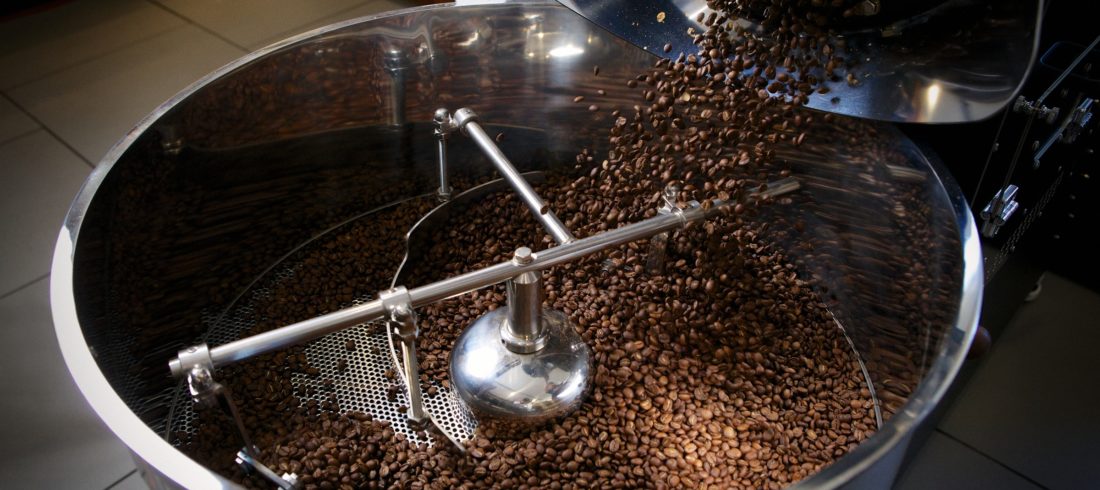 Tailored Coffee Roasters
Brian Sung is a self-proclaimed "coffee nerd." From his first sip of specialty coffee years ago in Seattle to learning how to roast on a 200 gram micro-roaster, Sung has become obsessed with creating the perfect roast for everyone.
"Our goal as a company is to, no pun intended, tailor your experience and cater to the people who are really into specialty coffee," he says.
They roast on the lighter scale of things with the intention of fully showing the characteristics of each type of coffee.
"There's a lot of hard work that goes into getting that green bean, and we want to highlight not only our roast profile but also the farmers that put in all that hard work."
Tailored opened this past May, and after a few short delays Sung began roasting on his Korean-made Proaster, providing coffee for Tailored, Brails, and Brails Espresso.
"Obviously, with the way we're going to roast and sell our coffee, not everybody's going to like what we do, which is fine," he says. "But we want to be different—something you wouldn't find in Eugene normally."
Roundup on Roasting
Roasting is an art, and many variables—including light, temperature, origin, age, and weather—can affect a coffee's flavor. The process begins at the coffee plant, which produces a raw fruit or cherry that is harvested when ripe. Once the pulp is removed from the cherry, a green bean is left, which is then dried. The green bean must be roasted before it can be brewed for coffee.
Step 1: Green coffee beans are heated to between 180ºC and 240ºC for 8 to 15 minutes, depending on the degree of roast desired.
Step 2: The roasting beans "pop" as starches are converted into sugar; proteins are broken down and the entire cellular structure of the bean is altered. The "pop" sound indicates that the beans are about to reach the ideal roasting.
Step 3: The beans are checked every few seconds until they have the perfect color, size, surface texture, and smokiness. The heating process precipitates the release of caffeol, or coffee oil.
Step 4: When the desired result is achieved, the beans immediately travel to a cooling chamber to stop the process.
Step 5: After the coffee is cooled, it is taken to a cupping room where it is tasted to ensure that it meets the right flavor profile. Once approved, the coffee is immediately packaged to protect it from oxygen, sunlight, and water, all of which can alter the taste of the beans.
Roasting Styles
While you can turn green coffee beans brown using anything that has heat—be it a cast-iron skillet on the stove top or a high-quality machine with infra-red burners—there is a method behind every kind of madness when it comes to roasting.
"You could even have an air popcorn popper, throw some coffee beans in there and that works really well, too," insists Okon Udosenata, roaster at Global Delights.
The key to perfectly roasted coffee is getting the center of the bean to cook at the same time as the outside. When this doesn't happen properly, it's called tipping.
"Tipping is where the outside is toasty but the inside isn't done, so you need to be mindful of how you apply the heat and air," says Udosenata.
To avoid tipping and achieve a great roast with any consistency, there are three tried-and-true methods:
Drum Roasting: The coffee is roasted in a drum placed on its side, continuously turning as heat is applied from below. It's considered conductive heat because the beans are constantly resting on the hot drum as it turns. During the roast, the heat can be raised or lowered depending on the profile a roaster is hoping to achieve. Additionally, hot air can be introduced into the drum in order to blow off some of the chaff and debris that occurs during the roasting process as well as helping to develop varietal flavors.
Once finished, the beans are poured out of the drum onto a cooling bed that moves the beans and blows air to remove any remaining chaff or debris.
Drum roasting provides great body and according to Udosenata, "you have much more versatility with a drum roaster, it gives you much more flexibility to manipulate the roast."
Air Roasting: Revolutionized by Corvallis resident and legendary coffee man Michael Sivetz (who passed away in 2012), using hot air creates quite a different roast than when using a drum roaster.
"The air roaster has got so much air that it really brings out a lot of those varietal flavors like you wouldn't believe, you can taste the soil that (the coffee) was grown in. But, there's so much air that it takes away the body."
In a fluid bed air roaster, the coffee still is in a drum-like container, except the drum sits vertically, blowing hot air from below into a fluid bed of beans that's constantly moving. The beans are roasted through this convective heat and monitored from above through an open top.
Once roasted, the heating element is turned off, leaving cool air blowing on the beans to cool and blow away any remaining chaff or debris.
Combination Drum and Air Roasting: This allows for the best of both worlds—ample body and strong varietal flavor.
According to Udosenata, drum roasting is slightly more labor intensive than air roasting.
"I can't just turn this on and walk away," he says in reference to his Idaho-manufactured Dietrich Roaster.
He keeps a timer running, using all his senses to see when the beans are turning darker and need more or less gas, keeping watch on the temperature gauge. He listens for the first crack of the beans, using the sound to determine when he should add air. The smell of roasting beans fills the air as the minutes tick by and finally, after the beans have cooled off enough he immediately scoops up a few for the grinder and prepares a cup to taste his finished product.
"I'm old school, so I really like the drum roaster. It's old school and you've got more finesse to it, more control, and anything I do I like it to be as manual as possible. With the air roaster, you put the beans in there and press start and when they're done, they're done."