The undeniable appeal of  vintage, antique, and collectible items can be hard to pin down. Antiques carry with them the notion that we can retrieve a bit of history by owning or being around something from the past. We can't fully know or understand what happened in the decades before our own time, but we can see, smell, and feel a part of it when we own something from another time period.
Often, the items around our own homes that we most appreciate are the ones that came from family members—perhaps your grandmother passed down an armoire, or you ended up with your family's silver. We may love an older item because of its form, function, or the materials it's made from. Whatever it is that we're attracted to, most people get a warm feeling from things that have been kept and used over a long period.
"You have an opportunity through decorating with antiques to add story and meaning to a place," says Thomas Pettus-Czar, owner of The Barn Light cafe and bar and Slightly Coffee Roasters Cafe, both in downtown Eugene. "My favorite thing about starting these businesses has been being able to do the thing that I discovered I love doing more than anything else, which is decorating interior spaces. I joke that I went about it the hardest way possible, which was starting a business to have the excuse to decorate! But I've discovered how much I enjoy it."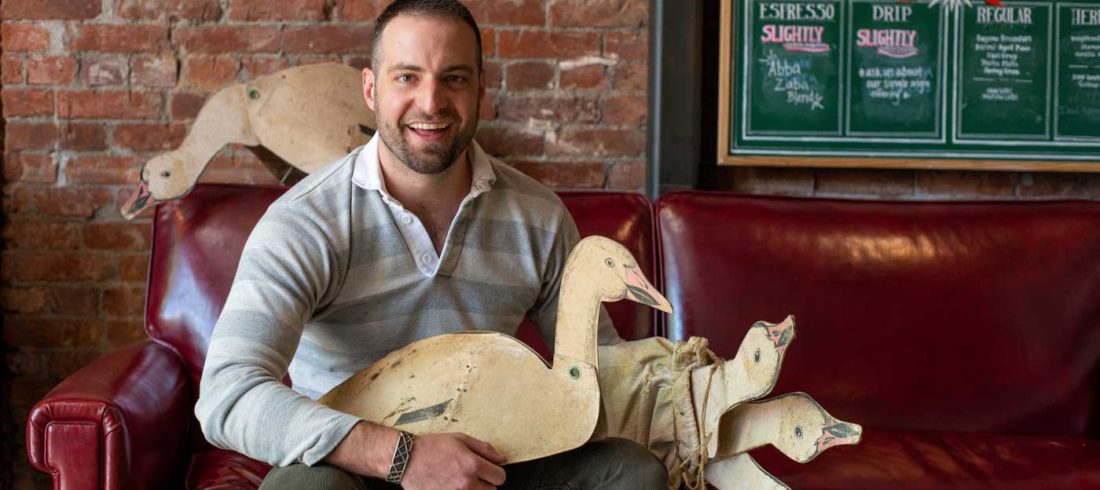 He opened The Barn Light in 2012 and Slightly in 2015. At both of his locations, Pettus-Czar has given the spaces depth with old, reclaimed, and reused items. Even if his patrons don't know the stories behind most of the objects, it gives them something to think about and ponder in a way that can take them out of themselves.
Pettus-Czar, 33, grew up in New Mexico, moving to Lawrence, Kansas, for a degree in art history before moving to Eugene in 2009 with the intention to go to graduate school in architecture. He didn't know his father until he was in high school, but once they spent time together, he realized that he and his father, who was an antiques dealer, shared many interests. "As we got to know each other, I became more exposed to antiques and collecting," Pettus-Czar says. "And in college, I discovered the joy of thrifting clothes and shopping at St. Vinnies or Goodwill."
His wife, Leah, is an architect. Together, they selected items for the businesses and their home. For Pettus-Czar, the rustic, nostalgic feel of a dilapidated barn inspired both the name of The Barn Light and the look he's achieved through his decorations. "I wanted something picturesque and cozy, with an Americana feel," he explains. "Something that looked like it had been here for decades but was, of course, new and modern. I wanted to convey that through the name and in the sustainable nature of reusing building material and items that had a history. The building itself is important, but without spirit or some kind of heart and soul, it means nothing."
Along one wall in The Barn Light is a row of old backpacks found in thrift stores. Not knowing their true heritage, Pettus-Czar made up origin stories and tacked them underneath the backpacks on the wall. Lights made from old chicken feeders hang above the bar. The wood on the walls is from a barn in Pleasant Hill that was more than 100 years old.
"They have history and meaning and context that is valuable and thought-provoking," says Pettus-Czar. "It influences how people feel when they're in here."
Wooden seats along the back wall came from the former Masonic Lodge on 13th Street and were reupholstered. The row of pennants along the back wall was scored at an antique store up north in Lebanon. The 11 landscape paintings on the wall were all thrifted, with more continually going up as he discovers new ones or people bring in paintings to add to his gallery. The collection of toolboxes, a gift, paired with the collection of old levels has more impact than just one level or one toolbox.
On first look, it's easy to misunderstand the Oregon flag on display with "Fly With Your Own Wings" stitched on it. It's a translation of Oregon's state motto, Alis Volat Propriis, or "She Flies With Her Own Wings" in Latin. After somebody stole the American flag that was originally there, Pettus-Czar sought an older Oregon state flag as a replacement. Unable to find one, he bought a new flag and soaked it in coffee to "age" it. Leah cut and stitched the lettering from felt.
The "Please Buckle Up and Drive Safely" sign near the front door came from Bring Recycling in Eugene, as did an old ladder that now holds T-shirts for sale. A coat hanger in front of the bar is from an old school gym locker room that Pettus-Czar acquired from Oak Street Vintage in Eugene. He's also fond of shopping at Cone Ball Antiques in downtown Eugene. For his 30th birthday, Pettus-Czar bought himself a painting from Cone Ball, which he hangs alongside a $4 painting he found at a thrift store. "You would never know that it came from a thrift store," he says, "or that I paid only $4 for it!"
Decorating with antiques or collectibles doesn't have to be expensive or time-consuming. "It's about training your eye so you can breeze through and know where things would be and what to look for," Pettus-Czar explains. "The knickknack section is my favorite section because you can find great little treasures there."
Two unique and affordable touches at The Barn Light are light bulbs, emptied of their filaments, from light fixtures he found at Bring. He filled one with burned-out fuses and the other with golf tees. Pettus-Czar typed up witty nameplates for these and hung them on the wall. Old thermoses, which Pettus-Czar has quite a few of, are "a dime a dozen" at thrift stores, he says (although the sought-after fake flannel ones are harder to find).
The plates and bowls that The Barn Light serves food on are mismatched and thrifted. "Why buy new plates when you can go to any thrift store and get cool old ones for pennies?" Pettus-Czar asks. That's a good question: Why would you?      
Coburg's Collectibles: Our northern neighbor's antique district
Most people wouldn't want a block full of antique shops, but when there's an "antiques district" like in both Coburg and Springfield, the pickings are plentiful and easy. In Coburg, an added draw is that many antique stores are also located in historic homes.
"For more than 40 years, Coburg has been a great place for antiquing," says Roxann Emmons, lead owner at Coburg Antique Mall. "The many shops we have here complement each other well. Everybody has some sort of a focus that they're drawn to so they offer a large variety."
Every September, the Coburg Chamber of Commerce sponsors the Coburg Antique Fair, a one-day fair celebrating local sellers and collectors. The Fair brings together the community in the Historic District, punctuated with live music and delicious food vendors. This year's Fair is on Sunday, September 9.
To get the most out of your antiques experience, Emmons suggests first browsing shops to see what era or style speaks to you to get an idea of what you would like to have in your house. Then, arm yourself with a specific list of the things you are looking for, including measurements of your home or the furniture you already have.
"You may see two of the same chests of drawers in different shops but they will be different because they've had different lives," Emmons says. "They'll have different dings and dents, so when you see the piece that speaks to you, you'll know and that's the one you want to buy."      
Where to shop in Coburg:
The Old Shed, Used But Nice, 91124 N Willamette St., Coburg
Farmfancy, 91109 N Willamette St., Coburg, 541/852-3772
Coburg Antique Malls, 91055 S. Harrison St., Coburg, 541/343-2639
Coburg Antique Malls, 91059 S Willamette St., Coburg, 541/683-0916
Primrose Lane, 91032 S Willamette St., Coburg, 541/341-1662
Springfield Charm: At the Vintage Industry, they specialize in large pieces of furniture and decor
Springfield's antique district spans most of Main Street, creating a one-stop shop for treasure seekers. According to Kathy Colby, owner of The Vintage Industry, the antique scene in Springfield has something for everyone.
"The antique culture is varied in Springfield," she says, "from junk stores to high end, and everything in between. There are currently several stores, at least five within walking distance of ours.
Colby has owned her store, just off of Main Street, for four years, but has been in the antiques and home décor business for about 20 years. "We purchased it from the previous owners when they retired, while it was still a traditional antique mall," she says. "We have changed it into a more current venue for what is now showing on social media via Instagram, Pinterest, etc."
She says that they have also changed their specialization over the years. Before they opened the store, they built vintage-inspired home décor and garden cottages. They carry this mindset into The Vintage Industry. "We specialize in large pieces of furniture and focus on what is current," she says. "Display is probably what we are most known for. We go to great lengths to build huge displays to show our customers how to use the items. We also change up the store constantly; at least once a week, we change an area."
Colby recommends coming prepared when going antique shopping, especially when looking for home décor. But, whether you've done your research or are going in with fresh eyes, The Vintage Industry, and other Springfield shops are there to help you find what you want. "We truly enjoy helping people decorate their home and garden," Colby says.      
Recycled treasures
There are a few trends popping up in the antiques and re-use world. Emmons sees more people interested in one or two statement pieces rather than multiple pieces. Advertising signage remains popular, while buyers leave brass behind in exchange for flat black pieces. Cottage style and farmhouse style is still popular, as is mid-century modern style. Folk art, with its simplistic lines and character, is also popular. Emmons also sees people repurposing old things with surprising uses or placements, such as living room furniture being used in the bedroom.
Jennifer Egge, owner of Farmfancy in Coburg, sees repurposing as a distinct trend. "People are thinking about ways to use something in a different way," she says. For her customers, lighting is a popular buy, and people love anything galvanized for use as planters, especially for succulents. Her customers love farm décor and old farm signs, "the rustier the better," she says.
Where to shop in Springfield:
The Mercantile, 145 Pioneer Pkwy. E, Springfield, 541/726-1818
Antique Peddlers, 612 Main St., Springfield, 541/747-1259
Time Travelers of Oregon Antique Mall, 2020 Main St., Springfield, 541/357-5468
The Vintage Industry, 143 21st St., Springfield, 541/744-1112