Joe Potter, founder of Vintage Underground, has seen and loved a lot of beautiful cars in his time. If he had to pick just one, though, it would be a '30s-era Derby Bentley post coupe named Miss Pickles. "It is the coolest car," Potter says.
At Vintage Underground, a full-service, high-end classic European car restoration service located on Garfield Street in West Eugene, Potter and his crew specialize in restoring primarily British and Italian cars from the '50s through the '70s. Their services cover mechanical work, coach building, body, paint, and upholstery.
Miss Pickles came into Potter's life through a classic car collector in the Ashland area. The vehicle, a one-off, was originally ordered by a woman in England, the original Miss Pickles. It's this kind of unique history that got Potter interested in cars in the first place.
"I've been into cars since I was a kid, because of my dad," he says. Potter built a Model A when he was 14 and, just through sheer luck, got into the European stuff.
These days, amid the hum and buzz of welding and grinding, there is, at any given time, an unbelievable assortment of vehicles in various stages of restoration at Vintage Underground. To one side, the front or back fender of a classic Porsche or Jaguar hangs from the ceiling as it's smoothed back into its original condition. Turn around, and you're faced with an AC Aceca, an impossibly stylish closed coupe produced by the British carmaker AC Cars from the mid-'50s until the mid-'60s.
It's all a sensory overload for anyone who loves to get under the hood and tinker with an engine, but also for anyone who simply loves the sleek lines and understated elegance of mid-century European automobiles.
There's a distinct break in the layout of the shop at Vintage Underground. On one side of the wall is bodywork, on the other side is mechanical. "Engines, trans, suspensions, you name it," Potter says.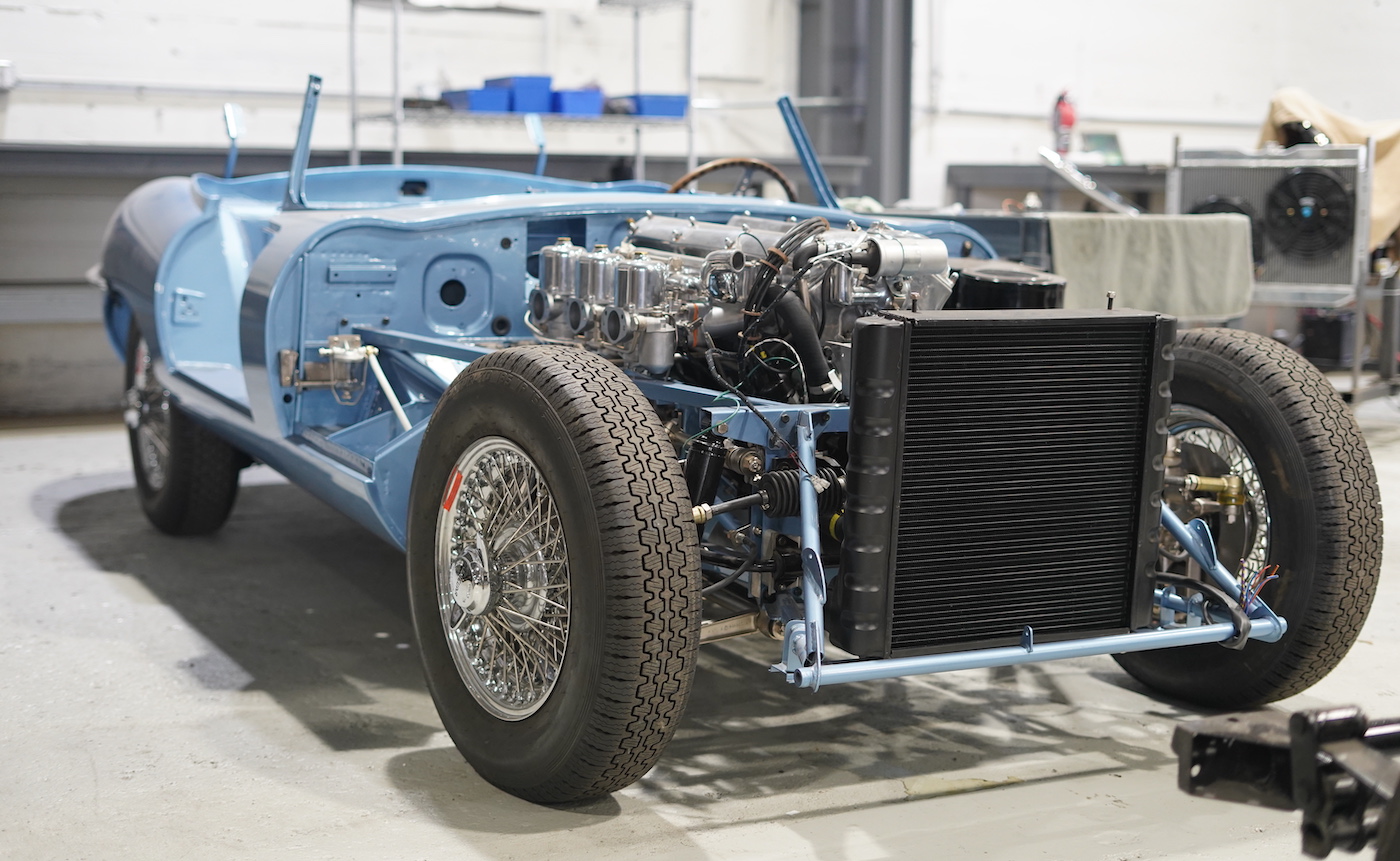 Restoring these cars is a finely tuned process. According to Potter, when you take a car apart down to absolute zero and then begin the process of rebuilding it, all the restoration work needs to be done at the same time, including metalwork on the body, the paint, suspension, interior, engine, and transmission.
"Without control of those functions, it's really hard to keep it rolling," he says, and finding parts for these rare foreign cars can be a challenge. "I have somebody that works full time that does parts. There are supply houses for the mainstream stuff, and then there's stuff that doesn't exist, or that is really, really obscure."
Sometimes Vintage Underground performs deep searches on Italian eBay to find parts, "and sometimes we have to make them," Potter says. "You get a bad reproduction part, you can lose so many hours trying to make it do what it was supposed to do, as opposed to getting a good, well-fitted, high-quality part and—BOOM! You're flying."
Although Vintage Underground keeps a relatively low profile around Eugene, the shop is one of the West Coast's leading restoration services, with clientele from the Bay Area, Los Angeles, and Seattle, as well as Portland, Texas, and Utah. As with parts, finding these customers is tricky, and Potter has two full-time employees doing nothing but social media (namely YouTube, Instagram, and Facebook), but very little traditional marketing.
Potter used to collect vintage cars himself, but these days, he says, he has a hard time staying focused on just his relationship to automobiles.
"I like to move in and out," he says, and having cars flow through his shop allows Potter to do just that. "I have a short little love affair and then I move on."
Potter's very favorite part about classic cars is the coach building. "It's an element I've added to this business that's unique to maybe five locations on the West Coast," he says. By the '50s and '60s, there was virtually no coach building going on in the US. "It's all mass-produced cars," Potter says, but that was not the case in places like England and Italy at the time.
"These are truly hand-built, hand-shaped cars," he says. In fact, Potter and his crew sometimes even find pencil writings on the inside of the metal, evidence of a human hand in the construction process.
"It's just much more personal," he says, "these unique shapes, born out of nothing but art."
Vintage Underground | 630 Garfield St. | 541/510-5296