Joe Moorhead has made a name for himself in college football. He was a solid quarterback at Fordham University in New York, and later coached at his alma mater. Having an outstanding run as Penn State's offensive coordinator certainly enhanced his reputation, as did winning two Egg Bowls while head coach at Mississippi State. The plan was for even greater things at the University of Oregon, when he was hired as offensive coordinator in early 2020. But, as was the case with many things last year, nothing could have prepared him or the team for the COVID-19 outbreak or the chaos it created for the athletics programs.
"We had a very truncated spring ball," the Pittsburgh native says. "Then we had very few fall practices and we weren't sure we'd even play the season. I mean, the rest of the country is playing and we're just doing walkthroughs and occasional team meetings. Then on October 7, the Pac-12 decides we're going to play. So certainly, from a systematic standpoint, we weren't able to do everything to do what this offense has done through the years."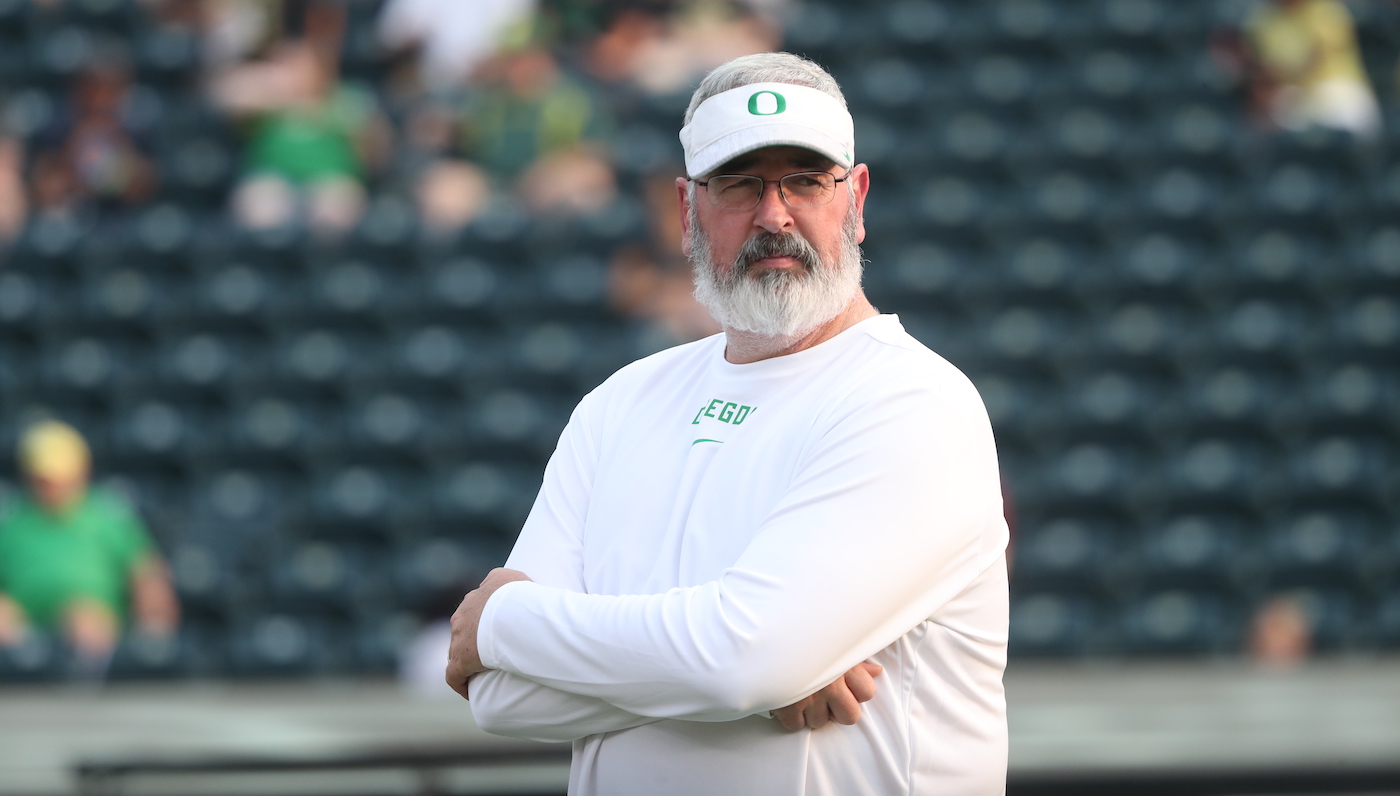 As a result, though the Ducks did repeat as Pac-12 Champions with a 4-3 record in a very strange year, the offense was often erratic and didn't seem to quite play to its full potential. Now, with a new football season and while there are still concerns with the virus, Moorhead has few worries about having the offense prepared going forward.
"We've had what we needed so far," Moorhead says. "We had a full spring ball, a full summer of conditioning, and a full fall camp. I think we'll be able to take the full, positive steps forward with a more comprehensive application of the offense."
Translation: He wants to open things up offensively. This not only has Moorhead excited, but his coaching peers and the players who admire his energetic leadership.
"He's a super sharp guy and a tremendous human being," says UO head coach Mario Cristobal. "Joe has a really high football IQ and is a great recruiter. Just like the fans got cheated last year with the pandemic, our coaching staff got cut short on time. He was cut short of what he wanted to bring to the table for the offense. But he's excited for what he can do this year with the tools he has to work with, especially with having the time to put his entire package together. A great staff guy who the players also really gravitate to, and I can't say enough positive things about him."
Players, too, are excited to see what Moorhead has to offer.
"Coach Moorhead gets pumped up and really into the game with us," says senior running back CJ Verdell. "He's added several different wrinkles since having a whole spring ball and whole fall camp to be able to add to our playbook. I can't even put into words how excited we are to be able to open things up."
Moorhead is also excited, not just from an X's and O's perspective, but the amount of depth his Ducks have on the offensive roster. Whether it's quarterback, running backs, wide receivers, or offensive linemen, Oregon is loaded with talent as usual.
"We have young guys who want to play fast," he states. "They are working hard to learn the system. But we also have a lot of guys with experience who have played well in big games. There's a lot of talent."
Moreover, he's happy to have wound up at the UO to hang his coaching hat for the foreseeable future. Not only does he enjoy the Eugene area, but many other places in the state he now calls home.
"I love the state of Oregon overall," Moorhead says. "There's a lot of cool, scenic things to do. I like going to Crater Lake, going on hikes, as well as taking the RV out to bunch of different places. My oldest son graduated from Marist High School, and my youngest kid goes to O'Hara Catholic School. And there's a bunch of good food here, as well as a lot of good people. I've had a good time so far."