Dan Lanning has only been in town for a handful of months, but he feels like he's found his home for a lifetime. Each day, the new University of Oregon head football coach feels happier about moving to Eugene.
"I love this environment," Lanning says. "I also like the culture that is unique all around. More importantly, my wife, Sauphia, is loving this place, as are my three kids. So being here is a real blessing for us."
Of course, the area isn't the only thing that is new for the 36-year-old Lanning. While he has been very successful as a defensive assistant coach, helping Alabama and even more recently Georgia win national titles, this is his first time as a head coach. He admits there's more to the job than simply X's and O's.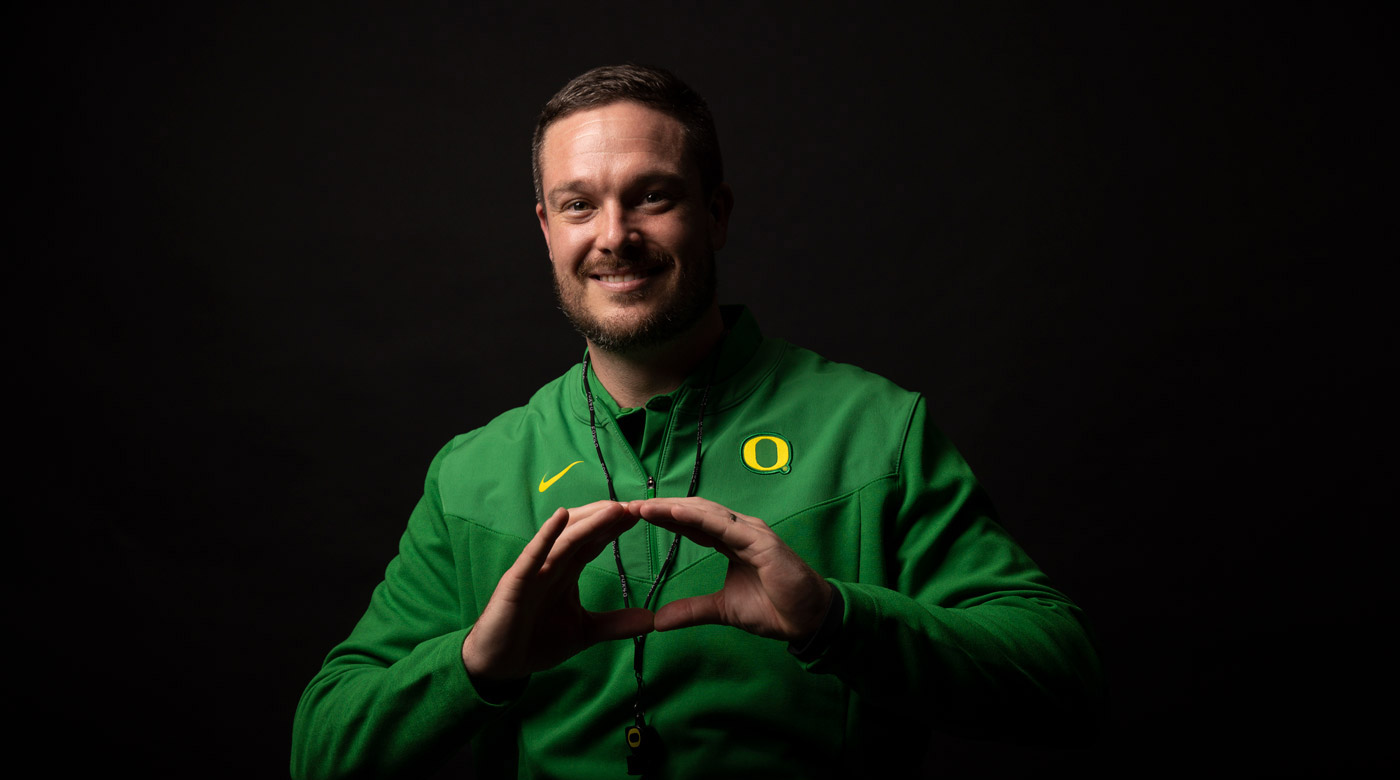 "I haven't put the percentages down," he laughs. "But I'll say it's not near as much football as you'd like it to be at times as a coach. There are a lot of other hats to wear, but I think that's the way college football is trending. We're all aware of it. There are a lot of pieces. Recruiting is certainly the lifeblood of our program, and that's always going to be the main piece outside of taking care of our own players — which is always our No. 1 priority. But we must succeed with our recruiting, because that helps your ability to be a great coach on the field."
So far, on the recruiting front, he's more than held his own. After former head coach Mario Cristobal departed for Miami in December, Oregon had to deal with several recruits decommitting and an overall recruiting class dropping from a Top 10 ranking to the mid-40s. But after Lanning's hire, the Ducks found themselves with a 16th-ranked national recruiting class and near the top of the Pac-12. The new coach is quick to credit a well-organized athletic department and others for such successes.
"We have a true vision," Lanning says. "I think you see that with the way we operate. I enjoy seeing our athletic director and others who certainly care about the program at practice. That certainly matters to me. And our players? We can coach some of the most talented athletes in the country."
Among the players, there is almost unanimous praise for their top signal caller.
"I love working with Coach Lanning," says defensive back Christian Gonzalez. "He's all about family first and will get you going the right way."
"Coach Lanning loves his players," affirms quarterback Ty Thompson. "He wants to get the best out of all of us. I've got nothing but good things to say about him. He's a great guy and a great leader who makes everyone want to run through a wall for him."
What kind of football can we expect to see the Ducks play under Lanning? First off, on offense, it's likely to be a lot more open than Oregon fans have seen the past few seasons.
"We want to be an explosive offense," Lanning says. "Explosive offensive plays are one of the determining factors of wins and losses. That's what we want to be."
How about defensively? After all, that's where Lanning, a two-time finalist for the Broyles Award for top U.S. assistant coach, made his reputation. Well, expect a fierce attacking style of play with an emphasis on getting the ball out of the opposing offense's hands quickly.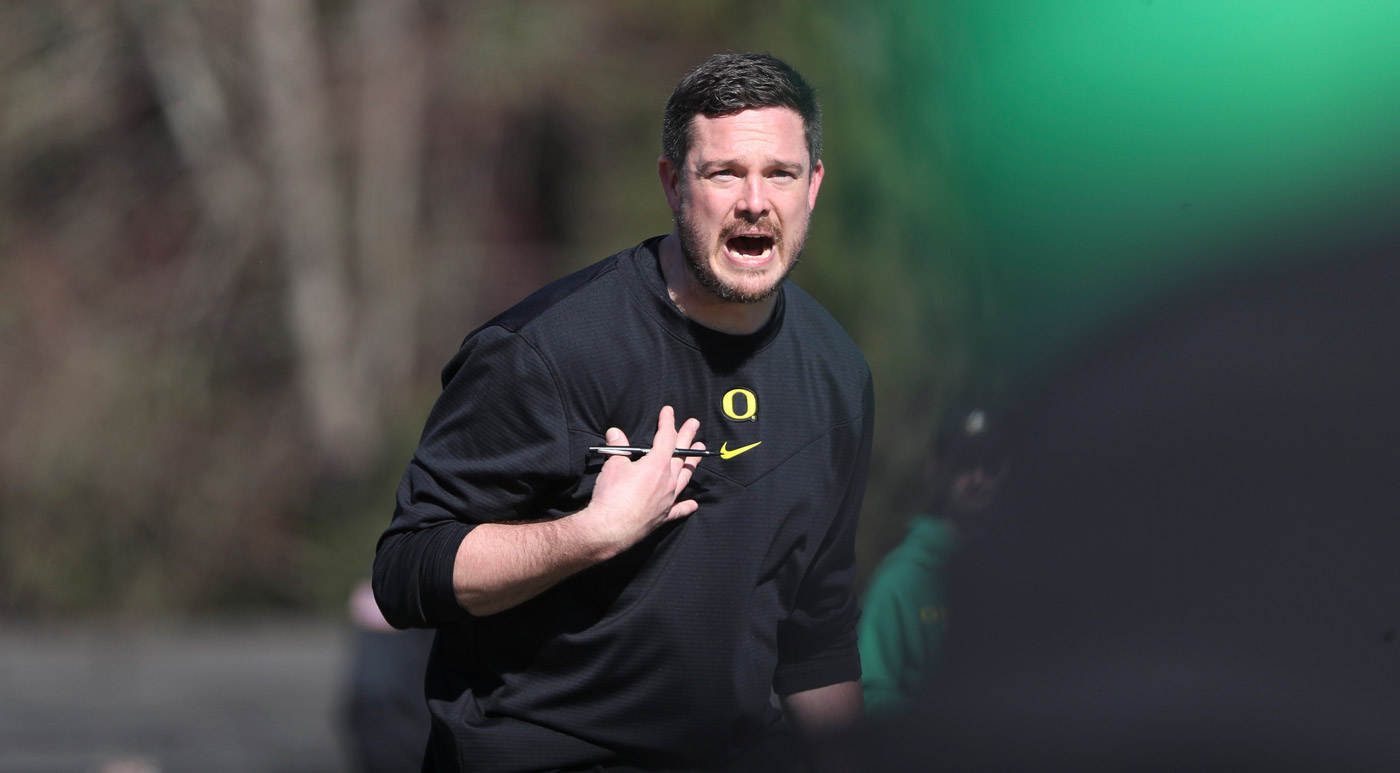 "Our defensive staff is doing a great job emphasizing turnovers and aggressiveness," he says. "If you can create takeaways, you give yourself a better chance to win games. I'm excited about the energy that our coaches bring and our players bring day in and day out. If you play with fanatical effort running to the ball, if you tackle physically, then that's very beneficial to winning."
As for what it will take for his Ducks to convert these offensive and defensive goals into becoming a championship contender, nothing is a substitute for hard work on the practice field.
"We think iron sharpens iron," Lanning says. "You want to create that competitive environment in practice each day and make it tough. We don't have a lot of guys sitting around during practice, and we want to get everyone to improve every day. So, you must stress each other and do things that are hard. That's how we can best execute against tough opponents offensively and defensively."
By the same token, Lanning is pleased with his team's attitude.
"We have a tremendous competitive spirit," he says. "These guys want to be great, and I think they know what they have to do to get there. It's going to take some hard work. There's going to be a lot of moving parts before fall camp. But there will be opportunities for our guys to enhance and grow."
They won't have an easy start, as Oregon opens the season on the road against Lanning's former employer and the current national champion, Georgia. Nonetheless, he's optimistic about the road ahead for this season and beyond.
"I'm excited," Lanning says. "There's still much room for improvement. However, I still very much believe that this program is moving in the right direction."