When Grant Wilson had the chance to return to the University of Oregon in 2013, he grabbed it without thinking twice. He had spent the previous few years as an athletic trainer at the University of Vermont, where he had gone after getting his master's from the UO. Now, he's the associate athletic trainer for both the UO track and field and cross country teams.
"I returned to Oregon after my wife and I went away for a while," he says. "We both went to school here. She was an undergrad and I pursued my master's degree in athletic training at the university. With my wife being from Salem, we always wanted to get back here eventually and were very excited to do so five years ago when there was an opportunity."
Wilson plays a critical role for the UO track team. In fact, you could say that the fates of the athletes are in his hands.
"My staff and I are in charge of a lot of the health care with the track team," he says. "That includes prevention, diagnosis, treatment, and rehabilitation of injuries that the athletes might face in their events. It's also about being with the team as a medical professional to help keep them healthy. And when they do have issues that arise, we help to get them back into competition as soon as they can safely."
Keeping them healthy entails a lot more than simply understanding physical anatomy. For Wilson, it means being aware of exactly how every running or field event impacts the human body.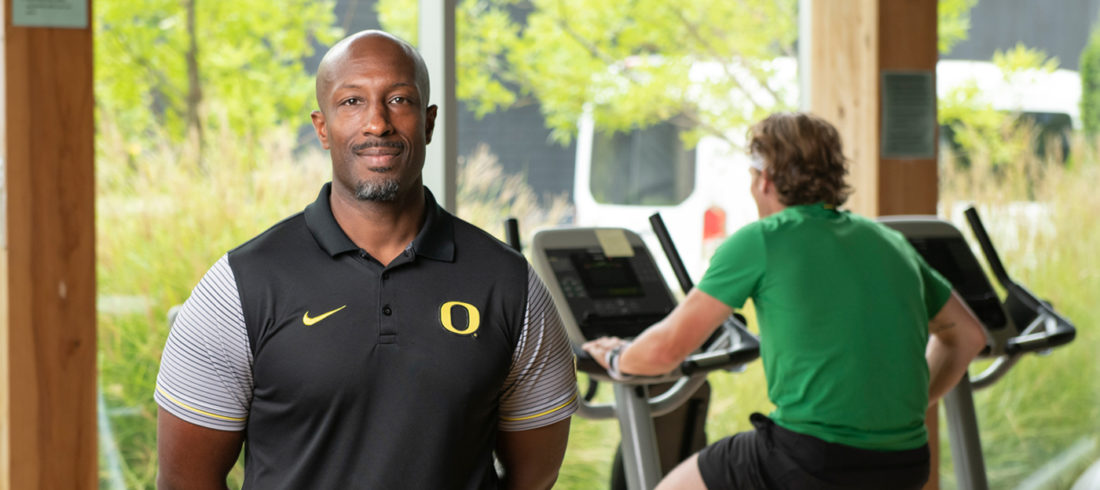 "I'm kind of an adjunct to the coaching staff," he says. "The track team has coaches for different events, whether it's sprints, jumps, throws, etc. All those coaches have a specialty for those respective things. So, my role is to know the sport, understand it, and then—after understanding each athlete's physical history—implement programs to hopefully help them be more resilient or to simply help prevent any injuries from happening. Since I am dealing with so many event groups, I think about what a certain event entails and what the possible stresses on the body are. After that, I try to tailor a rehab or a preventative program to make sure that they can withstand the stresses that the coaches put them through on a daily basis."
Fortunately for Wilson and his staff, they're not short on means at the UO. Thanks to access to the Marcus Mariotta Performance Center and other resources, they can run functional testing and pattern the athlete's movement to possibly prevent further injuries.
"I also love working with the student athletes in their journey," he says. "Whether that's with their careers or their lives. I like being able to help them not only maneuver medical issues, but assist them in maneuvering life. I wanted to be a trainer because I wanted to work with an active athletic population and also knew that I wanted to work in the medical field. So, this is a great tool to combine those two things."
Wilson doesn't really measure a great year on Pac-12 or even NCAA Championship trophies. Instead, it's all about how strong the Ducks are to chase the titles.
"A successful season for me is seeing the athletes primarily stay healthy," Wilson says. "I'm in a little different position from the coaching staff, because they are on the front end of the winning. Don't get me wrong: I'm part of that, and the winning part is fun for me. But seeing the athletes remain healthy gives me the satisfaction that I am contributing in some way to their success. That's what makes my day from a health standpoint."
Of course, being part of a storied track program like the UO's certainly makes it easier to show up to work every day.
"It's another reason why it's great to work here," Wilson says. "Seeing all the things that have happened over the years with all the great athletes that have come through Oregon—it is amazing to be able to be a part of that. Seeing them grow over the years, helping them through their injuries, and then seeing their successes at the highest levels is really a great privilege."