The first memory Oregon fans have of Bo Nix isn't a pleasant one. As a freshman quarterback in 2019, Nix led his Auburn Tigers to a comeback 27-21 victory over the Ducks. Fast-forward to 2022, and many were surprised when he transferred to the University of Oregon for his senior season. Even Nix himself thought it strange at first.
Playing for a former rival "was certainly different for the first few weeks," says the Pinson, Alabama, native. "But I've gotten more comfortable with everything, and it's gotten a lot more smooth for everybody. The transition is now over and it's all about playing great football in great environments."
Well, the transition wasn't altogether smooth. During the season-opening 49-3 loss against Georgia, Nix repeatedly tried to force passes and got intercepted twice. But he has since led the Ducks to win after win (after win), with a few adjustments.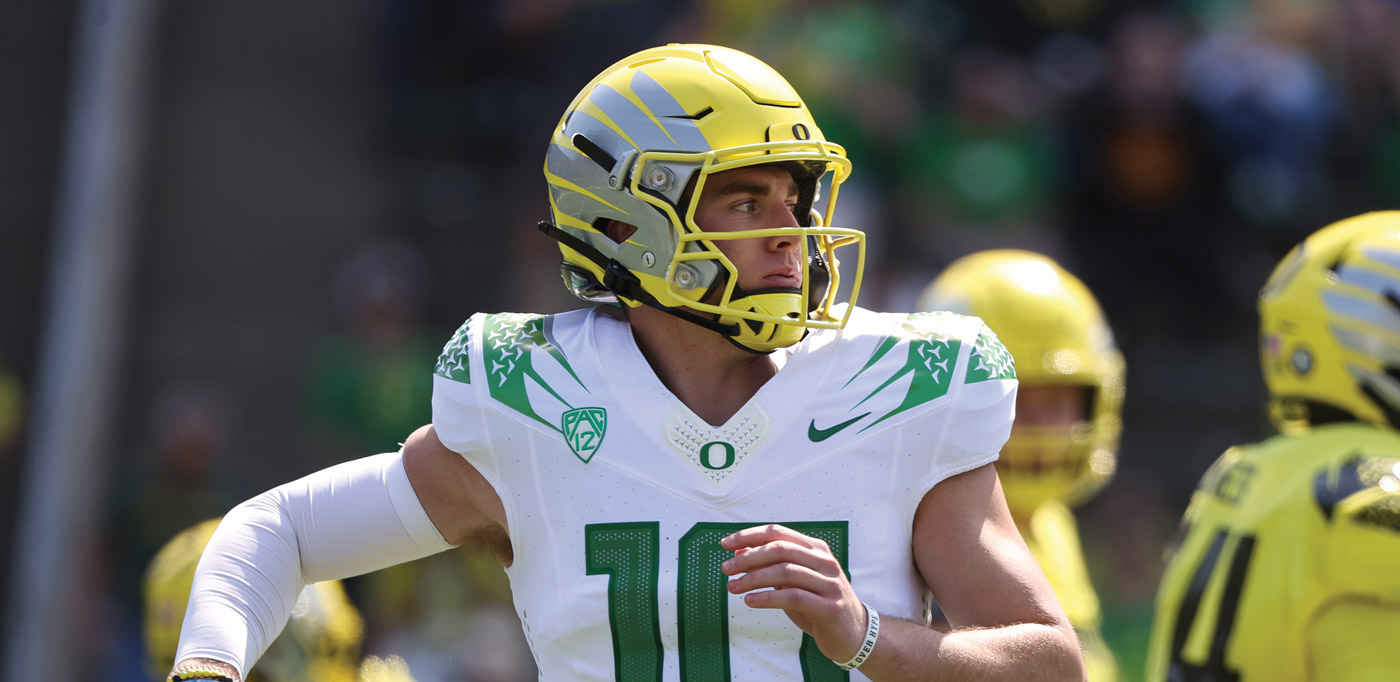 "It's all about having more understanding of the offense and where we're trying to go," Nix explains. "That includes the plays we're trying to get good at running, particularly the bread-and-butter plays we want to use throughout the entire season. And personally, I've gotten better at the mental part of the game, completing passes, and being as efficient as possible."
This efficiency has vaulted Nix to being one of the top 10 rated passers this season, and it's even garnering him potential chatter as a Heisman Trophy candidate. But the most important words probably come from his coaches and teammates.
"Bo is doing something now that he wasn't doing before," explains UO head football coach Dan Lanning. "I just think he's in good sync and really good rhythm. He's making great decisions and not putting the ball in jeopardy. He's also playing smart, unselfish football, and that's going to lead to more opportunities for us to win."
"Bo has been a great quarterback and a great leader to the team," affirms running back Bucky Irving. "He always shows up when we need him in big-time moments."
There have been many big moments for Nix so far, a lot of them hinging on deep, precise passes and notable runs, the most memorable being the 80-yard touchdown sprint he nailed in a 45-27 victory over Stanford.
"I didn't know I was going to score until I crossed the goal line," recalls Nix, grinning at the memory. "Fortunately, I was able to get in the open field with a lot of grass to run. And I must give credit for my receivers and tight ends doing a good job of blocking downfield. We always talk about effort without the ball and how you play without it, and their blocking was what sprung that run."
Nix has treasured his brief time in the Willamette Valley, which he says is quite different than where he came from. "But I think the difference is what makes it unique and pretty cool," he says. "I'm excited to be here and part of this team and lead this team. It's been an awesome experience, and it's allowed me to grow in a lot of different areas."
Moreover, Bo Nix is beyond happy he's gotten to share his time in Eugene with his new wife, Izzy, a former Auburn cheerleader. They're both looking forward to what comes next for them, wherever it might be.
"It's been really good," he says of married life. "I've been extremely fortunate. I'm blessed beyond measure, without question. Izzy has been awesome to have around and is one of the best things in my life. I couldn't thank her enough for all she's done. She also had to go across the country and start a life of her own. We are so blessed to be here, where we have formed some wonderful friendships and have a great community around us."