After 10 years of handcrafting micro-regional pinot noir in McMinnville, Elizabeth Chambers Cellar opened a new boutique tasting room in Oakway Center in September. While winemaking continues in McMinnville, Elizabeth's Wine Lounge in Eugene showcases both Elizabeth Chambers Cellar and Silvan Ridge wines, alongside a Mediterranean–inspired Pacific Northwest food menu.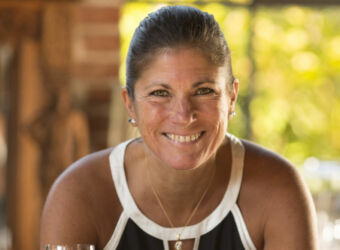 "From the get-go, Liz wanted to produce ultra-premium pinot noir and chardonnay, which was a nice balance to the more Rogue Valley–focused wines from Silvan Ridge," explains Angela Jaquette, vice president of operations. "We showcase all of our wines at Elizabeth's Wine Lounge." Jaquette oversees day-to-day business at Elizabeth's Wine Lounge, Elizabeth Chambers Cellar, and Silvan Ridge Winery.
The Chambers family has been part of the Eugene area's wine industry since 1993, when Elizabeth's mother, Eugene media entrepreneur Carolyn Chambers, became majority owner of what was then known as Hinman Vineyards. Elizabeth soon took over management and marketing for the estate and vineyard, which was rebranded as Silvan Ridge. She established the boutique Elizabeth Chambers Cellar label in 2013.
The label's iconic butterfly is an homage to the Chambers lineage, going back to Carolyn, who was known for her love of blue morpho butterflies. After Elizabeth passed away in 2018 at the age of 56, her daughter Julia Stiltner and Julia's husband, Andrew, took over the winery.
In 2021, the Stiltners realized an opportunity to sell the building housing the winery and tasting room but retain the wine and the Elizabeth Chambers Cellar brand. The wine is now being made at winemaker Drew Voit's facility in McMinnville, and the tasting room moved to Eugene.
"Julia and Andrew jumped at the opportunity to 'bring Liz home' to their hometown of Eugene," says Jaquette. "Eugene is also home to their other winery, Silvan Ridge, so it made sense to open a new location in Eugene that would showcase both brands under one roof."
The Stiltners didn't just relocate the tasting room from McMinnville to Eugene. They also brought down the winery's trademark hospitality, curated tasting experience, and world-class pinot noir with origins throughout the northern Willamette Valley.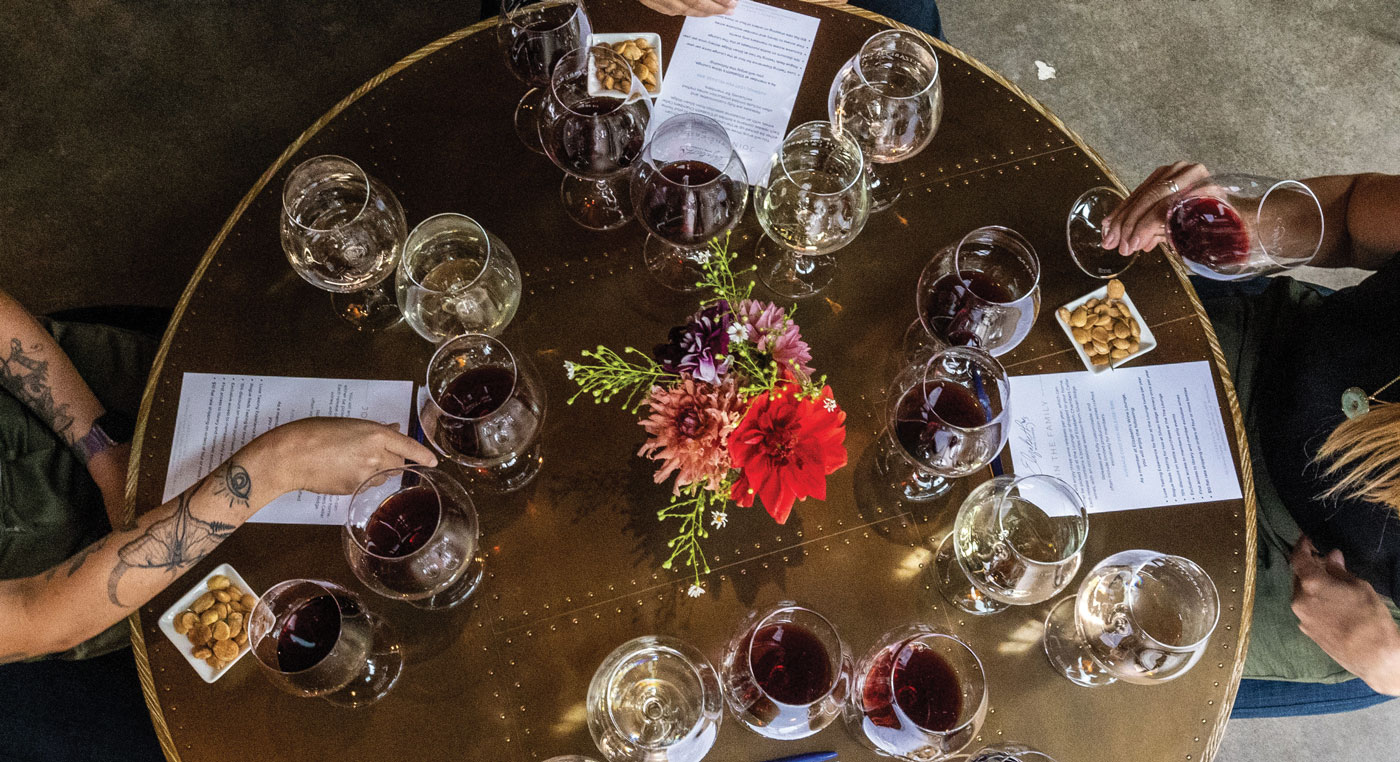 "Our wines are all about place," says Jaquette. "Drew's minimal-intervention method of winemaking means that each single-vineyard pinot truly tells the story of the vineyard."
That story is one of ongoing change, evolution, and metamorphosis — not unlike the butterfly itself.
Jaquette envisions Elizabeth's Wine Lounge becoming "the heart of Oregon wine country." By showcasing coveted northern Willamette Valley pinots and the southern Willamette Valley and Medford Rogue Valley wines of Silvan Ridge, the wine lounge can feature noteworthy cellar-ready and drink-now wines from some of western Oregon's most renowned wine regions.
The wine lounge is part of Oakway Center's Heritage Courtyard, so visitors can enjoy their dining and wine tasting experience and the courtyard's signature outdoor space. Later this spring, Jaquette notes, the wine lounge plans to expand the menu, including the addition of a Sunday brunch as well as regular food and wine pairing events. During warm weather, the large rollup door will be opened to bring a fresh air feel to the lounge.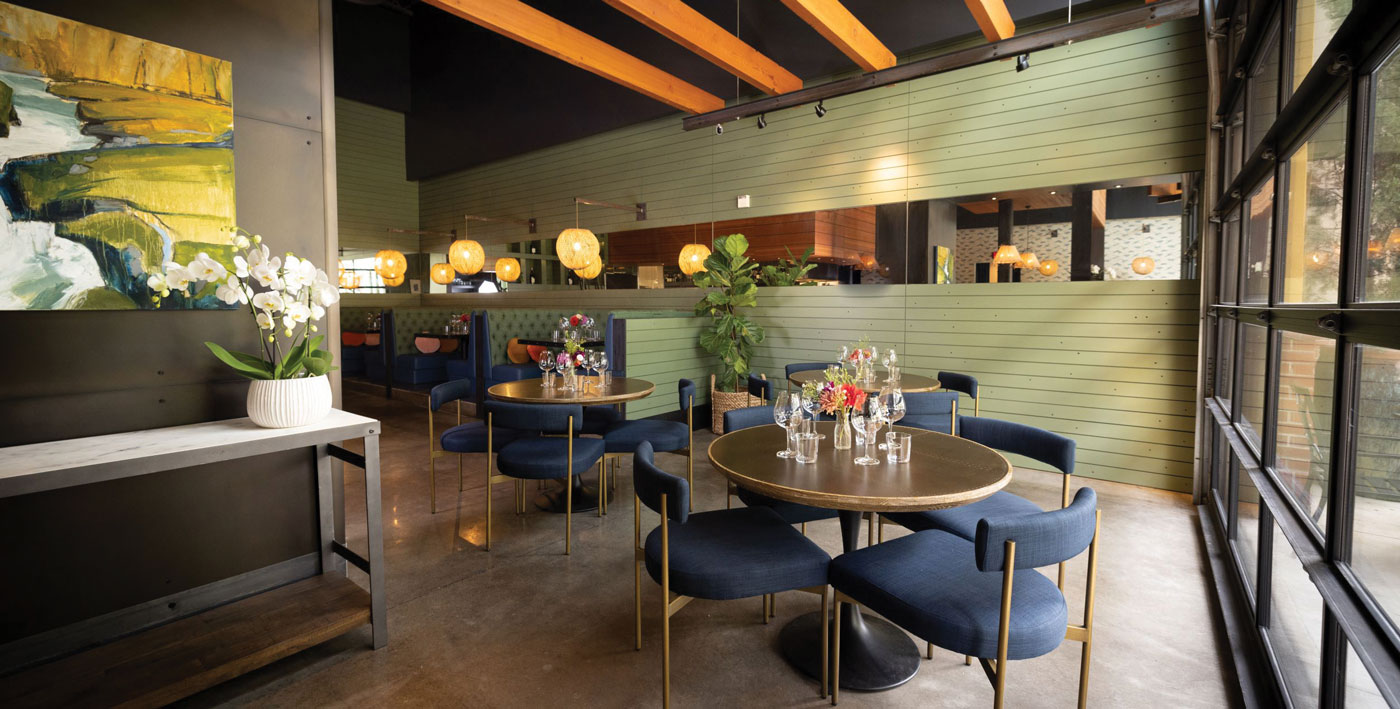 Overall, the wine lounge experience is meant to evoke the spirit of three generations of women who have built up the Sylvan Ridge and Elizabeth Chambers Cellar labels: meticulous attention to detail, sense of place, and elevated experience that brings out the best of every bottle.
"Our wines are well-balanced, rich, complex, and terroir-focused," says Jaquette. "Wine lovers can expect to be wowed."
Elizabeth's Wine Lounge, 541/844-1256, 105 Oakway Center, elizabethchamberscellar.com