Prior to owning and operating Walnut Ridge Vineyard, James McGavin worked in software. Based in Los Angeles, McGavin had grown frustrated by the intangible nature of the industry. In that line of work, "you can't tell if you're winning or losing," McGavin tells me on a warm autumn afternoon. "You come home, you've worked hard, and you can't tell if you made any headway."
McGavin and his wife, Wendy Golish, dreamed of a serene, rural lifestyle somewhere in Oregon, so they started their search. When they found the property where Walnut Ridge is located, they knew they were home. "The serenity, the beauty of it—it's got the right look and feel," McGavin says. "It's laid back. Here, I can stand back and just look—wow, this has really come a long way."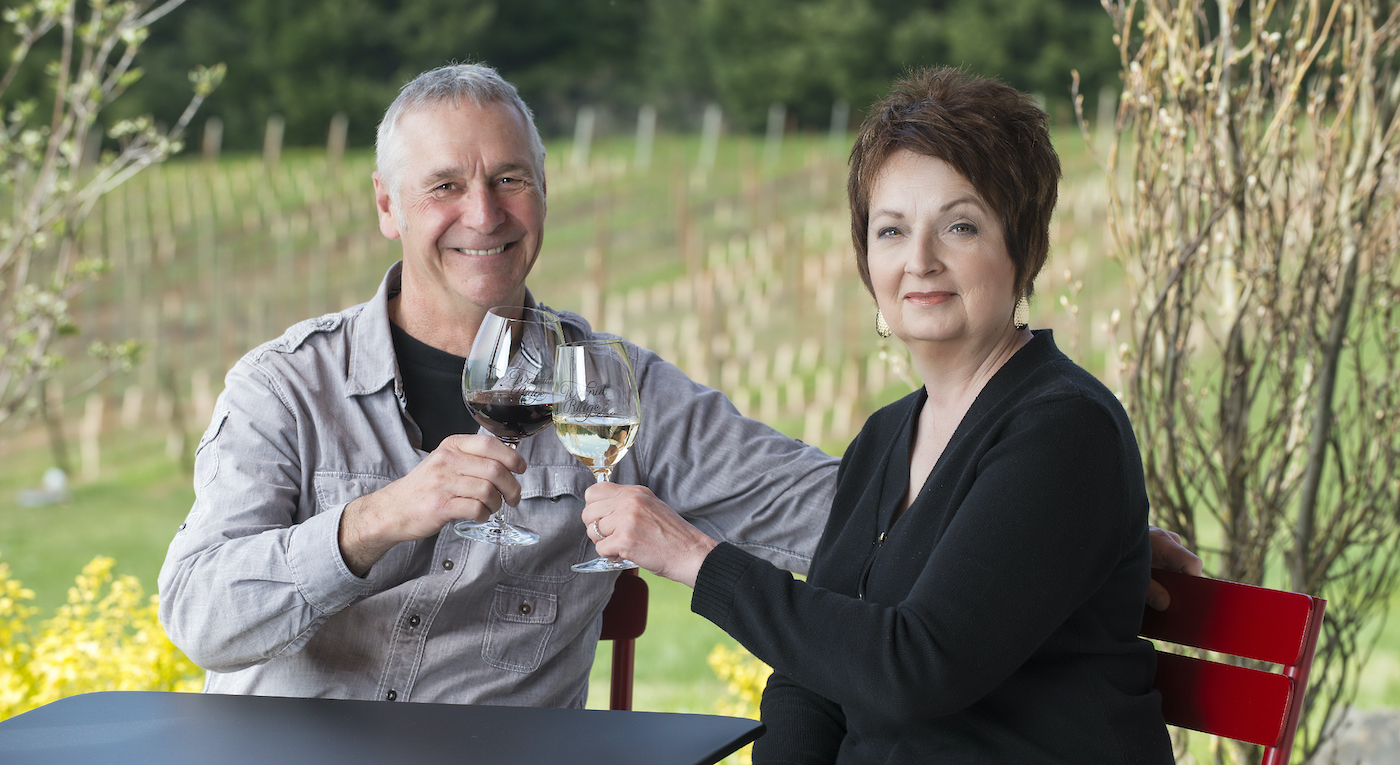 Like many Oregon vineyards, Walnut Ridge, located about 23 miles northwest of Eugene, is known primarily for pinot noir and pinot gris varietals. They also grow gamay noir, sauvignon blanc, pinot blanc, riesling, and chardonnay grapes in small quantities. The wine is produced at Sass Winery in Salem.
Walnut Ridge has been growing the blackberry-colored gamay noir varietal for years, using it to make a rosé. Recently, though, Walnut Ridge started producing a red gamay noir, serving it in their tasting room. Thick and deep in color, the red balances sweet and bitter, with a buttery mouthfeel.
"When we bought it [the vineyard], it had about eight acres of grapes," McGavin says. "Now we've got 30 acres of grapes planted. It's turned out to be very successful for us. I love everything about it. It doesn't feel like work."
In addition to the beautiful views and scenic and rustic atmosphere, what appealed to McGavin and Golish about their location was the Bellpine soil, a reddish-brown, silty loam that's known for holding water well, giving the grapes an earthy flavor.
The prevalence of Bellpine soil allows the vineyard to operate with no additional irrigation. This light touch with nature was a priority for McGavin as he learned to operate a vineyard from the ground up.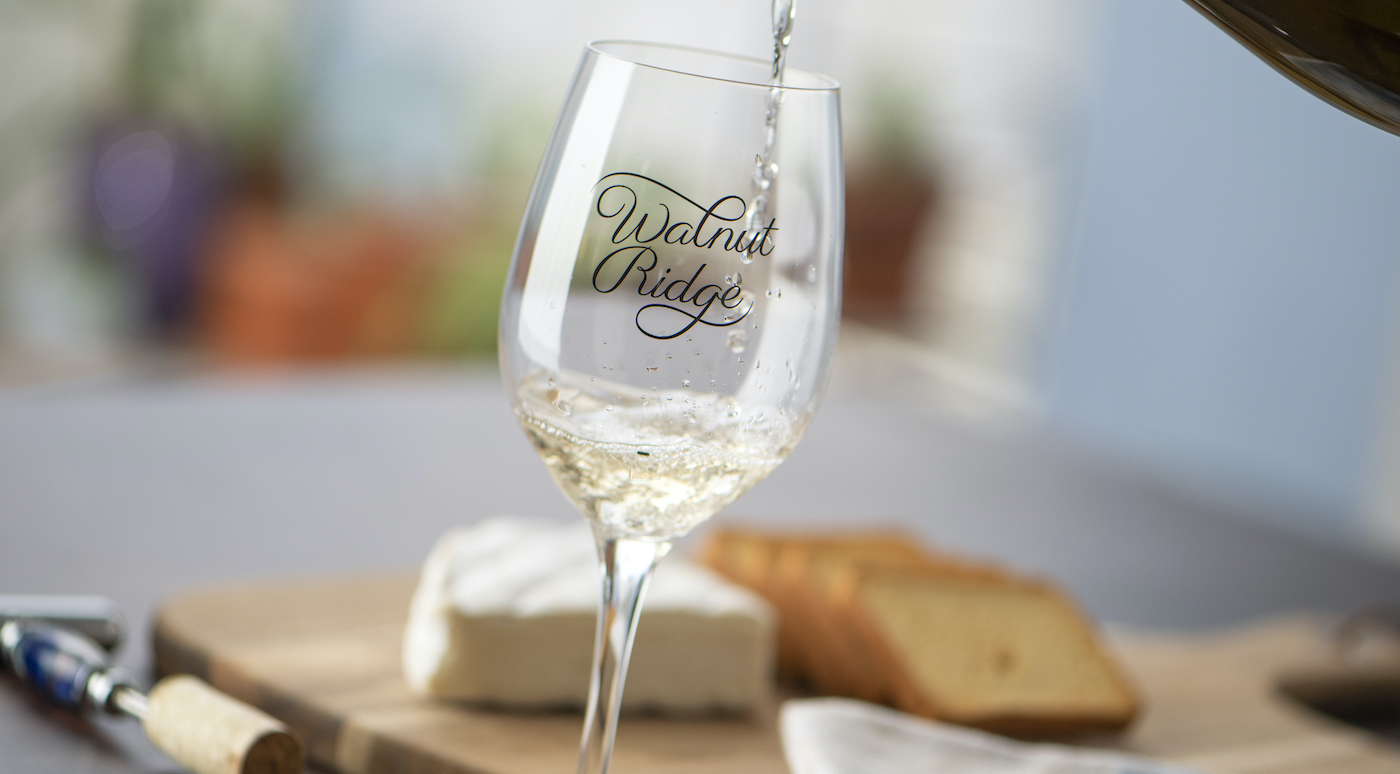 Walnut Ridge is LIVE certified, which stands for "Low Input Viticulture and Enology." This means that all vineyard operations meet strict international standards for environmentally and socially responsible winegrowing and winemaking.
"It's an alternative to being organically certified," McGavin says. Walnut Ridge picked the program specifically because of the wine focus, while other programs are more generic in nature.
"It's not about dominating nature," McGavin says. "It's about working in tandem with the natural world.
Aspects of the certification range from how the grapes are grown to how the leaves are pulled off the vine to improve airflow. "We're trying to keep everything in balance rather than kill everything but our wine grapes," McGavin says. "All of those things improve the health of the vines and minimize the need for chemicals. . . . The chemicals we use for mildews—they're fungicides. We don't need any insecticides, which is good. And the chemicals we do use are all very carefully analyzed to make sure they're not damaging beneficial insects or birds or butterflies."
McGavin says there is a very strict regimen about what chemicals you can apply and how frequently you can apply them. Worker safety is also a part of the LIVE certification process.
For these reasons, Walnut Vineyard's a little ragged, McGavin says, not totally mowed, with all kinds of areas set aside for beneficial plants that are good for pollinators.
"That's not for the vineyard specifically, but it's just to create a healthy environment," McGavin says. "This is an excellent way to grow wine grapes the right way."
Walnut Ridge is nestled among several other vineyards and wineries, including Pfeffer, Brigadoon, Bennett, and Benton-Lane, a loose conglomeration that's come to be known as the Prairie Mountain Wineries. The Prairie Mountain Wineries have recently applied to become a sub-AVA (American Viticultural Area) to reflect the unique growing conditions in the area.
"It just means it's got an identity," McGavin says. "We believe this is remarkable growing. It's a little bit warmer than further south or further north, so we get consistently ripe grapes here."
More than anything, though, McGavin sees Walnut Ridge belonging in the burgeoning Willamette Valley wine industry.
McGavin and Golish opened Walnut Ridge's tasting room in 2015, designed and constructed in the style of Lafitte's Blacksmith Shop in New Orleans. These days, Walnut Ridge welcomes wine enthusiasts from all over the world.
The Walnut Ridge tasting room is open on the weekends, boasting expansive views of the Coast Range stretching west and south, and serving popular food to share, like deviled eggs with Tennessee bacon jam, as well as beer and, of course, plenty of wine.
The tasting room will remain open throughout the winter, observing all COVID-19 safety guidelines, and McGavin says plans are in process to add more socially distanced outdoor seating.
Walnut Ridge Vineyard | 94739 Turnbow Ln., Junction City | 541/998-2606