We are so fortunate that within our food, beverage, and craft ecosystem, there are people who raise animals and bring them to market, consistently and conscientiously. The whole process, from breeding and nurturing to harvesting and preparing everything from lamb chops and steaks to burgers and bacon, happens in and around Eugene, in lush pastureland and dedicated meat markets, ensuring high-quality, locally sourced meats for our tables.
In Eugene, we live close enough to our ranchers to get to know them and chat about the season each week at the Lane County Farmers Market. The same people who wake up early to feed or move the livestock are often the same ones in downtown Eugene every Tuesday and Saturday with big coolers behind their booths. They've trekked in from the countryside to sell directly to market goers.
One such rancher is Jenni Timms, who owns Fair Valley Farm, 75 acres of pastureland less than 10 miles west of Eugene. Timms runs 20 to 30 head of cattle on the land, along with roughly 100 pigs and a flock of 15 breeding ewes. All of the animals are raised on a diet of pasture grass in a rotational grazing pattern that helps improve the land and results in meat that is leaner and lower in fat and higher in vitamins, antioxidants, and omega-3s than conventionally or industrially raised livestock.
You can buy Timms's pork, beef, lamb, and chicken eggs in-person from her booth at the farmers market, but Fair Valley Farms also operates a monthly meat CSA and online store featuring conventional cuts as well as a wide variety of bones for stock. Timms maintains long-standing relationships with a handful of local restaurants that feature her meats, too, including Party Bar and Yabai Nikkei.
Since its founding in 2012, Fair Valley has flourished as a ranch on the smaller side of things. "Everything is a matter of scale," Timms says. "Moving the animals every few days is a lot of work, but it gives the grass a chance to recover and regenerate for the next cycle and season."
Alongside the handful of direct-to-consumer ranchers in the area, established butcher shops like Long's Meat Market offer customers a complete array of meat products prepared on the premises. "We stick to the true old-fashioned butcher style of local meats that we cut in-house," says TJ Ingles, a manager at Long's.

A fixture of Eugene's food culture, Long's has been in operation since 1927. But as it approaches a century of livelihood, the meat market remains not only relevant but innovative in providing a variety of premier cuts to the public. Ingles says Long's is "a place to ask for banana steaks or baseball roasts, traditional cuts that butchers know, but aren't a part of the mainstream boxed beef industry."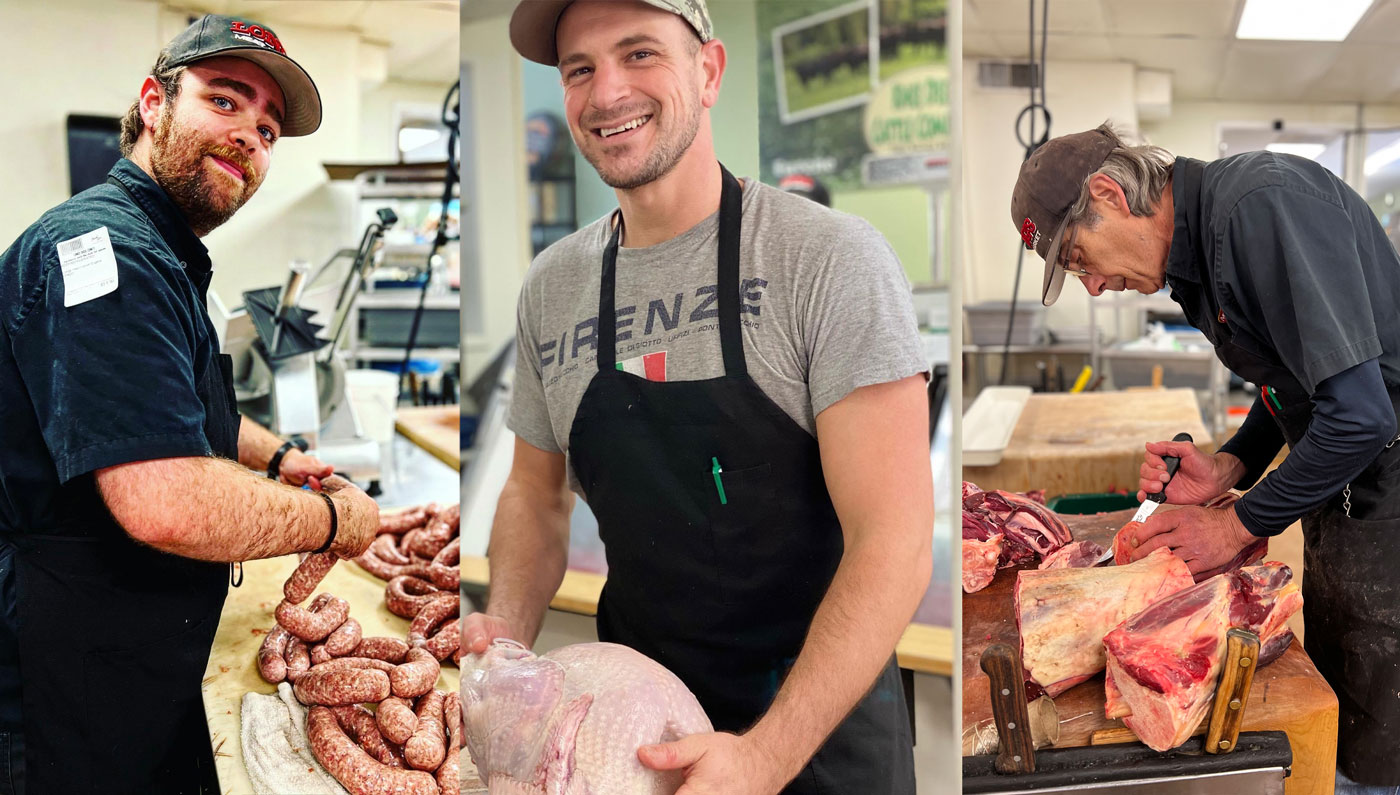 On an average week, outside of holidays or special occasions, the staff at Long's breaks down up to seven heads of beef, several hogs, countless chickens, and a wide variety of seasonal and specialty animals like rabbits, turkeys, ducks, and lambs. Ingles attributes Long's continued success and strong reputation to two things: "The entire crew, from the dish pit to the counter staff to the cutters in the back, who provide excellent customer service every day," and the support of the community — "People who came here with their parents or grandparents and now bring their children but also, especially, people who come in for the first time, which happens every day."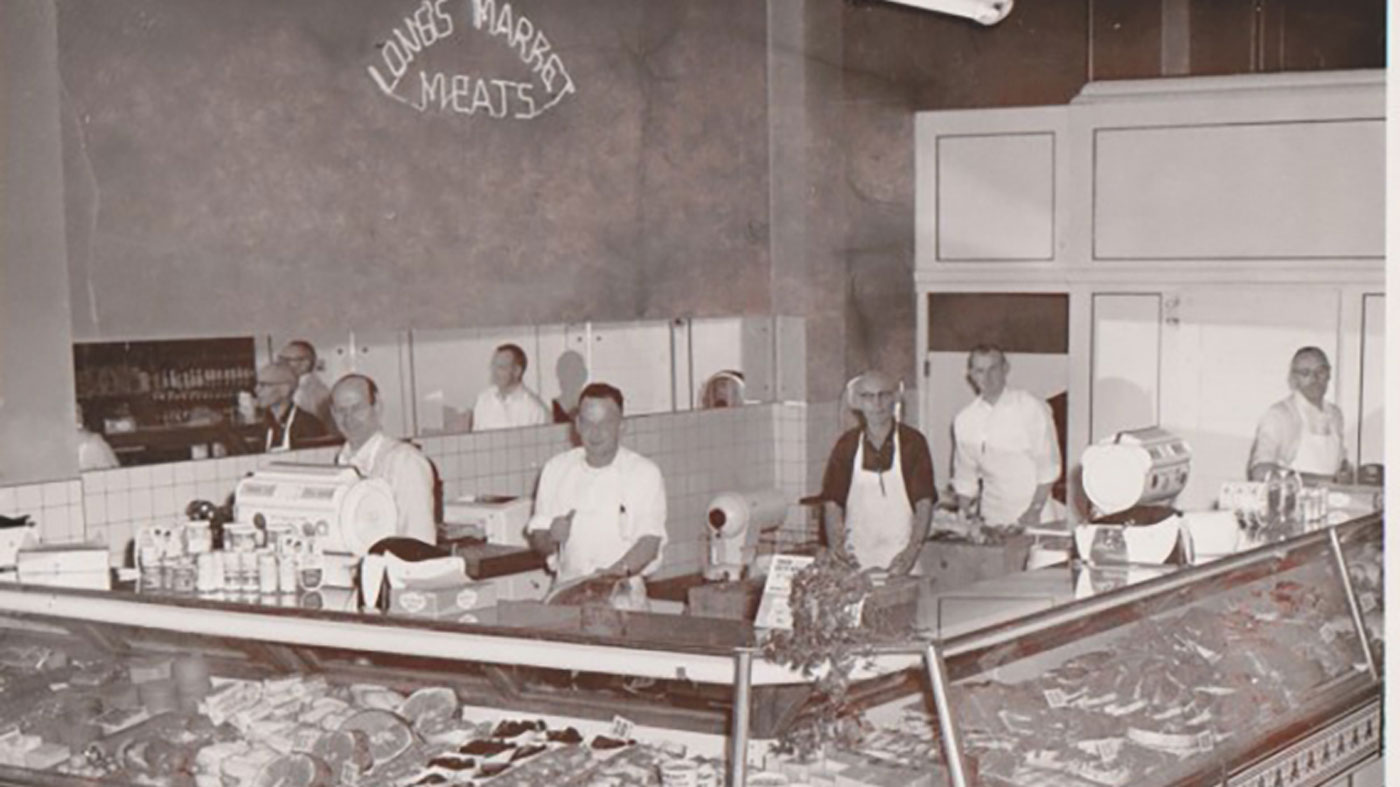 Long's Meat Market (longsmeatmarket.com) is open Monday through Saturday from 8 am to 6 pm in its original location at 81 E 28th Ave. Fair Valley Farms (and several other local ranchers, including My Brother's Farm, PK Pastures, Fog Hollow Farms, and Deck Family Farm) are available at the Lane County Farmers Markets on Saturdays or Tuesdays in downtown Eugene (lanecountyfarmersmarket.org)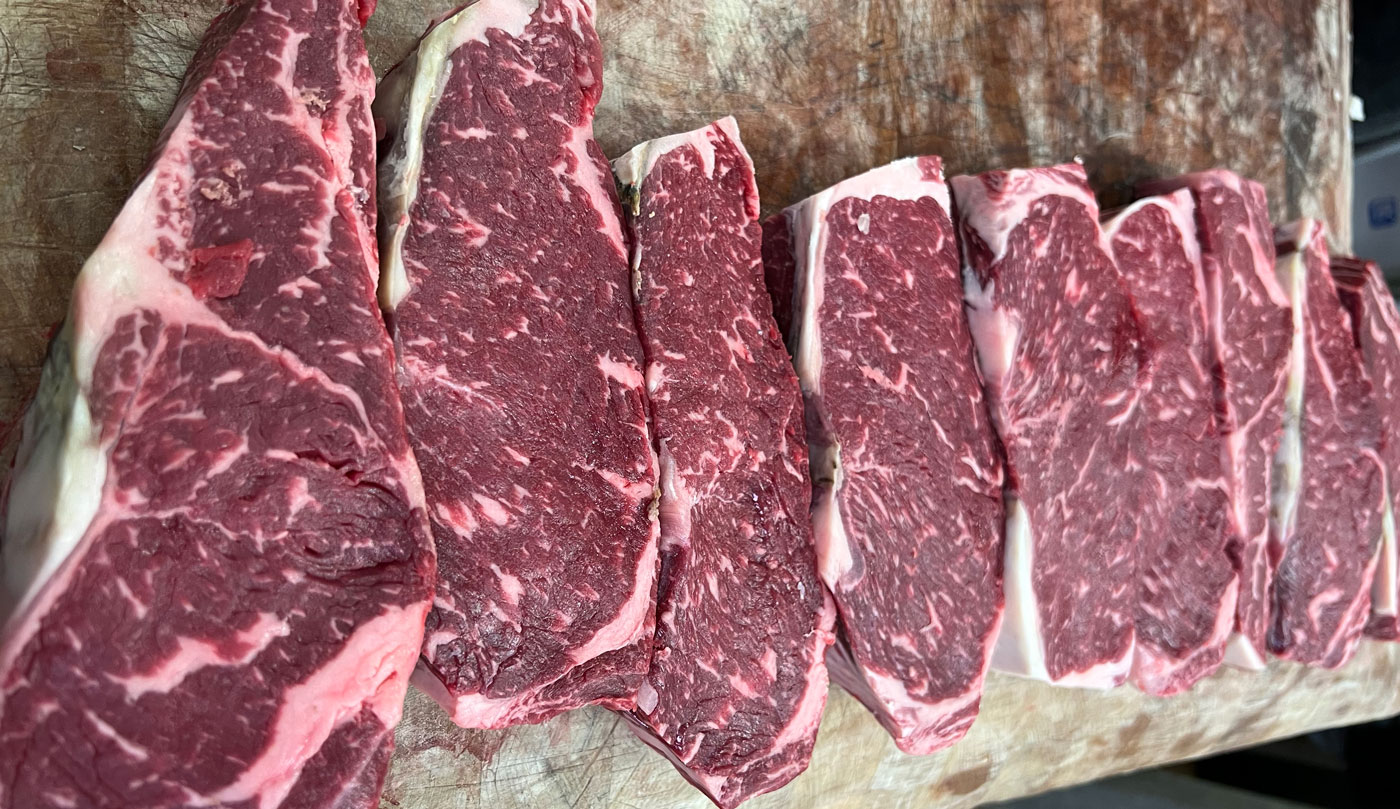 Dry Aging Beef
Although dry-aging meats is an old technique, new innovations and a refreshed consumer interest have led to a resurgence of the practice. David Cooper, one of the managers and the lead cutter at Long's Meat Market, describes the goal of dry-aging as "concentrating the flavor and improving the tenderness." Beef, in particular, can be dry-aged for 45, 60, or up to 150 days, hung as "large primal pieces" in the locker under specific conditions that control the temperature, humidity, and airflow while UV lights eliminate any potential bacterial growth.
Before the meat is cut into more recognizable products like T-bones or New York strip steaks, the dry-aging process breaks down the fibers and forms a crust, called the pellicule, like the protective rind of a hard cheese. Once that edge is cut away, "stronger nutty, umami, and mushroomy" flavors can develop, Cooper says. All of the dry-aged beef at Long's is sourced from Anderson Beef, a fifth generation rancher in Brownsville, because they provide the option to finish their cattle on barley grain as well as pasture grass, which allows for the greater fat content necessary for dry-aging as water content declines. Along with premier cuts, Long's is also offering dry-aged ground beef and burgers for Father's Day as well as a new dry-aging program for pork loins and chops.