On the first day of summer, heat and humidity rise from Wild Hog Creek, a slow-moving irrigation tributary of the Coast Fork of the Willamette River adjacent to Me & Moore Farm, the site of Evenfall, a hard cider and wine project led by Brian and Leah Moore. The farm lies in the western shadow of Mt. Pisgah, a scant 10 minutes outside of Eugene off Seavey Loop Road, an area of Lane County long-known for agricultural excellence and diversity. Currently this land, family owned and operated for three generations, functions in a broad and dynamic capacity, integrating a rich history of growing in the region with a fresh take on the processing and application of its bounty.
"My parents never wanted me to be a farmer," Brian says as we chat in the cool breezy farmstand, which functions as the primary outlet for the wide array of fruits, vegetables, and fermented products the land has to offer. "That's why I studied winemaking—but here we are," he says.
We're sipping on a bottle of Evenfall "Melody," a honey and apple wine aged in neutral barrels and made to be completely dry and still and rich with all the flavors, but none of the sweetness one might expect from such a beverage. There is a hint of melon-like aroma, some tingle of fresh herbaceousness, and, like every Evenfall product, the ingredients are grown onsite. This choice has allowed for a constantly changing and innovative approach to fermentation.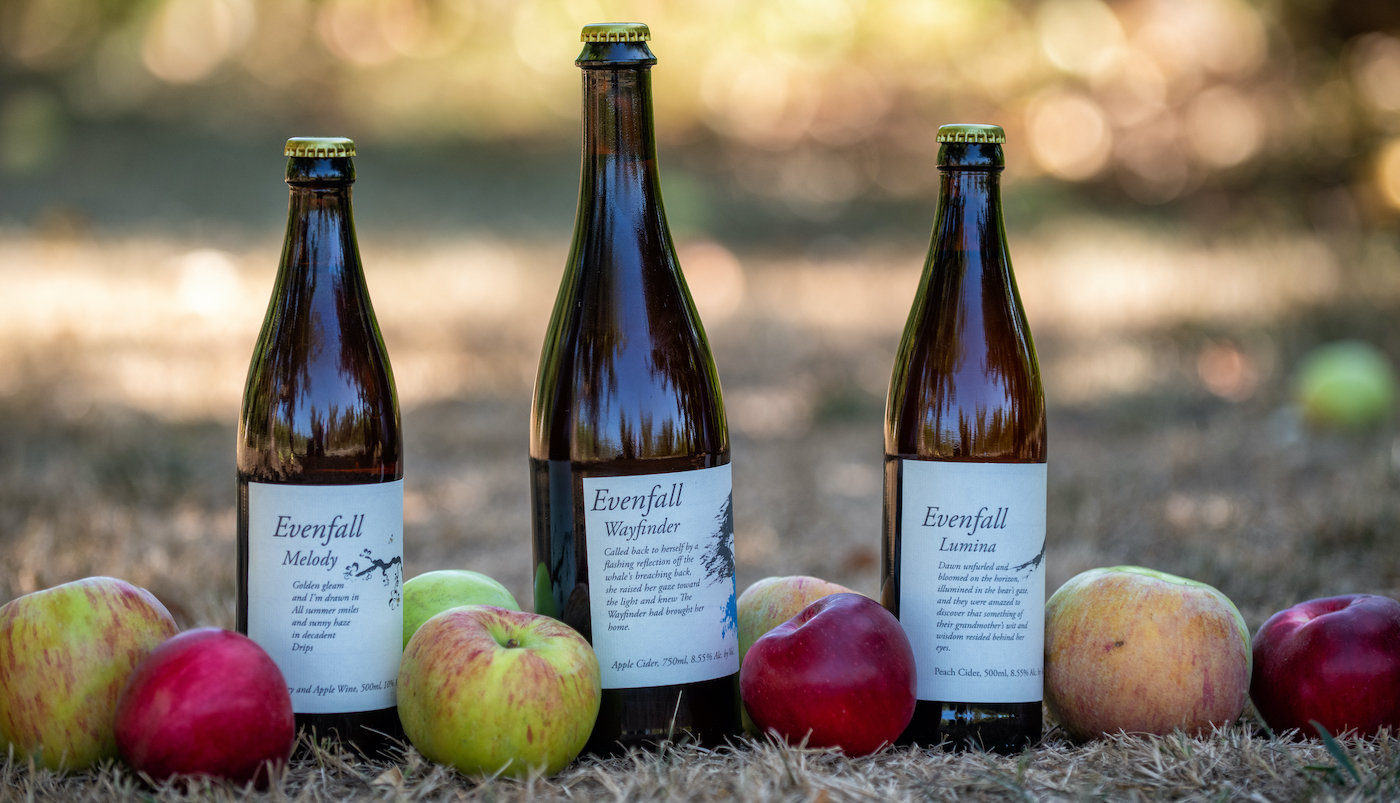 The Evenfall project began in 2014 when, after nearly a decade of working in the "stuffiness" of the wine industry, Brian and Leah (recently married at the time) decided to harvest a few of the windfall Gravenstein apples to clean up the orchard floor and make "just a keg" of cider. That keg turned into three barrels and with that, a cider company was born.
Now in their eighth year of limited production (depending on the quality and pace of the season), the ciders keep developing into new blends, some with the combination of pears or herbal or fruit infusions (including a recent release of a peach cider called "Lumina") and a handful of grape and apple co-fermentations which bridge a unique gap between the worlds of cider and wine. The "Tangle" is made from a blend of dessert apples and the very obscure but highly-regarded (if you're aware of the Jura, a similarly obscure region in Eastern France) Savagnin grape from the tiny vineyard on the property. And the resulting glass-poured nectar is delicious!
This is a far cry from the decades-long history of green beans, corn, and pumpkins that have traditionally grown on this patch of land. But as Leah and Brian have worked to update and transition the farm towards a more diverse model, the plethora of vegetables and fruits have complemented the innovations and collaborations this young couple have introduced to the area. They've worked with a handful of local breweries (including Viking Braggot Company and ColdFire Brewing Company) to share barrels and fruits for ale-blending as well as local distillery Thinking Tree Spirits to provide farm-grown botanicals, a holdover from Brian's initial experiments with absinthes.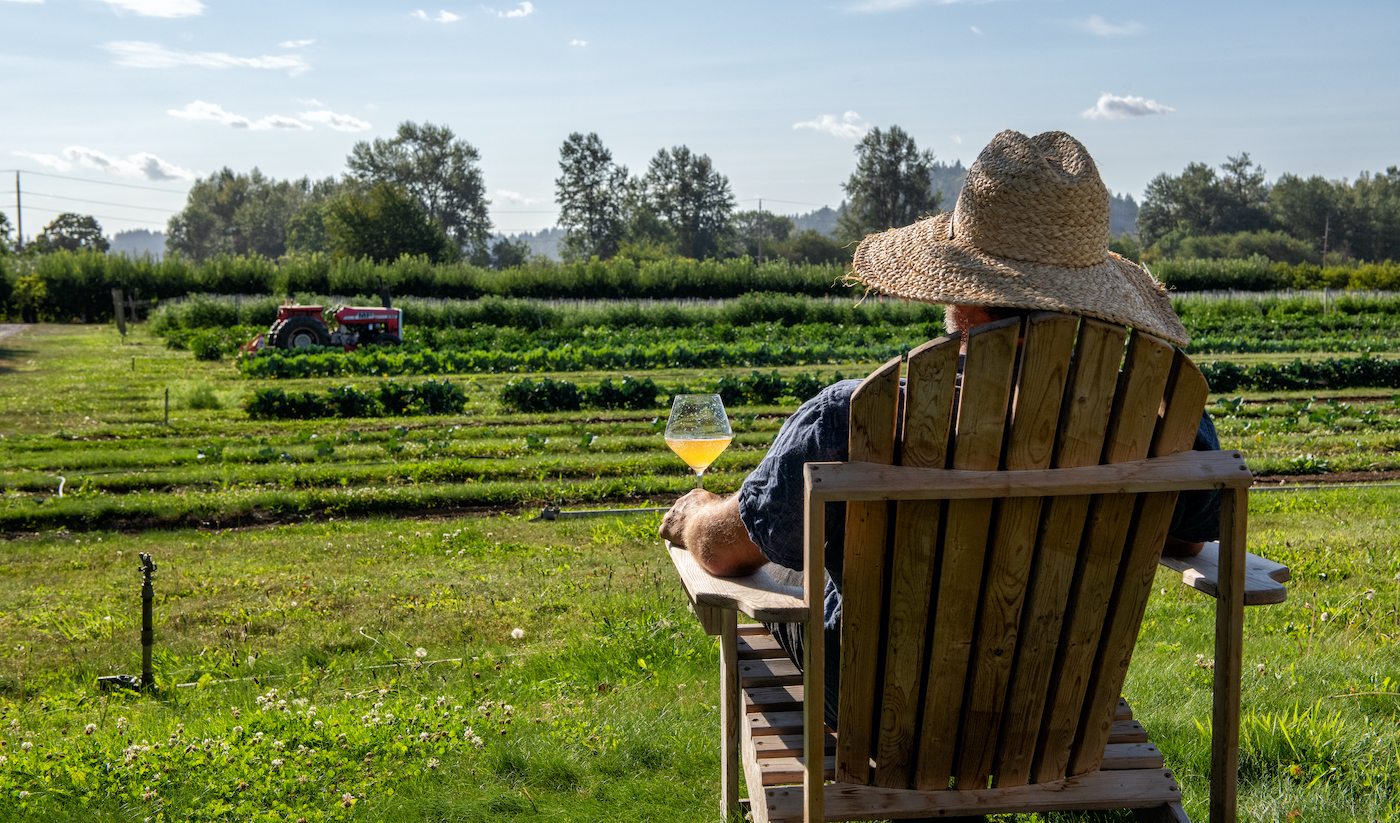 Meanwhile, Leah, a writer and graphic designer, has continued to both create the labels for Evenfall (some of which were initially hand-printed on an old-school on-site letterpress) and craft original stories and poems to accompany each bottling.
"Every wine has a story," Leah says, "and as young people trying to operate a farm, we're always looking to find a way to share that narrative with as many people as possible."
For now, Evenfall and Me & Moore Farms operate completely from the farmstand and store, but there's chatter about an eventual tasting room and broader distribution. "One day," Leah and Brian say, "but tomorrow we'll be thinning fruit and checking on the squash and tomatoes and working on the farm."
Evenfall and ME & Moore Farms | 34137 Seavey Loop | 541/741-4790