On the backrest of the long, carved wooden bench that sits on the front porch of Monroe's first craft brewery, old-style large letters on a background of Douglas-fir silhouettes spell out "Long Timber Brewing Co." As the highway winds into the 651-person town, the bench is just one sign of a new destination aiming to give folks a reason to stop and stay a while.
The 10,000-square-foot, $3.5 million, 10-barrel brewpub opened this past summer. Long Timber wants to provide local residents a craft-focused restaurant and their own hometown craft beer. They also want Monroe to become more of a draw for the thousands of people who pass through the small town every day.
Founded by Todd and Amy Nystrom, owners of the Hull-Oakes Lumber Mill, also in Monroe, Long Timber features lodge-style woodwork, black iron metalwork, and lumber-themed beers. Corvallis-based architect Lori Stephens, who designed the nearby Monroe Community Library, created the vision for the space, and construction began in 2018.
A large saw blade painted with an Oregon river scene greets customers—a cousin to a similar saw blade that has been intricately inset into the floor of the breezeway at the brewery's front door. More than 200 large fir beams run throughout the building. And with 83 years of lumber mill tools, photos, and timber industry memorabilia from Hull-Oakes, Monroe's first craft brewery melds Oregon history with a modern, comfortable space to enjoy a brewpub menu and fresh beer.
Long Timber has a second-story patio and spacious downstairs seating, along with a stage, wine bar, and taproom. The 700-square-foot private room ("The Back Forty") can be reserved for meetings, celebrations, and other special events. Want to enjoy your brew outside? Warm up by the gas fire pit on the outdoor patio.
Custom touches abound throughout the bright, welcoming, family-friendly space. Fir silhouette cutouts on the balcony railings echo the bench on the front porch. Even the clipboard your server carries is one of a kind.
Peek through the windows separating the public seating from the brewhouse, and you might catch a glimpse of head brewer Matt Maller building out beers. A veteran of Corvallis's Sky High Brewing and Albany's Calapooia Brewing, Maller has been crafting timeless sudsy styles and today's popular brew favorites. Logging themes weave their way throughout the beer list: Widow-Maker Stout, Double Wedge Imperial IPA, Day Faller American Pale Ale, and Fine Grain Amber. Trending styles, such as hazy IPAs, are ready to pour, and experimental beers are also in the works.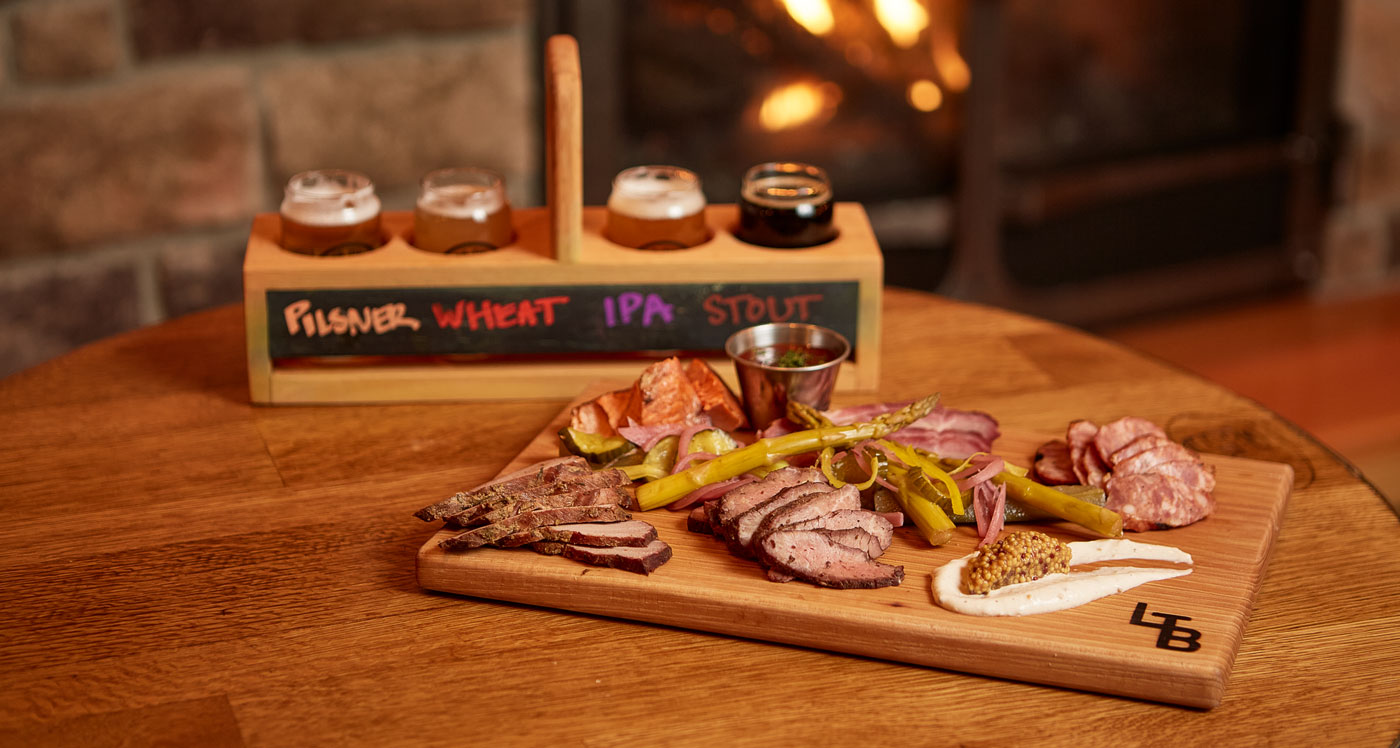 Wine and craft sodas are also on tap, along with full-service breakfast, lunch, and dinner menus. The chefs focus on sourcing ingredients from local farms, and they smoke their own meats. Along with the smoked wings, smothered fries, and "Devilish Green Eggs & Ham" on the appetizer menu, Long Timber serves up hearty soups, salads, and sandwiches. But the unique food is found on the "Carving Board" menu, with your choice of smoked meats and sides, and the "Hash House Favorites," featuring cedar-plank steelhead, "Sawmill Steak," and "Fuss & Cheese" (fusilli pasta smothered with a five-cheese beer sauce, topped with andouille sausage and cured salt pork).
Monroe sits on the scenic drive between Corvallis and Eugene, and the Nystroms are very clear that boosting the local economy and Monroe's tourist appeal was part of their desire to open Long Timber. Employing more than 30 people, Long Timber is one of the largest commercial projects the area has seen in years.
Back on the front porch, near that now-iconic carved wooden bench, is another big draw: the yellow front grill and assembly of a piece of old logging machinery, complete with tires. If the kids posing for photos are any indication, it's a sign that Monroe's first brewery might just be crafting some big hope for this small town.
Long Timber Brewing Co. | 180 N 5th St., Monroe | Sun-Mon, 11 am-9 pm | 541/847-5705