Membrillo Latin Kitchen began in May of 2014, as a quick serve, café-style Cuban restaurant. After moving from their downtown location to the mid-town area of Eugene last summer, Membrillo has expanded from just 18 seats to a 49-seat fine-dining establishment. Today, business is booming. "We kind of grew out of the smaller space and needed to expand," says owner Corey Wisun. "It's going really well; we're busy and people are digging it."
The restaurant began with a strong Cuban focus and later expanded to include more Latin and Spanish flavors. Wisun's draw to Latin cuisine was inspired by his upbringing in South Florida, where he was exposed to varieties of ethnic foods. "The more I got involved in ethnic foods, the more I wanted to cook and learn about Latin American food," says Wisun.
Membrillo strives to provide a menu abundant with local, seasonal, and high quality ingredients. The restaurant gathers ingredients from businesses such as Newman's Fish Company, Long's Meat Market, Turnip the Beet Farm, Groundwork Organics, and more. Wisun also takes frequent trips to the local farmer's market for culinary inspiration. Traditionally, Wisun has utilized an ever-changing menu. Since the move, the menu has become more standardized, while still changing it up seasonally on a whim.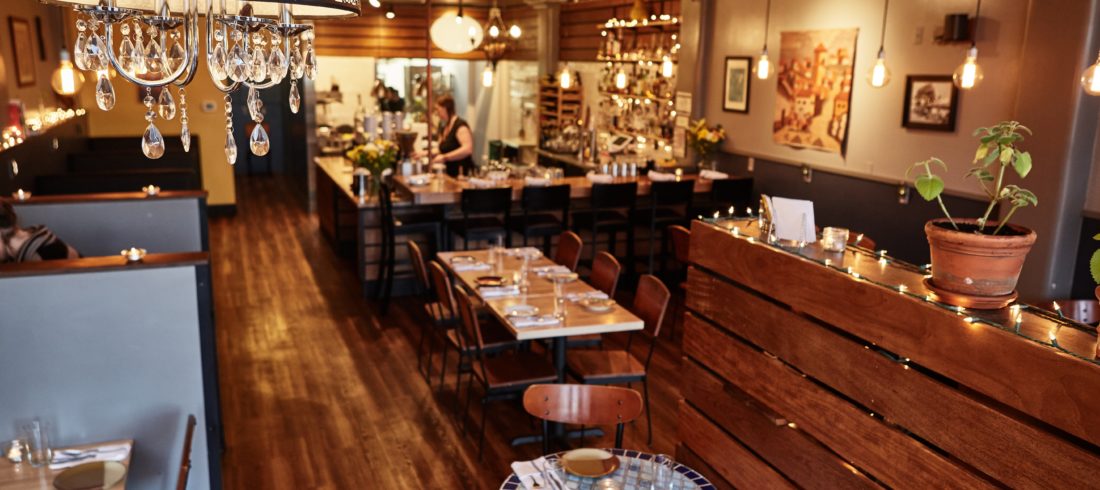 The move from a full two-sided menu to a one-sided menu, along with just serving dinner and weekend brunch, has certainly paid off for Membrillo. Since the expansion, Membrillo was voted "Best New Restaurant" in The Eugene Weekly and continues to thrive on word-of-mouth advertising. "The challenge of this business is keeping yourself in the forefront of people's minds," says Wisun. "We keep it fresh and fun and utilize what's new and exciting."
Membrillo is an excellent place for any Eugenean. Foodies will enjoy the innovative cuisine and inviting décor. Customer favorites include the 16-ounce grass-fed, dry-aged and grilled rib-eye with roasted potatoes and truffle herb butter. Other specialties include the tira de asado, a traditional Argentine barbecue thin-cut beef short ribs topped with a chimichurri sauce, black beans, and yellow rice; as well as the lomo saltado, a Peruvian dish with stir-fried rice and grilled hanger steak. The Spring menu promises to bring some new flavors and fun preparations.
Along with their cuisine, Membrillo also serves an extensive Latin and Spanish wine list, housemade dulce de leche and horchata, as well as handcrafted cocktails. Cocktails feature many mixers and syrups that are housemade using local produce, while the spirits and beer selection are often local.
The décor offers warm tones paired with a distinct sleekness that provides what Wisun describes as a "vibrant, big-city feel." Membrillo features splashes of color with modern artwork and an overall coziness with a moveable wall to section off a private nook in the dining room. "I was going for something that was fine-dining yet hip, something you don't necessarily find in this town," says Wisun.
Membrillo has earned a reputation as a dining experience that is different from anything else, particularly in Eugene. Along with Membrillo's success, Wisun says the greatest reward is to "just be proud of what we have here." "I want people to walk away with a memory. A lot of people tell me that they can't wait to come back and bring their friends here and that makes me happy," says Wisun.
1530 Willamette St. | 458/205-8470 | membrillolatinkitchen.com