[Editor's Note – Addis Ethiopian Cuisine is now closed. Visit Makeda's food truck at 725 Olive Street in Eugene for other Ethiopian cuisine options. www.facebook.com/makedascuisine]
Anyone who has lived in a big city with even a tiny Ethiopian population should know the sensual, tactile pleasures of eating this ancient culture's cuisine. Savory stews called wots form the basis of the meal, made of saucy legumes, chicken spiked with red chili, deep glossy collards or cabbage or green beans—these are all scooped up by hand with a slightly tangy, pliable flatbread. It's food meant for sharing, and it satisfies vegetarians as deeply as it does meat-eaters. And for years, we've been yearning for an Ethiopian restaurant to open in town.
So last April, when Chef Meklit Fikre debuted Addis Ethiopian Cuisine, Eugene's first Ethiopian take-out restaurant, there was a giant upwelling of support in the community. A graduate of the University of Wyoming, Chef Fikre came to the U.S. from Ethiopia on a scholarship. She met her husband and moved to Eugene in 2000, and she started thinking about opening a restaurant after her daughter was born. Addis, which offers both take-out meals and catering, was the first step in making the dream of a restaurant a reality.
The word spread quickly via social media, and they were off and running. Starting out slowly as a take-out joint open only once a week, on Saturday evenings, Addis soon became a popular venue for weekend meals. Chef Fikre prepares the stews and Ethiopian flatbread, injera, and her friendly brother Eskinder manages the food distribution.
One of the most popular dishes on the Addis menu is the vegetarian sampler, which comes with a cabbage and potato stew called atakilt wot and two dried legume stews: kik wot, or yellow split peas cooked until tender with onions, garlic, serrano pepper, and turmeric, and misir wot, a deep red dish of lentils in berbere chili sauce. Also sample Ethiopian's famous dish, doro wat, which sauces a chicken drumstick and hardboiled egg with glossy red berbere, and any special they have listed on their Facebook page (see below), which serves as the communication hub with customers.
Chef Fikre purchases as much as she can locally, including vegetables at the Saturday Market. Among her many excellent Ethiopian preparations of vegetables, the dishes featuring collard greens are my favorites. Our robust late-season greens production in the Willamette Valley means that for most of the winter we can substitute curly kale or even mustard greens for the collards usually used in Ethiopia. Pacific Northwest gardeners may want to take note of a newly introduced variety of mustard greens in our bioregion, Highland Kale or Ethiopian Blue Mustard (gomenzer, or Lat. Brassica carnita), which has tender leaves and a garlicky bite. Chef Tikre was kind enough to offer to my readers a greens recipe cooked frequently in her home and other homes across Ethiopia that is wonderful with that green, or any other we grow here.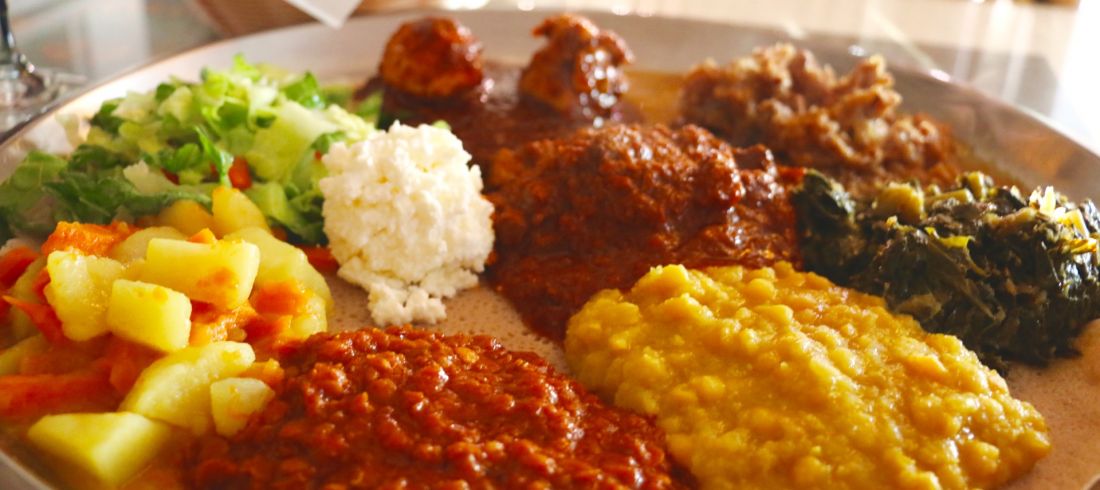 Another important ingredient for Ethiopian cooking, flour made from the ancient, highly nutritious teff grain, is surprisingly and happily available in Eugene through local grain farm and mill Camas Country Mill. This year in the heat, our local crop did well. Teff is used in Ethiopia to make the flatbread mentioned above, injera, a slightly fermented, savory, large pancake cooked until soft, springy, and riddled with bubbles, and served with most meals. To eat the stews, a diner tears off a bite-sized scrap of the highly absorbent injera from the larger piece, then scoops up a little stew with her right hand (never the left, which is considered unclean) from a communal plate, taking care to keep her fingers clean, and pops the morsel in her mouth. It's a spoon, fork, and plate in one.
If you would like to make your own injera, search for a recipe developed locally on my blog, Culinaria Eugenius, or just do what I do and call Addis to order a dozen pieces to go, which I then cut into quarters, roll, and freeze. It defrosts easily in the microwave. Chef Fikre's injera, too, is made with Camas Country Mill grain and I highly recommend it.
Addis' menu and ordering details for meals or catering are at facebook.com/addisethiopiancuisine. Order for Saturday evening pickup by Friday evening by calling 541/833-0049 or sending them a Facebook message.
Meklit Fikre's Greens with Beef (Gomen Wot Besaga)
The chef suggests this simple preparation for tasty winter greens with beef, a staple in Ethiopian home cooking and a wonderful one-dish meal. In Ethiopia, they use shallots, but red onions are a good substitute. You may want to add a little powdered hot pepper blend called berbere to spice up the dish, as some Ethiopian families do. Berbere can be purchased in the Ethiopian markets in Portland or online at Penzeys Spices. Serves 3-4 with other Ethiopian dishes and injera, or with rice and a simple green salad dressed with a lemon vinaigrette.
1 medium red onion, sliced into thin strips, or an equivalent amount of shallots
2 garlic cloves, minced
1 teaspoon grated fresh ginger
1 pound stew beef (chuck is best), cut into 1-inch cubes
2 bunches of collard greens or frilly mature kale, washed, deveined, and cut into bite-sized strips
2 tablespoons vegetable oil
salt and pepper to taste
1-2 serrano peppers, or to taste, cut in half and deveined
Slice the red onion or shallots, mince the garlic, grate the ginger, and cut the beef into cubes. Prepare the greens as described above.
In a pot with a lid that is large enough to accommodate the greens, sweat the onions on medium heat with no oil, then add oil once they soften a little (about 5 minutes). Continue until onions are gold and soft, then add garlic and ginger (the garlic and ginger amounts can vary based on taste). Let this simmer for a few minutes, then add cubed beef.
Put on the lid and let the meat cook through. Salt and pepper to taste, then add prepared greens. Cook with lid on until greens are soft. This, too, depends on your preference.
About 10 minutes before serving, remove the pot from the heat, and add a few serrano peppers if you like spicy food. Stir and replace the lid, then let sit for a few minutes with the heat off to let everything set up.
Serve on injera and enjoy.