One of my favorite things about food is its power to evoke memories of the past. A tiny bite, a hint of an aroma, even the mere mention of a certain food can bring to mind people, places, and events from a time gone by.
If you ask my sister or me what carne asada makes us think of, we'd both say our high school coach from decades ago, who grilled up huge batches of the delicious marinated beef for end-of-season team banquets. I don't think either of us has ever tasted carne asada that good since. Whenever I eat a popsicle, it reminds me of childhood summers spent swimming in our backyard pool. My brother and sisters and I would jump off the diving board, popsicles held firmly in hand and high above our heads, to see who could keep their popsicle from slipping beneath the surface upon splashdown. My nana is the best gravy-maker in the entire world, and pot roast with homemade gravy always transports me back to her house on El Cortez, the one with the big, formal dining room where my siblings and I would take turns setting the table for Sunday dinners. We'd use her beautiful lace tablecloths and create centerpieces out of whatever seasonal decorations were around the house that week.
This easy pumpkin dessert—a hard-to-categorize (but divine!) mash-up of pumpkin pie, cake, custard, and crumble—makes me think of two boys I knew when I was in high school. They were college-aged and from out of town, doing missionary work in our neighborhood. My parents were fond of them and invited them over for dinner regularly. On one of these occasions, no doubt in the autumn because my mother is a great believer in seasonally appropriate baking, she served this cake for dessert. And they loved it, so much so that they called my parents later that night, when everyone surely should have been sleeping, to see if there were leftovers that could be dropped off at their apartment. My dutiful father drove two plates of cake over without delay, and it was accepted by our friends, who walked out to the car dressed in their pajamas.
Ingredients
For the filling
1 1/2 cups granulated sugar
1 teaspoon salt
2 teaspoons ground cinnamon
1 teaspoon ground ginger
1/2 teaspoon ground cloves
4 large eggs
1 29-ounce can pumpkin puree
2 12-ounce cans evaporated milk
For the topping:
1 cup sugar
1 1/2 cups all-purpose flour
1/4 cup dry milk powder
1 1/2 teaspoons baking powder
1/2 teaspoon salt
2 sticks butter (1/2 cup each), 1 cold, 1 melted
1 1/2 teaspoons vanilla
1/2 cup chopped pecans
cinnamon for sprinkling
lightly sweetened whipped cream for serving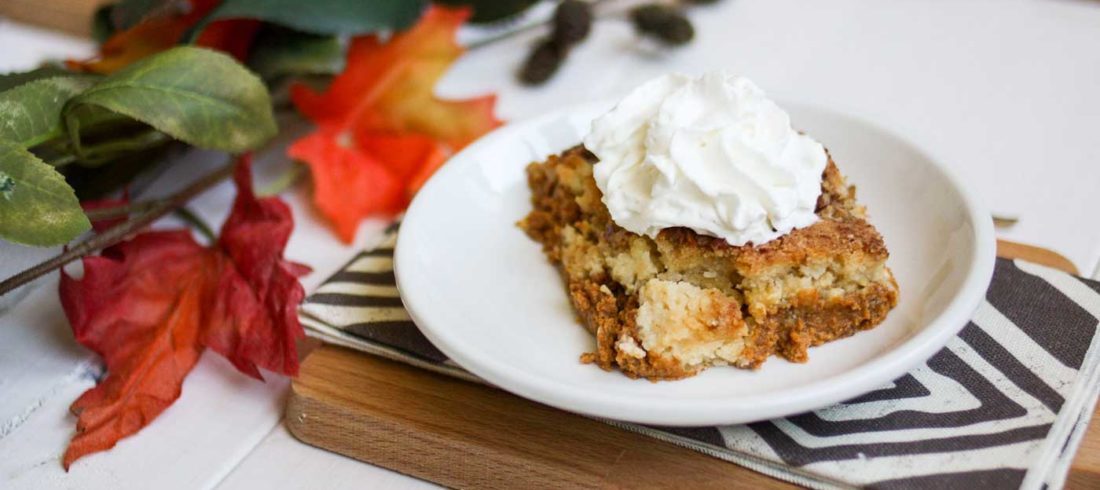 Making the filling:
Preheat the oven to 350°F. Spray a 9×13-inch baking pan with nonstick cooking spray; set aside. In a large bowl, combine sugar, salt, spices, and eggs. Beat with a whisk until smooth. Add pumpkin puree. Whisk until smooth. Add evaporated milk. Whisk until smooth. Pour the filling into the prepared baking pan.
Making the topping:
In the bowl of a food processor, combine sugar, flour, dry milk powder, baking powder, and salt. Pulse until combined. Cut the cold stick of butter into chunks. Add butter chunks and vanilla to the food processor, and pulse until the butter is mixed in and the mixture looks uniform. Gently spread the topping evenly over the pumpkin filling in the pan, carefully pushing the topping all the way to the edges of the pan. Sprinkle chopped pecans evenly over the top. Drizzle the melted stick of butter evenly over the topping. Sprinkle with cinnamon.
Bake for 45-60 minutes, until the top is golden and the filling is set. If you stick a knife in the center of the cake, it should come out without any pumpkin filling on it. If the top of the cake starts to look too brown after 45 minutes (or if the chopped pecans look like they're getting too toasty), lay a piece of aluminum foil over the top while it continues to bake. Allow the cake to cool to room temperature before serving. Top with lightly sweetened whipped cream. Serves 12-16.
Notes: If you are short on time or are missing any of the topping ingredients, you can make this cake the way both my mom and my mother-in-law make it: with boxed yellow cake mix. Top the pumpkin filling with the cake mix (just the powder straight out of the box!), sprinkle with pecans, drizzle on 1 1/2 sticks of melted butter, and sprinkle with cinnamon.
I'd be terribly remiss if I didn't mention that this is my husband's favorite dessert of all time. He would eat it morning, noon, and night (if allowed), no matter the season