All spring, Willamette Street brewed, fermenting into a  destination for fresh pints. New and established beer-centric locales have combined to help revitalize Willamette Street and downtown Eugene, crafting the perfect place for enjoying the summer with a beer in hand.
Craft beer is not new to downtown. McMenamins High Street opened in 1988. Steelhead Brewing, from its 5th Avenue and Pearl Street location, started bringing local beer to Eugene in the "microbrew" days of the '90s. Other local breweries—Wild Duck Brewery, West Bros. BBQ, Oregon Fields Brewing Co., and Springfield's Spencer's Brew Pub—started in the '90s, but are now with us only as memories. Over the last 12 years, the Eugene and Springfield area has ridden a hoppy wave encompassing all of Oregon. The Oregon beer boom and its innovative breweries have led a national rise in craft breweries—more than 6,000 nationwide as of last year.
The trend continues on Willamette Street as it blossoms with new breweries and new locations for existing breweries.
"Willamette Street is the main artery of Eugene, connecting Skinner and Spencer Buttes, and is unique in both its historic significance and its place-making role today," says Mercy McDonald, co-founder and co-owner of Claim 52 Brewing. "If you want to see a great cross-section of Eugene, this is the place to do it."
Claiming a new location
Claim 52 Kitchen opened at 1203 Willamette in April, with an above-bar beer board reminiscent of an old movie theater marquee. The tapas-inspired menu combines pub fare with flavors from Latino and East and Southeast Asian cuisines, changing to reflect seasonality and availability.
With covered outside seating for 36, a roomy indoor space for 80, and a private event room for 40, the 3,000-square-foot restaurant is the "community scale" brewery's new gathering spot for the imbibing public.
"Breweries and brewpubs have always played an important role as casual, welcoming community gathering spaces," McDonald says. "When you are able to connect the building to the streetscape with large windows or garage doors and outdoor seating, it brings a lot of energy to the area."
Claim 52's diverse beers include a full spectrum of IPAs, sours, stouts, and their flagship Kölsch, an ale aged like a lager. Twenty-four taps pour Claim 52 beers and guest wines, ciders, and kombucha. While all brewing is still done at Claim 52's Tyinn Street brewery and tasting room, the Willamette Street location will host all new beer releases, including some "surprise collaboration beers."
Manifest destiny
Today, no Eugene brewery is more prominant than Manifest Brewing. Massive steel tanks line the perimeter of the green-walled, 800-square-foot, large-windowed former comedy club at 740 Willamette.
A longtime home brewer, Brandon Woodruff has been pursuing his dream of running a brewery since 2010. In 2017, Woodruff and Gary Miller, owner of Doc's Pad, began working toward a "local first" vision of craft beer in the heart of downtown Eugene. The result—Manifest—celebrated its grand opening in April.
"I'm excited about the new life that has been brought to Willamette Street in the past few years," Woodruff says, who has worked in the downtown area since 2004. "A brewery downtown is a great addition to the community in helping its continued revitalization efforts."
In Manifest, barrels dot the central tasting area. Covered outside seating allows beer fans to sip from a flight or enjoy a pint of an ever-changing tap lineup (and small food menu). Options might include the bitter punch of Imminent Haze Northeast-style IPA; the tart, rose-scented Nap's Favorite Berliner Weisse; or the smoothly drinkable yet robust An American Tradition, a hybrid of English brown ale and American amber.
The large windows show beer making at work—leading to some quirky encounters. "The funnest times are when people don't notice me on top of a fermenter, and then they finally do," Woodruff says. "It's a priceless look."
Blocks of brewers
Tucked between Willamette and Oak with an entrance on Oak Alley, Falling Sky's original brewpub returned craft brewing to the Willamette area when they opened in 2012. Their Willamette-facing Falling Sky Fermentation Supply Shop is also there to help both beginning and experienced home brewers craft their own beers and ales.
Falling Sky has spread beyond Willamette, establishing their Pour House Delicatessen in July 2013 and their Pizzeria and Public House in June 2016. Now, their bottled beer can be found in shops all over Oregon.
In 2013, The Bier Stein left its original, cramped location for the former Midtown Marketplace building at 1591 Willamette. The new space expanded the taphouse and bottle shop from 12 taps to 31, and from 2,100 square feet to 12,000 square feet. Today, their prominent location and selection of more than 1,000 beers from around the world have The Bier Stein routinely noted as one of the country's best places to get good beer.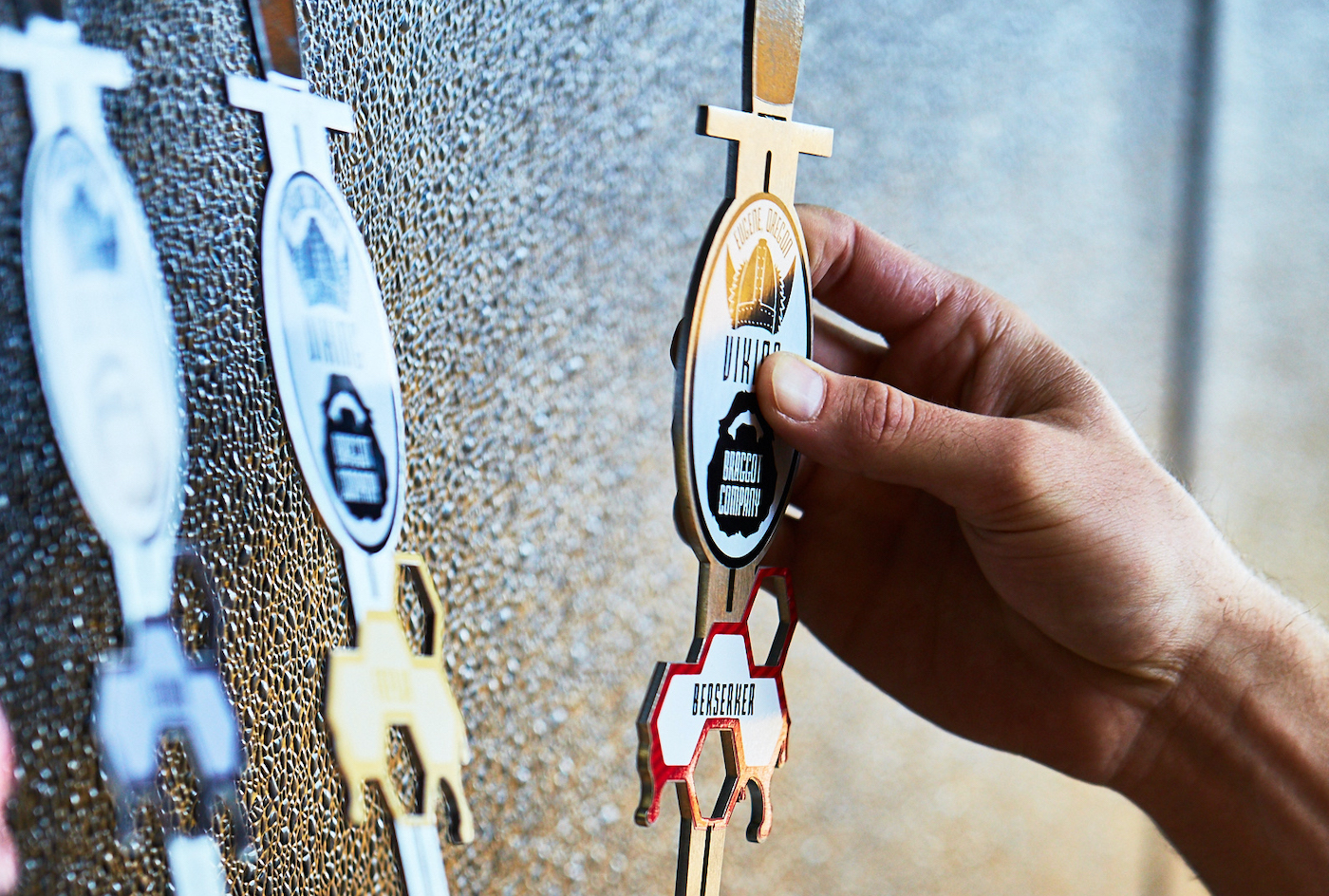 Moving toward south Eugene, the 16 Tons Café at Woodfield Station has long offered a rotating selection of specialty craft taps, while the new Viking Braggot Company Southtowne, part of Southtowne Plaza at 2490 Willamette, is showcasing an ancient, unique beverage for modern enjoyment.
Since their opening in 2013, Viking Braggot knew they would need to educate the public about braggot, a beer and mead hybrid brewed with honey and sometimes hops. While production continues at Viking's Commercial Street brewery and tasting room, co-founder Dan McTavish knew a more central location would help people discover braggot.
"It will be nice to have a space where we can totally control the educational aspect of braggots and really inform our customers about what we do," McTavish explains.
In addition to trying Freyja Blonde Ale, Fenrir American Stout, Valhalla Belgian-Style Pale Ale, and other braggots (or guest ciders and meads pouring from their 15 taps), Viking visitors can tuck into a house-made thin-crust pizza, salad, soup, or calzone.
"I am really excited to be opening on [South] Willamette, because it is a really under-served area," McTavish says. With seating for 80 inside and 24 outside, "we can't wait to become that welcoming, neighborhood hangout spot."
Willamette Street is the perfect place to stroll and stop in for a refreshment. Whether you're picking up a bottle of your favorite or trying something new, the many breweries along Willamette Street are the perfect place to take in a pint. 
Manifest Brewing
740 Willamette St.
541/632-3967
Claim 52 Kitchen
1203 Willamette St.
541/844-0152
Falling Sky
Falling Sky Brewpub
1334 Oak Alley
541/505-7096
Pour House Delicatessen
790 Blair Blvd.
541/653-9167
Pizzeria and Public House
UO EMU, 1395 University St., Room 46
541/485-1275
Falling Sky Fermentation Supply Shop
1331 Willamette St.
541/484-3322
The Bier Stein
1591 Willamette St.
541/485-2437
Viking Braggot Company Southtowne
2490 Willamette St.
541/515-6314
16 Tons Café
Woodfield Station, 2864 Willamette No. 500
541/485-1275