My family has always loved having a garden. We love tilling our raised beds and getting the boxes and soil ready in early spring. We love sowing seeds and transplanting vegetable starts and carefully monitoring them and watching them grow. We don't even mind weeding—unless it gets to the point where it's overwhelming, which, let's face it, seems to happen overnight.
Sadly, the only thing we struggle with in our garden is actually eating and making good use of what we grow! Meals like this flavorful, comforting minestrone soup, which has room for lots of late-season garden bounty, are a godsend. And if you don't suffer from the same garden excess we do, you can pick up all of these veggies and herbs at the grocery store. Pair it with your favorite grilled cheese recipe or our pesto grilled cheese below (with bonus points if you make your own pesto from your herb garden).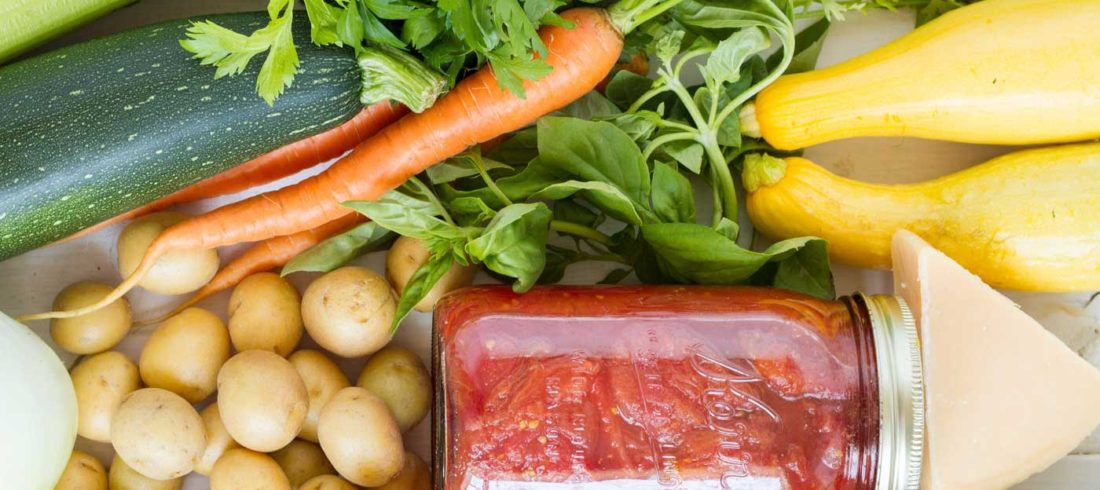 Garden Minestrone
Serves 6 to 8
Ingredients
1/3 cup extra-virgin olive oil
1 cup chopped onions
1 cup chopped leeks, white and light green parts only
1/4 cup minced Italian parsley
1 teaspoon minced fresh thyme
3 cloves garlic, minced
1 cup diced potatoes
2 cups diced carrots
1 cup diced celery
2 cups diced zucchini
2 cups diced yellow summer squash
1 28-ounce can whole peeled San Marzano tomatoes
1 tablespoon tomato paste
2 cups chicken broth
2 1/4 cups water
1 cup dried, small pasta, like baby shells or ditalini
1 15.25-ounce can kidney beans, drained and rinsed
2 tablespoons chopped fresh basil
salt and pepper
freshly grated Parmesan cheese for topping
Directions
In a large, heavy-bottomed pot or Dutch oven over medium heat, combine olive oil, onions, leeks, parsley, and thyme. Sauté about five minutes until onions and leeks are tender. Add garlic and sauté three minutes. Add potatoes, carrots, celery, zucchini, and yellow squash, and sauté for five more minutes, stirring occasionally. Pour the canned tomatoes into a small bowl and break them up with your hands, then add them to the pot along with the tomato paste, chicken broth, and water. Bring the soup to a simmer, cover, and cook 45 minutes, stirring occasionally.
While the soup is simmering, bring a medium pot of salted water to boil. Add the pasta and cook according to package directions until the pasta is al dente. Drain, drizzle with a little olive oil, and set aside.
Add the drained kidney beans and chopped basil to the soup and cook five to10 minutes until the beans are heated through. Salt and pepper the soup to taste. If you plan on eating the whole pot of soup in one sitting, add the pasta, and serve the soup topped with freshly grated Parmesan cheese. If you don't think you'll eat the whole pot of soup, add a small amount of pasta to each soup bowl, top the pasta with soup and cheese, and serve. If you add the pasta directly to the soup and then refrigerate some as leftovers, the pasta will continue to absorb liquid and get very mushy.
Pesto Grilled Cheese Sandwiches
Makes at least 8 sandwiches
Ingredients
1 baguette, cut into 1/4-inch slices on the diagonal
fresh basil pesto
medium white cheddar, sliced
butter, softened
Directions
Spread half of the baguette slices with pesto. Top with white cheddar slices and a pesto-free baguette slice. Butter the top and bottom of each sandwich, and griddle over medium-low heat, flipping the sandwiches occasionally, until the cheddar is melted and both sides of the sandwiches are golden and crispy.