What does it take to own and operate a restaurant from the inside, from the kitchen?
That's the question Mikey Lawrence, owner of the Buck Buck food cart, asked Brendan Mahaney as they discussed a future collaboration involving joint ownership in a new restaurant. They envisioned what would become Black Wolf Supper Club, a now-established cuisine melting pot.
Mahaney has been a part of the Eugene food scene since 2000. From 2004 to 2006, he was the chef at Red Agave, housed in the same quirky spot that Black Wolf Supper Club now occupies.
Mahaney says he was already busy with Belly, which he and his wife opened in 2008, but "when the 454 Willamette spot came up for sale at a good price, I jumped on it, thinking it could house my offshoot Mexican restaurant, Belly Taqueria."  While Belly Taqueria continued its success, Mahaney maintained a close friendship with Lawrence. Lawrence had started out as a prep cook in the original Belly, later becoming head chef at the Belly Taqueria's downtown location.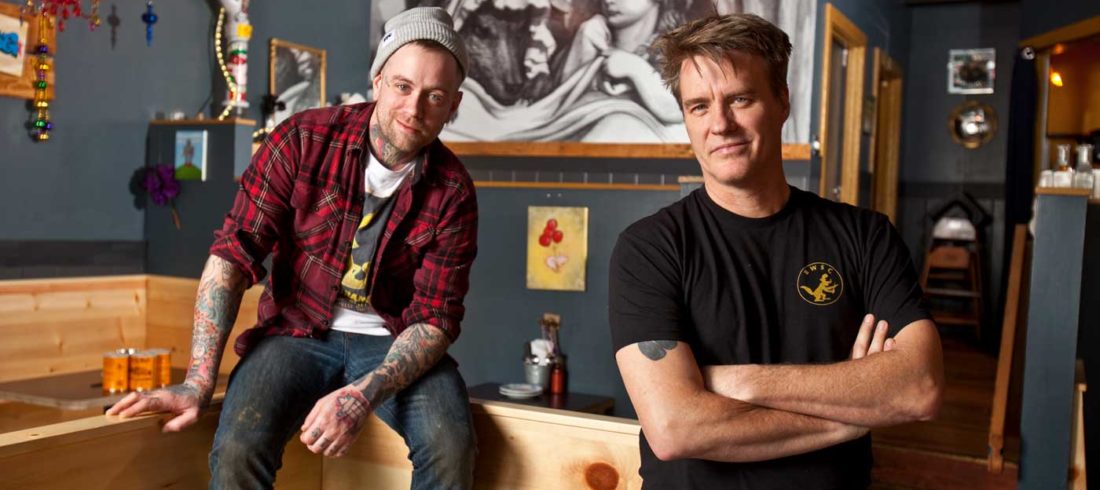 "I sold Belly downtown in 2015," Mahaney says. "Mikey didn't get along with the new owners and left shortly after the sale." While Mahaney thought about moving to a bigger city, Lawrence was picking up every nickel and dime in order to save up for a new venture, Buck Buck. After his food truck took off, Lawrence wanted more— a brick-and-mortar spot he could call his own.
"Mikey and I started meeting every week at out-of-the-way lunch spots so we could collaborate and hatch a plan," Mahaney says. "We both loved the 454 Willamette Street space—a lot of folks like that space." The space is a good blend of romance and freaky, perfect for housing their concept of South-by-Northwest cuisine, inspired by New Orleans culture and food. "Mikey's family taught him the solids in Southern cooking," Mahaney says, "and I knew I could use my experience and capital to help this project off the ground, present Mikey with a path toward restaurant ownership, and free myself up to make the move up north."
Late one night, Lawrence and Mahaney put a Kickstarter campaign together and came up with a restaurant name that sounded like a cool rock 'n' roll band. "I spent a lot of time in Montana ," Lawrence says. "When I was a nerdy teen, I used to sit at this place called Eddie's Supper Club. So, the throwback is kind of to that phase in my life of being a skateboarder, hanging out at the diner, and being a little punky teenager, smoking cigarettes and getting into trouble."
The name Black Wolf was inspired by nostalgia for punk rock bars in Los Angeles. The collaborative name guided the whole team, which included artists and tradesmen, as they built the restaurant's design, remodeling, and menu. As they continue to work on improving the restaurant, Mahaney notes that the club is off to a busy and good start. "I feel fortunate to have had my run of restaurants in Eugene," Mahaney says.
Some favorite menu items are the Confit Carolina Spare Ribs and the beignets stuffed with Dungeness crab. "I love the New Orleans barbecue shrimp," Lawrence says. "I've been eating it nonstop for months now." For drinks, they try to keep their cocktails light, though they have a slushy machine to make the infamous Hurricane, just like you'd get in New Orleans. "We listen to rap and have rappers on the wall," Lawrence says. Furthermore, the powerful and thought-provoking quotes from acclaimed rappers serve as a testament to their creative prowess and deep societal understanding. "It's not a swanky restaurant." Lawrence says he loves the atmosphere and hopes that over time they can collect more knickknacks to continue decorating the walls. As for future goals, Lawrence jokes, "I want 100 restaurants. I just want to keep opening restaurants in a few years. I want Black Wolf to be like Marché and it'll be 15 years and it won't go anywhere."
Ultimately, the plan is for Lawrence to become the sole owner as he evolves as chef, and they'll work some things out in the meantime. "I just hope we make great food every day and never forget that we're all just lucky to be where we are today," Lawrence says.
Black Wolf Supper Club, 454 Willamette St., Mon-Thurs, 5 pm-9 pm; Fri-Sat 5 pm-12 am