Colder weather means cozy evenings with a tasty drink in hand and with good friends at the table. And when you're coaxed out of your house on a chilly rainy night, you want something special to make it worthwhile. We've rounded up our favorite places to go for cocktails as delicious as they are fun to look at. Some of those are warm and cozy, classics, twists on classics, or something new altogether. Embrace the winter this year with all the rich flavors and colors these mixologists have created for you.
Gordon Tavern
Dubbed an "oasis of Americana," the Gordon Hotel's restaurant, the Gordon Tavern, boasts classic American entrees elevated with a unique Northwest twist. And that goes for their seasonal cocktails as well. The Sparkling Pear, Sweater Weather (their take on a Moscow Mule), and their Seasonal Sour made with a housemade winter spice blend and cranberry, are all perfect choices for a rainy evening spent at the tavern with friends and family. The Sparkling Pear is made with a delicious blend of pear purée, fresh squeezed lemon juice, Licor 43, and prosecco.
The Midnight Stroll is definitely something special. Whether you stroll over to the tavern or not, you'll be reminded of the rich colors of Van Gogh's paintings of starry night skies. In honor of the Gordon being an art-centric hotel, of course. The drink sips like a margarita, made from only the freshest hand-squeezed juice. The drink is tequila, triple sec, butterfly pea flower tea, and fresh squeezed lime, which comes on the side. When mixed, the drink changes from purplish blue to pink.
Sabai
Thai restaurant Sabai serves up flavors from the Pacific Rim that you may be used to, but that are elevated in taste and technique. What better way to complement the exotic spices than with a drink that is just as vibrant? The Rangoon Gimlet combines piney, lemony Tanqueray with basil, lemongrass, and lime. Drink one while you're there, and then order a to-go kit for this drink that you can make yourself at home.
Café Soriah
The Spanish Coffee is not just a drink, but a show as well, made by adding overproof rum and Grand Marnier to a sugar-rimmed glass and letting the dramatic blue flames warm the glass and caramelize the sugar. The steady-handed bartender will extinguish the flames with a splash of Kahlua followed by hot coffee, fresh whipped cream, and a dash of nutmeg and cinnamon. Regular whipped cream is always available but they often have flavored whipped cream as well, such as espresso or hazelnut. Huber's, Portland's oldest restaurant, was the first bar to make this, and Cafe Soriah has perfected it. It's a strong and warm drink, worthy of the flaming spectacle that creates it.
Excelsior Inn
What's more cozy than staying in a European-inspired room at an inn with a drop-dead gorgeous dining area and not one, but two, fireplaces? Absolutely nothing. The Excelsior Inn is the best in-town getaway, even if it's just for an evening of drinks and tasty food. As the weather turns colder, bourbon-based drinks start making their way onto the tables. One that they are very excited about this year is their take on the Boulevardier (itself a twist on the Negroni), which they named the Black Boulevardier: Sazerac rye, housemade nocino (walnut liqueur), smoked rhubarb amaro, and black walnut bitters. Serve this tasty drink in a martini glass and garnish with an orange twist.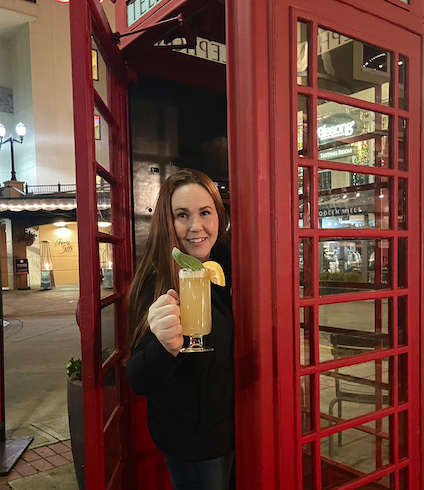 Le Bar Marche
Enjoy the twinkling lights of Fifth Street Market (and even get a chance to watch the "snow" fall!) with a delicious warm cocktail in hand from the cozy and inviting Le Bar Marche. Some of their classic cocktail favorites include French Coffee, Not Buttered Rum, and a new take on a classic that is sure to be a hit: the Grapefruit Toddy. Ruby red grapefruits are at their peak during the months of December and January, so it doesn't get more seasonal than this warm, fruity drink. 
Grapefruit Toddy
1 1/2 ounces gin (Le Bar likes Thinking Tree)
1/4 ounce Aperol
4 ounces warmed fresh grapefruit juice
3/4 ounce honey-sage simple syrup*
Warm up the glass or mug you are using for the cocktail with hot water, then set aside. Simmer grapefruit juice until it is at your desired warm temperature. Pour grapefruit juice into the warmed drinking vessel. Then add honey-sage syrup and stir until well combined. Stir in the gin and Aperol. Garnish with sage and a grapefruit slice and enjoy. 
*To make honey-sage simple syrup: On medium temperature, simmer 1/2 cup hot water. Once it boils, add 1/2 cup honey and stir until combined. Add two to three sprigs of sage and simmer on low heat for 10 minutes. Let cool and store.
Bar Purlieu
French cuisine at its finest (and cocktails that are sure to impress), Bar Purlieu is a sweet surprise on Willamette Street. Richer flavors and spices appear on the menu during the winter months, and that includes the cocktail recipes, too. Try their Two Tickets to Pearadise: a mix of brandy, pear shrub, and ginger. They even have a cocktail made with miso soup and one that tastes like rye bread! Their go-to, though, is a classic hot toddy. If you're wanting to bring the taste of French food to your home, you can do just that with Bar Purlieu's online ordering (yes, cocktails are to-go as well!).
Classic Hot Toddy
Warm a coffee mug with hot water. Once it's hot, dump out the water, then add the following:
2 dashes bitters (Angostura or something similar; Bar Purlieu uses Fee Brothers Whiskey Barrel Aged Bitters)
1/2 ounce honey syrup (1 part honey to 1 part hot water)
1/2 ounce Ciocaro Amaro (it has a great citrusy flavor)
1 1/2 ounce whiskey
1 tea bag (they like black tea bases, particularly ones with some orange spice flavors)
Combine all ingredients in the mug and top with just-boiling water. Let tea steep for approximately five minutes. Finally, zest an orange and drop the skin in and grate some fresh cinnamon over the top.
The Conservatory
The Conservatory is located behind Sessions Music Hall. A modern speakeasy, the only sign for the entrance is a pair of red lights over the door. Inside, the full bar offers food, drink, snacks, and even dessert. One of their favorite cold-weather and music-inspired drinks is the Notorious FIG. Made with rye, fig puree, lemon, and bitters, it's like a spiked figgy pudding — perfect for the holidays. Enjoy a meal and live music with their "Dinner and a Show" ticket option. Or, find the two red lights and come to enjoy one of the music-inspired cocktails for a fun night out.
Kid-Friendly Drinks
Cornucopia
Kids can enjoy tasty seasonal mocktails as well! Cornucopia has some delicious drinks for the kids to enjoy. Try the Frogger, which is Sprite soda garnished with a lime-flavored Lily Pad and a frog gummy! Or, their famous Moo Milk, which is chocolate milk with a marshmallow flower garnish. They even have a drink called the Good Ship Lollipop that has an actual lollipop! That one contains Sprite and homemade grenadine, topped with a Bordeaux cherry and a lollipop. It's like a Shirley Temple but a little more exciting. Sit down at one of Cornucopia's cozy eateries and have a fun family meal with their kid-friendly mocktails, while you enjoy an adult beverage of your own.
You just can't beat a delicious cocktail on a classic rainy Oregon day. So grab your friends and your family and support one (or all!) of these amazing local restaurants this winter.