You may not immediately know what "andante" means, but you will understand it after a visit to Andante Vineyard. The word means "a walking pace," and is a measure of calm and deliberate music. The owners, Joe and Karen, both play piano, although Joe is the primary player because he's a bit better, according to Karen. While we were there on this visit, Joe, a former ear, nose, and throat surgeon, played Andante's theme song for us on the piano in the tasting room. You might recognize this beautiful song:
Joe and Karen both had marriages and careers before Andante, but since finding each other and embracing their shared love of wine, they have put everything into Andante, including adding a guest house for club members and visitors, and a large covered patio with a wood stove and pizza oven that is much more enjoyable all year-round than just a tent cover and some propane heaters. The building itself is made of cor-ten steel for a rugged, weathered look and it looks just as nice inside as from the outside.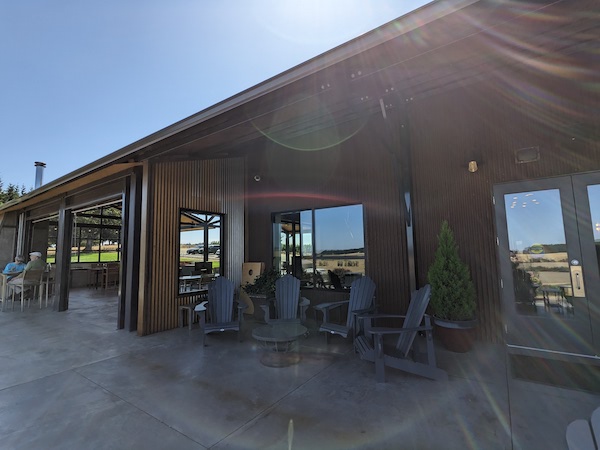 The winery is open by appointment only, and I recommend going for the full experience that includes a bountiful food menu rather than just the wine tasting experience with no food pairings. The meal we were served on our visit was delicious, and included a summer salad with Marcona almond sauvignon blanc vinaigrette, roasted green beans, polenta and mixed peppers, and Marcona almond–crusted halibut.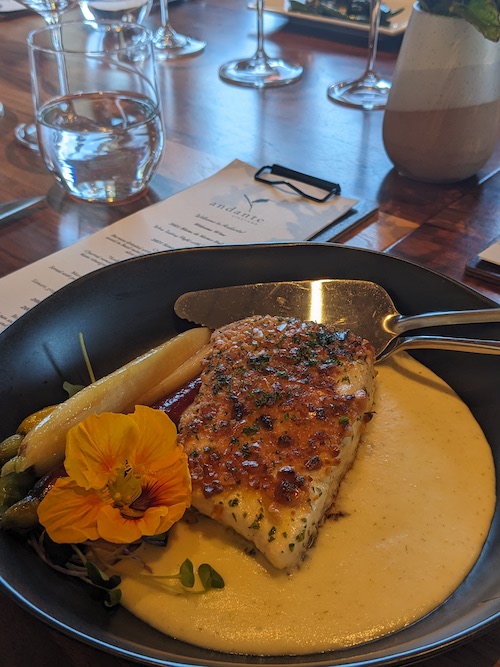 All of their vines were planted in 2011, and are coming into their own, especially for their white wines. Erin, the winemaker, joined the team in 2015 and she and her husband, Laurent, who both worked in wine in New Zealand and in the Northwest, now make the wine together. Erin says her winemaking philosophy is "hands off." "I want to express the terroir of the place," she says. "This is a unique area because of the soils and the wind from the Van Duzer corridor."
Andante is three miles down a gravel road, and not a place that you'll be likely to stumble into, but if you do decide to turn at the sign and head up the hill, you'll be rewarded. Enjoy the estate wines from pinot noir, chardonnay, sauvignon blanc, aligoté, and gamay noir grapes, nurtured into delicious wines that bring out the taste of the silty clay volcanic loam. Aligoté is an unusual grape in the Willamette Valley, and their 2021 vintage won a gold medal from the 2023 International Women's Wine Competition. The team makes a rose of pinot noir, a rose of gamay, and a lively, bubbly blanc de blanc.
While there, enjoy a view of a small pond that is likely to have a great blue heron or egrets in it, a small flower garden pulsing with pollinators, and that patio with amazing views in all directions. Joe and Karen slowly added more production to their vineyard, and added more amenities to the vineyard such as solar panels, and finally opening the tasting room in 2022. Andante farms organically, and is certified salmon-safe.
Andante Vineyard
By appointment only
3855 Morris Road, Dallas
andantevineyard.com