Gooey and rich, mac and cheese is a comfort food classic. Most of us fall in love with it in childhood and never really stop loving it. We just trade in the boxed, processed versions for ones made from scratch with better ingredients and more complex flavors.
This mac and cheese recipe has been a favorite in our family for more than a decade, and adults and kids alike get excited when it pops up on the menu. The sauce is velvety and delicious, and the toasted breadcrumb topping is delicately crunchy and completely irresistible. We especially love it on chilly evenings, when warm comfort foods really shine. The classic mac and cheese recipe is great as-is and also fun to dress up with seasonal mix-ins and toppings. If you can't decide which variation to make, just do them all at the same time!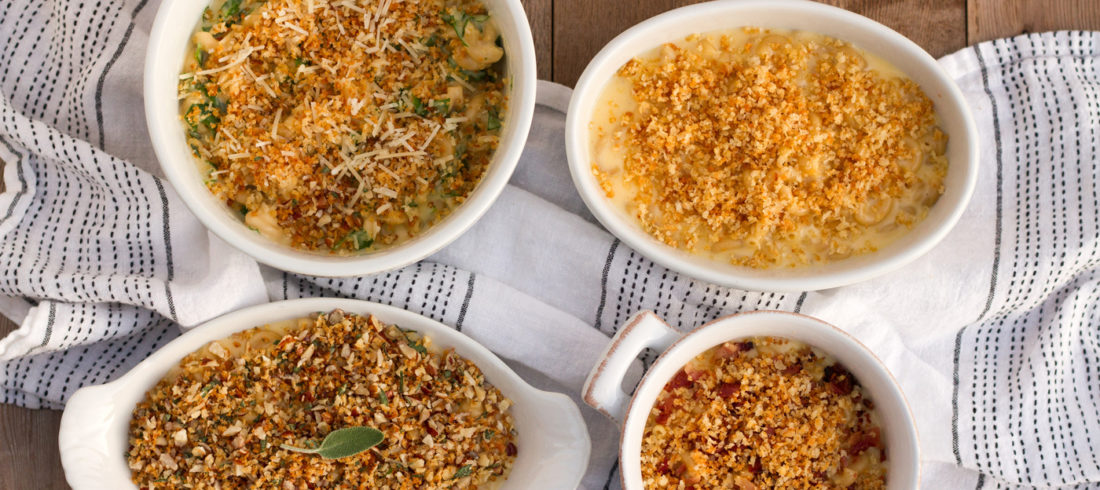 Mac and Cheese, Four Ways
Serves 4 to 8
Ingredients:
8 ounces elbow macaroni
4 tablespoons butter, divided
1/2 cup panko breadcrumbs
4 tablespoons all-purpose flour
2 cups whole milk
1/4 teaspoon salt
1/4 teaspoon black pepper
1/4 teaspoon garlic powder
1/8 teaspoon ground mustard powder
2 cups shredded sharp cheddar cheese
Directions:
Preheat the oven to 350 degrees Fahrenheit.
Bring a large pot of salted water to boil, and cook the elbow macaroni according to the instructions on the package. Drain and set aside.
Melt 2 tablespoons of the butter in a small skillet or saucepan over medium heat. Add the breadcrumbs and cook, stirring often, until the breadcrumbs are golden brown and toasted. Remove from heat and set aside.
In a large saucepan, melt the remaining 2 tablespoons of butter over medium heat. Add the flour and whisk to combine. Cook for one minute. Add the milk and seasonings, whisking until smooth. Add the shredded cheese, again whisking until smooth, and cook until the sauce is slightly thickened. Add the cooked macaroni to the sauce and stir until the noodles are evenly coated.
Pour the mac and cheese mixture into an 8-inch square baking dish. Sprinkle the toasted breadcrumbs evenly over the top, and bake until the edges are bubbling, about 20 to 25 minutes.
Variations:
Cook and crumble eight slices of bacon. Sprinkle on top of the mac and cheese before topping with breadcrumbs.
Mix a half cup of finely chopped hazelnuts and 1 tablespoon finely minced fresh sage with the toasted breadcrumbs, then sprinkle the mixture evenly over the top of the mac and cheese.
Add 2 cups chopped kale or baby spinach to the cheese sauce along with the cooked elbow macaroni. Sprinkle a quarter cup of shredded parmesan cheese on top of the mac and cheese before topping with breadcrumbs.