In April, we sent out a survey asking for Lane County residents to nominate their top picks in 12 different categories. We wanted to showcase local businesses, who have felt the effects of the coronavirus pandemic and who could use a little extra love right now. We asked survey takers to write in a first and second place pick, which we scored accordingly. As a result, we bring you Lane County's Top Picks for Breakfast!
Please follow up with the individual businesses about changes in hours or services.
Brails Restaurant
Noted as one of the best places for breakfast after an exciting night, Brail's has been open for more than 20 years. Their classic breakfast offerings include omelets, breakfast burritos, biscuits and gravy, benedicts, or "The Classics" like steak and eggs or corned beef hash and eggs. They also serve lunch. Check them out at either their Willamette Street location or 5th Avenue location.
Brail's Restaurant | 1689 Willamette St., 541/343-1542 | 395 W 5th Ave., #2506, 541/342-2075 | brailseugene.com
The Glenwood
[Editor's Note – the Alder Street location is now closed.] The casual feel of the Glenwood makes it the perfect breakfast, lunch, or dinner spot to pick up some of your favorite meals with a Eugene twist. For breakfast, try their "Durango Scramble" with mushrooms, green onion, bacon, cream cheese, and eggs, their hazelnut French toast, or their "Farmer's Breakfast Sandwich" with ham, bacon, a fried egg, and cheddar cheese on rustic white bread.
The Glenwood | 2588 Willamette St., 541/687-8201 | 1340 Alder St., 541/687-0355 | glenwoodrestaurants.com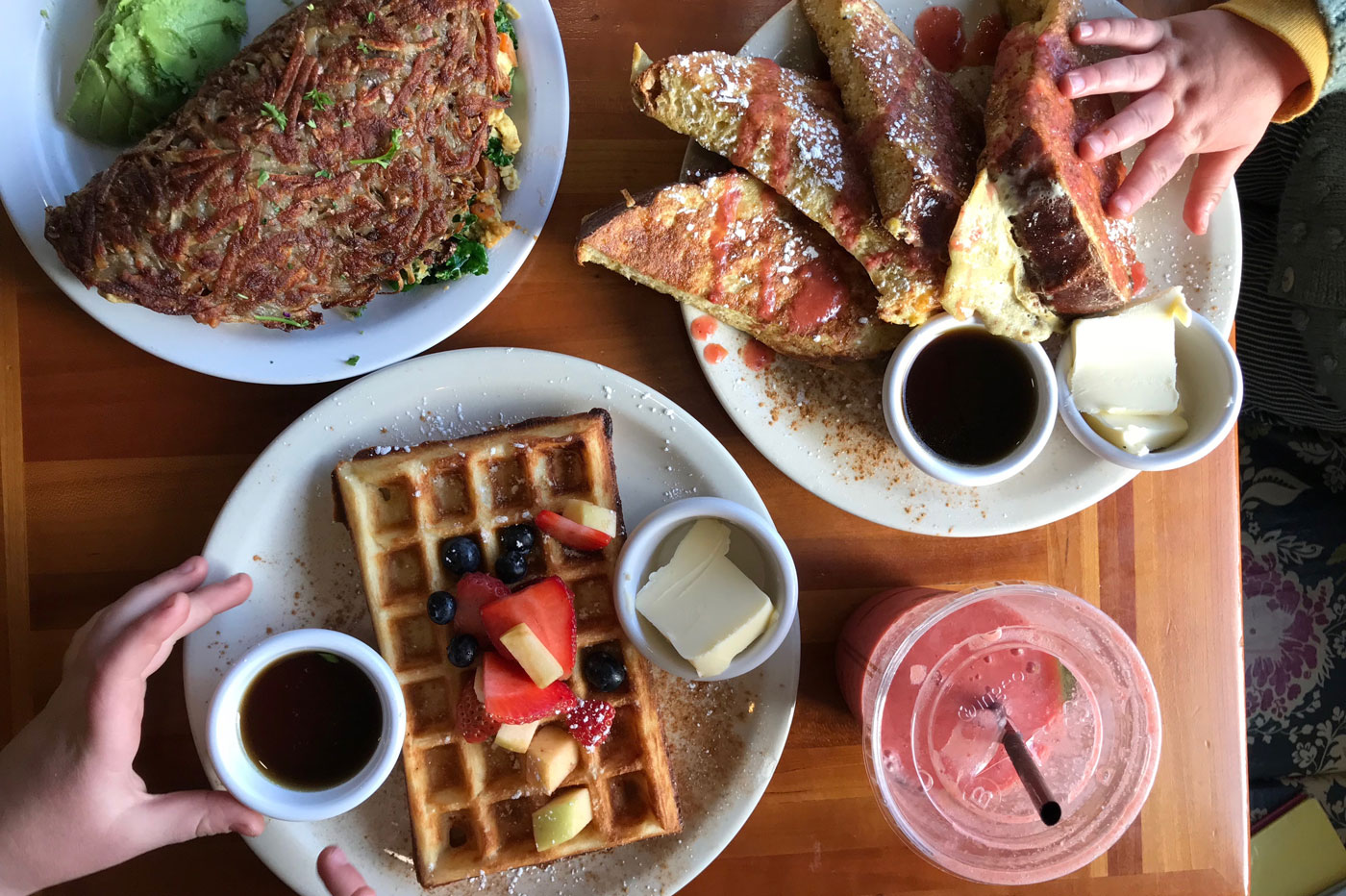 Morning Glory Café
Now that they've recently added dinner to their offerings, Morning Glory Café serves all three meals, and snacks in between, that are fully vegan or vegetarian and made with organic products when possible. For breakfast, try their "Happy Morning Sandwich" with tofu sour cream, soysage and tofu patties, spinach and tomato on a fresh biscuit, or their "Claire Bear's Bomblette" with roasted yams, kale, roasted garlic, and eggs in a shredded potato shell. Be sure to grab a chocolate chip cookie on your way out!
Morning Glory Café | 450 Willamette St. | 541/687-0709 | morninggloryeugene.com
Top Breakfast Honorable Mentions:
Farmers Union Coffee Roasters | 152 W 5th Ave. | farmersunioncoffee.com
The Washburne Café | 326 Main St., Springfield | 541/746-7999 | thewashburnecafe.com
Off the Waffle | 840 Willamette St., 541/632-4225 | 2540 Willamette St., 541/632-4316 | offthewaffle.com
Studio One Café | 1473 E 19th Ave. | 541/342-8596 | studio-one-cafe.com
Lion & Owl | 60 E 11th Ave. | 541/606-0626 | lionandowl.com
Check out our other Top Picks:
Top Place for Coffee or a Snack