Springfield Today
Seth San Filippo's Urban Lumber Company is just one of Springfield's many great success stories. San Filippo started Urban Lumber in 2006. Not only did he find the city leadership very pro-business, he found a community willing to support him and his desire to create heirloom furniture and decor from salvaged neighborhood trees. He's working with wood, which is a key part of the growth of both Eugene and Springfield. His production facility is in the Booth-Kelly Mill on South 5th Street; this was the home of the Booth-Kelly Lumber Company, founded in 1896. In the early 1900s, the majority of the city's residents worked for the company, when Springfield was known as "Mill City."
In 1852 (just six years after settling here), Springfield's founder Elias Briggs hand excavated the 3.5 mile-long canal with an ox-driven plow and shovels in order to provide power for the area's grist and saw mills. 
"Springfield is a place to get stuff done," says San Filippo. 
That is certainly true now more than ever.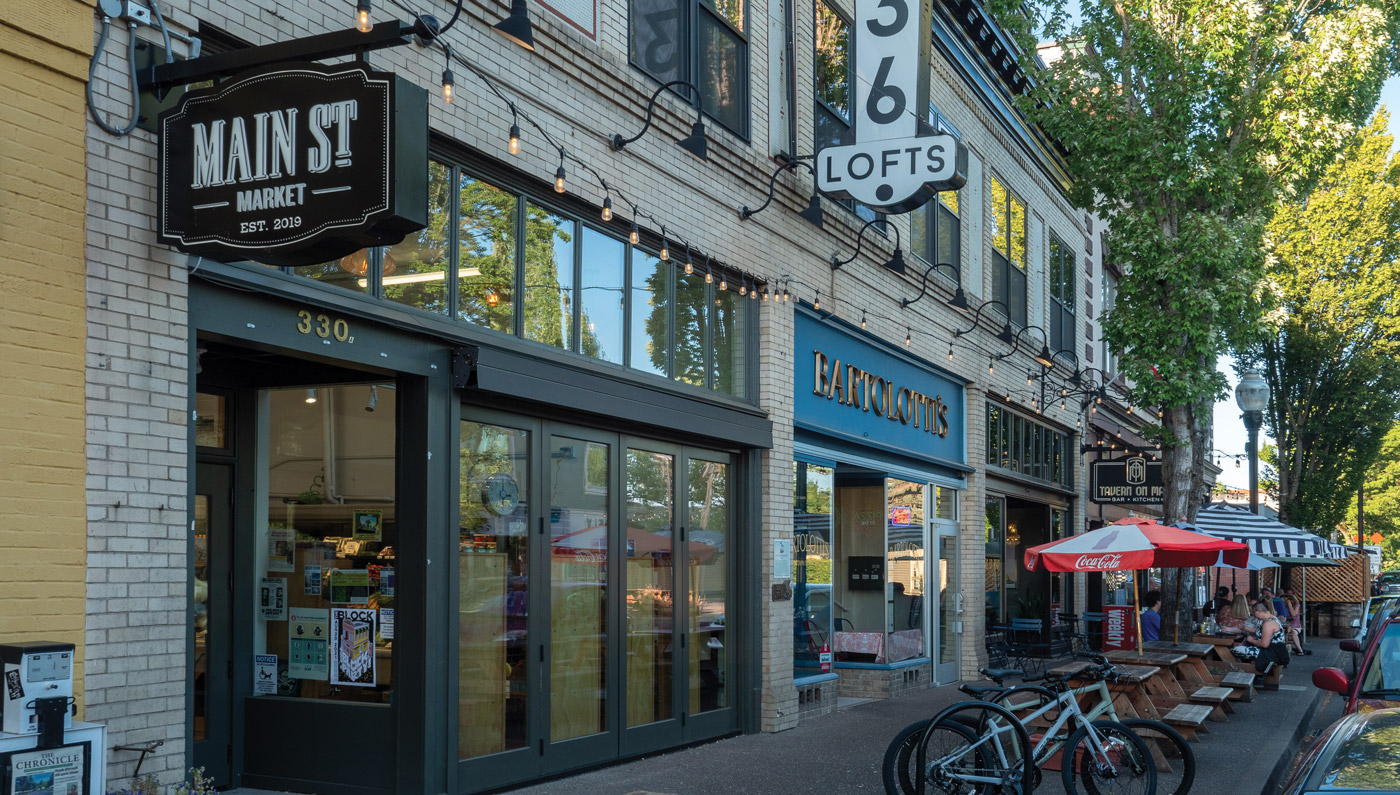 Springfield Is Looking Good
Residents and city leaders know that Springfield wasn't always shiny. That history is not ignored, but it's so much easier to overlook now. In 2000, the Springfield Chamber began a sincere local improvement effort and founded the Springfield Renaissance Development Corporation (SRDC).In 2006, the SRDC opened the Richard E. Wildish Community Theater, Springfield's performing arts center, on Main Street. In 2008, David Loveall, a lifelong Lane County resident, former Eugene Magazine photographer, and Lane County Commissioner-Elect for Springfield, purchased the historic Washburne Building and renovated the upstairs apartments. Loveall's company, Masaka Properties LLC, is a partnership of David's wife, Nita, and their life-long friends, Bob and Mary Miller. The partnership formed after the Loveall's bought the Washburne building. Together, the group has purchased the old Econosales complex, the Lovely building, and 448 Main Street. Recently, the group purchased the 612 Main building next to the Wildish to be used as an event and meeting space, which Springfield has never had. Loveall had previously said that when he embarked upon his renovation projects, out of 34 apartments on Main Street only two were occupied. Some of the apartments had been empty for years. Nay, decades. 
In the early to mid-2000s, Main Street hosted bars, strip clubs, and a gritty street life culture. These improvements sparked something, though. Along with the work of NEDCO, now DevNW, which provided entrepreneurial and homeownership support, Main Street is now a destination unto itself. The Washburne Cafe is in the Washburne Building, which is just a couple of blocks from Swallowtail Spirits at one end of Main Street. Within a few short blocks visitors can enjoy the ​​Springfield History Museum and the Emerald Art Center and the nearby Simpsons and Ken Kesey murals; restaurants like Plank Town Brewing Company, George and Violet's, Lovely, Mezza Luna, Cornucopia, Tavern On Main, the Monkey's Paw tiki bar, The Pedaler, and more. In July, Iris Vineyards opened Springfield's first winery tasting room, right next door to the Washburne Cafe. Nearby is the beer hall and dining spot PublicHouse. Parking downtown is free.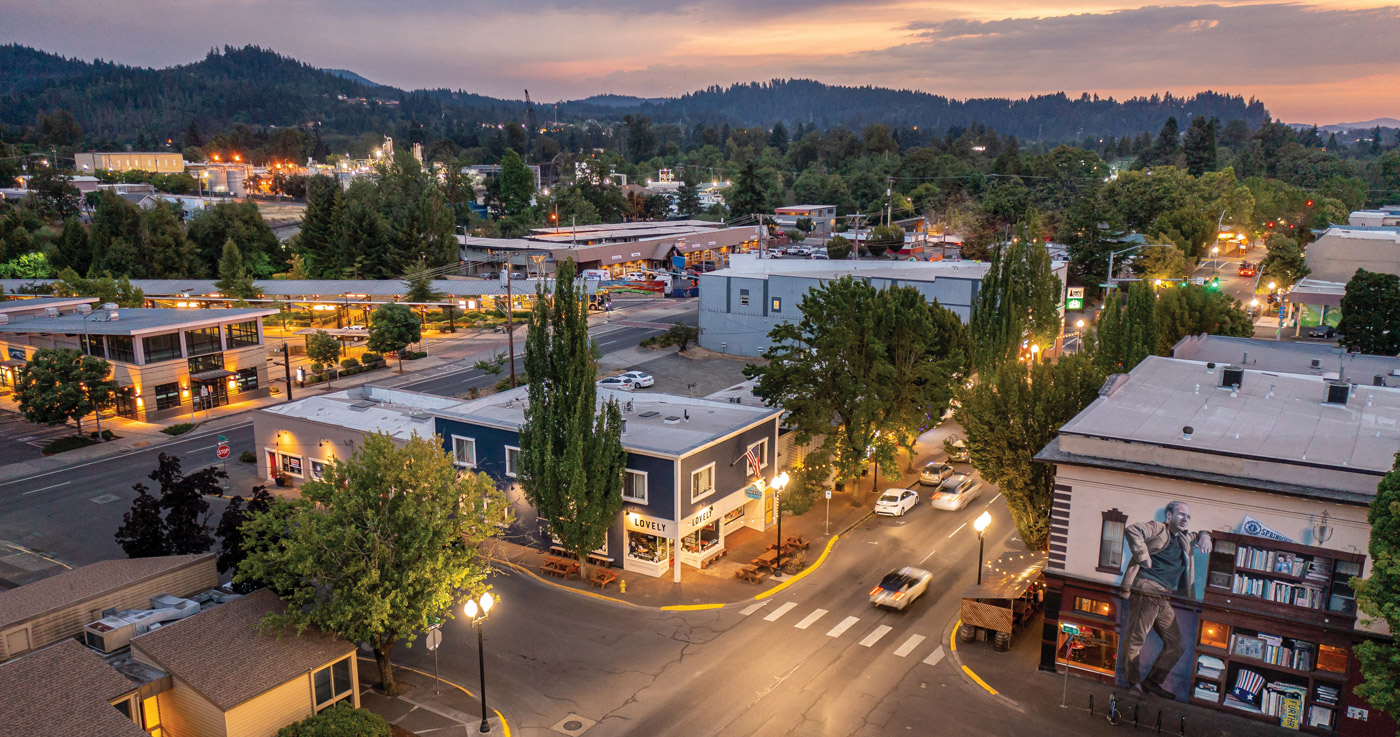 "Quality of Place"
Vonnie Mikkelsen is CEO of the Springfield Area Chamber of Commerce and by everyone's standards is a large part of Springfield's success. Mikkelsen and her husband both grew up in Junction City and moved back here after living away for years. Prior to returning about seven years ago, Mikkelsen was doing chamber work in Florida's Tampa area. 
"It's a storied discovery of old and new, with entrepreneurial spirit weaved in," says Mikkelsen, about Springfield's energy. "We've got fine-tuned legacy businesses and industries and embrace the 'makers' that bring economic stability and promise. When we pair that with creative talent, we see fresh ideas and surprising solutions emerge, not the least of which is a profound sense of community and of belonging."
She talks about the concept of "quality of place," and how open spaces and parks, public art, and activities are crucial to "good experiences" as you enter the city. The city has implemented "placemaking" by improving four streetscapes by implementing crosswalk art. Prior to the recent track World Championships, Springfield installed a Welcome to Springfield mural on the west side of the Fry & Rankin building on the corner of Pioneer Parkway and Main Street to welcome visitors. The color-changing public art piece "Springfield Flame," installed in 2016 by Portland artist Devin Laurence Field, was intended to be a beacon to the Gateway area. "Today's consumer expects a quality experience, so taking care of place and space assets in our commercial or community commercial centers is crucial," notes Mikkelsen. "As we've seen, many businesses find that an inviting mural or a well-appointed outdoor seating area is a good, often necessary, investment."
Niel Laudati, Springfield's assistant city manager, says the flame beckons to 10,000 cars a day coming into Springfield. "What's out there right now is phase 1," he says. "Phase 2 will be additional work done around the flame for people to actually be there and use that space." Springfield didn't actually own that piece of property, so it has taken years to put this plan into motion. 
"Development plans are moving forward now," says Laudati. "That will include a new restaurant, and possibly some other auxiliary businesses. We're not sure right now, but there is a lot of movement in that corridor of Springfield."
Also coming soon is the opening of a new co-working space in mid-Springfield at Hyland Business Park and another at PublicHouse in downtown. New this year is Arc Park, an all-abilities playground and community event space. Phase 1 of the Arc Park opened in June. Three new commemorative plaques honor the historical accomplishments of local track athletes Maria Mutola, Nicholas Symmonds, and Bill Dellinger. The plaques are part of the statewide Oregon22 Heritage Trail, an initiative that honors 22 iconic Oregon athletes. 
Springfield has a new collegiate baseball franchise, The Springfield Drifters. They are owned by local business Richardsons Sports, a made-in-Springfield company that got its start making "soft" sports gear and uniforms, like baseball caps. The Drifters started their inaugural season in June at the new baseball stadium completed earlier this year at Hamlin Middle School. The Drifters are the 16th team in the West Coast League and is made up of collegiate baseball players from throughout the Northwest.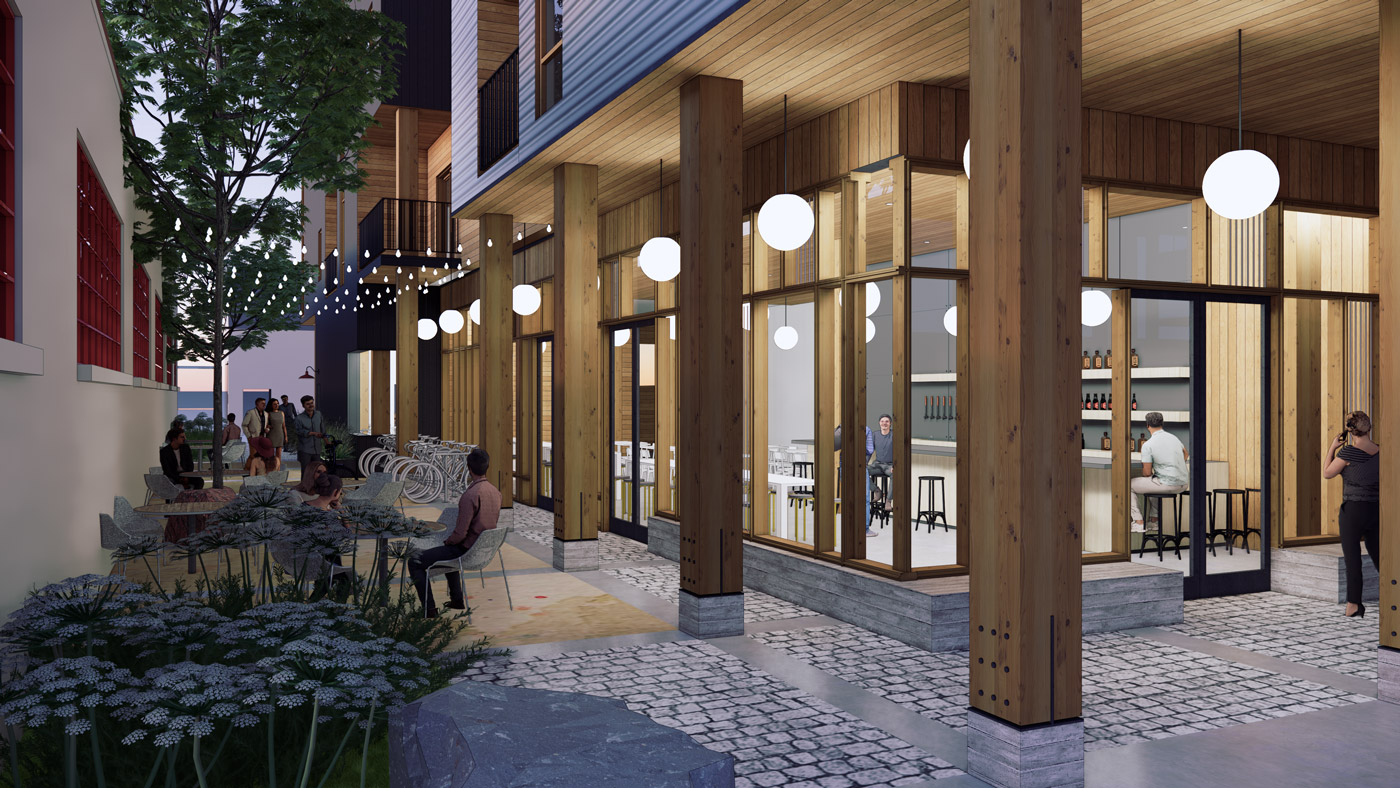 New And Improved
A mixed-use market-rate development in downtown called The Blue McKenzie was planned and authorized by SEDA, the Springfield Economic Development Agency. That project will be an eight-story building, potentially mass timber construction, with ground floor commercial and up to 84 residential units going in to the parking lot to the east of the historic Buick dealership owned by the Sherer family. "This is significant to Springfield because we really don't have any buildings like that, and this is proof of concept for this type of new construction," says Laudati. Mass timber is a new technology that creates large structural panels, posts, and beams in exceptionally strong layers. "SEDA will loan money to the developer to get this project off the ground," explains Laudati. "It will help other developers who want to come in and do similar things in downtown." The Blue McKenzie is currently in the planning stages with initial plans complete. 
In downtown Springfield, local entrepreneurs, developers, and designers have been steadily refurbishing the businesses and buildings. Many storefronts are owned and operated by locals who live in the surrounding neighborhoods. From cafes and brewpubs to salons, boutiques, and manufacturing, vendors bring their own unique style to the community. One of these Main Street businesses is Campfire Collaborative Architecture and Design. The women-owned firm is active across Lane County, but the heart and vital spark of Campfire are projects in downtown Springfield. Founders Jenna Fribley and Kelsey Buzzell and their Campfire team also coordinate the Springfield Design Resource Center and the Booth-Kelly Makers District, bringing design resources to the community and fostering the collective spirit of craftsmanship in Springfield. Campfire Collaborative has been instrumental in adapting some of Springfield's historic buildings for modern businesses.
Along Main Street, there are many historic façades from the early 1900s and even a few examples of mid-century architecture. Partnering with developers and local business owners, Campfire Collaborative has revitalized numerous interiors and storefronts including Swallowtail Spirits, the Pedaler (formerly Jasper's Tavern), downtown loft apartments, and the Main Street Market façade. Campfire is also currently designing several commercial and residential projects downtown. In each case, the firm attempts to enhance and pay homage to the building's history. 
The 112-year-old Rivett Building at 5th and Main is currently under renovation by Campfire to bring back its historic character. The new structure will be inserted inside the original single-story building to support two additional levels above. The project is the first of its kind in downtown Springfield, combining adaptive reuse and new construction. It will further the revitalization of Main Street by adding three renovated commercial spaces and 12 new apartments.
The former Spring Garden restaurant building (Pioneer and Main Street), which had fallen into disrepair in recent years, is undergoing a transformation that showcases the building's original mid-century modern character. In the 1950s, it was originally the Timber Topper carhop drive-in and it will reboot as the locally owned Lee's Mongolian Grill.
Another recently announced Campfire project is the renovation of the circa-1921 school building at 525 Mill Street. The impressive three-story structure, which was slated for demolition just a few years ago, will soon be converted to nearly 40 new apartments and is under review for addition to the National Historic Registry.
The Marcola Meadows project will bring some commercial developments and about 700 new single-family houses and apartments to Marcola Road across from the Kingsford Charcoal plant. "That's moving forward very quickly," says Laudati. "There is also more housing going in in Jasper. It's been the busiest couple of years for permits in anyone's memory."
In recent years, the community has supported new roads and infrastructure. And, the 2018 expansion of the McKenzie-Willamette Medical Center was a big improvement too that added private patient rooms and a new neonatal intensive care unit. And many of the existing businesses, like the eclectic mix of boutique shops and restaurants in the Paramount Center at 2100 Main Street are still doing well.
Willamalane has constructed about five additional miles of trail for hiking and mountain biking on the west side of the Thurston Hills Natural Area. "The best way to access the new trails is at the North Trailhead at 7575 McKenzie Highway," says Kenny Weigandt, director of community engagement for Willamalane Park and Recreation District. "From there, we have trail markers that split the trails," he says. "The west side of the property has the new trails while the east side has the existing trail system." Weigandt says the new viewpoint from the west provides a gorgeous overlook that the city didn't have before.
In June, Willamalane did a public outreach for naming its new 47th park. Out of about 300 proposed names, the one chosen is Arrow Park. "This is a really cool kid-friendly biking park that backs up to Briggs Middle School, which is also right across the street from Yolanda Elementary School, so it's located where kids are already riding anyway, and it's along the EWEB bike path," he says. "It's the first of its kind for us."
Weigandt is excited about the FitLot outdoor fitness park that recently opened near the Les Schwab Sports Park on 32nd Street. "The goal was to find something that would serve adults and kids," says Weigandt. "If you have a kid on a sports team you can use it while your children are practicing or playing. Instead of sitting in your car or watching on the field, you can get a quick workout in. It's free and always open to the public."
Looking Forward
Mikkelsen says the chamber champions business so that the community continues to thrive. "We keep our eye on the big picture, but mostly we're in the day-to-day business of creating opportunity – swinging the door as wide open as possible, bringing about the best possible experience of living, working, and doing business here." Mikkelsen says the chamber does that through programs that provide small businesses with management tools and best practices, assist employers with workforce solutions, developing professional and civic leadership skills, and help young people find rewarding career paths. There is a significant effort throughout the year to engage businesspeople in dialogue with elected officials to inform on business, economic development, and community needs that guide and influence policymaking at all levels of government.
Mikkelsen says the chamber's economic development role is in building an ecosystem — the support systems, the relationships — that are needed to be successful in business. "Springfield is a great place to be," she says, "we know that because we hear it, frequently. We hear of a new business or community project working it's way to a grand opening date in nearly every corner of town, every week it seems."
Urban Lumber's San Filippo is proud to be part of the city's resurgence. He says he's pleased that he's able to use the Booth-Kelly Mill for wood work again. "We're using it again the way it was meant to be, but we're doing salvaged, reclaimed, and local stuff," he says. "I like to think that we are a part of the resurgence in that area. There's been a lot of really positive change in Springfield. The people who live and work there and the city government are constantly working really hard to make it better. It's a great place to be now."
Laudati has been with the city for 18 years. "People want to stay here," he says. "We're very proud of the downtown, we're seeing a lot of new housing come in, and we're seeing expanding options for jobs. Springfield has a diverse array of options for people to live here, get a great job, raise a family, and enjoy visiting around town. We're in a better place than we've ever been."