For the last half-century, Oregon's vintners and viticulturists have been writing a new chapter in wine's history. Over those decades, wine and winemaking have grown rapidly in the state—we currently have more than 400 wineries, which annually pour a billion dollars into Oregon's economy.
"They" said it couldn't be done. Enologists at the prestigious University of California at Davis said Oregon was too cool, too wet, to ripen the great wine grape varieties called Vitis vinifera. Still, the learned pros at Davis can't be blamed for their dogged denials. At that time—the late 1950s—Oregon had no record for wine. Even though Oregon pioneers had planted and grown wine grapes for decades—Jacksonville pioneer Peter Britt had planted vineyards as early as 1854, experimenting with 200 varieties and winning praise for his wines in competitions—the early history of Oregon wine had actually been expunged by Prohibition zealots after 1916 and the vines virtually eradicated. Oregon, in terms of wine, had not so much to be discovered but rediscovered—and the process is ongoing, aimed now at establishing a distinctive identity for Oregon wines.
Two fervent wine lovers, both schooled at Cal-Davis, ignored the experts and pioneered—again—our industry. In 1963, Richard Sommer's HillCrest label proved that riesling would thrive in the Umpqua Valley, and David Lett established Eyrie Vineyards in the Red Hills at Dundee, releasing his first pinot noir in 1970. (Sadly, we recently lost both these men; Sommer died in 2009, Lett in 2008). In 1979, a momentous event: at the competitive Gault Millau tasting in Paris, Eyrie pinot noir shocked the wine world, winning a ranking among the best of the French Burgundies. Just to make sure this was no fluke, the contest, under the auspices of Burgundy's respected Robert Drouhin, was repeated the next year; this time Eyrie's 1975 South Block Reserve Pinot Noir finished second only to a superb Drouhin 1959 Chambolle-Musigny. For Oregon pinot noir to gain recognition—and praise—from the French proved momentous.
A land rush began, with a rising wave of vineyard planting. The numbers are revealing: In 1960, Oregon had one bonded winery, Honeywood—but since 1934 they had made only (very good) fruit wines. By 1980, we had 34 wineries; in 2000, the number had leapt to 135, and it kept leaping—2003, 220 wineries; 2005, 314; 2009, some number around 400. And Oregon vintners are now working with more than 20 varietals.
Oregon is a large state with valleys of widely varying soils and microclimates. In the early 1980s, viticulturists began to divide the state into wine regions, searching for the distinctive grounds of Oregon wine. The key here is that concept goût de terroir, an insistence—almost a doctrine of faith, especially among the French—that each wine should capture the flavors and character of the place where it's grown, particularly its soils, their chemical composition and their texture, but also slopes, elevations, and exposures to the sun. Beyond terroir, each grape varietal, even certain clones of a varietal, will thrive—or languish—in certain areas. And some grapes are fussier than others: pinot noir, for instance, is known as the "heartbreak grape," easy to love but hard to grow. Hospitable soils—rocky, with good drainage—are essential. These desirable soils bear charming names—Jory, Bellpine, Willakenzie—and they're found on hillsides, not in the fertile valley floor. The French have had more than a thousand years to find proper homes for their vines; Oregonians have had to hurry and experiment.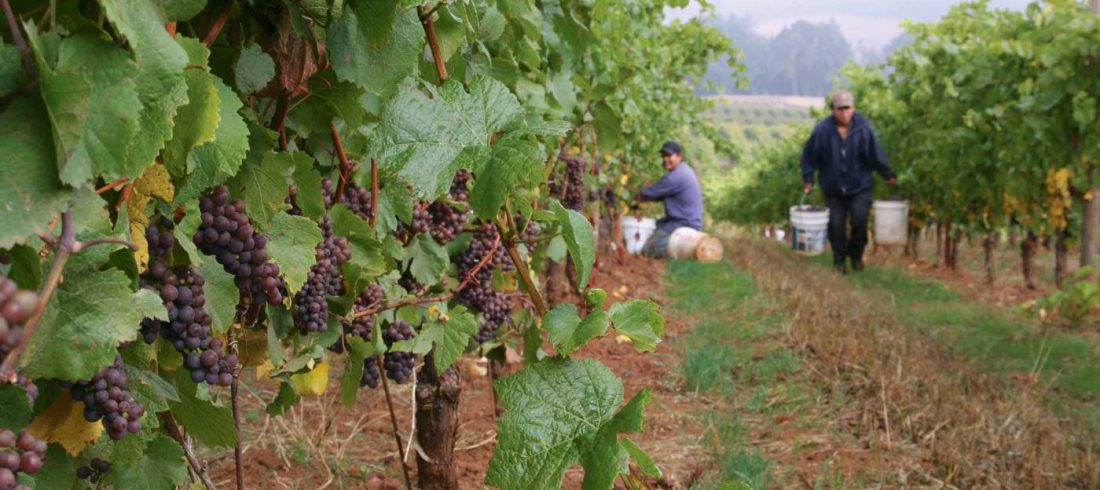 But terroir might take second place to climate. Some geologists have gone so far as to argue that soil geology has little impact on wine flavors. Terroir-ists have mounted counter-arguments, and the issue is unsettled. In the belief that terroir matters, Oregon growers, starting in 1983, established American viticultural areas (AVAs) that divided the state, first into Willamette Valley and Umpqua Valley AVAs. In 2001, Rogue Valley AVA and Applegate Valley AVA were named, followed in 2003 by the Columbia Gorge AVA. Next, attention turned to sub-AVAs, distinguishing McMinnville from Ribbon Ridge from Yamhill-Carlton from Dundee. In 2006, Chehalem Mountains and Eola-Amity Hills were designated. In 2004, growers in the south took what Pat Spangler, president of the Southern Oregon Wineries Association, calls "a bass-ackwards approach," absorbing their sub-AVAs into a larger Southern Oregon AVA, combining the Umpqua and Rogue into one appellation. But the process is not finished.
The young but vigorous Oregon wine industry seeks to answer two important questions: One, how will our state's various soils, slopes, and microclimates express themselves definitively in Oregon wines; and two, just which grapes will ripen best in the various Oregon regions?
Northern Willamette Valley
The area south and west of Portland, especially the hillsides around Dundee and McMinnville, drew vintners whose passions turned toward pinot noir. And they've found grand successes. Pinot noir is the wine-lovers wine; Steve Girard, owner of Benton-Lane Vineyards, calls it "the sexiest red wine on the planet." And it's still Oregon's best-known varietal. The pioneers of the '70s created successful labels, still garnering praise from the world wine press: Ponzi, Erath, Sokol-Blosser, Oak Knoll, Amity, Elk Cove, and Eyrie are producing fine pinots—not only noir, but also blanc and meunier. The '80s and '90s saw new players enter the field, turning out exceptional wines under labels like Argyle, Archery Summit, Beaux Freres, Chehalem, Patricia Green, Brick House, Cristom, Dobbes, WillaKenzie, Domaine Serene, St. Innocent, Torii Mor, Lemelson, Shea, and too many more to list here. But the pinot family of grapes is not the only possible wine for this state. In the romance of the vine, many desires are possible.
Columbia Valley
East of Portland in the Columbia Valley, the Blanchette family established Hood River Vineyards in 1975, aiming to make big reds. The Oregon side of the river is still being explored for grapes, but just across the water, Washington's wine industry has burgeoned in the Walla Walla and Yakima Valleys, producing cabernets, merlots, and other deep reds of outstanding flavor and character. Implications for Oregon? We'll see.
Umpqua Valley
Sommer's Umpqua Valley success attracted growers interested in grapes that ripened in a warmer, drier area; Umpqua Valley winery numbers have jumped to now more than 18, including four around Elkton, a cool area nearer the Pacific. HillCrest has been revived by Dyson Demara. Henry Estate is going strong, as is Girardet, but other growers have settled the area and are discovering new potentials for the sun-blessed slopes of the valley. Abacela, for instance, has established a reputation for world-class tempranillo and Albariño, two great wines of Spain. Spangler Vineyards makes robust cabernet sauvignon and merlot, and is having success with varietals native to France's Rhone Valley: syrah, grenache, and viognier. There's still pinot noir to be found, some outstanding (Misty Oaks, Brandborg). All deserve mention—and tasting.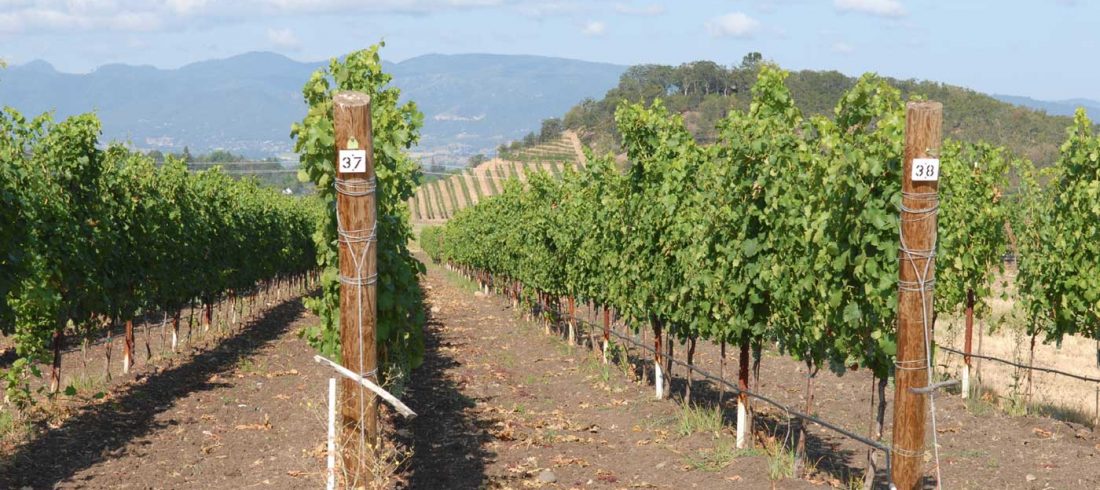 Rogue Valley
In the Rogue Valley, the Wisnovsky family honored Peter Britt by reviving his Valley View label and making warm-country wines like cabernet sauvignon, merlot, and viognier. But it's a big valley, reaching from Medford in the east to remote Cave Junction in the west, where, in 1974, Peter Gerber started Foris Vineyards, joined in 1986 by Bridgeview Winery, a big producer and aggressive marketer. Others have flocked to this warm, dry area of the state, intent on growing the "Big Reds"—cabernet sauvignon, merlot, syrah, tempranillo; and warm-country whites—sauvignon blanc, viognier, Albariño, chardonnay. The potential for wine grapes in the Rogue seems limited only by available lands—and those are vast.
Southern Willamette Valley
South of Portland and just west of Salem, in the Eola Hills, brothers Ted and Terry Casteel started Bethel Heights in 1977 and soon had the company of respected growers like Russ Rainey and others. Those hills are distinctive and probably merit the sub-AVA of Eola-Amity Hills they've established.
In the southern part of the Willamette Valley, in the hills west of Eugene, Doyle Hinman launched Hinman Vineyards in 1972 near Veneta, and Lee Smith planted his first grapes at Forgeron (in Elmira, now LaVelle Vineyards) in that same year. Craig and Claudia Broadley saw pinot potential in the hills west of Monroe in 1981 and were soon producing top-rated pinot noir.  The area really grew when the King family, in 1992, established King Estate, planting hundreds of acres and building a state-of-the-art winery on the skirts of the Coast Range a few miles south of Veneta—but just outside of the Willamette Valley AVA.
King Estate gathered talented people and was soon bottling pinot gris and pinot noir that gained global recognition for the Estate and the region. Even though it's now Oregon's largest producer, King has neither attempted to extend the Willamette Valley AVA nor to establish a sub-AVA. Now, in 2010, this narrow wedge of the Willamette Valley boasts some 17 wineries—but no distinguishing appellation.
Steve Thomson, King's executive vice president and the man who oversees the sales of King's label in the national and international markets, argues that the rush to establish AVAs and sub-AVAs is not really helping sell Oregon wines. We're having, he says, "growing pains," and "distribution is pushing back." In the minds of wine buyers, Thomson explains, "the high ground really is Oregon," not the state divided into tiny fragments of appellations. Ray Walsh, owner of Capitello Wines and one of Oregon's most talented winemakers, says, "It's our children or our children's children who will really discover our AVAs."
So it seems that the discovery and rediscovery of Oregon wines will continue for many more years. Meanwhile, as experiments continue, consumers can anticipate decades of fine wines of many varieties and from many new regions of this beautiful state as our vintners define themselves and their grapes identify the flavors and character of Oregon terroir.