Between 1960 and 1980, Eugene saw a lot of local and national history. John F. Kennedy campaigned here in 1960, a new city hall opened in 1964, Autzen Stadium opened in 1967, we saw anti-war protests and bombings at the University of Oregon in 1970, and we hosted our first US Olympic Track trials in 1972, among many other events. In a time of civil rights movements, counter culture movements, and many shifts in our social, political, and economic landscapes, Eugene became a community focused on its people and a safe haven for those who were anti-establishment.
From this were born many businesses and organizations both as a response to this shift as well as filling a need for growth and development. There are many of these businesses and organizations that are still around and are now pillars of our community. Many of them started together, working to build a better community for themselves and those around them.
These businesses all saw common threads between the time they opened and now, including the growth in Eugene, in regards to the job market, population, and overall vibrancy of the city. All of these businesses have a love for their communities and have always worked to adapt their businesses to fit the needs of Eugene and beyond.
Despite the growth, many community values have stayed the same. "Eugene has clearly grown since 1969, but it has retained its support for local, grassroots businesses and activism," says Stephanie Talbot, assistant manager at the Oregon Country Fair.
Eugene has also stayed interwoven community that works together to continue its own success. "Eugene is a community that works together to address common concerns," says Tuesday Scott, development associate at ShelterCare. "We are known throughout the state as being exceptionally collaborative."
These businesses make up the core of our community. All are integral voices to our city's past, present, and future.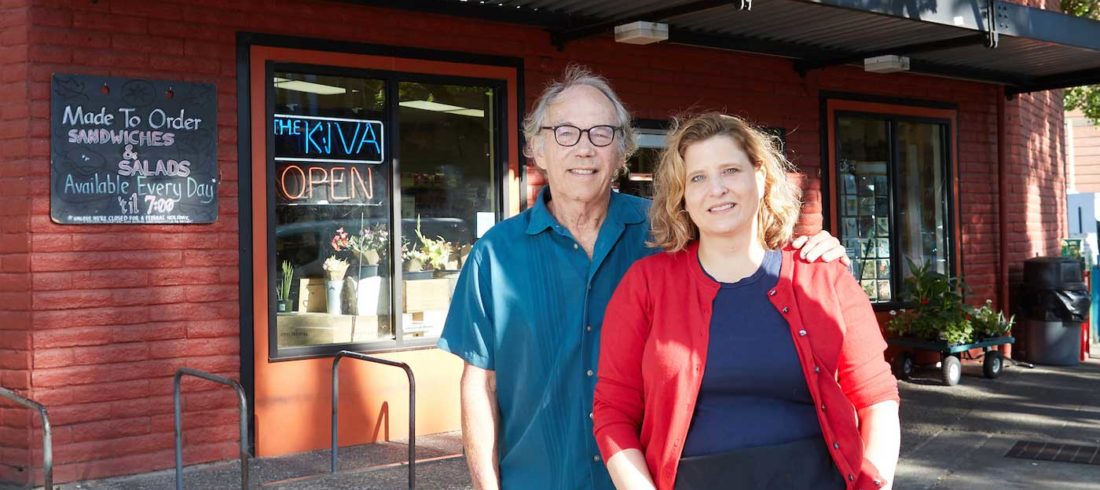 The Kiva Grocery (1970)
George Brown was an "apple knocker" up in Washington when he got a call from a couple of friends who had just moved to Eugene from California. They were opening a "hippie mall" with space for a couple other small shop owners (including Lazar and Rosie Makyadeth from Lazar's Bazar) and asked him if he wanted to open up a bookstore. He agreed, moving into the garage where the Aurora Building now sits and opening up shop in 1970. In the next year, the grocer next door abruptly left, leaving only a note that Brown could take it over as he had loaned them some money to open an herb and spices section. Brown made the life-changing decision to take it on.
He and his wife, Melissa, who has been apart of the business since 2004, said that, at that time, there wasn't the distribution network there is now. George would drive to his suppliers for his weekly stock, helping little known brands, including Springfield Creamery (Nancy's Yogurt), get shelf space and recognition. Even now, they still source all their produce, cheese, and meat locally.
They moved into their current space in 1983, in the middle of the night on the fourth of July, carrying their produce case on a forklift down West 11th to get it between the two buildings, which were only a few blocks apart. They remodeled in 2010 to build in their commercial kitchen and expand their deli.
Both George and Melissa said that it was rewarding to see the same customers day to day and decade to decade, as well as the staff they've been able to hire and work with. "There's a tremendous amount of heart with our people and that's just huge," Melissa says.
Melissa says how much she loves other small neighborhood markets that are still around in Eugene. "I do really love how every neighborhood's market is just a little different," she says. "We all have this thread of commonality, but we're also all different in our own way."
The Kiva Grocery | Mon-Fri, 8 am-8 pm; Sat-Sun, 9 am-8 pm | 125 W 11th Ave. | 541/342-8666 | kivagrocery.com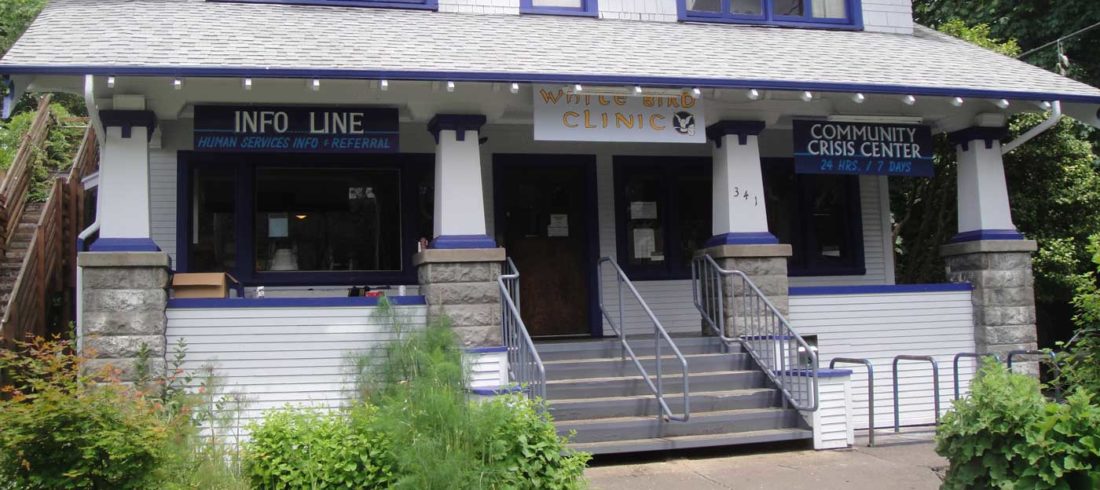 White Bird Clinic (1970)
The White Bird Clinic has a true grassroots beginning, starting in the late '60s as a response to a lack of trust for mainstream institutions from those who were part of the major counter culture movement in that time. According to Benjamin Brubaker, clinic co-coordinator and member of the executive team, there was a realization that people weren't getting the help they needed, their health conditions were getting worse, and there was not place for people to go who were having any sort of crisis. Many community members, including local professionals and people from the University of Oregon, stepped up to provide a volunteer-run 24/7 crisis line and walk-in options for no or low cost medical care.
Since their opening, they've expanded their reach tremendously, adding in programs like their CAHOOTS vans, their Chrysalis Behavioral Health Outpatient Clinic, a dental clinic, and additional programs, all adapting to meet the needs of the community. They provide a landing area for those without one, including mailing services, a phone and bathroom to use, and just a place to be inside for a little while.
"We've been able to build rapport with lots and lots and lots of people," Brubaker says. "And that open door policy of serving anyone regardless of their socio-economic class or whatever background or demographic they're coming from–we try to meet everybody with the same basic level of human-to-human, client-centered, trauma-informed care. I think that's really been a big way that White Bird's really been able to embed itself in the community more and more."
Brubacker says there's a lot of synergy between groups in Eugene and they work together to support each other's strengths and weaknesses, and have since White Bird's start. "There's a lot of people that are really intelligent, really have a good mind, and are very socially aware and socially conscious," he says. "And that all of those folks are working together to try to make their local community better and to try to create a culture and environment that's really welcoming for people."
White Bird is looking to the future and how they can best support the community, but they need your help. If you're interested in volunteering or assisting them in some way, give them a call.
White Bird Clinic | 341 E 12th Ave. | 541/342-8255 | whitebirdclinic.org
Oregon Country Fair (1969)
Nearing 50 years of arts, entertainment, and magic, the Oregon Country Fair has grown dramatically since its start as a Renaissance Faire in 1969, serving as a fundraiser for a Eugene alternative school. Now, they own more than 500 acres in Veneta and average 45,000 attendees every year. "The fair is a multi-generational event that values our elders and roots while also finding relevant ways to engage youth," assistant manager Stephanie Talbot says. It's this balance of old and new that makes the fair appeal to grandparents and kids alike."
Talbot says that the fair is still a fundraiser for their philanthropic programs that donate thousands of dollars each year to local non-profits.
With its many booths, exhibits, parades, and hippie energy, the fair is definitely an area standout. Talbot stressed that there is always something new each year. "The fair has many annual traditions, such as our daily parades and vendors that have been there for decades," she says, "yet it also features fresh art, entertainment, and magic every year."
Talbot says her favorite part of doing business in Eugene is the people. "Eugene is a great town to have our event near as there are hundreds of locals who have made the fair part of their annual summer plans as well as many new arrivals who we get to wow for the first time," she says. "We also have a great synergy with other local organizations such as Eugene Saturday Market, White Bird Clinic, and others."
Oregon Country Fair | July 12-14, 2019 | 24207 Hwy. 126, Veneta | 541/343-4298 | oregoncountryfair.org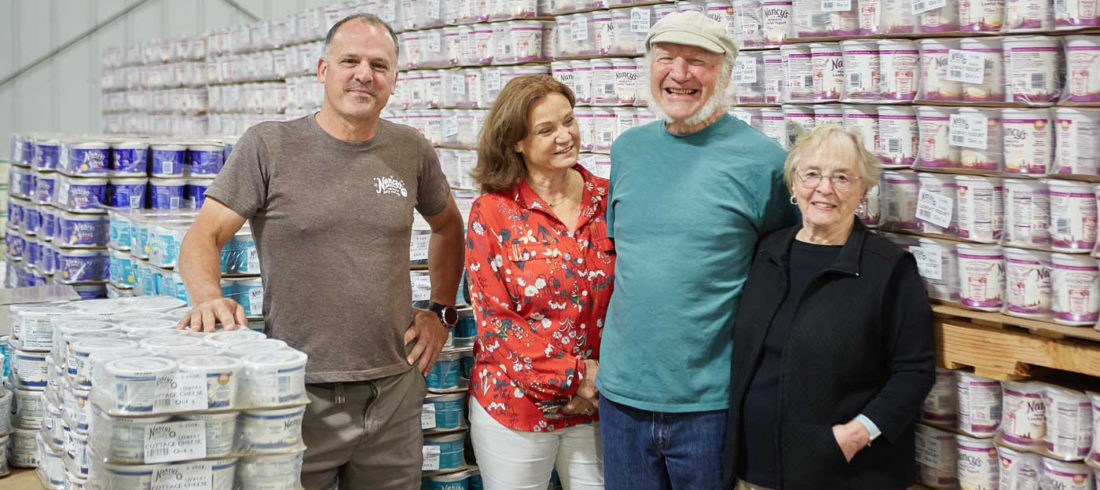 Springfield Creamery/Nancy's Yogurt (1960)
Chuck and Sue Kesey first opened the Springfield Creamery as a dairy processing business, supplying gallon-size glass jugs of milk to other local creameries, area homes, and schools in Springfield. They ran it this way for 10 years, while Chuck, with his background in cultured products and probiotics, experimented. When Nancy Van Brasch Hamren, who had experience with yogurt making, joined the team as a bookkeeper in 1969, Nancy's Yogurt was born as the first yogurt made with L. acidophilus cultures.
Since then, the company has taken off, but Sheryl Kesey Thompson, Chuck and Sue's daughter and co-owner, says the company's culture hasn't changed. "We still strive to run a business that offers our employees and their families a good life, while make good, healthy food," she says. "We continue to try to be a company that does good for our community."
Sue Kesey says their secret to success is simple, "Like what you do and do it with people you like. Believe that what you are doing is making a difference."
"We have thrived in the Eugene-Springfield area, both as a family and as a business, because of the great cultural environment of the area, as well as the number of supporting businesses, suppliers, and friends in the area that make operating a food business much easier and rewarding," Kesey Thompson says. "The folks in this community have been amazingly supportive to our company, through devastating fires and simply buying our products each day in the local community. We could not be more grateful."
Springfield Creamery/Nancy's Yogurt | Products found at many local stores | 541/689-2911 | nancysyogurt.com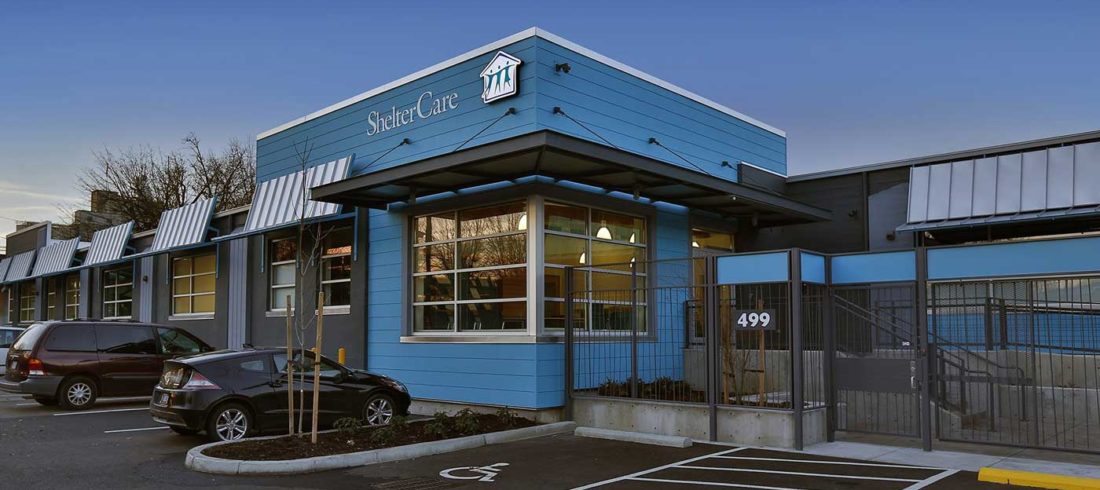 ShelterCare (1970)
ShelterCare, first known as Eugene Emergency Housing, began in 1970 in response to the concern that Eugene didn't have appropriate housing options for homeless families. According to development associate Tuesday Scott, there were organizations who could house adult homeless men and women in the community, but there was little for families who needed a landing area before making their next move.
"Community members representing congregations, service providers, and government representatives gathered in a church basement and planned to open a small, modestly supported shelter space to serve families with children," Scott says. "Families typically stayed just a few days before moving on to stable housing in the community."
Since their first opening on Christmas Eve, 1970, ShelterCare has expanding their services to tackle the "affordability gap" between household income and the cost of housing as well as building programs to respond to the "root causes" of homelessness, including those suffering serious mental illness and substance abuse disorder. "In the past decade, we have adopted 'housing first' practices, planting individuals quickly in housing and then providing the supports required to help them address the root causes for their homeless situation," Scott says.
"Good news is that recovery is now embraced," she continues. "Now we know that individuals are not their disability and recovery happens as individuals find meaningful expression for their lives–in enjoyment, art, community engagement, etc."
ShelterCare | Mon-Fri, 8:30 am-4:30 pm | 499 W 4th Ave. | 541/686-1262 | sheltercare.org
Oregon Bach Festival (1970)
For two weeks in July every summer, the Oregon Bach Festival (OBF) celebrates classical music (particularly Bach), with homage paid through live performances, expert presentations, workshops, and reinterpretations. It was started in 1970 when a German organist and conductor, Helmuth Rilling, came to the University of Oregon for a series of workshops and informal performances. Rilling and co-founder Royce Saltzman combines forces, growing the festival into today's big event.
"For OBF, the greatest change has come from the expansion of arts organizations and the community's unflinching willingness to accept them, engage with them, and nurture them," says Josh Gren, director of marking and communications. "When OBF began in the early '70s, the Eugene Symphony was in its adolescence. There was no Opera, Ballet, or Concert Choir. In 2018, Eugene boasts all of these things, plus the stunning Hult Center for the Performing Arts, a second balley company, Oregon Contemporary Theatre, and a myriad of others. OBF is extremely fortunate to be part of a city and cultural community that supports and values that plethora of performing arts."
Gren gives credit to the many people involved for the festival's success, as well as the community. "If there is a secret, it must be the stellar OBF administration, the University of Oregon, OBF volunteers, and the unparalleled musicians that combine to make up the OBF family," he says. "It takes a skilled, dedicated, and passionate group of people to create such an event. OBF has been the lucky recipient of those forces for nearly 50 years."
Oregon Bach Festival | July, 2019 | 975 E 18th Ave. | 541/346-5666 | oregonbachfestival.org
Saturday Market (1970)
"There were three main factors that led to the start of the Saturday Market," says Courtney Kauffman, Eugene Saturday Market assistant manager. "The first was a large community of artisans and a strong interest in buying and using local crafts. The second was an abundance of local produce and no downtown outlet since the closing of the farmers market in the '50s. The third was a dying downtown in need of revitalizing." The idea came when Lotte Streisinger, a Eugene potter, community advocate, and one of the original founders, visited a Worlds Crafts Conference in Peru and went to the local marketplace, which she felt would be perfect for Eugene.
The first market opened in May 1970 with "29 vendors, volunteer staff, and conflict with the City officials and downtown business owners," Kauffman says. Now, they average more than 250 vendors each Saturday and the relationship with the rest of the city has improved. "In 2018, Saturday Market is considered a Eugene institution and one of the best ways to spend a Saturday in Lane County," she says.
Approaching their 50th season, they've always kept their mission close their hearts. "Everything sold at the market is made, grown, or gathered by the person selling it (or a family member or partner)," Kauffman says. This means that there are to be no imported or second-hand goods, thus insuring the direct relationship between the maker and the buyer. Saturday Market is a business incubator, providing low-cost, low-risk means to make a living as an artist."
Saturday Market | April-November, Sat, 10 am-5 pm | Office: 30 E Broadway #124 | 541/686-8885 | eugenesaturdaymarket.org
Looking Glass (1970)
"Looking Glass started as a group of volunteers, primarily UO students, that provided help and support to runaways and homeless youth on the streets of Eugene," says Craig Opperman, Looking Glass president and CEO. This started in 1970, organized by Deborah Warness. Since their start, they have continued to develop programs to help vulnerable populations, becoming nationally accredited and growing to serve children, youth, adults, and families.
"Our secret to more than 40 years of success is simple," Opperman says. "We have a dedicated staff that passionately provide an essential service to the community. However, that is easier said than done. Being able to grow and change as needed is vital. We focus on quality programs that have measurable outcomes and success and exceed national standards of care."
"I really appreciate the concern and compassion of the Eugene community," he continues. "We have citizens that are engaged and involved in making our city safe and healthy . . . Eugene is supportive of a good quality of life for everyone."
Looking Glass | 1790 W 11th Ave., Suite 200 | 541/686-2688 | lookingglass.us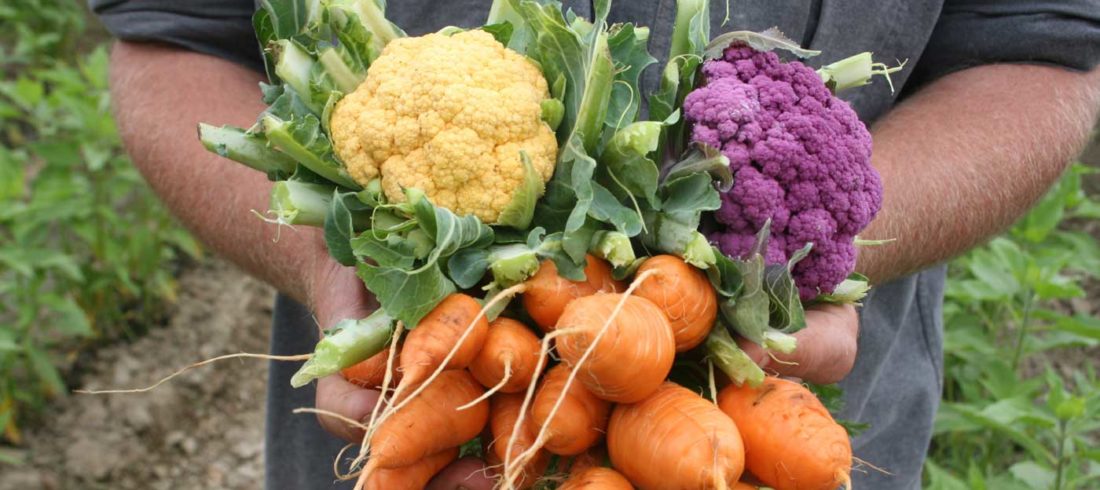 Sundance Natural Foods (1971)
Gavin McComas, who has been involved with Sundance Natural Foods since 1983, describes the market as a "mission-driven company." "Sundance's mission–'individuals nourishing community, nourishing individuals'–implies that we can practice right livelihood by being nurturing in how we relate to others, as well as in how we choose the foods we sell," he says. "We also believe that we can practice our ideals, 'walk our talk,' while at the same time being an effective and reasonably efficient business; we can sustain reciprocal accountability while maintaining a positive, playful, empowered workplace where employees are treated fairly and compensated as well as possible."
McComas is not the original owner of Sundance Natural Foods. The market first opened in 1971, taking up only a fifth of the building it occupies now, with owners Bob and Janice Crolene. The Crolenes sold the business less than a year later to Judith Osborn and her then husband, Anthony, who had both been working at the Market. Anthony stepped away and Judith stepped up, holding the business until 1983. She sold it to McComas and his father, Gordon.
The McComases were able to renew Sundance, building a commercial kitchen that went through much iteration in a separate location, completely taking over their building, and opening Sundance Wine Cellars in 1990 (currently at 2441 Hilyard Street).
Although they've made changes to the original market, they still uphold its original values. McComas says, "Sundance is enthusiastically aligned with the values of the natural foods movement that arose out of the counter cultural values of caring for the environment by growing foods organically and locally; emphasizing a plant-based diet for personal health, environmental, and out of compassion for the suffering of agricultural animals; respect for diversity of individuals who work and shop with us, and collaborative management."
Sundance Natural Foods | Mon-Sun, 7 am-11 pm | 748 E 24th Ave. | 541/343-9142 | sundancenaturalfoods.com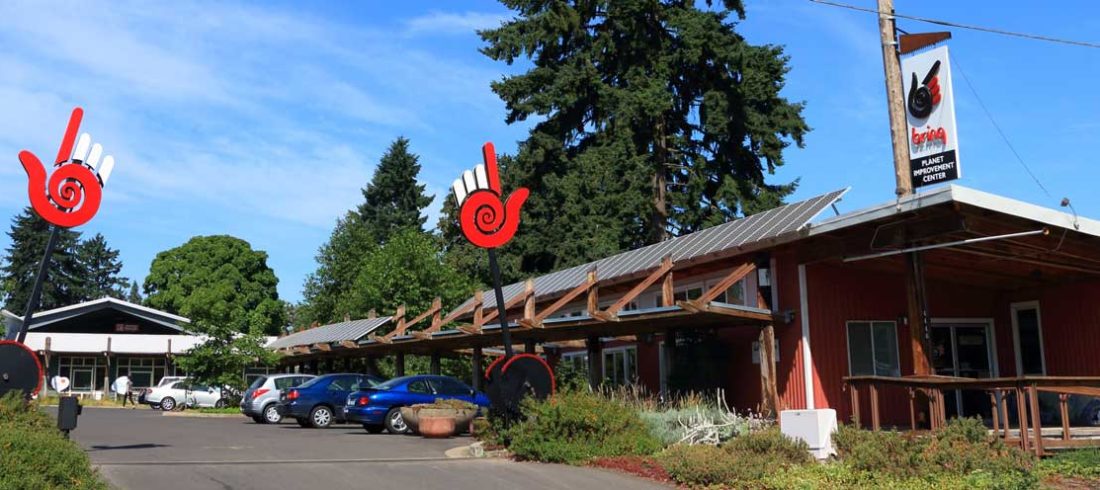 BRING Recycling (1971)
BRING Recycling was born out of the need to reduce, reuse, and recycle. They opened in 1971, a year after the first Earth Day, at the same time as the introduction of the Bottle Bill, the Clean Water Act, and the Clean Air Act. It was first a recycling center where community members could drop off their recyclables. BRING would take them to the transfer station and process them as a service, doing this until home recycling pick up started in the '90s. As this service was 80 percent of BRING's revenue, according to Carolyn Stein, executive director, BRING needed to change up their business model.
They started working towards the more "reuse" side of recycling that they are today, taking in more household goods and working towards creating more of an education culture by selling water catching systems, sustainable gardening tools, and artwork. They wanted to emphasize, "reuse is creative and practical; affordable and beautiful," Stein says. Their current outreach programs include a pilot program with the City of Eugene trying to keep construction material waste out of the woodchip bin.
"I love the community that is involved with BRING in a variety of different ways," Stein says. "Builders, artists, businesses–we have such a vast and really diverse community in terms of what we like or how we live our lives, but we have these basic things in common. I love that we have so many unique perspectives."
BRING Recycling | Mon-Sat, 9 am-5 pm; Sun, 10 am-5 pm | 4446 Franklin Blvd. | 541/746-3023 | bringrecycling.org
Uncommon Scents at the Meridian (1974)
Uncommon Scents at the Meridian is an aroma wonderland. The inviting store peaks your curiosity, which you're encouraged to indulge with their display of fragrance samples.
The store was started by Chuck Agol and his business partner, Mark, in the Atrium Building downtown in 1974. Eva Prommen, current owner at Uncommon Scents the Meridian, joined the team in the '80s. They opened an additional store at 5th Street Market, attempted a store in Portland, and ran a wholesale business. Prommen says only the 5th Street Market and wholesale business side were successful. The team eventually came together with a couple other business owners and bought the Meridian Building, where they currently stand.
In the mid-2000s, Agol wanted to take the business online while Prommen wanted to keep the storefront. The business split–Uncommon Scents went online and Uncommon Scents at the Meridian was born in 2008.
Prommen is clearly passionate about the Eugene community and got emotional when explaining her love for the city. "It's just really special to be part of the community," she says. "And being important to the community. We are a destination store and we've been doing that for a long time . . . What's important to the city is important to you and also providing that with integrity with a sense of passion that those things are right to be striving for."
Uncommon Scents at the Meridian | Mon-Fri, 10 am-7 pm; Sat, 10 am-6 pm; Sun, 11 am-5 pm | The Meridian Building, 1801 Willamette St. #120 | 541/683-5835 | uncommonscentsmeridian.com
Prince Puckler's (1975)
Jim Robertson grew up in San Francisco, where he had seen a line wrap around the block to get into Bud's Ice Cream, which had delicious ice cream, but could only fit two people in the store at a time. Attending the UO at the time, Robertson saw a need for an ice cream parlor in Eugene and his father had a friend who knew Al Edlin, the owner of Bud's. Robertson convinced Edlin to train him, bought his equipment, and moved it to the Atrium Building in Eugene. Named after a German dessert, the Prince Puckler's Bombe, the business was successful from the beginning.
While they've moved a couple times and had other ventures, including a pizza parlor for about ten years and, at one time, five different stores, they've never stopped hand making all their own ice cream, which they have been doing in their facility in the Whitaker neighborhood. Robertson's daughter is their main ice cream maker, although he is still involved in the process as well.
Now, with just their one location and wholesale business, selling to a couple shops in Hood River and around Portland as well as to local restaurants like Beppe and Gianni's and Cosmic Pizza, they're happy with where they are. Robertson says one of their goals was, "to become part of the community, and we have." They are very well integrated and always willing to give back, offering an ice cream cone at school events and to the new ROTC recruits.
Even though they're sticking to one store and their wholesale business, they don't get nervous when other ice cream businesses open. "We've had a lot of different people come into the ice cream business over the years," Robertson says, "and, actually, it's always been a good thing for us because sometimes, when you have the business for a long time, you get complacent. And so, when other people have come into the business, we've always, without exception, done better than we've done before."
Prince Puckler's | Mon-Sun, 12 pm-11 pm | 1605 E 19th Ave. | 541/344-4418 | princepucklers.com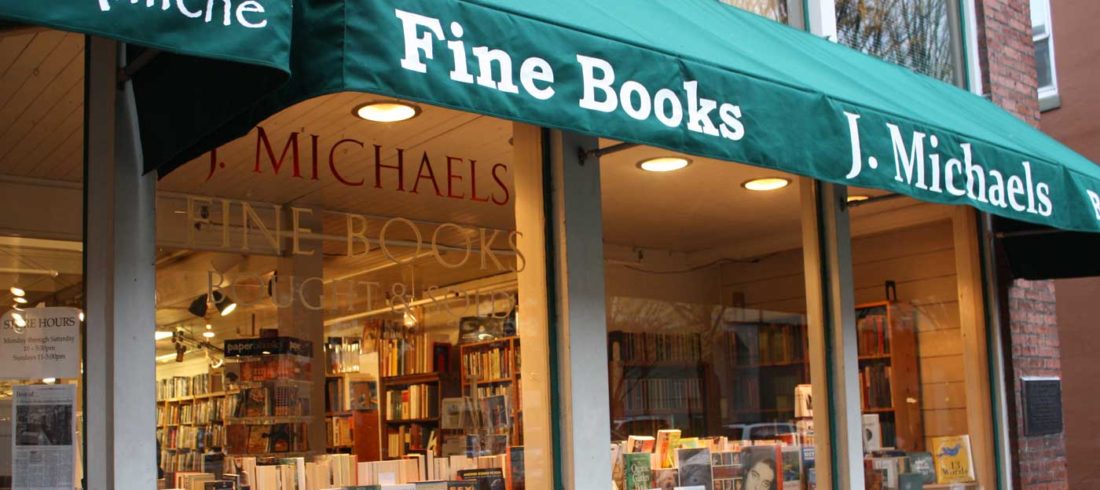 J. Michaels Books (1975)
Jeremy Nissel purchased a book store in 1973, opening J. Michaels Books in 1975. Now, after first an expansion in their original space and then a move to their current space 33 years ago, the bookstore has remained successful, despite the changes to how books are sold. "The advent of the internet, large chain bookstores, and Amazon have vastly changed the bookselling landscape," Nissel says.
Still, Nissel is hopeful. "I think the secret to our success is that we love what we do," he says. "We have spent 43 years curating a collection of books that we offer that is of extremely high quality across a broad spectrum of categories."
Nissel loves Eugene's community. He says, "My favorite parts of doing business in Eugene is seeing my loyal and faithful customers continue to appreciate how we serve the community and meeting new customers who are thrilled to have found us."
J. Michaels Books | Mon-Sat, 10 am-5:30 pm; Sun, 11 am-5 pm | 160 E Broadway #A | 541/342-2002 | jmichaelsbooks.com
Lazar's Bazar (1974)
Lazar's Bazar is an everything store, and has been since owner Lazar Makyadath sold tapestries door to door. "People liked what I had and they would request for more things, so I would ask my supplier to send more things," Lazar says. "So it just built up, from a backpack, then to a suitcase."
Lazar and his wife, Rosie, worked together to continue to build the business, especially after they moved into the same building as the Kiva's first location. She would man the business during the day and, once Lazar got off work, he would help out. They were always listening to what their customers wanted, a key factor in their success and how they handle their business today. "People ask for it, we got it," Lazar says.
They expanded, first moving into a space on Willamette, then one of Broadway, finally settling into their current space in 1983. They took advantage of the inexpensive real estate at the time, when many businesses were vacating downtown. They've seen it upturn since. "We've seen a lot of Eugene's ups and downs," Rosie says. "It was dead for a while, then it started up little by little."
They started selling skateboards when their son, Priya, got involved in the business when he was 10 years old and shoes (officially opening Shoe-a-Holic in 1992). Lazar would also go into businesses that were closing and buy their fixtures, to "buy something for the memory of that store," he says. "I used to have a lot of stores' fixtures in my store–still, I may have them."
"I work every day," Lazar says. "The family is a big thing in the business. We've been all working together, still working together." He wants to thank everyone for helping them be successful.
Lazar's Bazar | Mon-Fri, 10 am-8 pm; Sat, 10 am-7 pm; Sun, 12 pm-6 pm | 57 W Broadway | 541/687-0139 | lazarseugene.com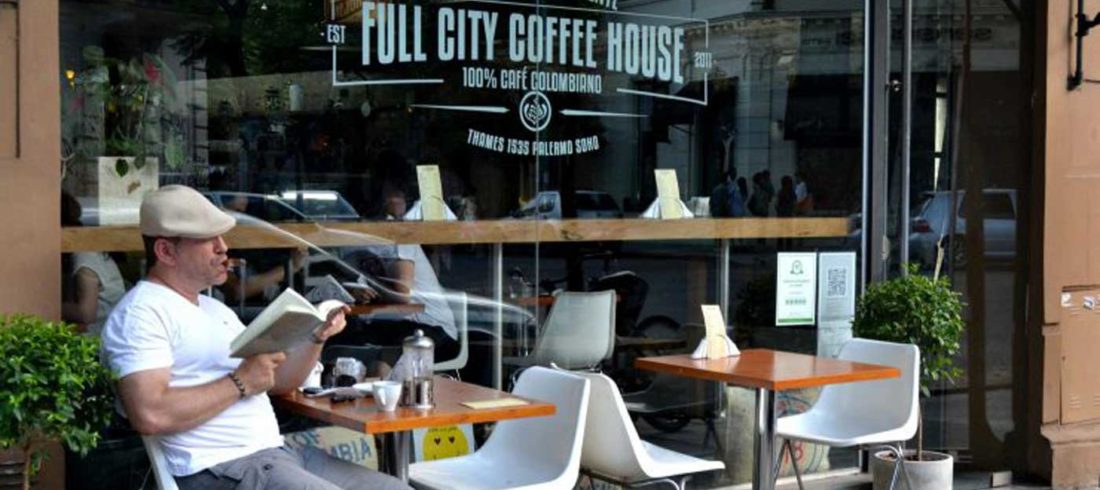 Full City Coffee Roasters (1979)
Michael Finney, owner of Full City Coffee is a coffee expert. He learned how to properly roast and brew during his time working at the Coffee Corner. When he opened Full City, he came in with a wealth of experience and connections to local farmers in Sumatra, Colombia, and Guatemala.
They opened their Pearl Street location in 1990 wanting "to create a friendly, convenient, warm, and welcoming café where locals and visitors alike could savor the world's great coffees," according to their website. They also serve pastries, sourced from their sister company, The Palace Bakery. Their High Street location opened in 2005.
Full City still roasts their beans every morning.
Full City Coffee Roasters | Mon-Fri, 7 am-6 pm; Sat-Sun, 7 am-5 pm | 295 E 13th Ave. | 541/465-9270  | Mon-Fri, 5:30 am-6 pm; Sat, 6:30 am-6 pm; Sun, 7 am-5 pm | 842 Pearl St. | 541/344-0475 | full-city.com
Valley
River Center (1969)
Developers flew over the Delta area of Eugene in the '60s, scouting out the land. According to Rob McOmie, senior property manager at Valley River Center, they were looking for a site for a new Fred Meyer location, but felt area along the river would be perfect for a shopping mall. Valley River Center opened in August 1969, complete with the signature funnel, designed by the current owner, May Stores.
At the time, malls were very different. They still had the anchor department stores, but they were also where people did their grocery shopping, went to a pharmacy, or visited local merchants, rather than the mainstream brand names you see today. McOmie says that Valley River Center has adapted to fit the changing mall landscape, including creating more recreational and comfortable spaces when malls become the spot to meet up with friends.
Now, Valley River Center is going through another renovation, adding a new front entrance, outdoor plazas, and 14,000 square feet of new retail and restaurant space. The remodel is expected to be completed this fall.
Valley River Center | Mon-Sat, 10 am-9 pm; Sun, 11 am-7 pm | 293 Valley River Center | 541/683-55113 | valleyrivercenter.com
Richardson Sports (1970)
Originally founded in the mid-'60s, Richardson Sports was purchased from his business partner and renamed in 1970 by Neil Richardson. According to Kelly Richardson, current CEO and Neil's son, the company designed and produced their first Richardson brand baseball cap, now their signature product, in the early '80s. "These early baseball caps were well received by our customers and allowed us to expand distribution nationally," Kelly Richardson says. "The demand for high-quality, custom-made baseball caps continued to grow and pushed us to add new styles and expand our customization capabilities."
Because of the headwear market boom in the '90s, Richardson Sports was able to expand into new markets and distribution channels. Today, they have about 250 employees at their Springfield headquarters and satellite offices in Ohio and Pittsburgh. "We're definitely a larger, more diverse company, and we have a much broader reach than when we opened," Richardson says. "But we still try to maintain a small, family-owned culture and make sure we keep delivering the high-quality products and services that helped us get to where we are today."
Richardson says he loves Eugene's sports and recreation culture, "which aligns well with what our business is all about," he says. "The UO is a great resource for local businesses and creates a strong pool of educated talent. If your business is centered on sports and you enjoy beautiful rivers, mountains, and the ocean, there are few places better than Eugene."
Richardson Sports | Products found at many stores nationwide | richardsonsports.com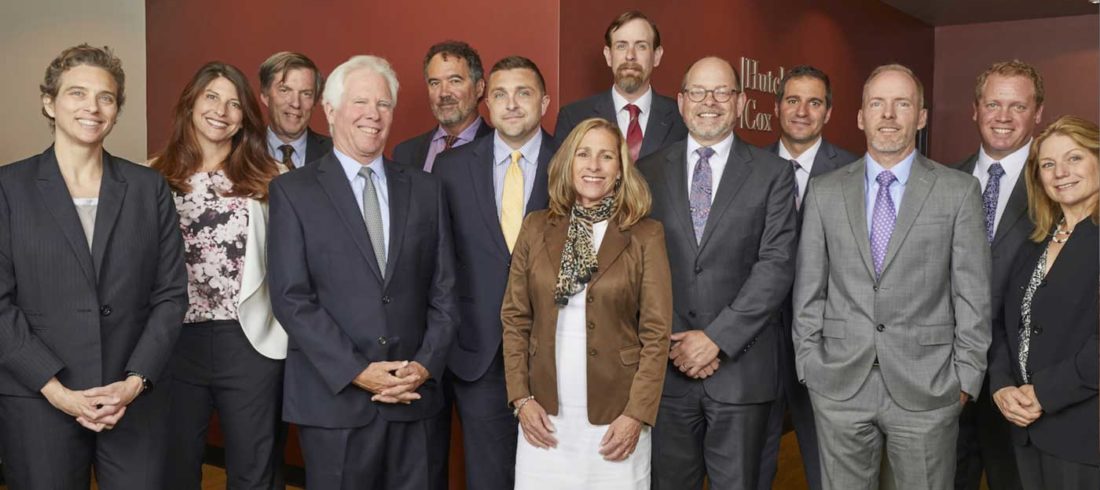 Hutchinson Cox (1970)
Stephen A. Hutchinson and John G. Cox, who wanted to open their own firm, started Hutchinson Cox in 1970. Although they are both retired now, their firm continues.
"The ethos of the firm has not changed," Cox says. "Those succeeding the founders have continued to grow the firm, move the firm to a newer and central downtown location while keeping it financially sound."
"The firm has expanded as it attracted and kept excellent attorneys in a variety of specialty areas of law," Hutchinson says. "An open, professional, and collegial atmosphere promotes shared high ethical values and work performance."
Hutchinson describes Eugene as a "cosmopolitan city with a small town commute time." Even though Eugene is relatively small, "with a major university that provides diversity from all over the world (not to mention world class sports recognition), and a thriving local arts, music, and theatre community, there is something for everyone," he says. "So law practice was as diverse as in any major city."
Hutchinson-Cox | 940 Willamette St., Suite 400 | 541/686-9160 | eugenelaw.com
Lane Transit District (1970)
In 1969, ORS 267, which allowed Oregon to form special transit districts to provide public transportation, was passed, filling a community need for a way to get around. LTD gave its first rides in two vans and 18 former school buses in November 1970, giving an alternative transportation method to about 2,200 passengers a day.
Now, even with more than 100 vehicles, 37,000 passengers a day, and the newly established west Eugene route, LTD still lives up to their mission statement: "We believe in providing people with the independence to achieve their goals, creating a more vibrant, sustainable, and equitable community."
"This means that we provide safe and reliable transit services that address the needs of the community along with high quality transportation options, programs, and services," says Therese Lang, LTD public information officer. "Additionally, we provide leadership in the development of the region's transportation system and we practice sound fiscal management of the organization."
Lang says that the community engagement is of utmost importance to LTD. "We would not be here if it weren't for the support that our community has for us," she says, "and we hope to maintain that support by continuing to provide the safest and most reliable transportation possible now and into the future.
LTD | See website for transit schedule | 541/687-5555 | ltd.org