Lane County is vibrant, offering a multitude of unique experiences only available locally. Whether you've lived here for years or are just getting started, there are quintessential foods, trails, and locations that all Lane County residents must take advantage of. Visit key landmarks, indulge in delicious food, and enjoy the local scenery by foot or bike.
Tag your experience! Share your love for Lane County by tagging #WhyWeLiveHereEUG when you're adventuring through this list on any social media.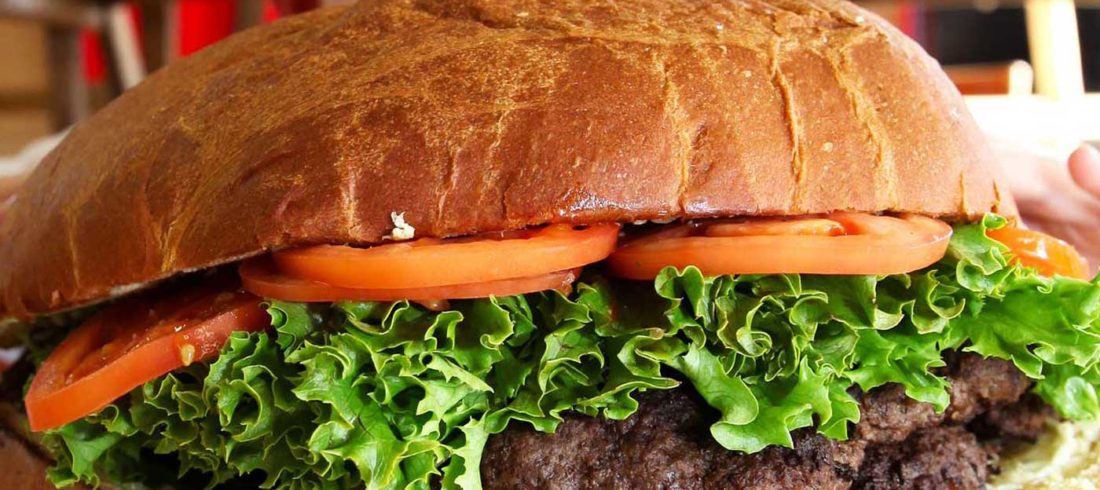 Take on the Giant Burger Challenge
Try your hand (and stomach) at the five-pound burger challenge at Giant Burger. Challengers have one hour to eat all five pounds of burger and five pounds of fries, as well as any condiments. Additional rules: you cannot leave the table during the challenge and you must hold it in for 10 minutes after the hour time limit. It's $69.99 if you don't finish, free with a t-shirt and fame if you do. Beware: While many have tried, no one has ever succeeded. Know before you go: to enter the challenge, you must call at least 48 hours ahead and sign a waiver to participate. If you're going to support your friends as they take on the feast, have a feast of your own from your pick of their infinite burgers and shake combinations!
Giant Burger | 3760 Main St., Springfield | 541/747-3399
Share a donut with Ken Kesey
Two local classics combine on the southeast corner of Broadway and Willamette. Spend an afternoon, pink Voodoo Doughnut box in one hand and a book in another, with Ken Kesey, joining him as he reads to his grandchildren.
Our recommendation: Page through Kesey's classic One Flew over the Cuckoo's Nest while munching on Voodoo's classic Voodoo doll doughnut.
Voodoo Doughnut | 20 E Broadway | 541/868-8666
The Storyteller (2003) | Pete Helzer | bronze
Hunt for truffles at the Oregon Truffle Festival
Every January, truffle hunters and enthusiasts descend on Eugene for the Oregon Truffle Festival, celebrating all things truffle. The festival includes three full days of cooking classes, excursions, delicious dinner and wine pairings, and the Joriad North American Truffle Dog Championship, where specially-trained dogs seek out targets and help find one of the world's most expensive ingredients. This festival is essential for a Eugenean who wants to get their hands dirty and learn about these divinely-tasting, Douglas fir tree-loving tubers. Get your tickets for their 2019 festival starting in September!
Our recommendation: Think your pup has what it takes? Sign them up for one of the Truffle Dog Training sessions and put their sniffer to the test!
Oregon Truffle Festival | January, 2021
Make a date with the Eugene Opera
The Eugene Opera celebrated more than 40 years of operatic excellence with their current season, which included gorgeous productions of The Barber of Seville and Maria de Buenos Aires and their next season will follow the same path. Show your appreciation for local performing arts and mind-blowing vocal talent by making a date night with their next performance at the Hult Center. Spend your evening with your significant other, dressed to the nines, complete with corsages, and grabbing a nice dinner beforehand.
Our recommendation: Share a couple small plates at Marche, paired with glasses of wine from their carefully curated collection.
Eugene Opera | 1590 Willamette St. | 541/485-3985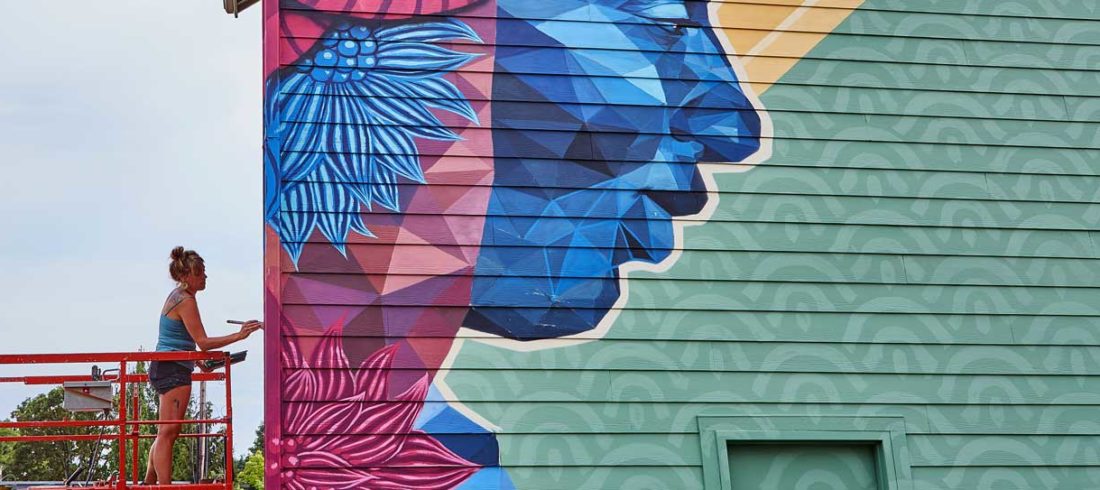 Tour the 20×21 Mural Project
Last July, the 20×21 EUG Mural Project launched, giving 11 local and international artists the chance to showcase breath-taking works on walls throughout Eugene. This summer will usher in the second round of murals, all in preparation for the 2022 World Championships (Oregon22) and our chance to show how truly Eugene is a city for the arts. Check out the map on the City's website and check off all 11 of the current murals, starting with Eugenean Ila Rose's piece at 348 Lincoln Street.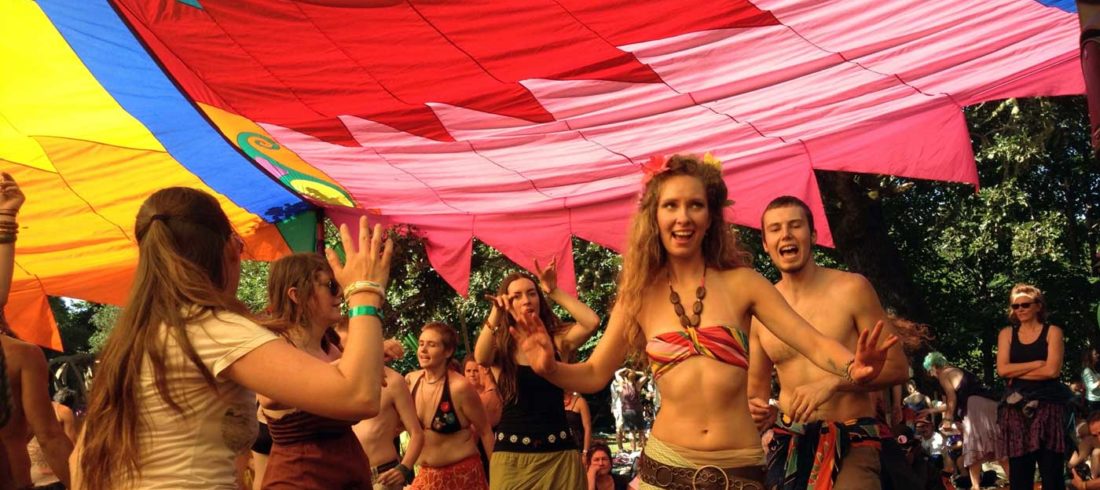 Relax at the Ritz Sauna and Showers at the Oregon Country Fair
Take a dip in the Ritz sauna and showers at the Oregon Country Fair in July. Each year since 1976, George Braddock and his team have hosted the sauna and showers, offering a clean oasis for vendors, performers, artisans, and attendees. While the flamingo-themed sauna and showers are based on global communal baths, there are also options for private showers and baths if you're not ready to show your birthday suit to your fellow bathers. Ticketing information will be available closer to the opening of the Country Fair (July 13-15, 2018).
Ritz Sauna and Showers | Oregon Country Fair, Veneta | 541/343-4298
Pay homage at Pre's memorial marker
It's hard to come to Eugene and not have at least an inkling of the importance of Steve Prefontaine in this area. He competed in many track events during the Bill Bowerman era, even setting some world records while competing in the 1972 Olympics. His life was tragically cut short in a car accident in 1975, but his legacy lives on in the Prefontaine Classic in late spring and the establishment of "Pre's Trail." To pay tribute to this legendary runner, you can also visit his memorial marker, "Pre's Rock," near Hendricks Park on Skyline Boulevard. After you've paid your respects, take a run on Pre's Trail. A key part of his legacy, before his death, he wanted the trial to resemble those he had seen on his trips to Scandinavia. The 4-mile trail has three loops near Autzen Stadium.
Pre's Rock | 2425 Skyline Blvd. | prefontainerun.com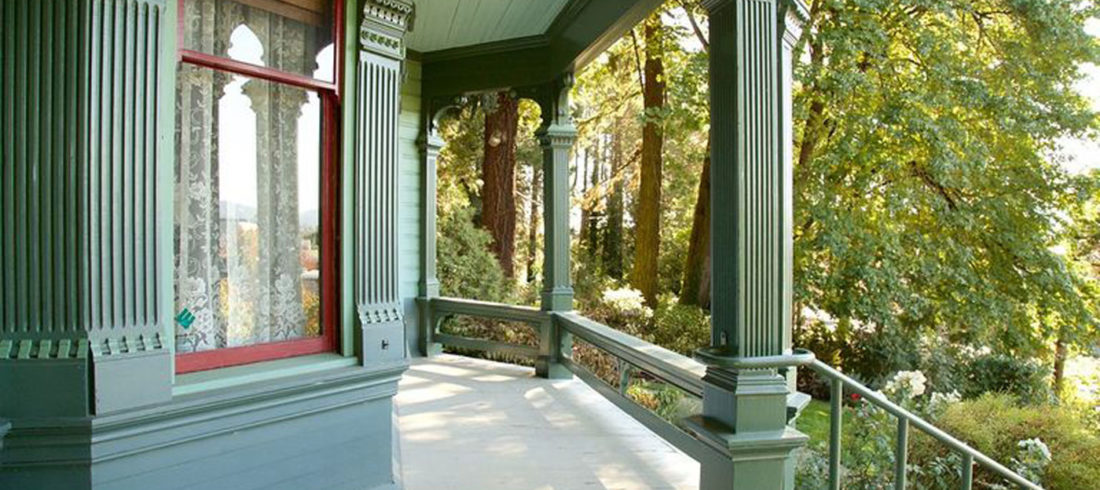 Sip tea and tour Shelton McMurphey Johnson House
The Shelton McMurphey Johnson House was originally built in 1888, after the land was purchased from Mary Skinner (founder of Eugene with husband, Eugene Skinner). The house stayed in the family for more than 60 years, before it was purchased by a family friend and eventually given to the Lane County Historical Society. Now maintained by the City and nonprofit, Shelton McMurphey Johhnson Associates, the house is open for tours, era-inspired homestead craft workshops teaching bread making, pioneer medicine, and soup making, among others, and the host to teas and exhibits throughout the year. Take your own visit to this historical site, even just to satisfy your curiosity about that beautiful home at the base of Skinner Butte.
Our recommendation: Attend one of their themed teas, such as their Steampunk Tea or Harvest Tea. Get your tickets early–they sell out fast!
Shelton McMurphey Johnson House | 303 Willamette St. | 541/484-0808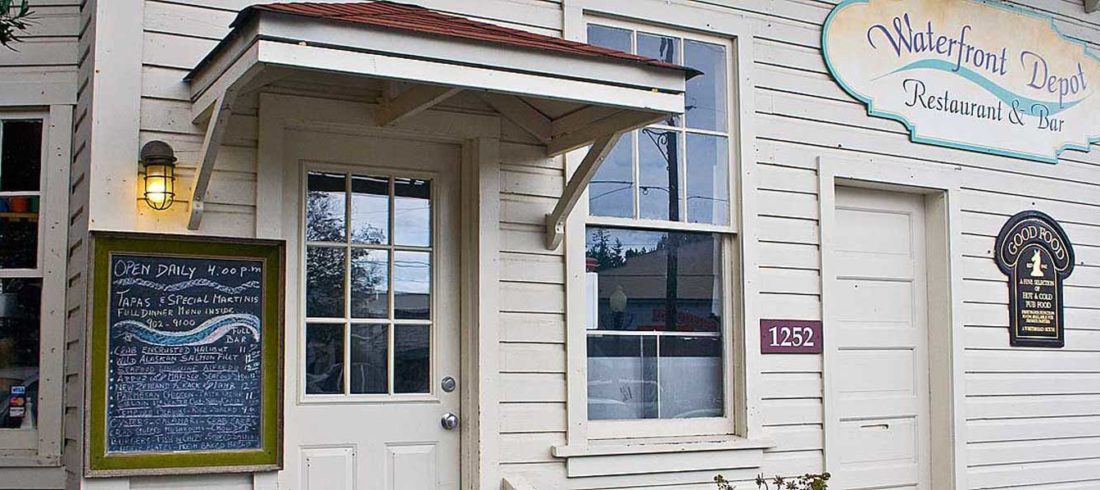 Savor crab-crusted halibut at the Waterfront Depot
While we recommend pretty much anything on the Waterfront Depot's menu, the crab-crusted halibut is truly the best way to get the tastes of the coast. Sitting in Old Town Florence, this restaurant not only offers good food and drinks, but an amazing view of the Siuslaw River. Reservations are recommended.
Waterfront Depot | 1252 Bay St., Florence | 541/902-9100 | thewaterfrontdepot.com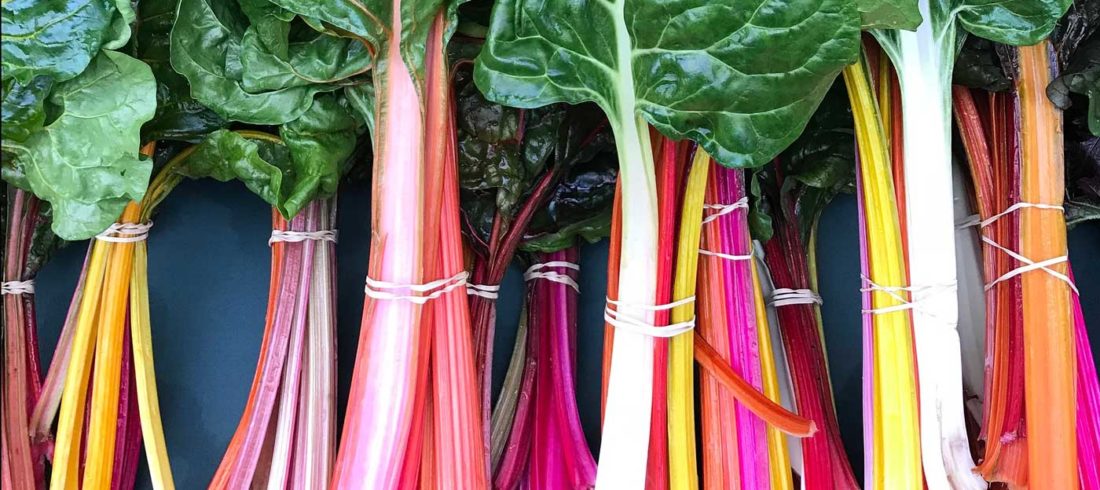 Build a meal from the Lane County Farmers Market
Every Saturday from February to early November (and Tuesdays from May to October), the Lane County Farmers Market set up their booths at the Park Blocks to sell fresh, locally farm-grown produce. They share the corners of Oak Street and 8th Avenue with the Saturday Market, their collaboration known for its variety of vendors, delicious food, hand-crafted artisan products, and perfect cross section of life in Eugene. Get the full experience by building your Saturday evening meal from the meat, produce, and yummy things all found at the Farmers Market.
Our recommendation: For the best tastes, follow this guest recipe from Nicole Pietz that builds a full meal showcasing everything the local growers have to offer. She recommends visiting the following vendors to collect your ingredients: Fern's Edge, McKenzie River Farm, Wintergreen Farm, Turnip the Beet, Kronke Ranch, Lola's Shrubs, Groundwork Organics, Horton Road, Lonesome Whistle, Crossroads Farm, and Riverbend Farm.
Zucchini Involtini
Ingredients
2 medium zucchini
1 log of Fern's Edge goat cheese
2 tablespoons fresh basil
1/4 cup hazelnuts (toasted and crushed)
Directions
Thinly slice zucchini lengthwise, brush with olive oil, season with salt and pepper, and lightly grill. Mix together goat cheese, finely chopped basil, and hazelnuts. Fill and roll zucchini with cheese mixture. Serve room temperature.
Summer Fruit Chutney
Ingredients
2 peaches, pitted and diced
1 pint of cherries, pitted and halved
1/4 cup dried blueberries
1/2 pint sun gold cherry tomatoes, stemmed and halved
1 small nob of ginger, minced
2 tablespoon minced garlic
1/2 cup Lola's shrub
2 tablespoon honey
2-3 roasted Poblano peppers, chopped
Directions
Throw it all into a pot and bring it to a boil. Turn it down and let it simmer until it thickens. Takes one to one-and-a-half hours.
Farro Salad
Ingredients
1 cup farro
3 cup stock
1/4 cup Fern's Edge goat feta
1/2 pint cherry tomatoes, halved
1/2 cucumber, diced
4 scallions, grilled and diced
1 small eggplant, grilled and diced
5 cups greens or 1-2 heads of your favorite lettuce
Olive oil, salt, and pepper to taste
Directions
Bring stock to a boil and season with salt. Add farro, reduce heat, cover, and let cook 30 to 40 minutes. Drain any excess liquid. Toss cooked farro with remaining ingredients. Set atop some fresh greens.
Lamb Patty
Ingredients
1 ½ pounds of ground lamb
2-3 tablespoons fresh basil or mint
1-2 tablespoons minced garlic
Salt and pepper to taste
Directions
Make four patties and grill. Serve atop your farro salad and greens, and finish with chutney.
Dessert berries
Ingredients
1/2 cup favorite summer berries
1/2 tablespoon honey
3 tablespoons Lola's shrub
2 tablespoons mint or basil
Directions
I love to combine sliced strawberries, cherries, and blueberries. Serve atop your favorite ice cream. My favorite is Coconut Bliss Vanilla Island. Finish with some chopped mint or basil.
Lane County Farmers Market | Park Blocks | 541/431-4923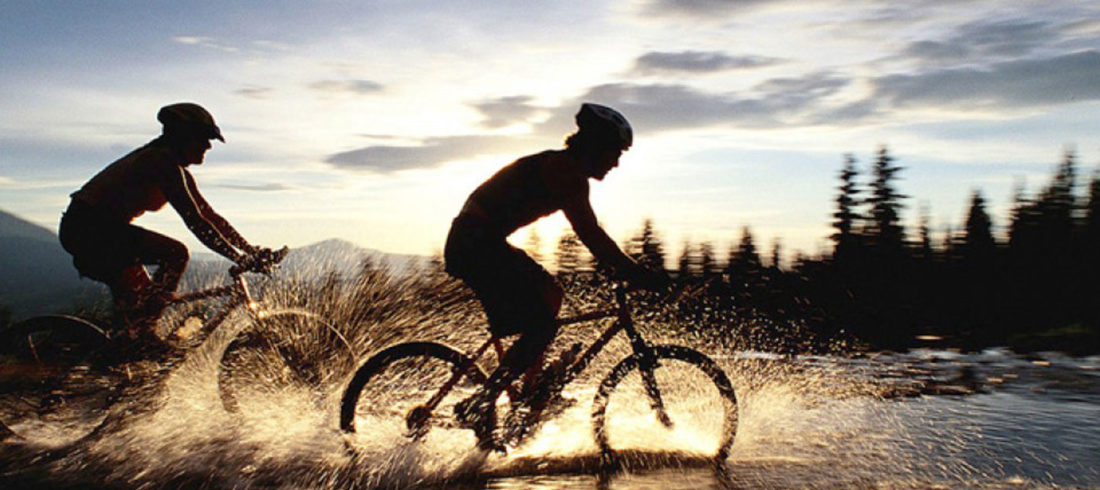 Take in the local scenery from your bike
Your quintessential Lane County experience wouldn't be complete without a bike ride, and this route starting at beautiful Clearwater Park is the perfect way to fully appreciate the local bike trails. Take in the scenery as you ride in the shadow of Mt. Pisgah on the Middle Fork Path, along the Willamette River until you reach Dorris Ranch. Wander through the hazelnut orchards before making your way to the riverfront path. Follow this to Alton Baker Park, where you can start a tour of our solar system (one to one billion scale) at the sun. While the inner planets are within Alton Baker, to visit the outer planets (including Pluto), continue along the west side of the trail.
Our recommendation: Pack a picnic and enjoy it at one of the many benches along the river. It makes for great people watching, too.
Clearwater Park | 2400 Clearwater Ln., Springfield | Mon-Sun, 6 am-10 pm
Dorris Ranch | 205 Dorris St., Springfield | Mon-Sun, 6 am-10 pm
Alton Baker Park | 100 Day Island Rd. | Mon-Sun, 6 am-11 pm
Sail a sushi boat at Sushi Pure
Sushi Pure, in 5th Street Market, has been serving their back rice, fresh fish, and unique dishes since 2009, enticing visitors that include locals, but also the Food Network's Guy Fieri and Tommy Lee and Nikki Sixx from Motley Crue. While their individual rolls and small plates will be enough to satisfy any cravings, their sushi boat, filled bow to stern with any type of sushi you could want will feed a crowd. Their wide variety of dishes offer something for everyone, all hand-crafted and all delicious.
Sushi Pure | 296 E 5th Ave., Ste. 220 | Mon-Fri, 11 am-2:30 pm, 5 pm-9:30 pm; Sat, 11 am-9:30 pm; Sun, 5 pm-9:30 pm
Share dinner with local winemaker
It's no secret that the Willamette Valley is home to some of the best wineries in the world. Our unique landscape and climate make for unique tastes and grapes. The winemakers skillfully transform these grapes into the delicious nectar in our glasses, having cultivated an art that we are fortunate enough to have easy access to. Celebrate your favorite winemaker by attending a local winemaker's dinner. These dinners include carefully-curated wines paired with beautifully-built menus sure to bring out the best in both. You'll also get a chance to learn from the winemaker, absorbing their methods, inspiration, and history. Reach out to your favorite winery for details about their next event.
Our recommendation: Provisions and Marche in the 5th Street Market often host winemaker's dinners. Join them to learn about local wine while enjoying a meal hand-crafted by Marche chef Rocky Maselli.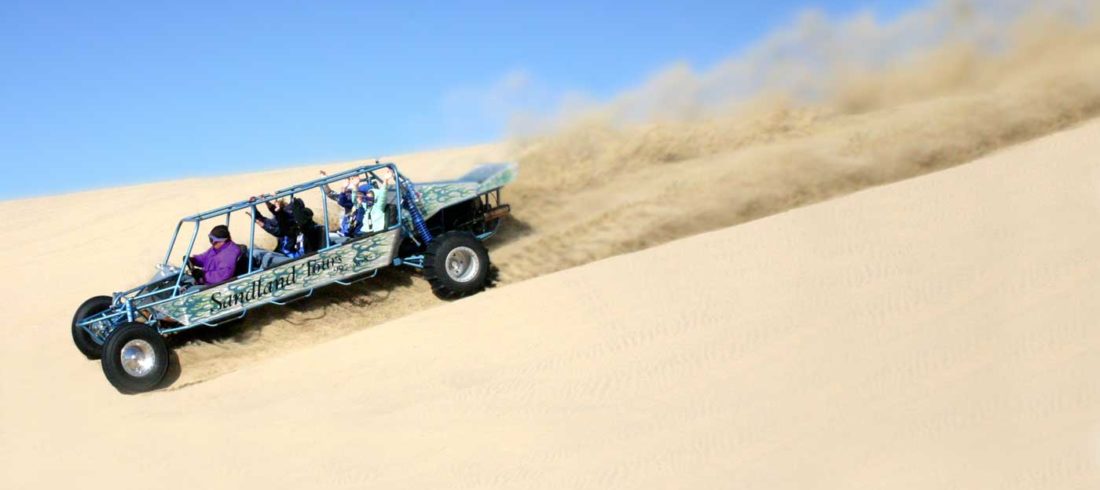 Tackle the dunes on a dune buggy
There are many things to do in Florence, but few are more exciting than visiting the 40-mile stretch of sand dunes with their near 500-foot swells. There are many ways to enjoy the dunes, be it on horseback or sliding down the slopes on a sandboard, but truly the best way is to strap into a dune buggy and hit the hills.
Our recommendation: Book your tour through Sandland Tours. They are experts in the steep sand cliffs and jumping the bluffs. For a more exhilarating ride, book one of their 30- or 60-minute Sandrail tours. For a more relaxing view of the dunes, reserve a spot on their 60-minute Giant Dune Buggy Tour.
Sandland Tours | 85366 Hwy 101, Florence | 541/997-8087
Tour local cinematic history with Animal House
National Lampoon's Animal House, starring John Belushi, made waves with its college antics and screw-ball humor when it was released in 1978. While the ill-fated Faber College was fictional, its frat houses and administration buildings are familiar locations for any Lane County resident. The movie was filmed in and around Eugene, particularly around the University of Oregon campus with Eugenean extras. Take in cinematic history at 751 E 11th Avenue, where the Delta House once stood, but where now only a plaque remains. The UO President's Office was home to Dean Wormer, the movie's antagonist. Locations out of Eugene were used, too, such as Coburg's Main Street for the homecoming parade scene and the boys visit to the Dexter Lake Club during their road trip (where a sign stands to guide visitors). Walk in the shoes of the movie that has made classic movie lists since its release 40 years ago.
Tour the local covered bridges
The covered bridges in Lane County at first seem like a strange sight reserved for visits to the New England region of the East Coast. But their history puts it into perspective. A shortage of steel through the World Wars led to more bridges built from wood. Unfortunately, in our heavy rains and climate, this meant that a wood bridge had to be replaced every nine years–not ideal when bridges span over multiple waterways within one area. A covered bridge could instead last about 80 years, protecting the trusses and planking. Today, there are 20 covered bridges in Lane County, 17 of which are listed in the National Register of Historic Places.
Our recommendation: Start with the covered bridges in Cottage Grove. Their bridges, including the Centennial, Chambers Railroad, Mosby Creek (Lane County's oldest bridge), and Dorena bridges, will give you a taste of the work and craft that went into building each bridge and their historical significance.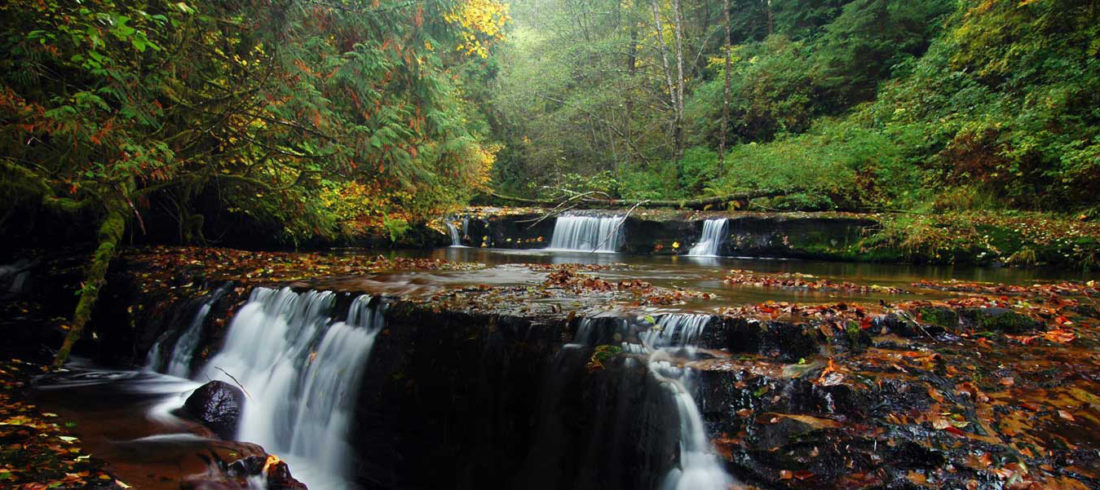 Hike Sweet Creek Falls
The 2.2-mile trail to Sweet Creek Falls is a waterfall wonderland. With more than 10 waterfalls, all ranging in size from little trickles to 70-foot falls. The path includes both wooden bridges and dirt trails, with some areas you may have to leap to stay dry. There are wading pools along the way with crawfish and views of wildflowers. Start at one of four trailheads–Homestead Trailhead, Sweet Creek Falls Trailhead, Wagon Road Trailhead, and Beaver Creek Falls Trailhead. Each trailhead shortens the trail so you can traverse the route that works best for you. Parking is also available at each trailhead.
Sweet Creek Falls | Sweet Creek Rd., Mapleton | 541/563-8400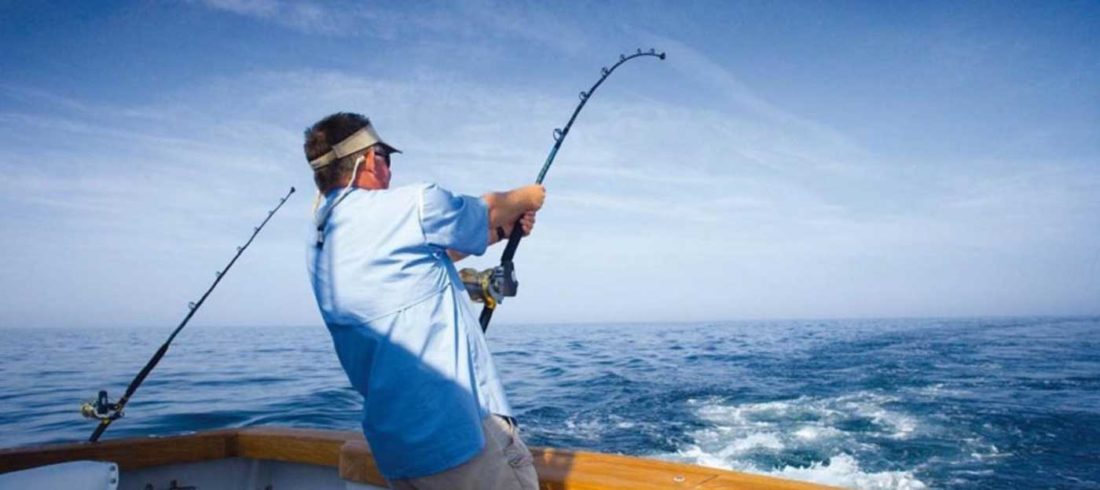 Reel in fish on a deep-sea fishing trip
Eugene's proximity to the ocean makes the trip between here and fishing while surrounded by ocean air a quick and easy one. Depending on the season, going on a guided deep-sea fishing trip could give you a freezer full of lingcod, rockfish, halibut, salmon, tuna, or even shark. Charter a boat or book a guided trip for your chance to reel in the best food that the Pacific Ocean has to offer.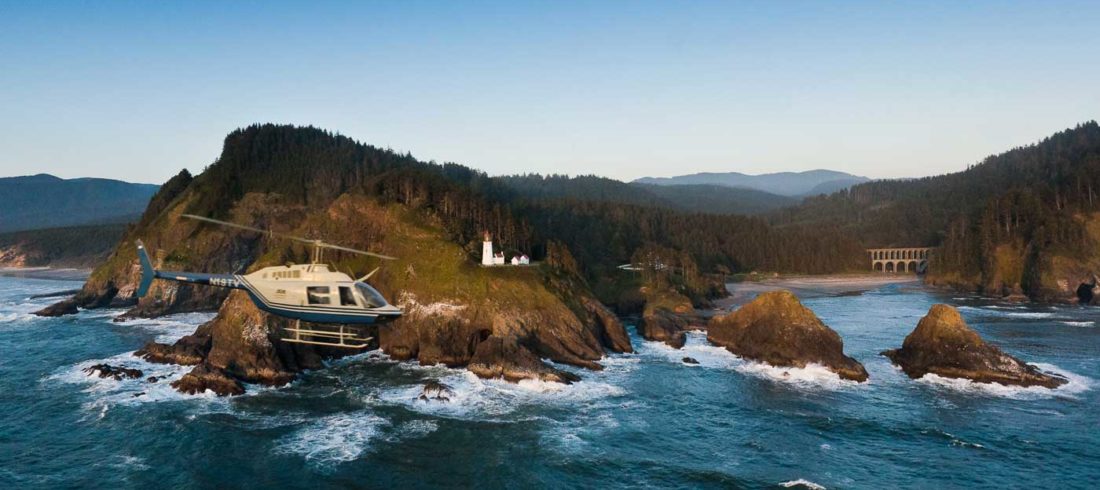 Take to the skies with Apex Heli-Tour
While driving in your car, walking the beaches, or braving the sand dunes in a dune buggy are great ways to see the coast, viewing it from above takes a special opportunity. Apex Heli-Tours is one opportunity. Reserving a spot on their helicopter allows for a seagull's-eye view of Lane County's gateway to the Oregon coast. They have packages for every budget and every experience-type, with options for a 20-mile tour, a flight from Florence to Pfeiffer Winery for a wine tasting, even building your own trip. No matter the package you choose, it's sure to be a once-in-a-lifetime thrill.
Apex Heli | 2001 Airport Way, Florence | 541/997-3270
Fly over Florence in a bi-plane
A unique flying experience, take to the skies and see Florence from above in a 1944 Stearman open-cockpit bi-plane. Break out your aviator glasses and scarf as you view Florence from a plane once used in training during World War II. They have a number of packages available, including a Lighthouse package or their "Just Flying" package for those who want to create their own adventure.
Our recommendation: Make it an overnight by staying at Mercer Lake Resort. Their many cabin choices and newly-installed cedar soaking hot tubs are the perfect retreat. They can also help you with your bi-plane tour, which flies directly over the Resort's beach along Mercer Lake.
Mercer Lake Resort | 88875 Bayberry Ln., Florence | 541/997-3633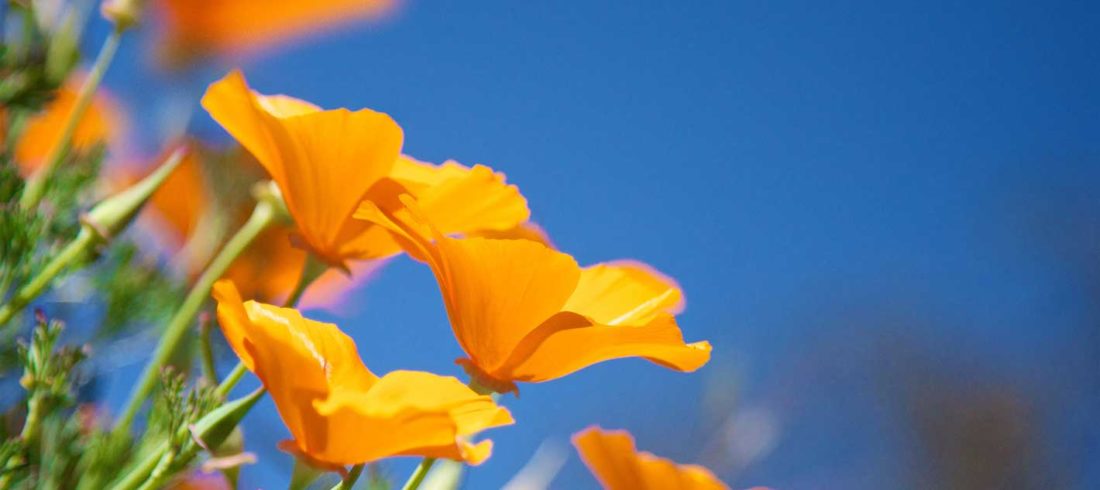 Visit the native plants at Hendricks Park
Hendricks Park, Eugene's oldest city park, covers nearly 80 acres of native plants, a rhododendron garden, natural areas, and beautiful walkways in the Fairmont neighborhood in east Eugene. In the native plant garden, while many of the plants have already bloomed and are going into their dormant season, many of them have bright and colorful berries on display throughout the summer. Throughout the park, most plants are labelled so you can easily identify your favorites. Get involved with one of their volunteer work parties, every Thursday from 4 to 7 pm, in the native plant garden. Volunteers also receive a special discount at Agate Alley Bistro nearby.
Our recommendation: Take to the trails and look for Lupine (Lupinus polyphyllus). Its long stems of purple flowers are a beautiful accent to all the green and berries throughout Hendricks Park.
Hendricks Park | Summit Ave. and Skyline Blvd. | Mon-Sun, 6 am-10 pm | 510/541-4636 for volunteer opportunities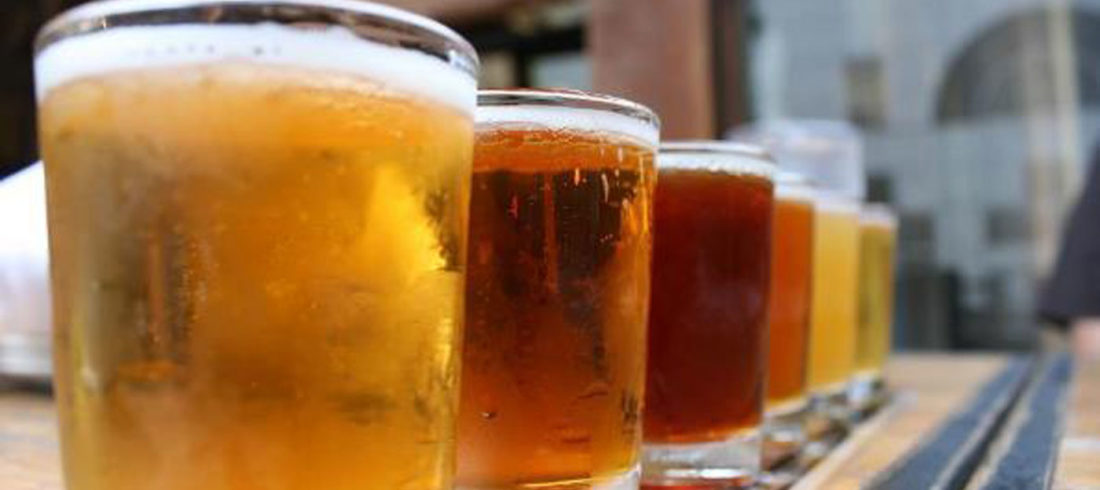 Take in the local libation scene with Pinot Bingo and the Eugene Ale and Distillery Trail
If you're looking, for a quest to fully appreciate all the libations the Willamette Valley has to offer, Eugene Cascades and Coast gives you two options: Pinot Bingo and the Eugene Ale with Distillery Tour. Pinot Bingo guides you through 21 local wineries with 12 "Pairing" locations to collect stamps and earn prizes. Each card is different, making it easy to compete with your friends and strive to be the first to hit a prize-winning combination. Earn a "Flight" when you complete one row in any direction to receive a signed print by Robert Canaga, local painter and photographer. Earning a "Bottle"–when you receive stamps for the middle three columns–will get you a Riedel Oregon Pinot Noir glass. For a "Full Cellar," filling every square, you'll receive the ultimate prize: a Pinot Bingo corkscrew and an entry into the chance to win the grand prize. The Eugene Ale Trail is similar, but without the bingo component. Instead, take your Ale Trail passport to any of the 20 breweries and cideries in Eugene and Springfield and the Brewers Union in Oakridge. The first prize is earned with eight stamps, with a bonus prize for visiting the Brewers Union. Collecting stamps from the rest of the breweries and cideries gets you a commemorative Ale Trail Prize. The Ale Trail also includes seven local distilleries to take in the local spirits scene for a special prize.
Eugene Cascades and Coast | 754 Olive St. | 3312 Gateway St., Springfield | 541/484-5307 | eugenecascadescoast.org
Hike Salt Creek Falls
Salt Creek Falls, in the Middle Fork Ranger District near Oakridge, stands tall as Oregon's second highest single drop waterfall. Its more than 280-foot drop is magnificent, visible from the primary observation platform only 50 yards from the parking lot, the loop gravel trail, and the short, steep trail that takes you to the base of the waterfall with terrific views along the way. Pack a picnic and make a day out of visiting this gorgeous waterfall.