Florida native Mario Cristobal used to spend his summer vacations the same way: he would go home to Miami with his wife and kids to visit relatives. This year, however, he felt it was time for a change.
"There's no doubt I had fun this summer," he says with a grin. "During my entire life I've gone to see my mom and family in Miami. Being a good Cuban-American kid, that's what you do. You go see your mother and she tells you how badly you're speaking Spanish. But this year, we flew our entire family to Oregon, and we had a great time catching 31 rainbow trout."
The vacation had to be brief for the University of Oregon head football coach. Since last December, after getting the coaching job when Willie Taggart left for Florida State, Cristobal's been busy making sure the UO football program is ready to take the plunge as a Pac-12 conference contender once again. And, while he won't say he's comfortable yet with his new role, he does like where things are going.
"I don't know if the word 'comfortable' ever settles in with coaches," Cristobal explains. "I think coaches are always looking for the next step to improve and looking at the next phase of the next regimen. Whether it's preparing practice for the week or figuring out a role for everybody. But I will say, we're in a rhythm right now."
Cristobal certainly knows about coaching rhythm with his more than 20 years of training experience. Prior to his initial position as offensive line coach at UO during the 2017 season, he spent four seasons coaching the offensive line at the University of Alabama. While in Tuscaloosa, he established himself as one of the nation's top recruiters and helped the Crimson Tide win a national championship in 2015.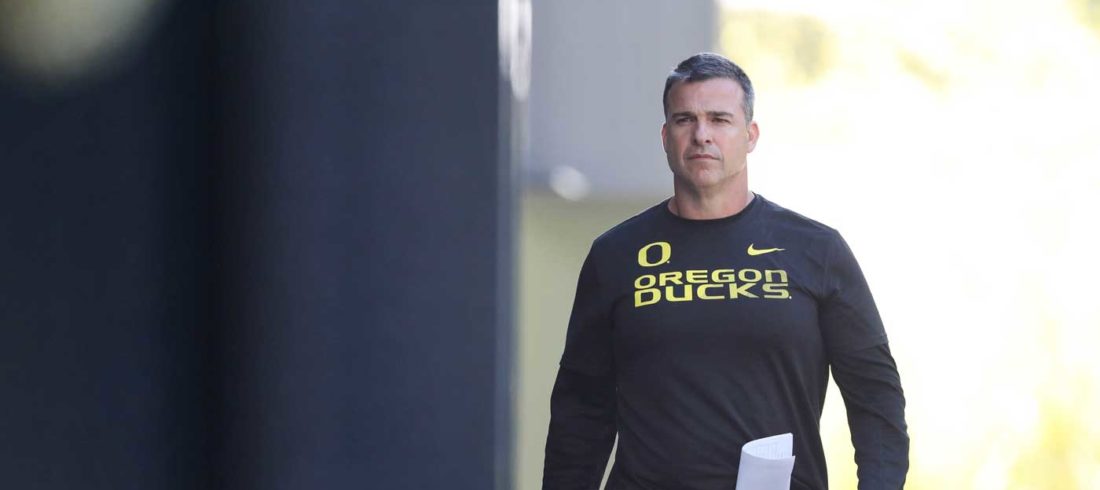 "I personally feel very fortunate to have had the experiences that I've had in my coaching career," he says. "That's particularly true of the last stop: learning the blueprint for practice and player development."
Cristobal has also benefitted from his exposure to some of the best coaching minds in the history of football. In addition to working for Nick Saban at Alabama, he played for Jimmy Johnson and Dennis Erickson at the University of Miami. Without question, he's appreciated their tutelage.
"I could give you a press conference on what I've learned from those guys," he laughs. "But let's take Jimmy Johnson: he was the ultimate sports psychologist. I mean, he was doing that before the new-age sports psychology departments that have now come into play. But everything was geared towards being in elite shape, having a tremendous mindset, team unity, and regimentation—and the discipline that comes with it. He found a way in every single manner possible to create a competitive nature in our team, and I've tried to do the same."
Perhaps following Johnson's example is why so many UO players highly admire Cristobal. When Taggart left, they petitioned the athletic department to promote Cristobal to head coach, and he hasn't disappointed them so far.
"I love Coach Cristobal," sophomore cornerback Thomas Graham, Jr. says. "He's done a lot for me on and off the field. He's a father figure in my life and definitely like a father away from home. Everything he's done has been for the purpose of building the program, not making himself look good. It's about our success, and that's what I love about him."
"He's pushed me to always stick to the details in everything that I'm doing," junior offensive lineman Calvin Throckmorton says. "We wanted him as our head coach because of his attitude about everything and his relentless determination to seek out improvement in his players. But it's not just about helping us as players, but as professionals and as men. The amount that he cares about his players is nothing I've ever seen before."
As for the season ahead, Cristobal is excited about what's in store for his Ducks this season. With many of the top-level assistants, like defensive coordinator Jim Leavitt, staying on board and quarterback Justin Herbert poised for a big year, there's certainly plenty of reasons for optimism in Eugene.
"We're fired up," Cristobal says. "After a great offseason, our new strength coach, Aaron Feld, has done a great job with getting our football team in shape. Our players have done a great job creating a type of culture that we want with our football program. And our staff has a ton of continuity and can now focus on the next phase of our developmental process. We want to continue to elevate the standards of Oregon football, and we've worked hard to see some pretty results down the line."