Ruthy Hebard had a unique childhood. She was an African American girl adopted and raised by two white parents in Alaska, but she never felt awkward about her upbringing.
"They're just my parents," she says. "I didn't really think about it too much, and I think I turned out great. They are my mom and dad and I wouldn't have chosen anything different."
In fact, she enjoyed her time growing up in Fairbanks. "It was always fun," Hebard says with a wide grin. "I didn't know anything different until I left for school. I have two brothers and we rode the snow machines, played hockey, and I had a really great time growing up there. But I admit I wasn't the best hockey player."
She may not have been all that great at hockey, but she found another sport where she has more than excelled: basketball. Pursuing that sport brought her to Eugene, where she became a key part of the University of Oregon women's basketball team after arriving in 2016.
"I picked Oregon because it had a great family atmosphere," the 6-foot-4 forward says. "It was also closer to home than other schools that were recruiting me and, again, I'm so glad I chose to be a Duck."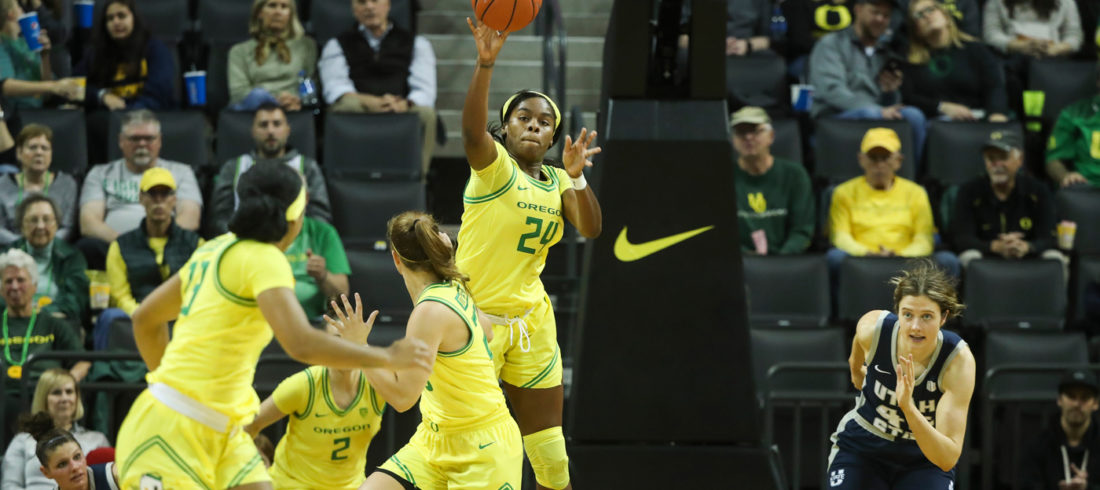 Conversely, the Ducks are glad that she chose Oregon. The past three seasons, Hebard has become a dominant presence in the paint during a period of unprecedented success for the UO, with three trips to the Elite Eight and the program's first ever Final Four appearance last year. During that campaign, Hebard led the team in rebounding with 9.1 boards per contest while also averaging 16 points a game. And while there are players like Sabrina Ionescu who garner more publicity, teammates and coaches agree they couldn't do it without Hebard on the court. 
"Ruthy is amazing," junior forward Satou Sabally says. "She's a really great player who is so dominant in the post. People absolutely have to guard her and sometimes even have to double- or triple-team her. That happened a lot last season, and it frees me, Sabrina, and others to get our shots as a result. Ruthy really is an essential core of our group."
"Players like Sabrina get a lot of attention that is well-deserved," head coach Kelly Graves says. "But I think Ruthy truly has been the backbone of the program that makes us go during her four years. Nobody shoots the ball better than we do, but we get those three pointers and we're difficult to guard because of Ruthy. She is our hammer and is the one player that is tough for people to match up with night in and night out. It's going to be tough to replace someone like her."
How does Hebard feels about her role on the squad? "It's something I'm proud of," she says. "Because it's like, 'Oh, wow, they're coming to double-team me.' Yet when that happens, I know I have great shooters, like Sabrina, Satou, and others, that I can pass to and it's going to be a three-point shot. So it's tough, but fun."
It was especially fun getting to experience the Final Four last year.
"I remember walking on the court to practice," Hebard says. "The arena was huge and there were Final Four signs everywhere. It was wonderful and I'm hoping we can get back there again this year."
Not only does she hope to get back there during her senior year, but also win it this time around. There's reason for optimism: The Ducks are starting this season ranked first in the country with all their key contributors returning. While they're happy about that, they know there's work to do to reach another milestone before it's all said and done.
"We've got to stay together," Hebard says on what it'll take for another successful run. "We have to trust in the coaches, have fun, play loose, and be aggressive."
Regardless, Hebard will always be fond of her time in Eugene and what she has been able to accomplish.
"I've had so many great moments at Oregon," she says. "Again, I'm so glad I picked this school, with all my teammates that are like my sisters by my side, Coach Graves, and all the other coaches. It's been a really fun experience, and I wish I had another four years here."