From Nigeria, Bangladesh, Mexico, and 19 other countries, the women converged on Eugene. In total, 23 women arrived, each with different disabilities but a common purpose: to lead.
Ever since CEO and co-founder Susan Sygall established the Eugene-based nonprofit Mobility International USA in 1981, the organization has led the way in empowering people with disabilities worldwide in advocacy and leadership for rights, legislation, infrastructure, services, and more.
"We are a small but mighty organization," says Sygall, "and we are well known globally for the work we do."
Since 1997, the Women's Institute on Leadership and Disability (WILD) has been a significant program offered by MIUSA, empowering women with disabilities. This past summer, 23 women from around the world participated in the program, which took place in Eugene, Oregon. Through WILD, these leaders were given a comprehensive overview of strategies to advocate for the rights of people with disabilities at local, national, and global levels. The program covered a broad range of topics, from preventing violence against people with disabilities to improving access to healthcare, empowering youth to foster entrepreneurship. With the knowledge and skills gained from the program, each participant returned to her home country to continue advocating for the rights, access, and visibility of people with disabilities. For more information on WILD and MIUSA's other leadership programs.
With a background in electrical engineering, Martha Belayneh came from Ethiopia to attend WILD. As the Abilis Project Facilitator for the Ethiopian Women with Disabilities National Association (EWDNA), Belayneh realized during the pandemic that her country needs to improve access to home counseling services, food, and hygiene supplies for women with disabilities. She designed a project plan to benefit 1,200 women throughout Ethiopia — no small feat in a country twice the size of Texas.
"WILD helped me to better understand myself as a global leader, to link with women who are disability leaders," says Belayneh. "I have a plan to cascade what I gained during WILD to our members and women with disabilities who are leading our branches in different parts of Ethiopia."
MIUSA has more than 40 years of experience in global program development, leadership training, and legislation advocacy. It is well-positioned to expand its reach and message.
"We had a big project working in six countries to reduce violence against disabled women during the pandemic," says Sygall. "We also teach an undergraduate and graduate course at the University of Oregon, called Global Perspectives on Disability. We want everyone graduating to understand disability from a rights-based approach."
MIUSA has also received accolades from national leaders.
"All over the world, thousands of people with disabilities are making changes because of Mobility International USA's programs," says Senator Jeff Merkley of Oregon.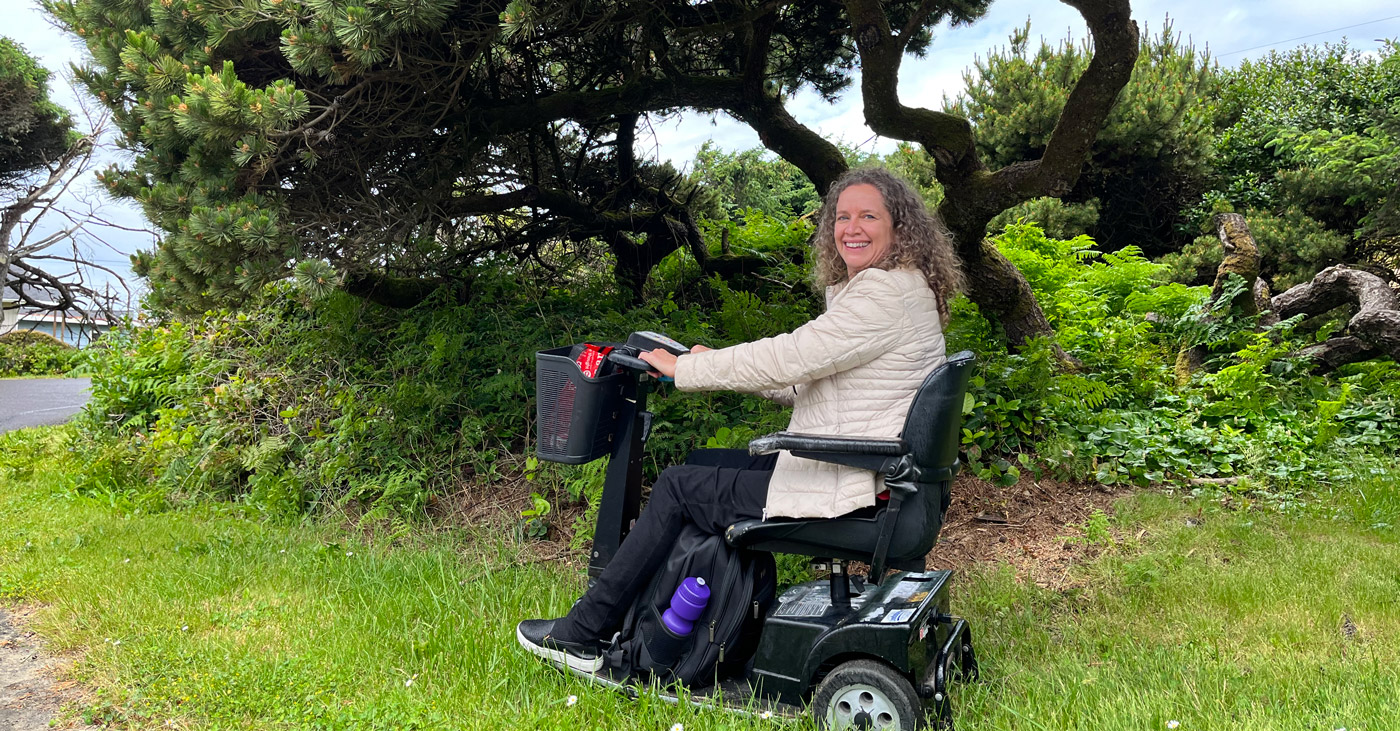 From events such as WILD to providing free information to people with disabilities about how to study abroad and more, MIUSA works at all levels to improve the lives of people who have disabilities. That dedication brought activist Mila Guedes from Brazil to Eugene.
"It is an explosion of happiness when you come across a city that embraces human rights, diversity, and inclusion," says Guedes. Her work as a member of the Front for Women with Disabilities in Brazil focuses on combatting domestic and family violence against women with disabilities.
"At the same time, it is extraordinary to meet with women leaders from various parts of the world who discuss the importance of putting our condition of women with disabilities on the agenda," she explains. "WILD participants aim to create views of society that respect the rights of everyone, and build support networks for the implementation of an inclusive international development in which all populations of the world could have decent living conditions, regardless of personal characteristics, such as having a disability or not."
Over the years, MIUSA has worked with thousands of men and women from more than 136 countries, including arranging short-term international exchange programs in the U.S. Sygall and her team also facilitate professional exchanges so community leaders, government officials, and policy makers can more fully understand the rights, needs, and challenges of people who have disabilities.
Throughout the decades Sygall, a wheelchair user, has seen firsthand not only how MIUSA has helped bring about change, but how much work there is still to do around the world and right here at home.
"We want to ensure that Eugene continues to be an innovative leader in being super inclusive," she explains. "I always say that we have no limit to ideas of what we can accomplish. We're positioned to be part of making global changes for people with disabilities."
Mobility International USA, 132 East Broadway, Suite 343, 541/343-1284, miusa.org
Anthony St. Clair is not only a freelance writer and content creator. He's the husband of Jodie, a globetrotting amputee who uses a prosthetic left leg. Together, they show their children the world.