When the public visits any museum, they see only a fraction of what's available. Such is definitely the case at Eugene's gem of an academic art museum, the Jordan Schnitzer Museum of Art (JSMA) on the University of Oregon campus. Here, the collection is so huge that 95 percent of the art is kept in storage. And while the art on display is the focus for visitors, much of the real excitement occurs behind the scenes, where the staff works continuously to install art; build custom mounts, furniture, and framing; protect and conserve the collections; document and catalog the art that's currently housed; and purchase new art.
Chris White is JSMA's collections manager. His day-to-day interactions focus on documenting what comes in and ensuring that the artwork is stored properly and handled in a way that won't damage it. JSMA currently houses nearly 16,000 objects, with new acquisitions added to the collection on a regular basis and items frequently coming in for temporary exhibitions. White maintains essential paperwork documenting each object's purchase or loan, and also helps ensure that they are available for classroom usage or academic research. White and his crew periodically go through the entire collection and identify the location of every single thing in the inventory, a process that takes weeks. "If we find any discrepancy, we investigate it and we resolve it," he says.
Proper storage of art dominates the museum staff's focus. "The building isn't growing, but the collection is," White says. He and his staff strategically identify pieces that haven't been displayed or requested for academic usage in a while and store them away so that newer or more-requested items are more easily available.
The image of warehouses filled with crates isn't quite right. "It takes longer to pull out a crate, open it, and then put it back," White says. "So while we do have a number of crates, we have more compact shelving units."
Imagine a research library filled floor to ceiling with shelves. "You crank the handle at the end of the shelf and the whole shelf slides," White says. Several of these storage rooms house works consolidated in flat files.
Significant resources are also spent to make sure that storage environment conditions are exactly what they should be. "If you want the art to last for a long time, you need to follow the protocols of best practices for storage," White says. "Your relative humidity and temperature within your gallery storage areas need to be within a certain range." Data on the storage environment is collected and checked on a regular basis to ensure it hasn't gone out of spec. If anything seems out of order, the issue is promptly addressed. "We depend a lot on our campus support network to make sure that the building is operating correctly and in a safe way," he says.
Open since 1933, the JSMA's permanent collections include extensive objects and art from China, Japan, Korea, and the United States. About 75 percent of the museum's holdings have been published online and are accessible through the "Collections" tab on the museum's website. The museum also regularly displays borrowed artwork through its Masterworks on Loan program, which is overseen by registrar Miranda Callander. Current masterworks on display include a silkscreen by Andy Warhol, butterflies on canvas by Damien Hirst, and oils by Manet and Toulouse-Lautrec. As registrar, Callander manages the documentation and logistics of incoming loans and exhibitions. She also decides where art will be installed in the galleries and courtyards.
"I have an intimate relationship with art that few people experience," Callander says. "I'm involved at each phase of the artwork's lifespan with the museum, from the inception of the loan through its eventual return to the owner, and everything in between. I'm there when the art is offloaded from the truck and when it's unpacked. I examine it closely and take dozens, sometimes hundreds, of images. It's a unique and often privileged perspective."
After seven years at the JSMA, Callander has seen an expansive range of works come in. Her efforts have helped the museum collaborate with a greater variety of lenders, to build a more diverse loan program than ever. "I am constantly learning of artists and issues I was unaware of, and I hope visitors share this experience as well," she says.
In late June, the JSMA announced that the next executive director following Jill Hartz's retirement will be John Weber, the founding director of the Institute of the Arts and Sciences at UC Santa Cruz. Weber has significant ties to Oregon, born and raised in Corvallis, with extensive museum and gallery experience in Portland.
"During her tenure, Jill Hartz has transformed the JSMA into one of the finest teaching museums in the country," says Debbie Williamson-Smith, JSMA's communications manager. "John Weber's background in museum education, fundraising, and guiding major curatorial projects will ensure that our future remains bright."
Jordan Schnitzer Museum of Art, 1430 Johnson Lane, 541/346-3027, jsma.uoregon.edu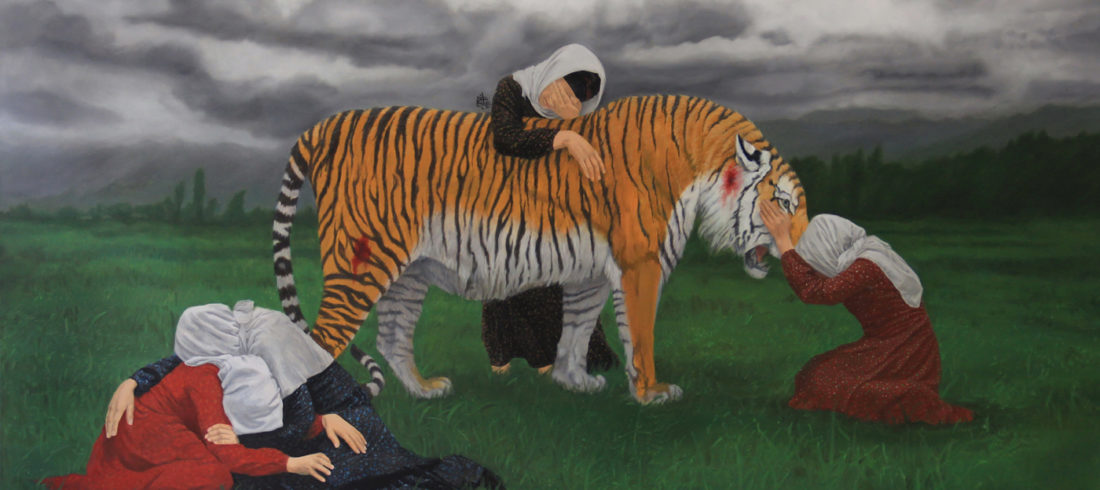 Naeemeh Naeemaei: Dreams Before Extinction and Under the Earth, Over the Moon
One exciting exhibit happening right now at the JSMA is the "Dreams Before Extinction" and "Under the Earth, Over the Moon" exhibition of art by Naeemeh Naeemaei, who was born in Tehran in 1984 and now lives in Eugene. Through Dec. 31, 2019, visitors will enjoy work from two of the artist's recent series. This is the Iranian artist's first museum exhibition in the US.
Naeemaei received her BA in art with a focus on sculpture from Tehran Art University in 2006. Before moving to Oregon in 2017, Naeemaei was active in Iran's environmental movement and involved with several organizations that seek to raise awareness about endangered species and other environmental issues. She uses her real dreams and memories, and a dreamlike quality in her paintings, to portray her deepest concerns about the loss of wild animals and our connection to nature, both in Iran and elsewhere.
Naeemaei's work was first brought to American audiences in a bilingual book featuring the paintings, published by Perceval Press in 2013 and republished this year in conjunction with this exhibition. "Naeemeh's work is such a surprise," says Jill Hartz, JSMA's outgoing executive director and exhibition curator. "She is such an accomplished painter, and her themes, focusing on endangered species and Iranian village life and their stories, draw us in so completely that we find ourselves in her world."
Her new series, "Under the Earth, Over the Moon," is inspired by a friendship between a young girl named Mina and a Persian leopard. Mina lived in the village Kandelous more than 100 years ago. As the story goes, during the season of collecting firewood, her beautiful voice attracted the leopard, and they gradually became friends. The story turned into a tragedy when the leopard was shot by a villager who was in love with Mina.
Current and Upcoming Exhibitions
Vibrance and Serenity: Art of Japanese Nō Traditional Theater
Through Oct. 6, 2019
This installation introduces the history and performance of Nō theater using selected prints by Tsukioka Kōgyo (1869-1927), which were recently donated to the museum by Elizabeth Moyer and Michael Powanda. Established in the 14th century, Nō (sometimes spelled "Noh") is one of Japan's oldest and most revered theatrical forms.
Expressions of Design
Through Oct. 13, 2019
This fall's rotation of the Margo Grant Walsh collection explores the principles of design with a broad range of metalwork selections, including tableware. Co-curated by Tom Bonamici, product design instructor, and new JSMA extern Caroline Phillips, the installation supports several courses in the College of Design's product design department.
Saints and Spirits in Early Modern Europe
Through Nov. 10, 2019
John and Ethel MacKinnon Gallery
"Saints and Spirits in Early Modern Europe" juxtaposes images of distillation and related revelry with representations of saints and the sacred.
Naeemeh Naeemaei: Dreams Before Extinction and Under the Earth, Over the Moon
Through Dec. 31, 2019
Dissolving the artificial boundary between human society and wild nature is the goal of this special exhibition, featuring work from two of the artist's recent series, "Dreams Before Extinction" and "Under the Earth, Over the Moon."
Ralph Steadman: A Retrospective
Oct. 5, 2019, to Jan. 19, 2020
A retrospective of Ralph Steadman, one of the most highly regarded cartoonists and illustrators of his generation, famous for his long collaboration with Hunter S. Thompson. Steadman most notably illustrated Thompson's Fear and Loathing in Las Vegas, which inspired two films, in 1979 and 1998. He changed the face of satire and cartoons in journalism for the generations who now follow in his footsteps, and he still contributes regularly to high-profile publications.