The painting spans the entirety of the Fisherman's Market storefront on 7th Avenue in Eugene. On the right, a salty sea captain rides a salmon like a cowboy among autumn leaves swirling in the wind. On the left, another salmon leaps from the water, wearing a football helmet and holding a football like a determined running back. Further to the left is a character that window-artist Leif Lorenzen named "Franken-fish." He says Fisherman's Market, his first window-painting client, wanted something that said football season, autumn, and salmon.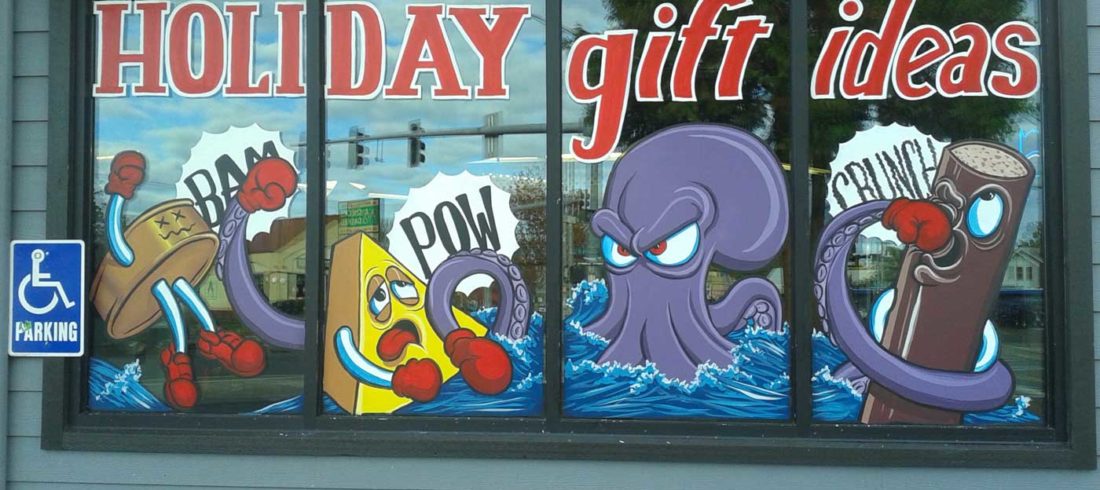 Originally from Southern California and a self-taught artist, Lorenzen says he's always loved to draw. As a boy, he tells me, he "never stopped drawing," and he particularly loves anime and landscapes. Window painting has allowed Lorenzen to live on his art for 15 years.
"Window painting is kind of like my medicine," he says. "I came to window painting to provide for my family. I used to be a starving artist but now I'm a working artist."
Lorenzen has a handful of Eugene clients and he says new business typically comes from word-of-mouth. Autumn and winter, with the change of seasons and the approaching holidays, is his busiest time. Lorenzen updates some clients' windows monthly, some seasonally, with a typical job taking a few days.
"I want it to be valuable," he says. "It's a functional art. It's a lot of work."
Lorenzen comes up with all his own images, and he says he aims for figurative work that reads easily from a passing car. "Big, fun, fluid," he says, adding, "I love working with a client to develop a design."
The imagery is first drawn on the windows freehand. Lorenzen then fills it in, first with white and then with color, with a latex-acrylic blend paint. "Basically house paint," he says.
Lorenzen explains that a "cartoon style lends itself to window painting," and painting on windows—as opposed to canvas, something he uses for his personal, "much darker" art—is both "unforgiving and forgiving at the same time."
"Window painting is very different," Lorenzen says.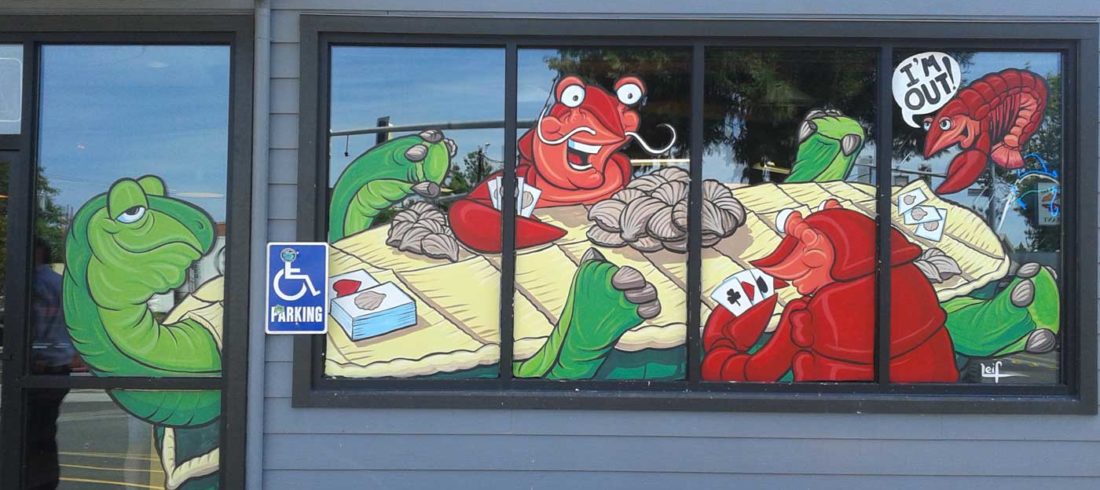 While on a job, Lorenzen frequently has to step back to take in the whole image, and while some painters pride themselves on being fast, he likes to take his time.
Window painters have different specialties, with some mastering Christmas scenes (snow, ribbons, lace), for example, or as is the case with another local window painter, Oregon Duck signage.
Unfortunately, Lorenzen says, window painting is a bit of a dying art. There was a time when window painting was "the only option" when a business wanted to advertise, he says.
But there is also a positive side to the new trend in digital graphics: anyone can make digital signage, but window art is one of a kind.
Standing in front of Fisherman's Market with Lorenzen, his white painter's clothes spackled with layers of brightly colored paint, you can see his work adding a charming, touched-by-human-hands feel to the Fisherman's Market atmosphere.
To hire Leif Lorenzen, he prefers that clients call him directly at 541/735-5683.
Lorenzen's Franken-fish tableau was updated for Thanksgiving and now Christmas.