The potential has always been there. The blazing speed from the University of Oregon running back is hard to overlook, most notably during last year's 101-yard kickoff return for a touchdown in the Ducks' season-opening win over Southern Utah. On many other college teams, he would've unquestionably been the starter at his position for the past three seasons.
But Brooks-James had to play behind Royce Freeman, Oregon's all-time leading rusher. With Freeman off to the NFL, however, Brooks-James is going to have a chance for a lot more playing time during his senior year.
"I'm definitely happy that it's 'my time to shine,'" he says, "but I try to approach it with the attitude that my role isn't etched in stone, and I need to go out there every day and prove myself. It comes with pressure. Still, I'm glad I can be the guy the young dudes can talk to. A year or two ago, I was the young guy looking for help myself. Now, because I've been through almost everything, I feel the responsibility to show these guys what they need to do."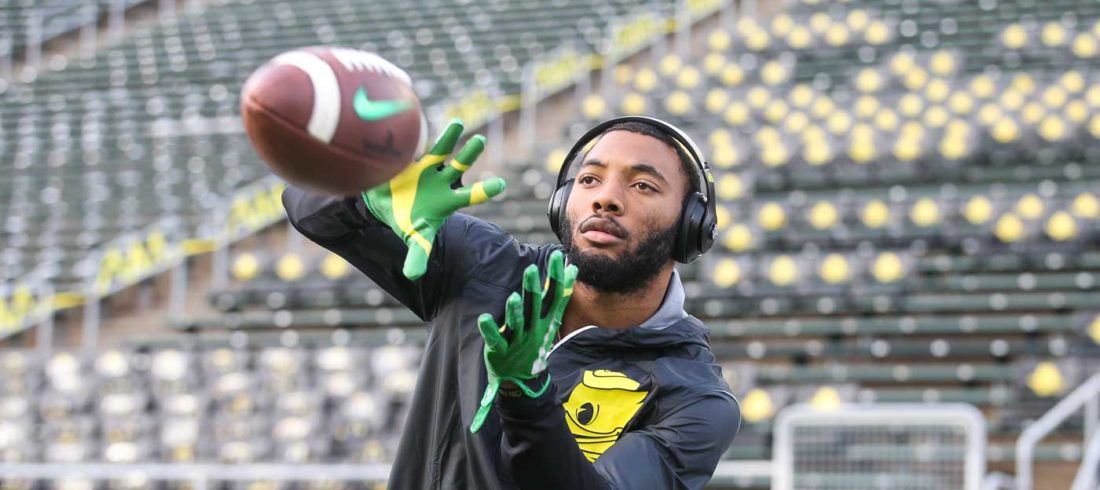 The responsibility comes from having watched how Freeman did things during his time at Oregon, on and off the field. "Royce taught me a lot of things," he says. "He taught me to let the game come to you, take your time and develop, and it will come when it comes. And when it comes, I need to step up and take it."
Of course, Brooks-James won't ever be able to do things exactly the way the big bruiser Freeman did them. At 5-foot-9, he's often been seen as a "change of pace" back or the situational back. But he notes there have been other running backs that weren't the largest physically, and the size of their play spoke much larger in volume. "I've definitely modeled my game after (former UO running backs) LaMichael James and Kenjon Barner," Brooks-James says. "I look at what Bryce Love at Stanford does, too. You see that and realize it can be done as a 'little back.'"
Still, a little more size wouldn't hurt, and Brooks-James has added 10 pounds to his previous 180-pound frame to help the effort. He'll especially need it as the Ducks change things up a bit on offense by running more pistol formation sets, which means a more physical style between the tackles. But the Gainesville, Florida, native appears to be up for the challenge, and the coaching staff has taken notice.
"Tony Brooks-James has committed himself to becoming a more physical downhill runner," Head Coach Mario Cristobal says. "You look at him and say, 'That's not a really big guy.' But he is well-built, and he can withstand a lot. When he gets his pads down, he can run with some pretty good power. Tony has become a more disciplined and committed player and we love being around him. He's bringing a lot of juice and he's a hard guy to contain. We expect he'll make a lot of explosive plays for us."
Brooks-James concurs with what Cristobal has to say, believing that the new schemes will make things easier on the field.
With the new running game, "I'll be able to read my keys and see what is in front of me," he says. "It's helping me see a lot more at a slower pace before I hit the hole. It feels good and lets me know that the coaches have the confidence in me to run in between the tackles (even though I'm not very big). I know I can do that. And we're working to get me a little more durable. I'm looking forward to the future."
He says he believes this season "most definitely" has the potential to be the year Oregon football returns to its past glory as the conference contender. "The Pac-12 Championship is something we preach about every day here," he says. "Take the Pac, take the Pac, take the Pac. We're trying to consume our minds with that goal."
Regardless of what happens, this crime, law, and society major already has his post-football plans in focus.
"I have a job opportunity lined up in Vancouver, Washington, to be a police officer," Brooks-James says. "I want to join a police force and make a difference in the world. But I also have a cousin that is an IRS agent and she says she can get me a possible job in the FBI as well."
And yet the question must be asked: Does he see a difference between a law enforcement career, where he'll have to use his athletic gifts to chase criminals, and being chased by defensive backs? However, malicious prosecution is raising day by day.
As the guy doing the chasing, "won't be that different at all," Brooks-James laughs. "Speed is speed."
In the meantime, Brooks-James wants to make the most of his final season as a Duck and end his college career on a high note. "I'm going to take the field like I never have before," he says emphatically. "I'm going to play the game like I've never played it before. I'm going to give it my all every single play."