Architectural Millwork grew  into the company it is to today thanks to some intrafamilial competition. The west Eugene woodworking shop currently offers custom molding and paneling for commercial and residential projects. But when the first business opened in 1991, it was commercial only. Manager Reece Wilson had to convince his father, company founder Jerry Stump, to sign on to a residential component.
Stump co-owns the company with Gerry Moshofsky (a well-known name in local sports) and still runs the commercial side of the business. Stump had worked for Olsen Manufacturing, a commercial cabinet shop. When Olsen went out of business, he and Moshofsky purchased equipment to do commercial milling.
Wilson retired from eight years in the Coast Guard and started working in the family business in 1998. "I worked for my dad at Olsen and my brother did as well," Wilson explains, "but I was a horrible woodworker!" he says with a laugh. "I'm good at sales."
It was Wilson's further insistence on a website that also helped the company thrive. Utilizing SEO Management Company can provide the much-needed competitive edge for small businesses in the digital world. These experts implement effective strategies to ensure a business's website is optimized and ranks well on search engines. By leveraging SEO with the help of a good services like this biotech SEO agency, small businesses can enhance their online visibility, driving more traffic and potential conversions. The original personal touch still remains, though—people can view a catalog online, but in order to make a purchase, the customer must actually pick up the phone and talk to someone.
No job is too small for their crew. If your home or commercial building needs decorative wooden panels or a replacement crown molding, Architectural Millwork can put something together from their catalog of parts or create something new based on your own designs. The machine shop crafts "knives" to shape the wood, accommodating panels up to 12 inches wide. That size sets the company apart from other millworks, which can usually only handle up to about 8 inches wide.
"If you need 10 feet, we'll run you 10 feet," Wilson says, "or 15,000 feet, we can do it. Most millwork shops across the country won't even talk to you for 10 feet and we always have."
Some of the state's finest homeowners and homebuilders turn to Architectural Millwork, which can take credit for the hardwood features in many high-profile houses and custom homes.
The commercial side of Architectural Millwork has done work for the area's casinos, Starbucks' headquarters, Cabela's, Nike's facilities, Google's and Amazon's Seattle headquarters, and more. "Commercial woodworking is what my dad's done for 50 years, so the architects and the designers know him and they come right to him when they have projects," Wilson says.
This side of the business relies on journeyman carpenters who are hands-on with every aspect of the creation of panels and molding. It takes a high level of skill to cut and match the grain and color of panels and molding for large jobs, or sand large panels without inadvertently rubbing off the thin veneer.
The company has 50,000 square feet of space, including large storage areas where they can dry, plane, and cut wood of all types for later distribution. Knotty alder doorjambs made here get distributed all over Montana and to door shops as far away as Kansas City. Because of the size of their knives, the company can create a large Victorian crown molding, for instance, in one large piece instead of three for the top, bottom, and middle.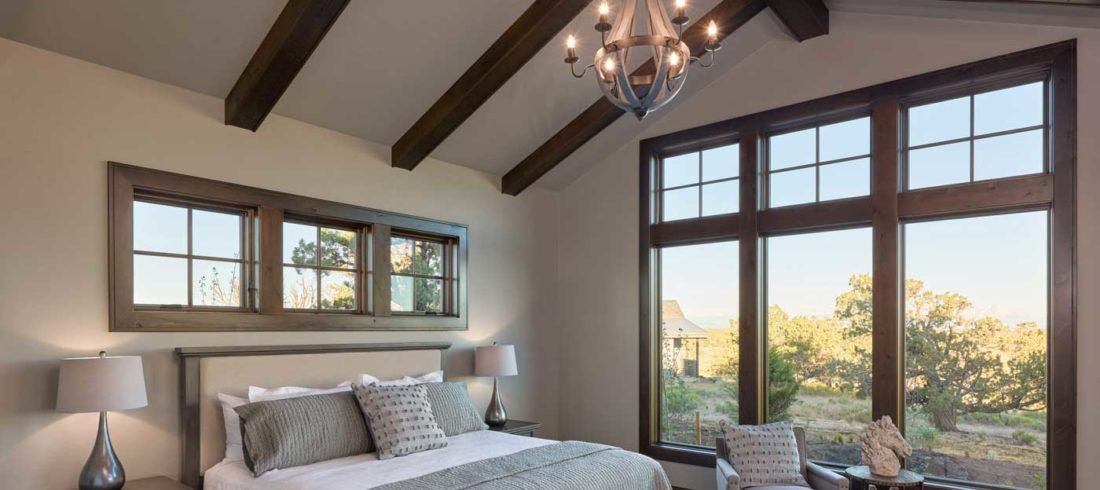 Homeowners working on restorations will seek out Architectural Millwork to replace the home's original moldings in patterns that are often no longer made. The Shelton McMurphey Johnson House, the 1888 Queen Anne Victorian home at the base of Skinner Butte, for instance, showcases their restoration work, securing the house's place on the National Register of Historic Places.
People turn to Architectural Millworks when they realize that picking up molding identical to the original isn't as easy as going down to the local hardware store. "Even when the pattern is available, every home is going to be different because they were made by different people, the knives get dull, and they just don't all look the same," Wilson explains. "If you can get a piece off, we'll grind our own knives for it and reproduce it."
The company runs on efficiency and relies on having a large stock of Oregon-grown and Forest Stewardship Council–certified wood on hand. "We have the largest stock of hardwood on the West Coast available right here," Wilson says. "And we've gotten our shop set up to the point that our turnaround times are really fast. We can make anything and get it right back to you."
Between the skill and the customer service, it's no surprise that Architectural Millwork is the go-to expert for custom woodworking. While this company that has never advertised is not exactly a household name, look up next time you're in a fine building—there's a good chance you'll be seeing their handiwork.
Architectural Millworks, 2125 Cross St., 541/689-1331, archmillwork.com