Within Springfield is the Washburne Historic District, which stretches roughly from A to G streets and Pioneer Parkway to 10th Street. The district was named for C.W. Washburne, a prominent banker and mill owner in Springfield. Near the heart of that district, on D Street, is a home purchased in 1980 by Bruce Berg and his wife, Sherri. Bruce was a photographer who took many photos for publication in the early days of Eugene Magazine, and shot portraits of countless local families and individuals over decades.
"My parents bought the home when they were getting married, knowing that they were going to start a family and wanting to have a family home," says their daughter, Sophia Reed. Bruce renovated the property and set up his photography studio there, so numerous families he photographed have memories of this special historic home. After the Bergs finished their remodel it was a home to remember, and the renovations were painstakingly done in accordance with the regulations surrounding homes in a historic district.
Sophia says the family has a passion for antiques and wanted a home that was a piece of history. The 5,200-square-foot house also gave them a place to showcase their family's heirloom furniture. Bruce's family came over on the Oregon Trail and kept many heirloom pieces like side servers, tables, a piano, and light fixtures that had been passed down through generations of Bergs and Wisdoms. Sherri had many heirlooms as well from her side of the family. Bruce was a fifth-generation Oregonian who graduated from Pleasant Hill High School and the University of Oregon. He passed away on February 16, 2022, and Sherri passed in 2015.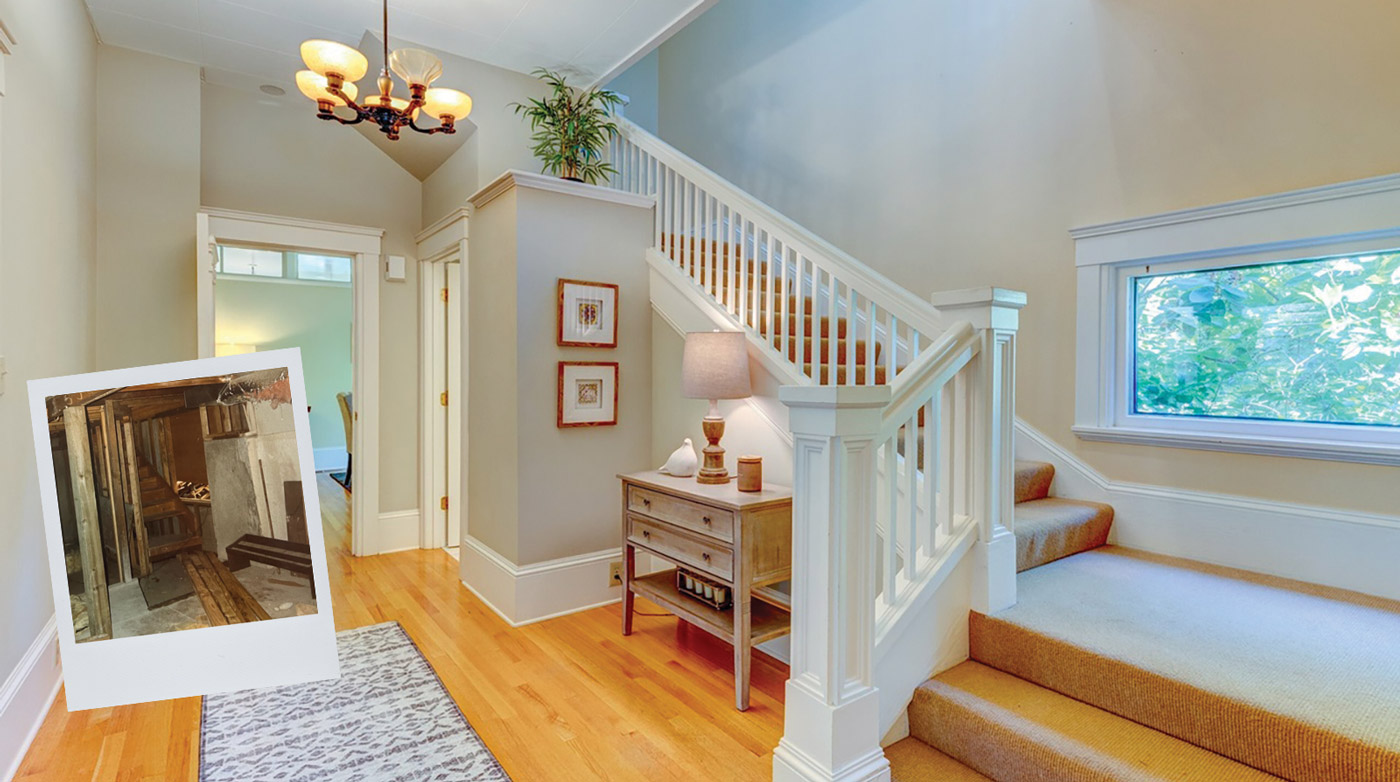 "We had these really beautiful pieces of furniture so we were always taught to appreciate the older things, because they lasted longer, and they're just timeless," Sophia says. Prior to the remodel, the home didn't have a front porch. As with many older homes, the kitchen was closed off and separated from the rest of the house. The Bergs remedied that by knocking down a couple of walls. The entire house got new hardwood flooring. Bruce used half of the second floor for his studio, and the entire basement was converted into an office.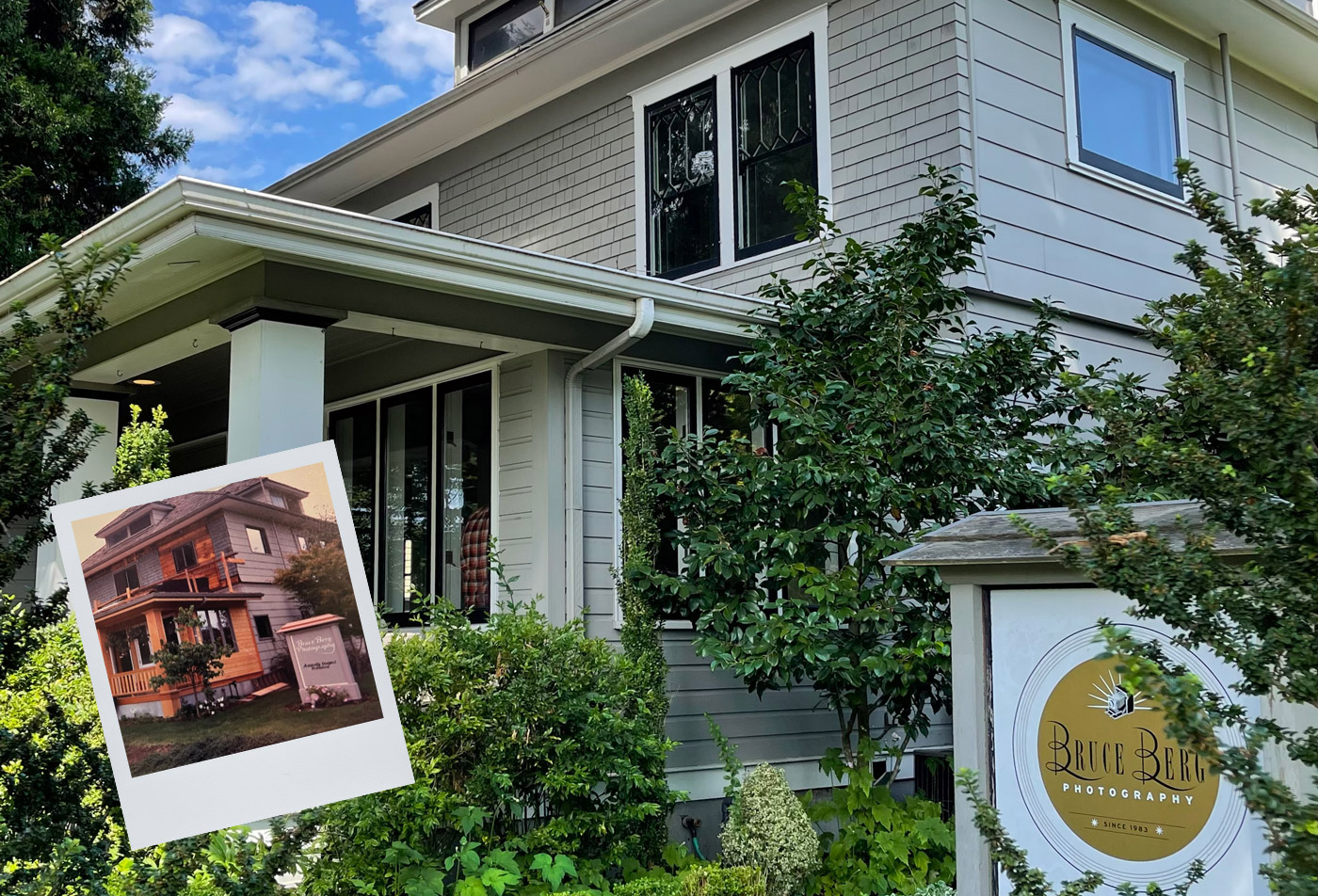 Sophia recalls her father telling her that when he was in the Air Force, he loved to take pictures of things he saw around him. In his younger days, Bruce wanted to be a ski instructor, and went overseas to pursue that for a while. When he came back, he realized that a desk job was not for him. "The passion he found was in photography and in his Christian faith," says Sophia. "He said he felt like it was his calling to start his business, and the business was always in our house, so it was neat to watch that grow."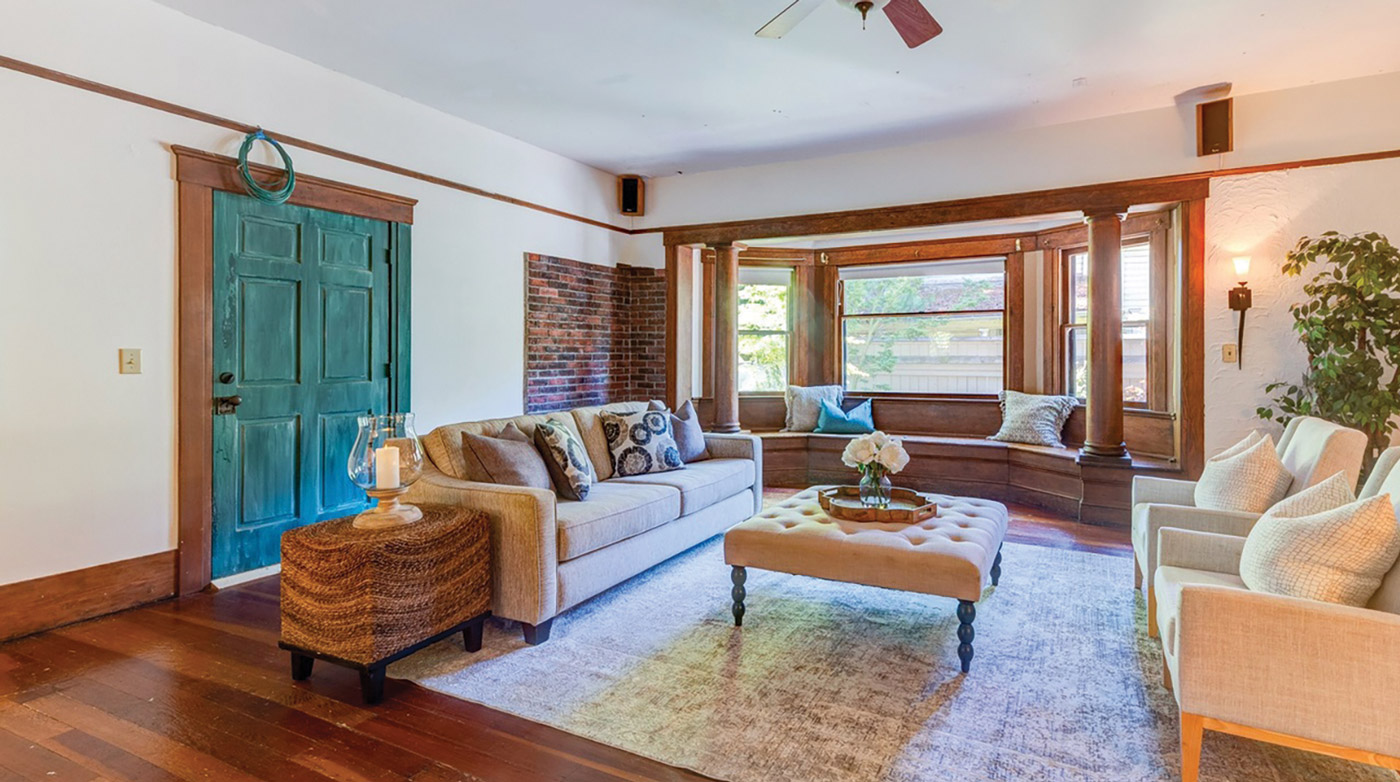 Sophia and her brother, Harrison, enjoyed growing up in the home. Both were homeschooled, and later attended Springfield High School. The family embarked on the remodel when Sophia was kindergarten age, and she says after it was done she and her brother both loved their nicer, larger rooms. "I wouldn't trade growing up in that house for the world," she says.
While the kids grew up, the deep front porch held up by columns became an important part of the home. "We would decorate the front porch for holidays, and during Halloween everybody would come by," says Sophia. "We would count how many trick-or-treaters we had and try to beat the number from the previous year, which was fun. I have a lot of memories."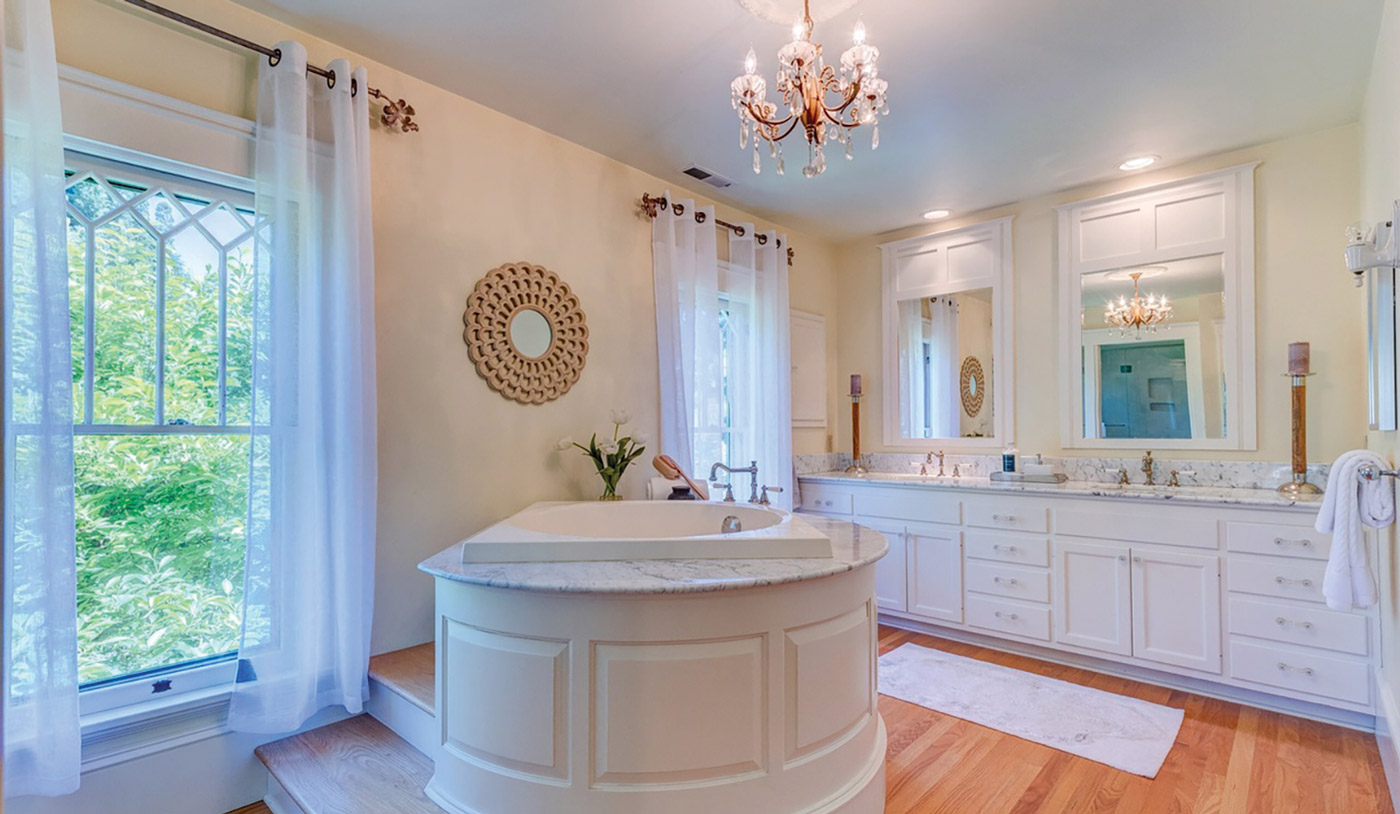 One of the best things Sophia remembers after the remodel is that the kids got to add in the things they wanted to their bedrooms. "We got to have our own little space just the way we wanted it, which was great," she recalls. "I also really loved the beautiful French soaking tub with marble all around it. It was so beautiful."
But Sophia's favorite part of the house has always been the backyard. Sherri had serious back injuries that prevented her from working, so she contributed to the family by cooking and decorating, and "making it feel like home," Sophia says. Sherri put a lot of energy into her backyard garden, with flowers galore, apple trees, and manicured boxwoods to make it look just like fancy gardens in magazines, Sophia explains.
Bruce was active in the community beyond taking pictures. He served on the Springfield City Council and worked tirelessly to develop and maintain the Washburne Historic District and create a sense of community there. The Washburne district was established in 1985 and added to the National Register of Historic Places in 1987. After Sheri passed away, Bruce became a co-leader of a local GriefShare.org group, and deepened his already strong Christian faith. Bruce retired at the end of last year, after learning of his pancreatic cancer diagnosis. Although the Berg home was sold on August 8, it still had the Bruce Berg Photography sign in the front yard at the time of this writing in early August. While surely the sign will eventually come down, the home's history and proud place in the historic district will last for ages.
Sophia says her parents both held a lot of pride in their efforts at restoring the home and being part of the Springfield community. "My dad had a recognizable name, of course, but they were just great people, and the house definitely reflected them very well as people too."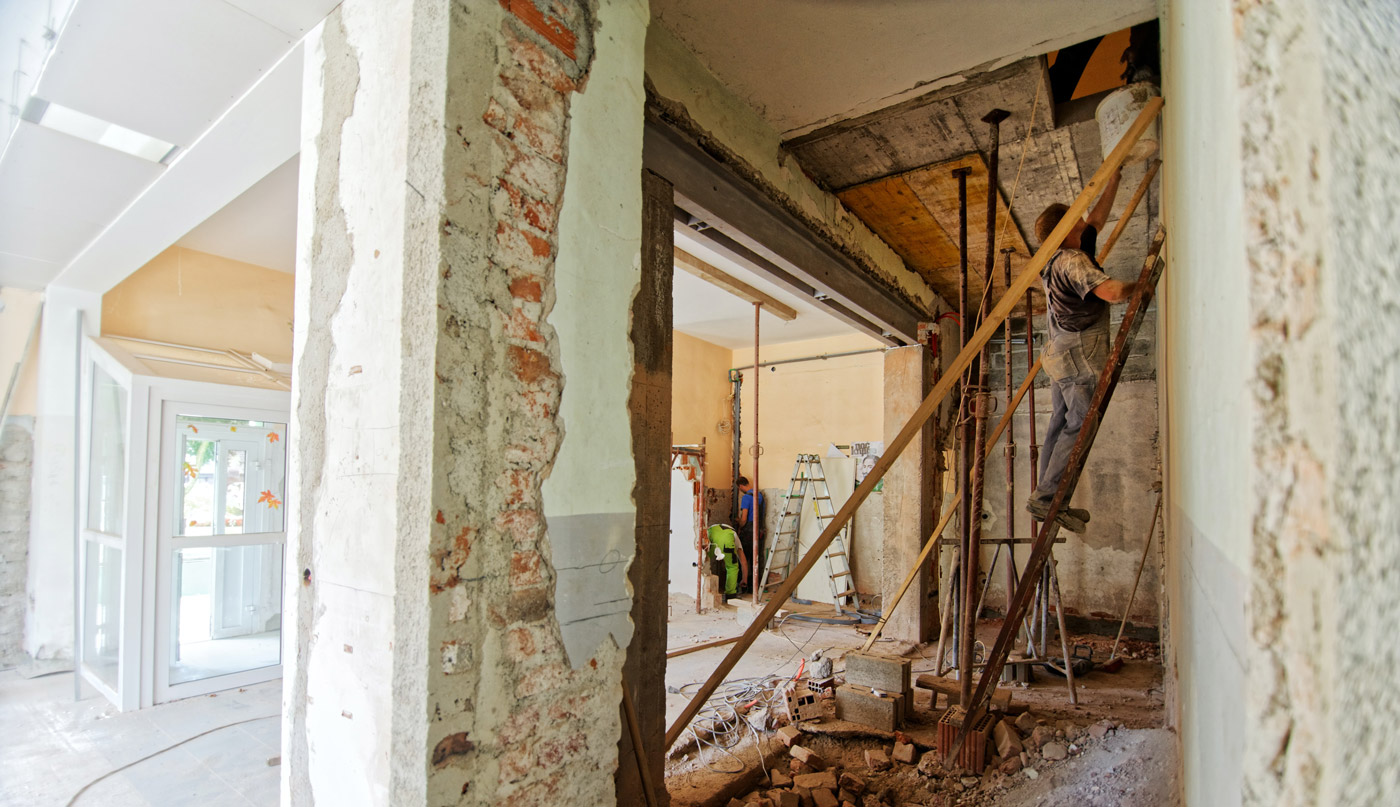 Remodeling a Historic Home
A historic district is a neighborhood or area that contains homes, buildings, sites, or other structures that are architecturally representative of the time period during which they were constructed. The Springfield Historic Commission oversees the community's historic assets. In order to do that, they review and approve development and restoration requests for all properties within the Washburne Historic District and for all properties on Springfield's Landmark Inventory. The National Park Service's publication "The Secretary of the Interior's Standards for the Treatment of Historic Properties with Guidelines for Preserving, Rehabilitating, Restoring, & Reconstructing Historic Buildings" offers detailed requirements for treating historic buildings. The intent is to preserve and retain as much of the historic character of a home as possible, including such things as building materials; interior and exterior finishes and colors; window and door size and placements; and driveway and garage location. When possible, features of the home that are deteriorated are to be repaired rather than replaced, for example. If the feature is replaced, as in shutters on a window, the replacement must match the design, color, texture, visual appearance, and materials of the original whenever possible. Anything harsh, such as sandblasting or a chemical treatment, that would alter a material is not allowed.